One Ninety Restaurant is an award-winning restaurant in Four Seasons Hotel which specializes in Western and Asian cuisines. One Ninety is currently led by Giovanni Speciale, director of food and beverage and culinary operations, who has more than 20 years of experience in Four Seasons properties across Europe, Middle East, and Asia.
Having read quite a few positive reviews on One Ninety Semi Buffet, we decided that we should have our special yearly Valentine's day dinner here. Although it's for Valentine's Day, we didn't opt in for their Valentine Day's special menu, but instead, we make a reservation for their market fresh semi-buffet dinner.
Diners can savour masterfully grilled wood-fired steaks, ocean-fresh seafood and a culinary symphony of signature dishes at the new One Ninety Mezze Dinner Buffet.
The atmosphere in One Ninety is classy, elegant and romantic. And what I like most is its colonial theme with orange dimed lights, making the restaurant extremely suitable for romantic dining.
If you are like me, who is new to Semi Buffet, basically the concept is that you can choose the main course, and there will be a small buffet spread of appetizers and desserts. In One Ninety Restaurant, you can rest assured that the buffet spread is specially and well curated by the chef of the day, depending on the fresh produce the chef sourced from the market for the day.
You can find a list of main courses (dinner) that the restaurant offers in their online menu here.
As both Nicole and I are steak lovers, we decided to go for their steaks. Note that there will be a supplement cost for certain main courses.
US Prime Tenderloin – 200-Day Grain-Fed Beef Tenderloin 200g
The tenderloin comes medium-well cooked and is also accompanied by a bowl of fries.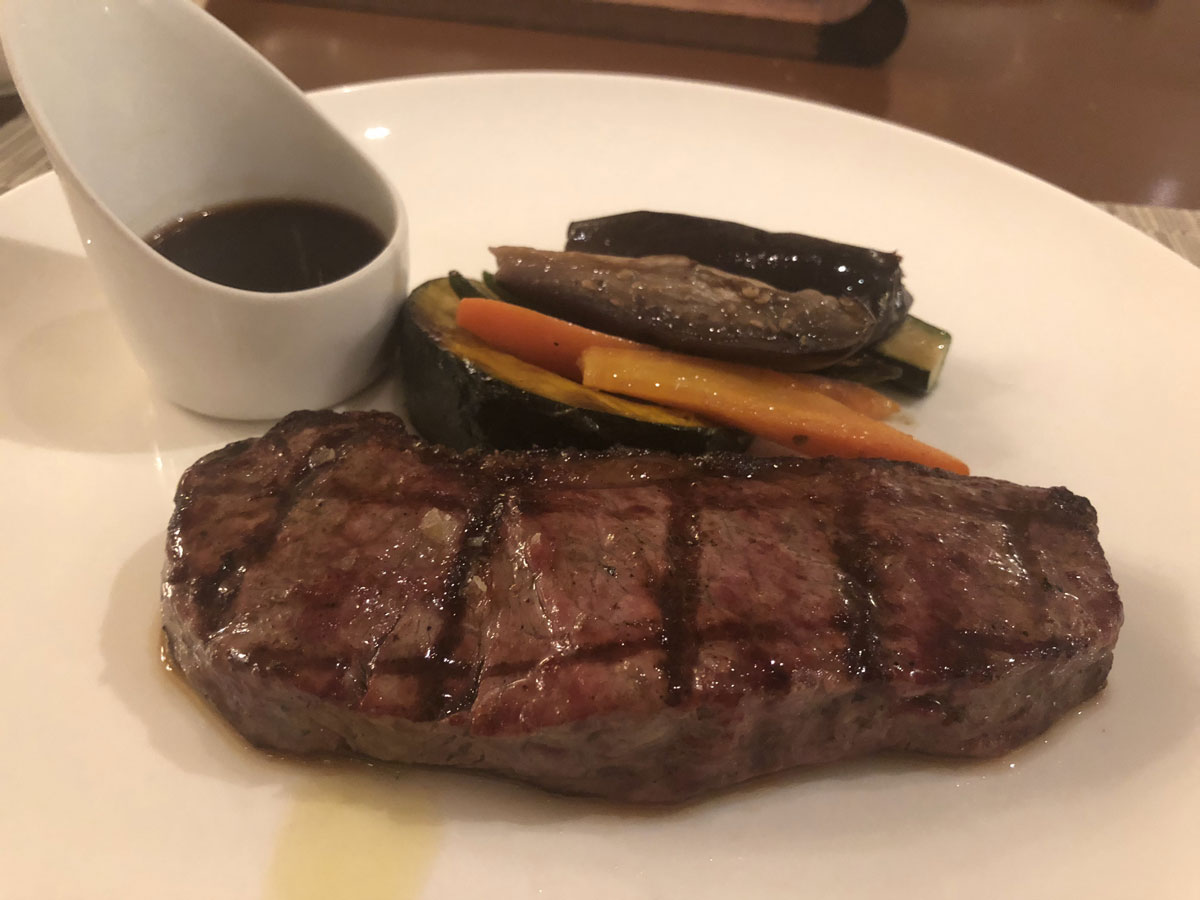 Westholme Wagyu Rib Eye – BMS 3-5, Grain-Fed 250g
The wagyu ribeye is extremely juicy and tender. The meat is also well-cooked at the right temperature. Their steaks are not bad at all.
While waiting for our main course, we were served a big freshly baked sourdough bread with butter. The bread is really good and I can't have enough of it. But, I'll need to reserve some stomach space for the main course.
Exploring around the semi-buffet spread section, below is what you can expect minimally. Please also note that the dishes may change depending on the chef for the day. In short, I think it's safe to say that you can expect good quality food selection – Four Seasons is a 5 star internal luxury hospitality, you can't expect anything less! I'll let the photos do most of the talking below.
Last but not least, this is my favorite cheese and dessert station!
Getting to One Ninety Restaurant, Four Seasons Hotel
Address: 190 Orchard Blvd, Singapore 248646
Tel: 6831 7250
Email: [email protected]
Website: http://www.fourseasons.com/singapore/dining/restaurants/one_ninety/
Quality of Food -

8/10

Customer Service -

8.5/10

Value for Money -

7/10

Atmosphere -

9/10
Summary
In short, we enjoyed the Mezze semi-buffet dinner offered by One Ninety Restaurant in Four Seasons Hotel. If you are looking for a place for a special romantic dinner, give this a try.