We headed down to Peppermint @ Park Royal Collection Marina Bay Singapore to try out their lunch buffet. So, it's my treat for my sister's 37th birthday and I thought a buffet will be an good idea since it has been 2 years since we have had buffet with the whole family.
Peppermint @ Park Royal Collection Review
Peppermint is a halal-certified all-day dining restaurant by Park Royal Collections hotel. They offers international buffet for lunch and dinner and you can find their updated pricing at their official website. There are different promotions for different months, and we're here for the Chef's Selections Buffet (fusion of international, western and asian cuisines) curated by Chef de Cuisine Leon Yee.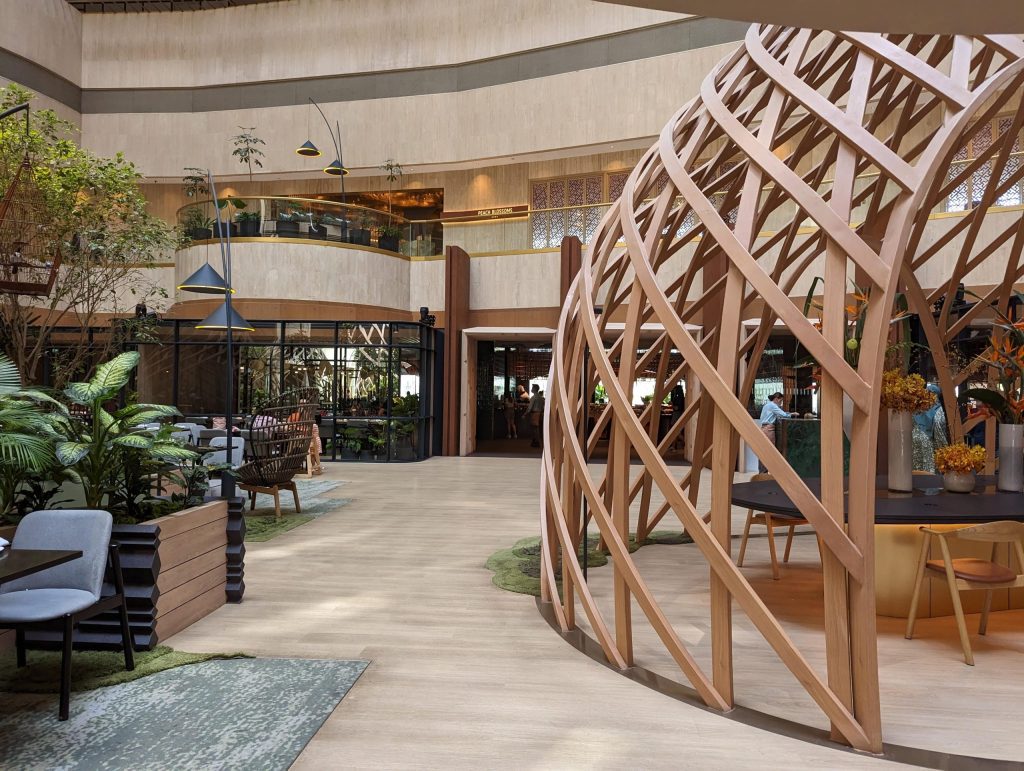 Lunch Buffet Experience
Read on below to see the different food stations available in the lunch buffet spread.
My first stop is always the seafood station. There's tiger prawns, flower crabs, mussels, clams, and smoked salmon. That said, I'm a little disappointed that there's no oysters to satisfy my craving.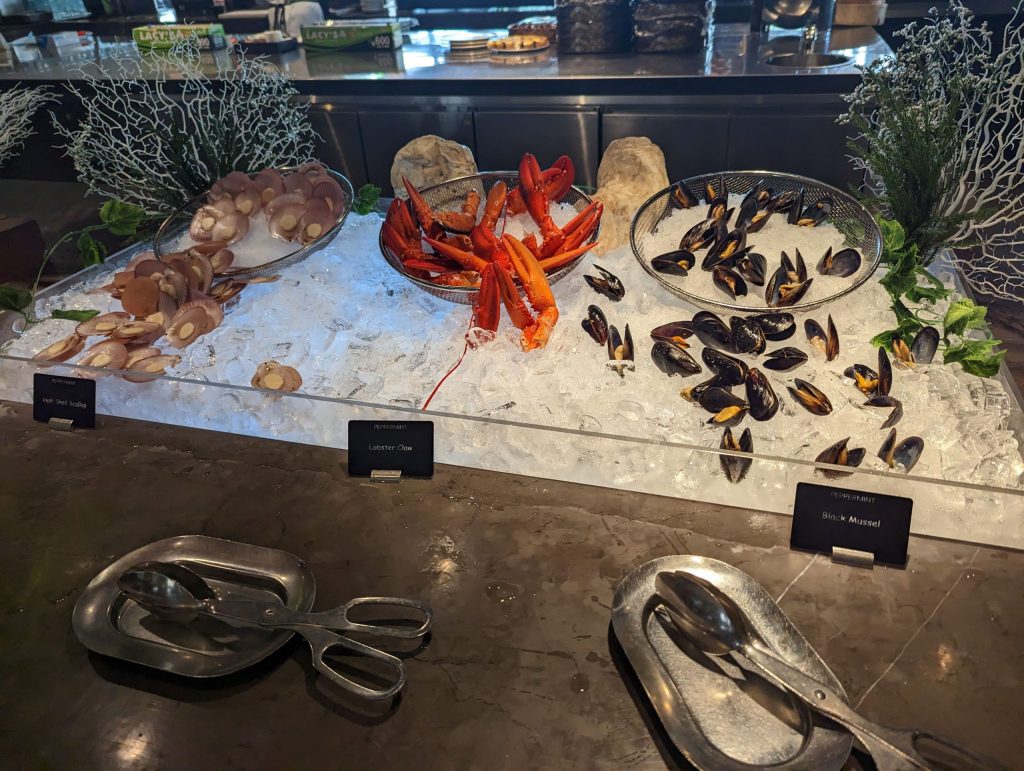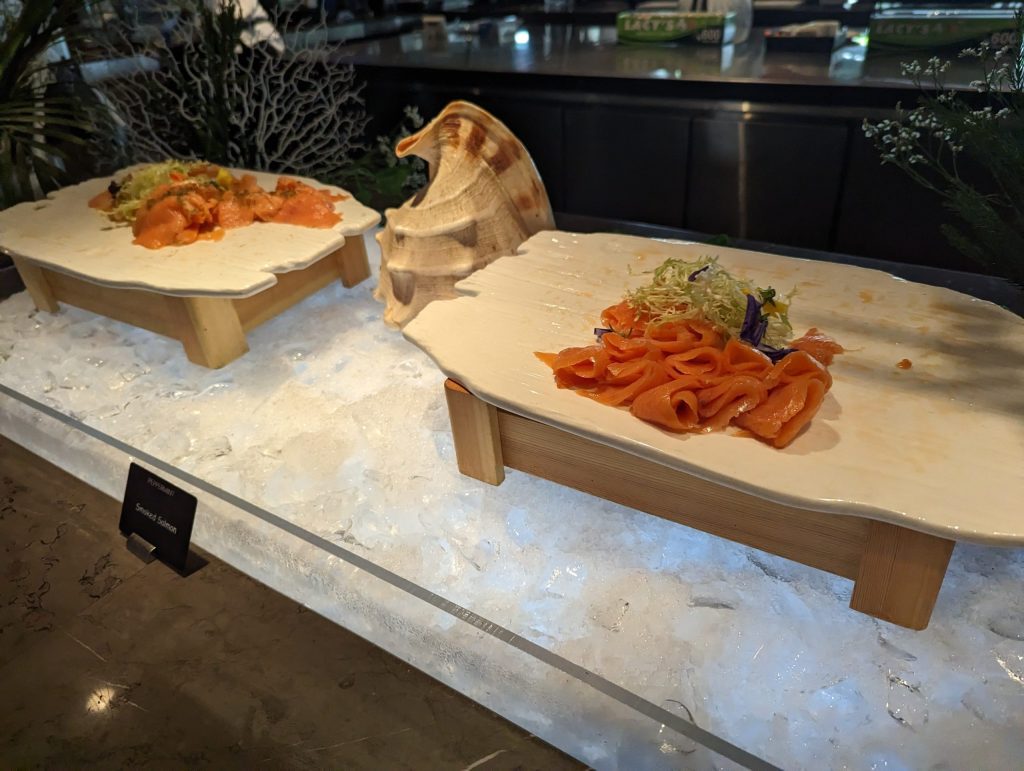 Good to also see a Japanese station where you can find miso soup, chawanmusi, fried takoyaki, golden crispy prawn. Just beside the Japanese station is the sushi bar where you can get assorted sushi, salmon sushi, octopus and more.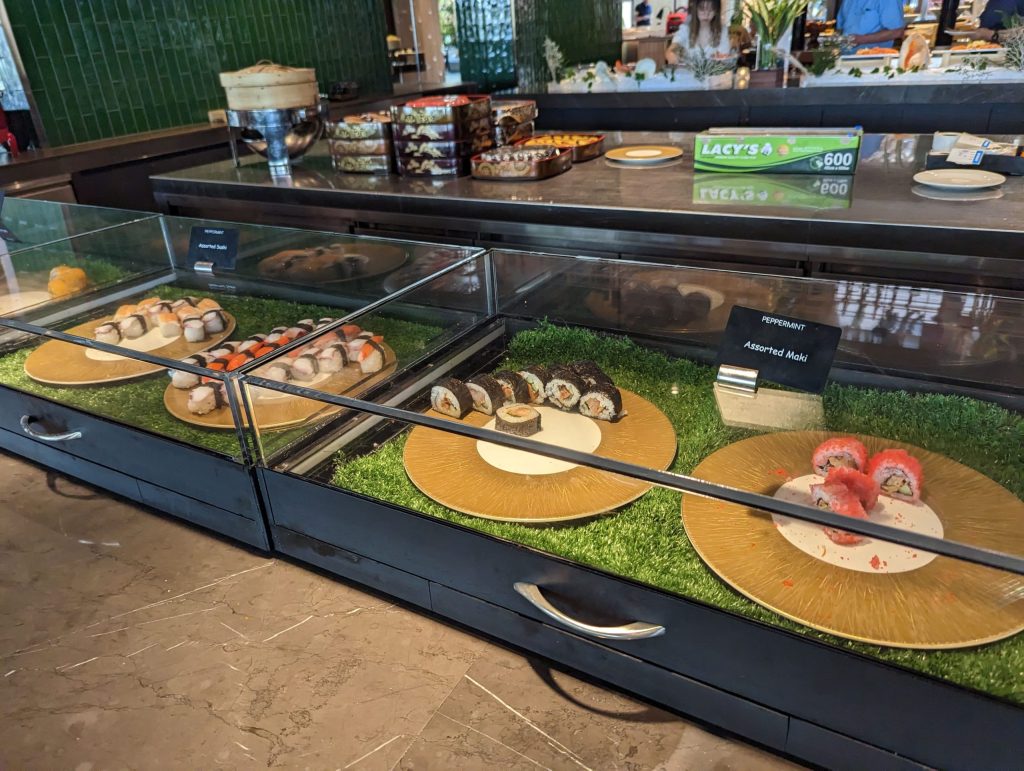 The salad bar is located just directly in front of the main entrance. It's a pretty good selection of salad ingredients with even quail eggs.
For the Chinese station, you can find chilli crab, horfun with gravy, deep fried fish, double boiled soup and more. Under the live station, there's also local delights like chicken rice (poached chicken and soya chicken) and prawn noodles. To be frank, the chicken rice are not very tasty, I think any chicken rice stall from hawker shop/coffee shops can be better.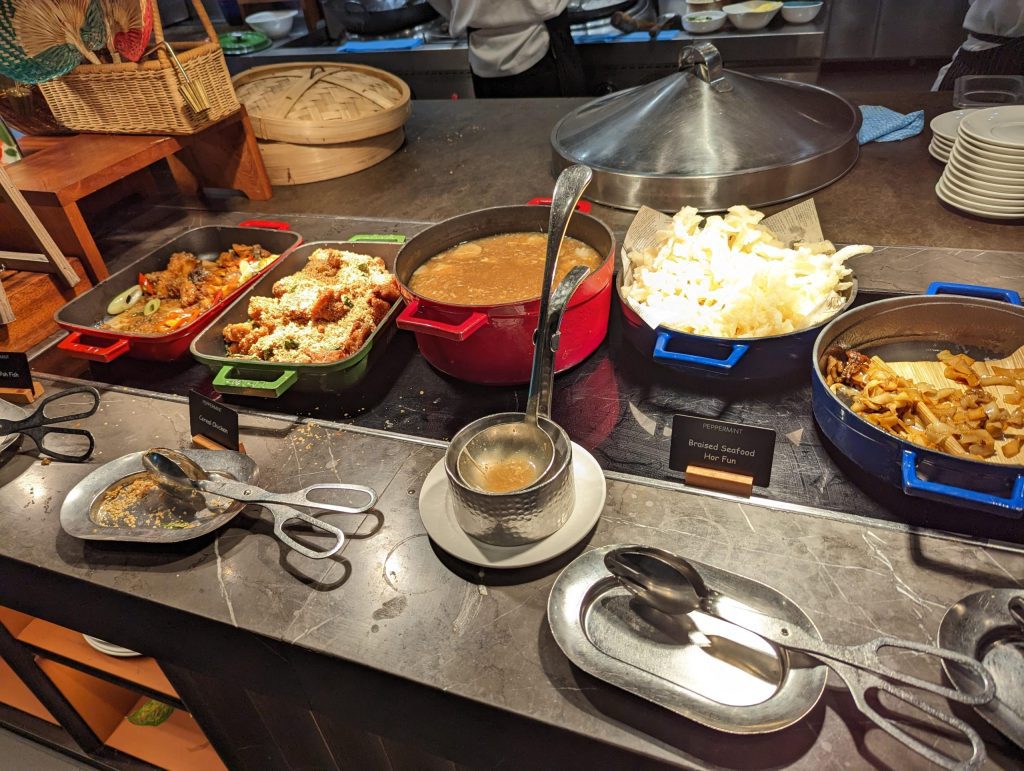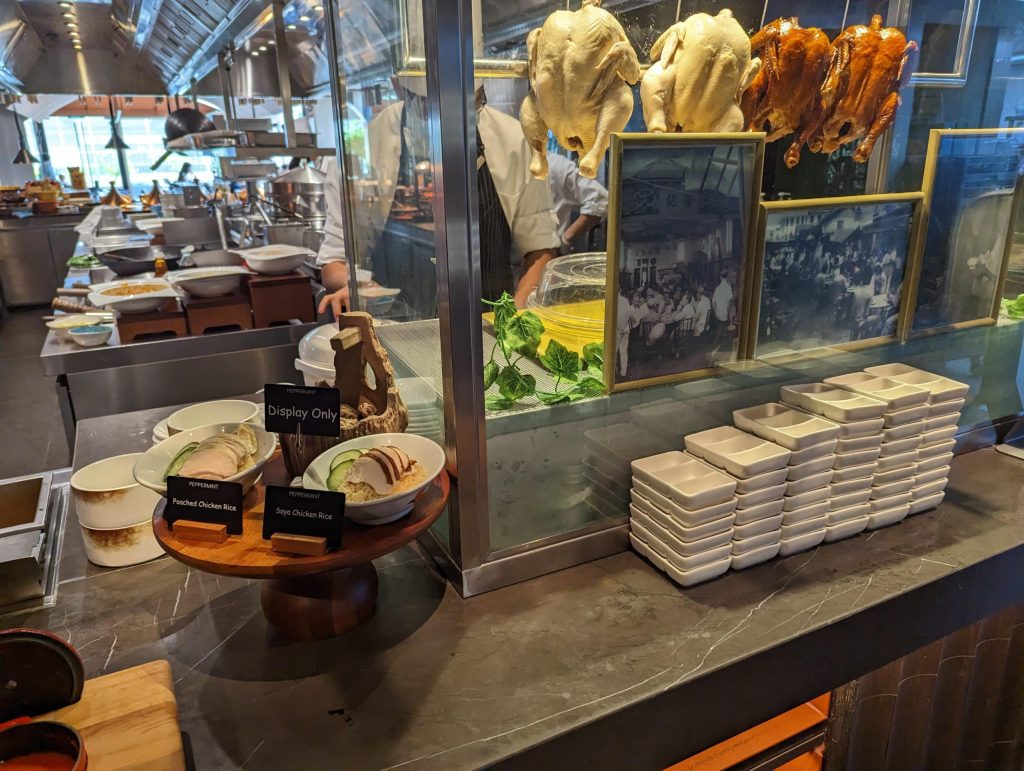 Below is the Indian station. The crispy puff prata with red sugar and condensed milk is something special which you may not find anywhere else, so you may want to try it. There's also Biryani, crackers and some curry veg. It will be better if there's also chicken curry to go with the Biryani!
Here's are some other photos from the bread and dessert stations.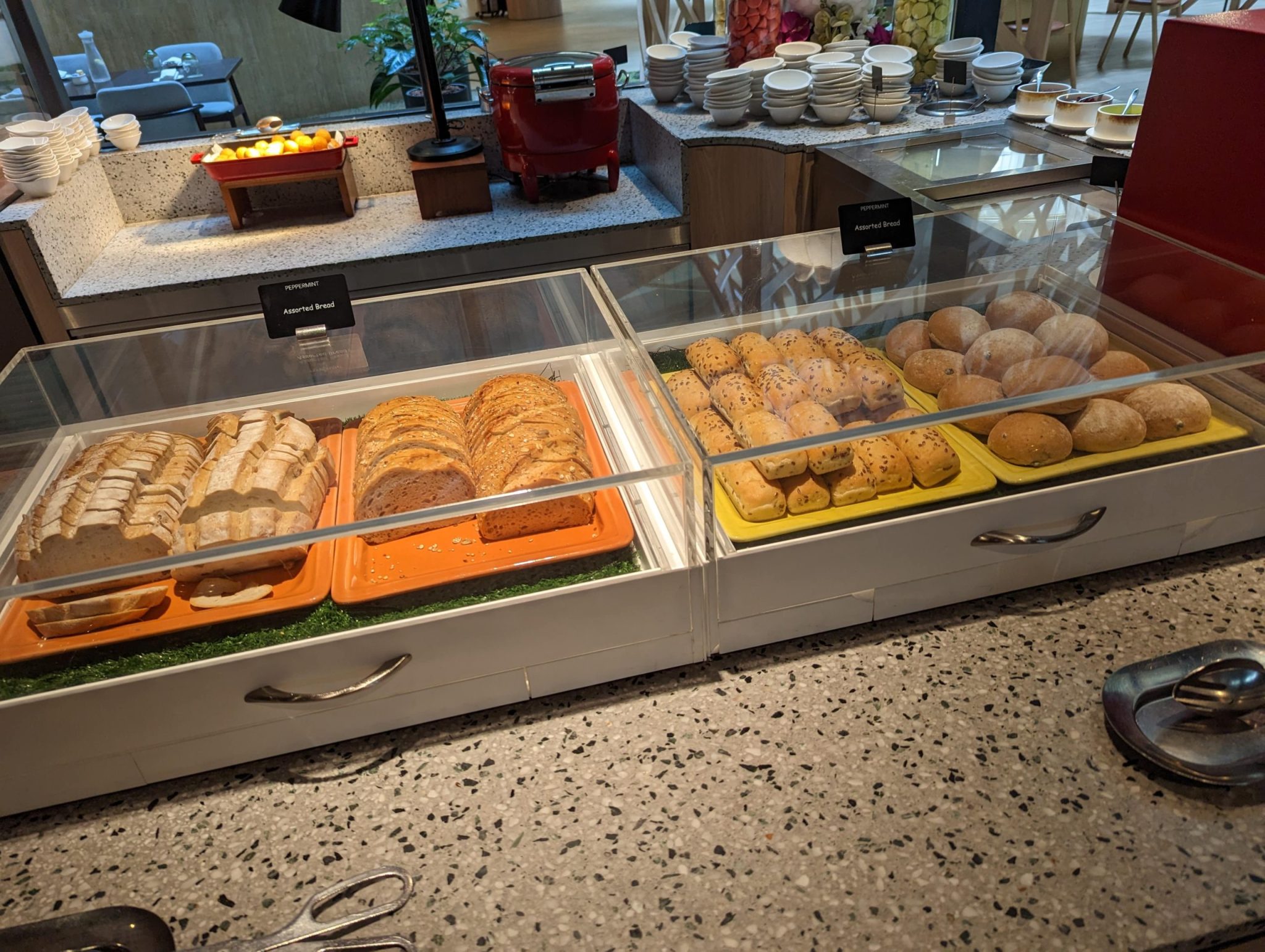 I missed out taking some photos on the Western station, but there's a pasta live station and some other dishes like veal leg slices, chicken sausage, roasted chicken leg, and white grilled fish.
---
Verdict
Overall, I think its a good fulfilling buffet lunch and we left with a satisfying stomach. The seafood are fresh but it would have been better if there are oysters as I am craving for it. Dessert station is good and I am happy there's also durian paste available.
If there's one thing to pick on, I think the variety of food can be improved in my honest opinion (it can be subjective). It will be even better if there's dishes like chicken curry, roast duck, pizza, and dim sum. That will make the international buffet spread more complete. 🙂
Customer service wise, it's perfect. The staffs are very friendly & efficient. Our plates are cleared quickly and water are re-filled without us requesting for it too. Having seen that we are accompanied with a baby, we are also given priority queue when getting into the restaurant, which is great.
Getting to Peppermint @ Park Royal Collection
The nearest MRT station is Esplanade / Promenade. There is also a linked stairway (level 4) to Marina Square. If you arrived at Park Royal Collection from level, take the lift up to level 4 where Peppermint restaurant is located.