Updated: 12 November 2017
As Nicole and I love cafes, we are always on the lookout for new cafes to try out. When I heard there's a new cafe called SOD Cafe in Ci Yuan Hougang which is near my home, I am elated! Finally…
SOD stands for "Supper Oxide Dismutase" – an important antioxidant defense in nearly all living things.
We took a 2 minutes bus ride to SOD Cafe. When we reached, it was around 10:30 am. We didn't know that SOD Cafe opens only at 11:00 am so we explored around Ci Yuan first.
Here is the food menu of SOD Cafe. I would say there wasn't much food selection but their food price looks very affordable. A breakfast set is priced at just $12.50 which can easily cost around $20+ at other cafes.
SOD Menu
When you are ready to order, you will have to go to the counter to make your order. There is no service charge as well. You may want to note that SOD Cafe only accept cash and eNETS.
SOD Milk Tea
I believe SOD Cafe is more well known for their milk tea. Their milk tea is served on a wooden plate and comes in a big jar and a bottle of sugar syrup. Quite a good concept!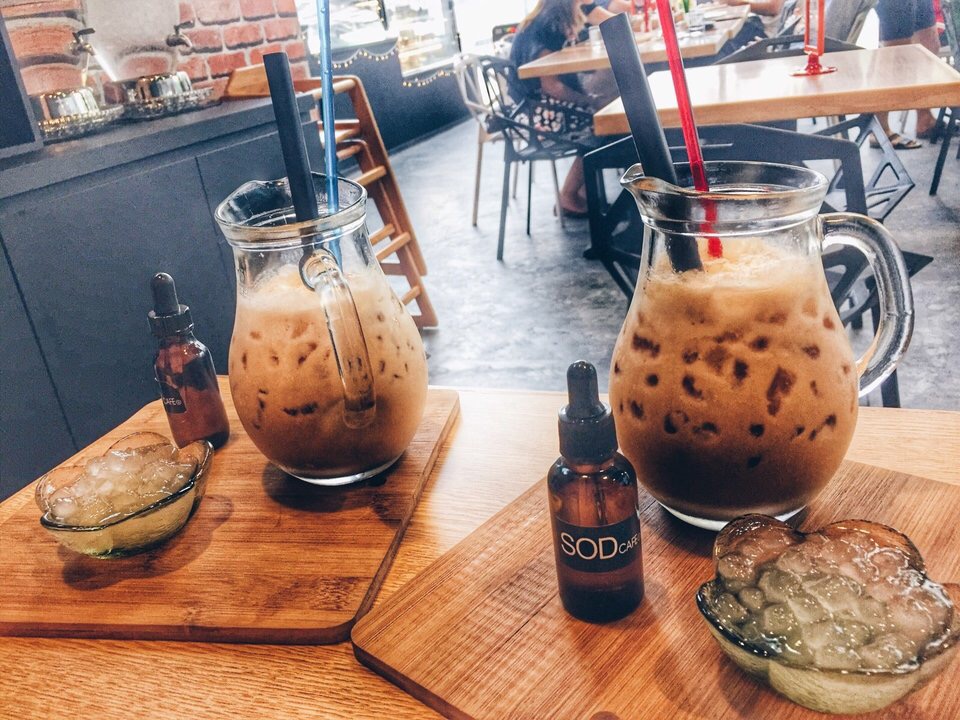 Matcha Mocha (Hot / Cold)
Matcha Mocha seems to be a new item in their menu. I can't find it in their online food menu. Their hot mocha cost $0.50 cents cheaper.
SOD Summer Fruit Tea
We saw that SOD Cafe is promoting this Summer Fruit SOD Tea on their display and decided to try it out. The juice is very rich in vitamins but tastes quite sweet for us.
Latte (Cold)
Double Froth Rosey
The double froth rosey is a soda drink inspired by bandung (rose syrup with milk). It comes with strawberry popping pearls as well. I will recommend ordering this.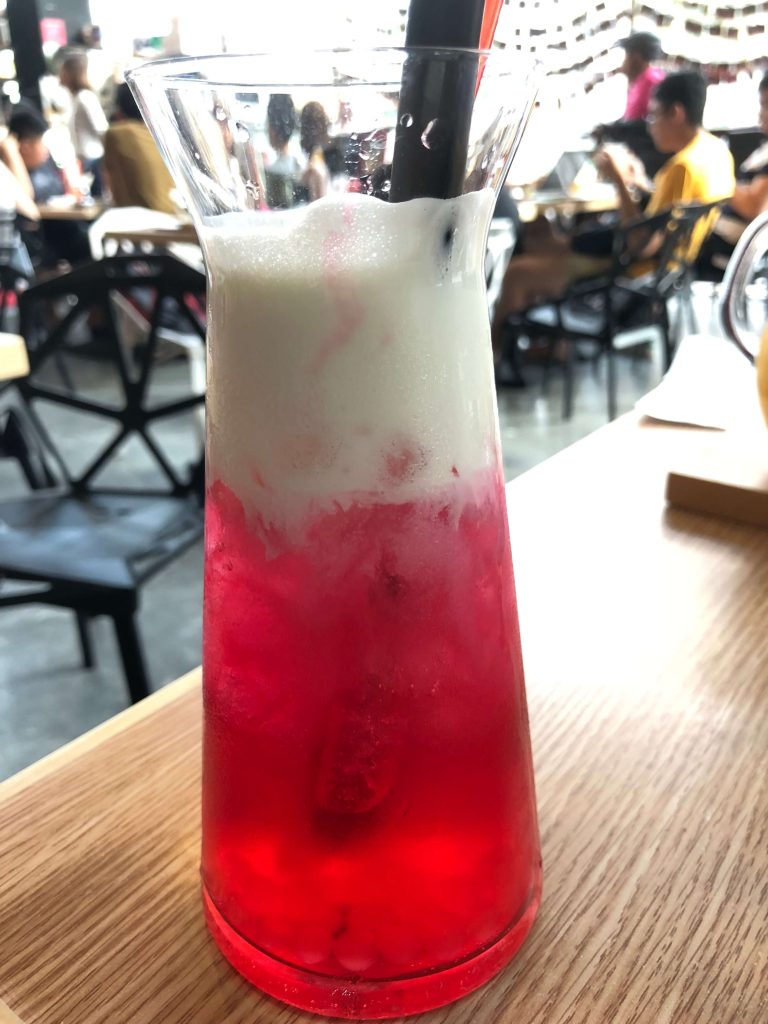 Truffle Fries
At S$6.50, the truffles fries doesnt seems to be alot. Nevertheless, the taste is still not bad. A bit expensive considering the quantity.
Chili Crab Mini Pizza
The Chili crab pizza comes with some "fishy" smell. Those who can't take the seafood smell will not like it. Though it's the first Chili Crab pizza I tried, it's not as impressive for me to order it next time.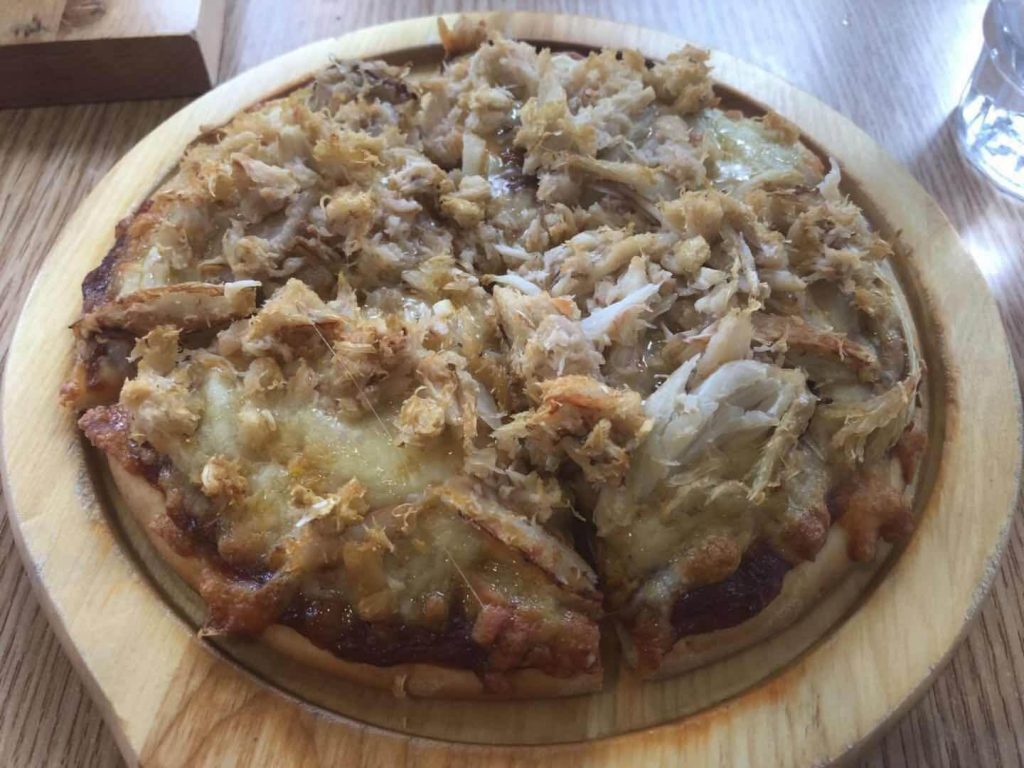 Big SOD Cafe Breakfast
This is the Big SOD Cafe Breakfast. It comes with two sunny side up eggs (or scrambled), sausages, bacons, wedges, salad and toast. For me, I always order american big breakfast for the sausages. But I feel that their sausages doesn't taste that great (tasted more like sausages we can buy from NTUC Fairprice). Maybe they can look into changing the sausages suppliers. 🙂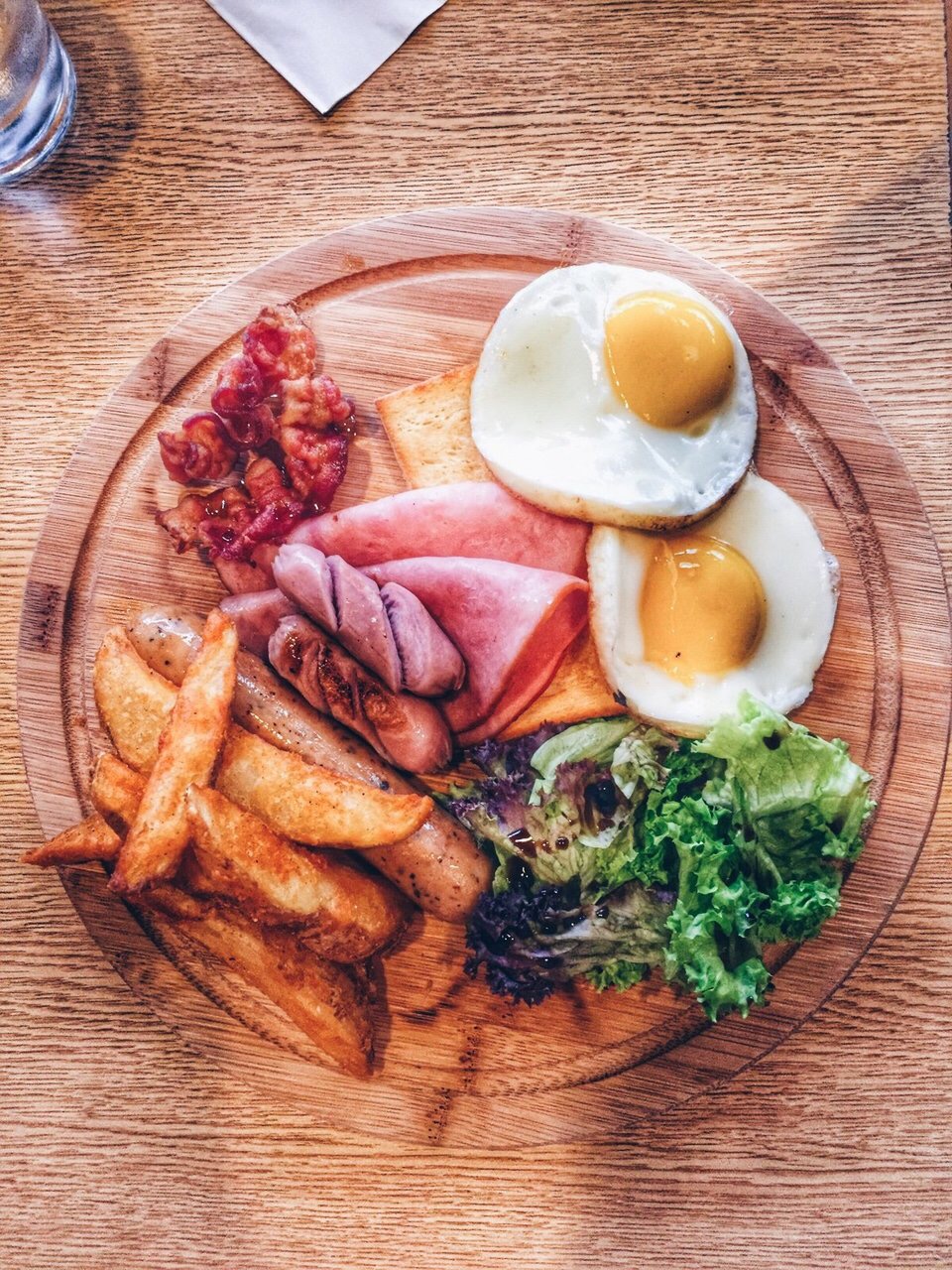 Supreme Chicken
Their signature Supreme Chicken tasted good and I love it. It comes with salad, tomatoes, chicken thigh with melted cheese and two small prawns on top. The quantity is just nice.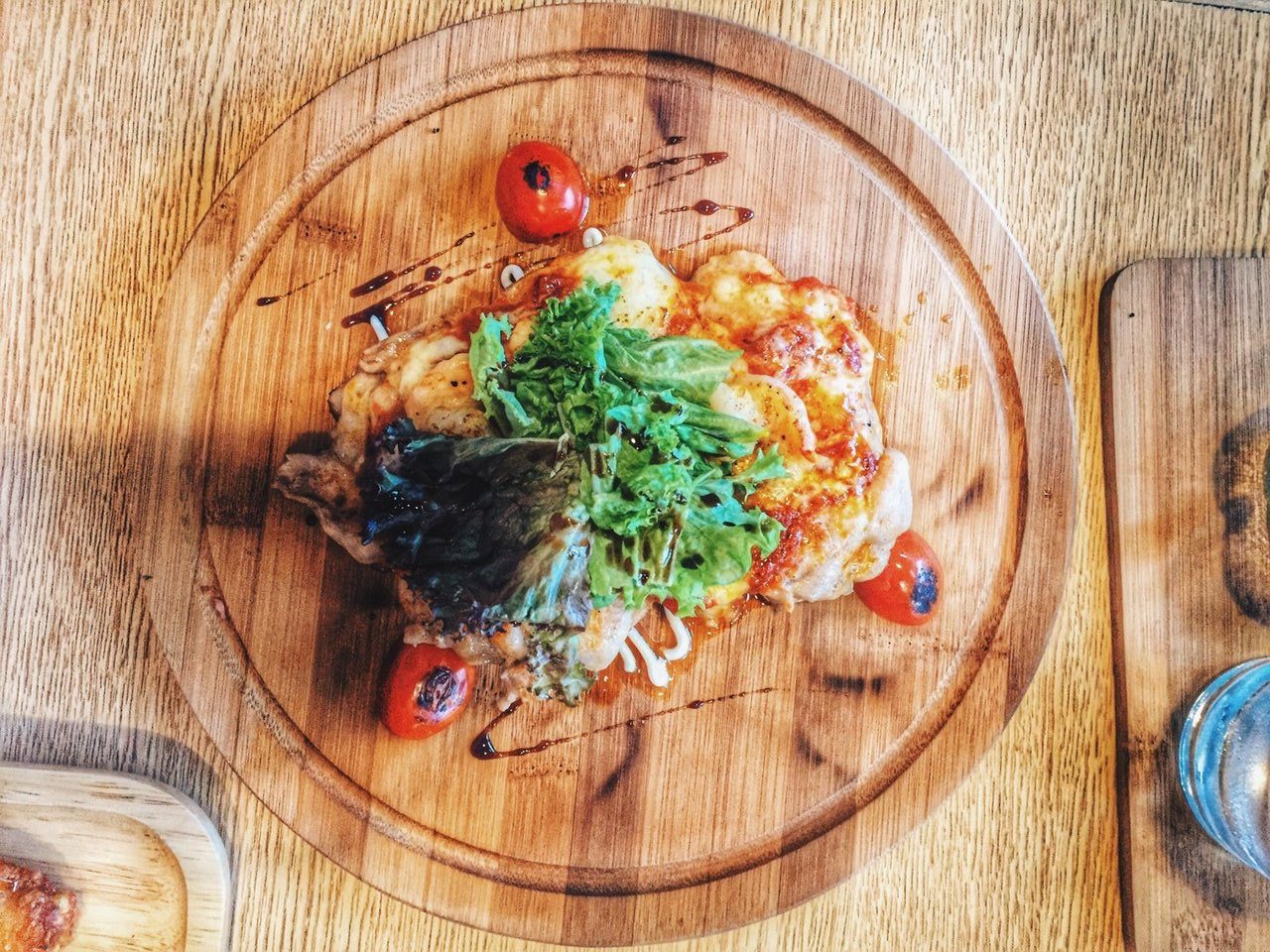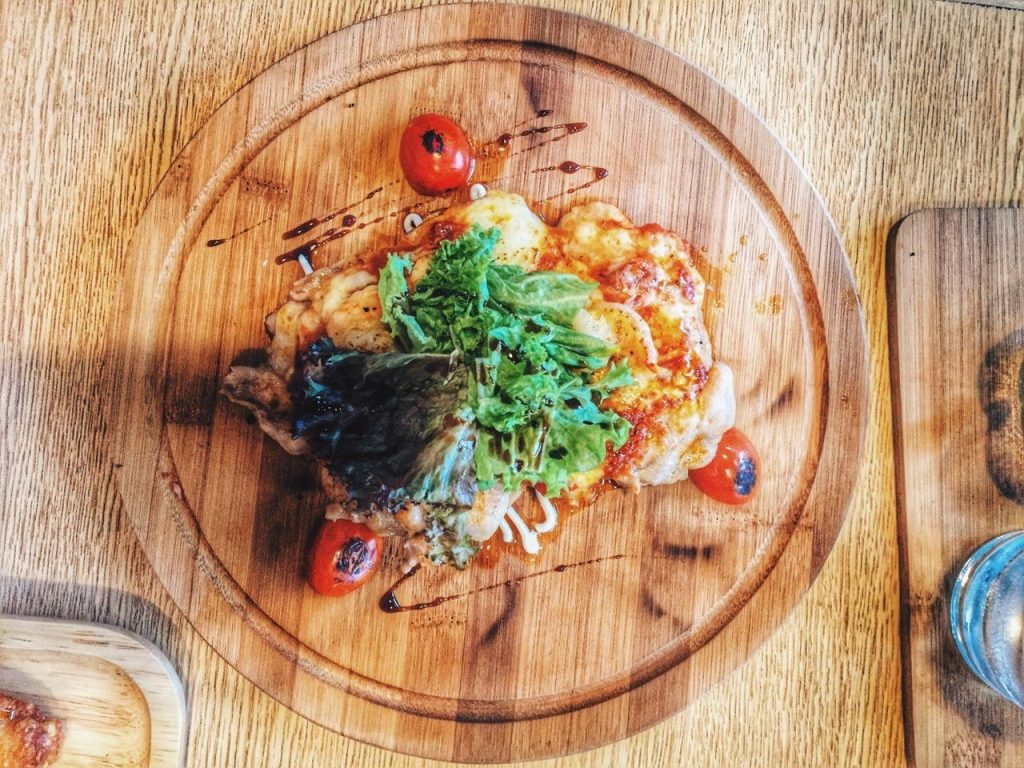 Fish & Chips
The pinky snapper fish and chips comes with two fish fillet, coleslaw and potato wedges.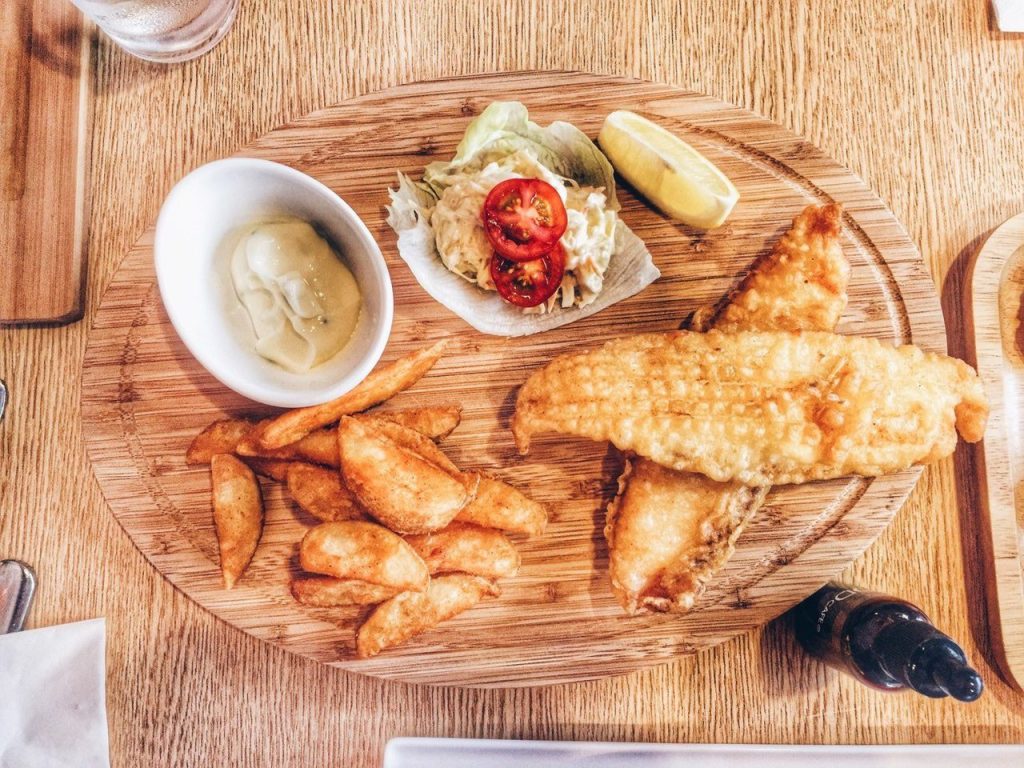 Japanese Curry Baked Rice
This is the first time Nicole tried japanese curry baked rice! Nicole kind of like it, but it tastes a little too cheesy for me. I am not much of a cheese fan.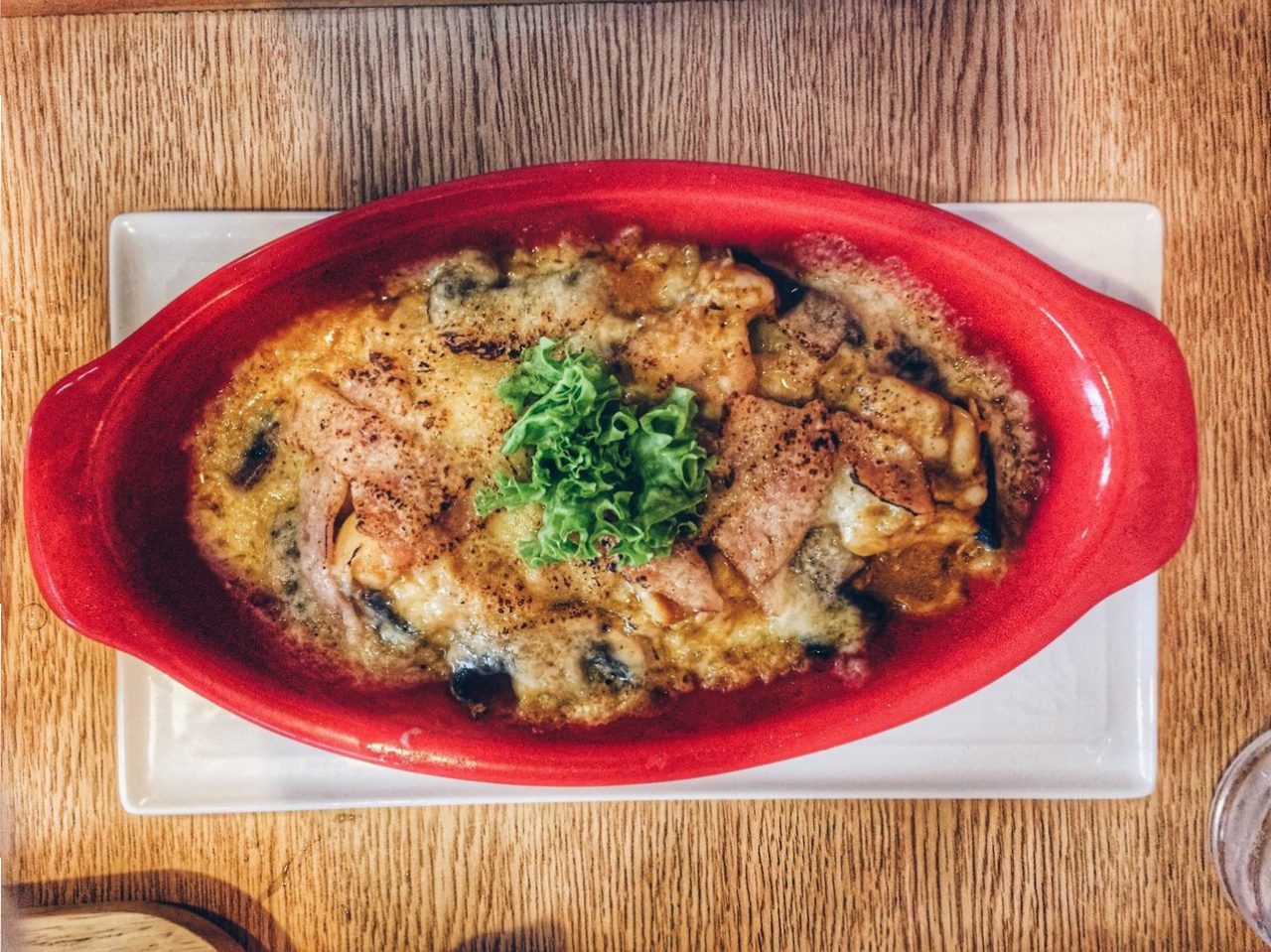 Teriyaki Chicken Burger
The teriyaki chicken meat is juicy and well grilled. The burger also comes with an egg, a slice of tomato, lettuce and crispy wedges.
Wild Berries & Banana Pancakes
Their Wild Berries & Banana Pancakes is not bad. I will recommend you if you want something sweet for your breakfast. It comes with just two pancakes though. This look quite elegantly prepared, doesn't it?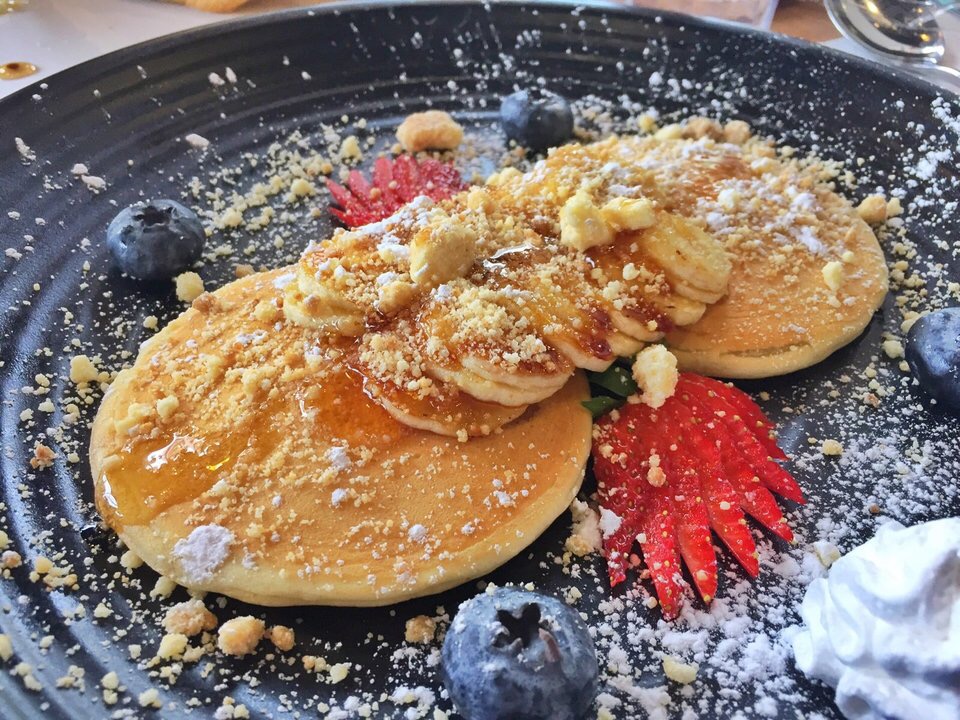 Black Waffles & Ice Cream
We also tried out their black waffles and ice cream. I prefer the normal waffles though.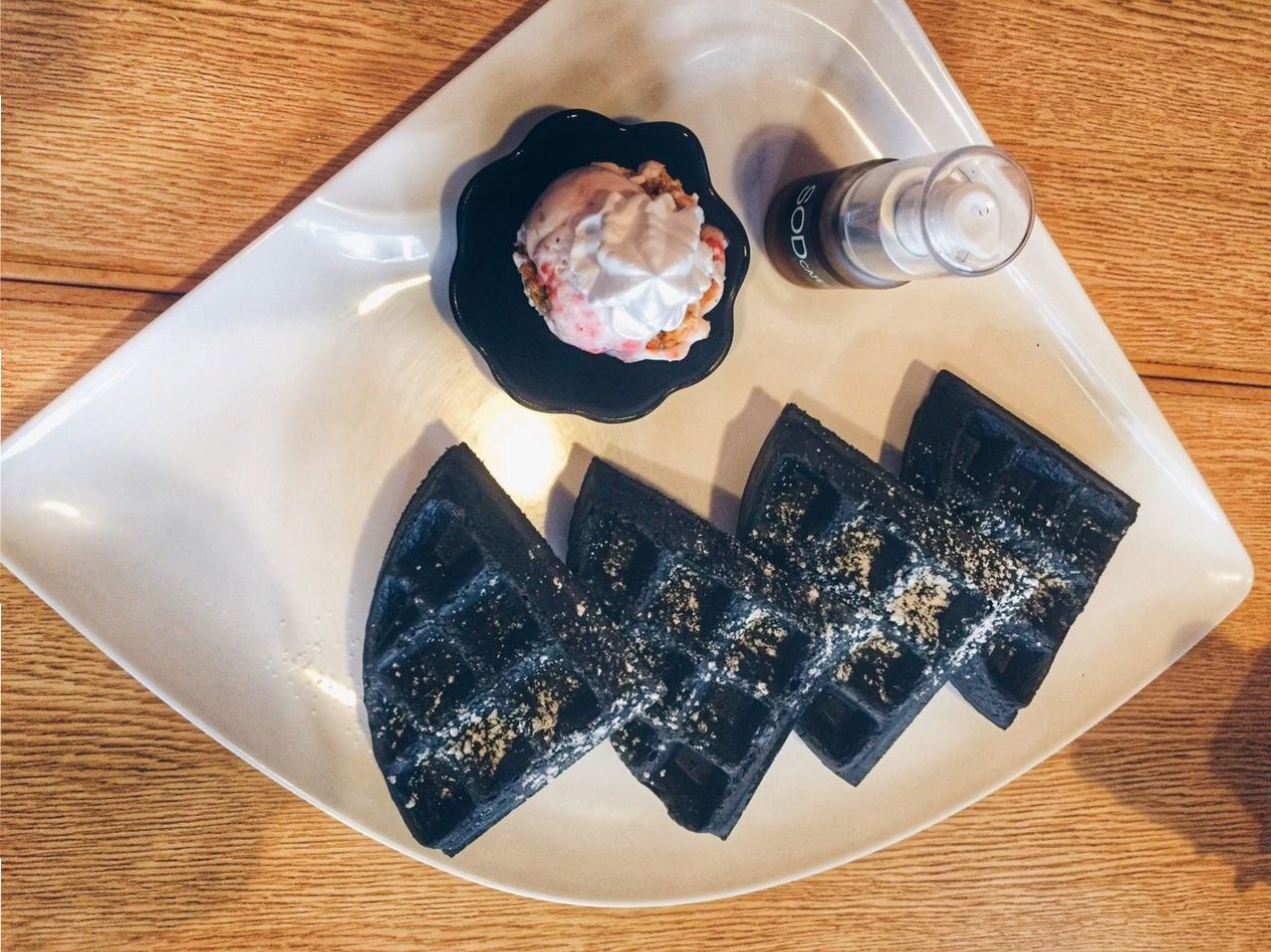 Rainbow Cake
Like all other cafes, SOD Cafe also sells cakes in their cafe. You can find the spread of cakes selection at the counter. This is the chocolate rainbow cake.
SOD Cafe has previously mentioned as one of the cafes in the post 5 Cafes in Singapore That You Might Not Know.
Getting to SOD Cafe
SOD Cafe is located in Ci Yuan Community Centre at the ground level. The nearest MRT is Hougang MRT. You will still need to take a bus
Opening hours: 11AM–10PM
Quality of Food -

7/10

Customer Service -

7/10

Value for Money -

9/10

Atmosphere -

7/10
Summary
My review of SOD Cafe is that the food is relatively cheap as compared to other cafes. For me, I like their Supreme Chicken & Wild Berries & Banana Pancakes (some of you may beg to differ though). Considering that SOD Cafe is conveniently located just 2 mins bus ride for me, I will definitely revisit them again to try out other dishes.