If you are passionate about gardening, you will love HortPark. HortPark is a gardening lifestyle hub located at the west side of Singapore. Since its official launch, many recreational workshops, educational talks and activities about gardening are being held in its premises regularly.
About HortPark Singapore
Hort Park is not just for gardening lovers. There are many people who visit Hort Park to appreciate the nature beauty, for family outings, wedding shots or to take photos.  It is a beautiful place where you can enjoy the nature while having picnic or sipping a glass of wine on the green grass lawn. The Butterfly Garden, Balinese Garden, Water Garden, Lifestyle Corner and the Flora walk are just some of the popular themed gardens in HortPark that people visit. HortPark features 21 themed gardens in total. HortPark, often dubbed the "Green Oasis of the Urban Jungle," is a haven where nature's beauty and human creativity intertwine harmoniously.
Do you know that HortPark stands for Horticulture Park
The best time to visit HortPark will be during evening time when the sun is not that strong. You will be able to see this big and green HortPark signboard when you reached.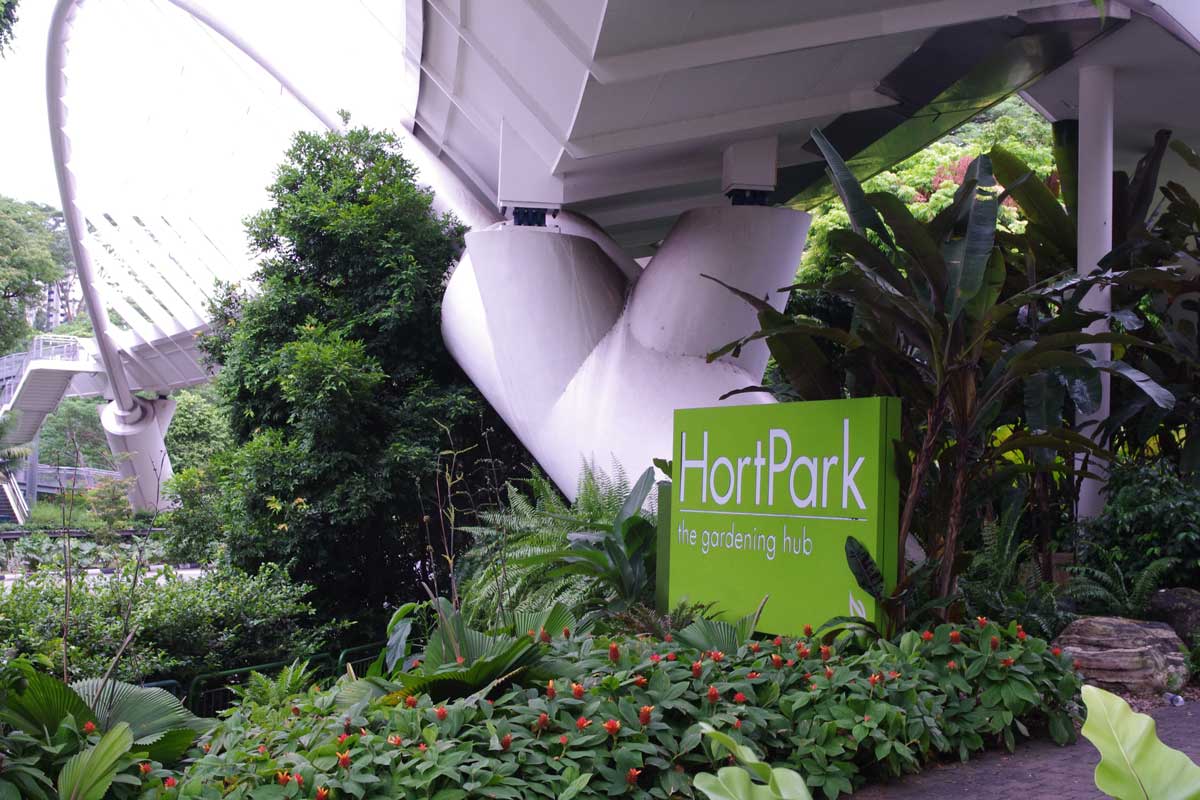 The weather is extremely good when we visited. The breeze is cooling and the sky is cloudy. After a few minutes walk, we reached the HortPark Visitor Services Centre. This place looks extremely beautiful and refreshing. You can get yourself the map of HortPark here too. HortPark is pretty big so don't get yourself lost!
After exploring the centre, we started venturing into the themed gardens in HortPark. Each themed garden has their own unique style. Here are some photos we took.
Crossing the threshold into HortPark feels like entering a dream. The first sight that greets you is a harmonious blend of themed gardens, each inviting you to explore its unique delights. Found this beautiful white shelter while strolling.
Nicole wanted to take a photo with this white shelter so badly… So i took one for her.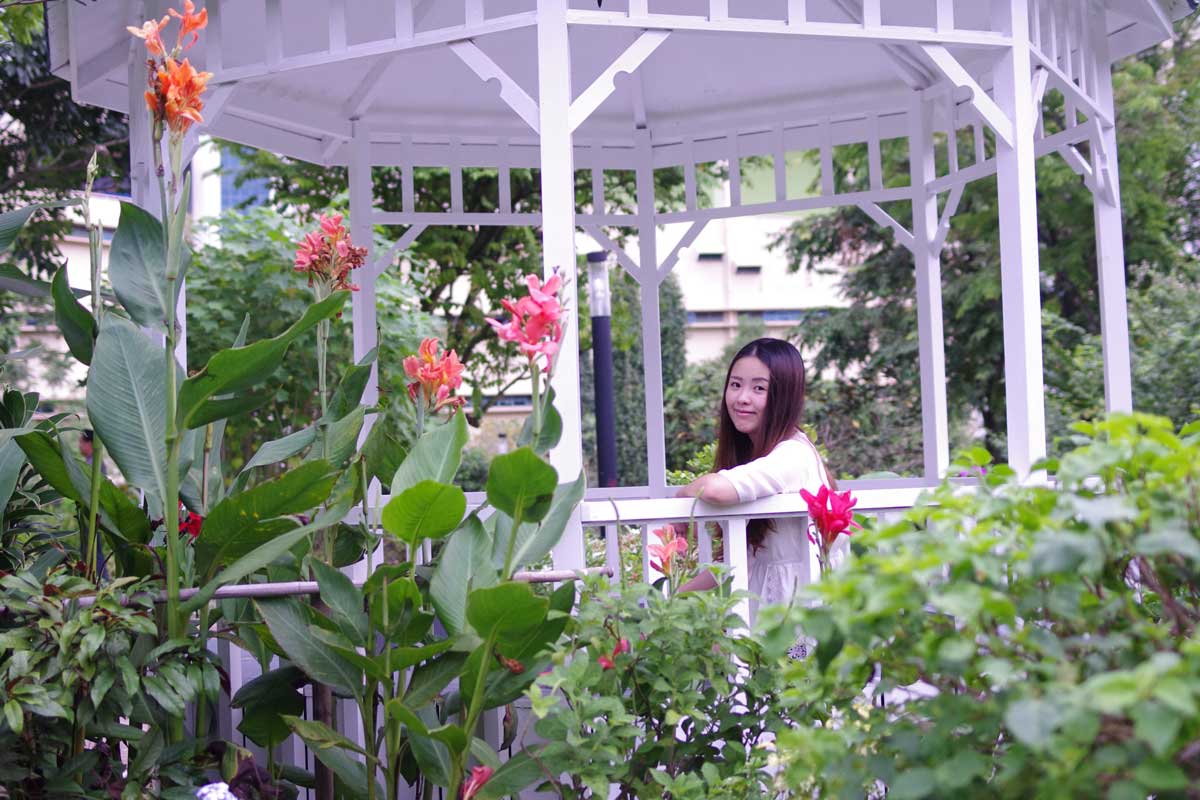 This is a pretty photogenic tree right?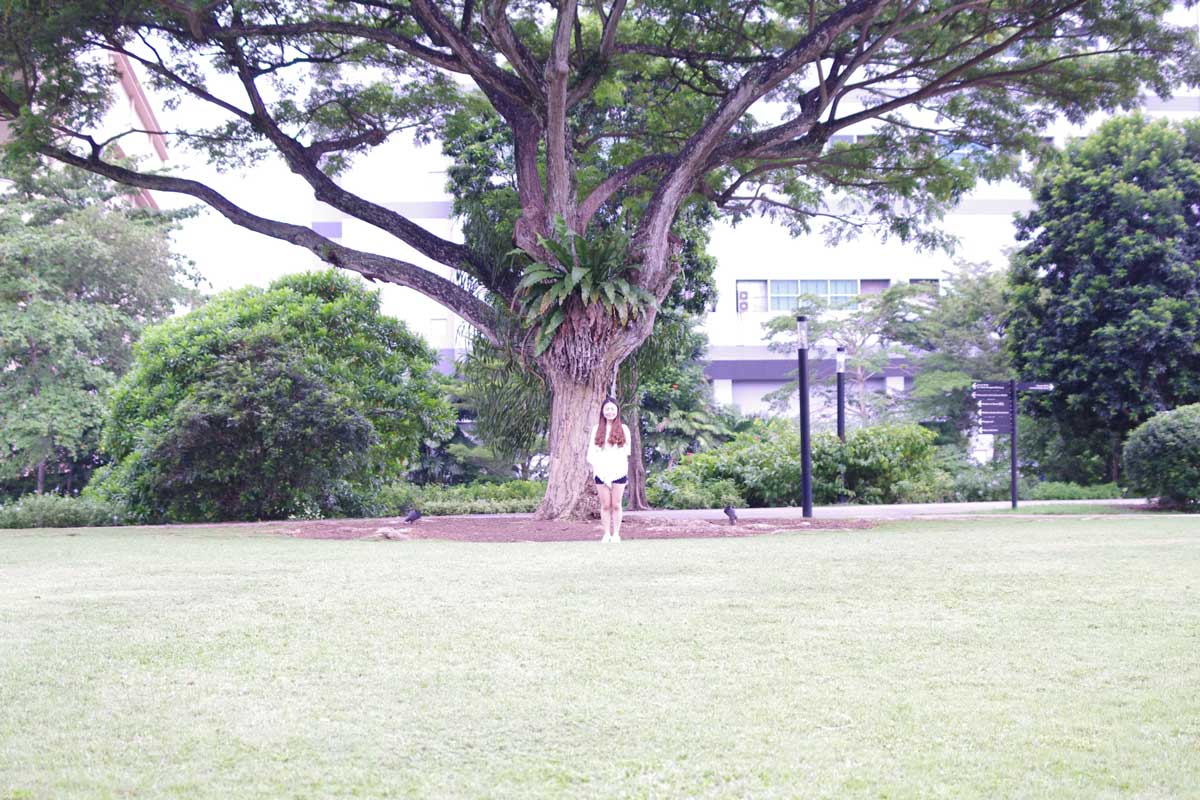 Check out this scarecrow with a pot as the head! Keep the birds away!
Being connected to Mount Faber Park, Telok Blangah Hill Park, Kent Ridge Park and Labrador Nature Park, HortPark is also an ideal place for joggers.
The most impressive thing about HortPark is that it's super clean! No doubt it's the gardening hub of Singapore.
Overall, HortPark is definitely a great place to hang out. There is also a French-Italian restaurant called Vineyard in HortPark that seems pretty good. We will do a review when we visit it next time.
FAQs on Visiting HortPark
Where is HortPark located?
HortPark Singapore is a lush and vibrant park located at 33 Hyderabad Road. It is situated in the southern part of Singapore, near the Kent Ridge Park area.
What are the opening hours of HortPark?
HortPark is open daily from 6:00 AM to 10:00 PM, allowing visitors to enjoy its beauty throughout most of the day.
Is there an admission fee to enter HortPark?
No, entry to HortPark is free for all visitors, making it an accessible and budget-friendly destination.
Are guided tours available at HortPark?
Yes, guided tours are available for those interested in exploring HortPark's various themed gardens and learning about its diverse plant life. These tours provide valuable insights into the park's design and the importance of urban green spaces.
What are some of the key attractions within HortPark?
HortPark boasts several attractions, including the Butterfly Garden, Floral Walk, Gardening Hub, and Horticulture Innovation Lab. Each of these areas offers a unique experience that showcases the beauty of nature and human creativity.
Can I bring my children to HortPark? Are there any kid-friendly activities?
HortPark is family-friendly, with designated play areas and interactive installations for children. The park offers a delightful learning environment for kids to explore and connect with nature.
Is there a café or restaurant within HortPark?
Yes, Canopy HortPark is located within HortPark, offering a range of delicious culinary options amidst the park's lush surroundings. It's a great spot to relax and refuel after exploring.
Can I bring my own food and have a picnic at HortPark?
Yes, you are welcome to bring your own food and have a picnic in designated areas within HortPark. It's a wonderful way to enjoy a meal surrounded by nature.
How do I get to HortPark using public transportation?
HortPark is easily accessible by public transportation. You can take the Circle Line or East-West Line of the MRT and then proceed with a short bus ride or walk to reach the park.
Are there any special events or workshops held at HortPark?
Yes, HortPark regularly hosts a variety of events, workshops, and educational programs related to gardening, horticulture, and sustainable practices. These events provide opportunities for visitors to learn and engage with experts in the field.
---
Getting to HortPark & Opening Hours
Address: 33 Hyderabad Road (Off Alexandra Road), Singapore 119578
You will need to take a combination of MRT and BUS to HortPark
| | |
| --- | --- |
| From MRT Station | Buses to HortPark |
| HarbourFront Station (NE1) | 61, 93, 97, 100, 166, 963, 408* |
| Labrador Park Station (CC27) | 51, 61, 93, 97, 100, 166, 963 |
| Clarke Quay Station (NE5) | 51, 61 |
| City Hall Station (EW13 / NS25) | 61, 166 |
| Commonwealth Station (EW20) / Serangoon Station (NE12) | 100 |
| Bugis Station (EW12) / Queensway Station (EW19) | 51 |
| Bukit Batok Station (EW 24 / NS1) | 61 |
| Jurong East Station (EW24 / NSI) | 97 |
| Woodlands Station (NS9) | 963 |