Among many sushi restaurants that I tried, Genki Sushi left the deepest impression for me. Being a fan of technology, I am most impressed by Genki Sushi efforts in investing in modern technology to improve their operation efficiency. Last week, to celebrate my sister's promotion at work, we decided to lunch out at Genki Sushi at Chinatown point (Her treat!).
Genki Sushi's mission is to bring sushi within the reach of everyone. To introduce this unique Japanese dining experience to the world and to never stop improving and upgrading our skills.
Getting to Genki Sushi Chinatown Point
Address: #02-33 Chinatown Point, 133 New Bridge Rd, Singapore 059413
Opening Hours: Daily, 11.30am – 10:00pm
We reached Genki Sushi Chinatown Point at around 1:50PM and were quickly being served to a table. The place was not packed at this timing and that's great as we were hungry!
To start ordering in Genki Sushi, you need to use their iPad. The ordering app is pretty user-friendly and idiot-proof. Just tap on the items that you want to press the tick icon. Note that you can only order 4 items in every train. Well, the concept that makes Genki Sushi interesting is that your sushi will be delivered by their Kousoku Express System – like a bullet train. The bullet train delivering your sushi plates will be traveling on the track just beside the table.
So, after your sushi plates arrived and you had taken it off the train, you will need to press the blinking orange button. The bullet train will travel back to the kitchen after tapping on it.
Genki Sushi uses has an unique way to clear plates too. Just drop/insert your empty plates here!
If you want an overview of all their dishes, just look at the menu that is hanging beside the train track. Here is how their bullet train delivering the sushi plates looks like.
After ordering from the iPad, each train takes around 3+ minutes to arrive. This is an impressive plus point in terms of efficiency as compared to you having to wait for a waiter to serve it. Technology can do wonders right?
This crab meat egg custard is my must order when I visit Genki Sushi. You should try this too.
Personally, I do find the quality of their sushi is there. There is also interesting uniquely Singaporean style sushi like the below. Ikan bilis + otah. I think it is called Singapore roll.
How can you not order Salmon sushi when you eat sushi.
Nicole loves their smoked duck sushi.
Here are some other sushi that we ordered.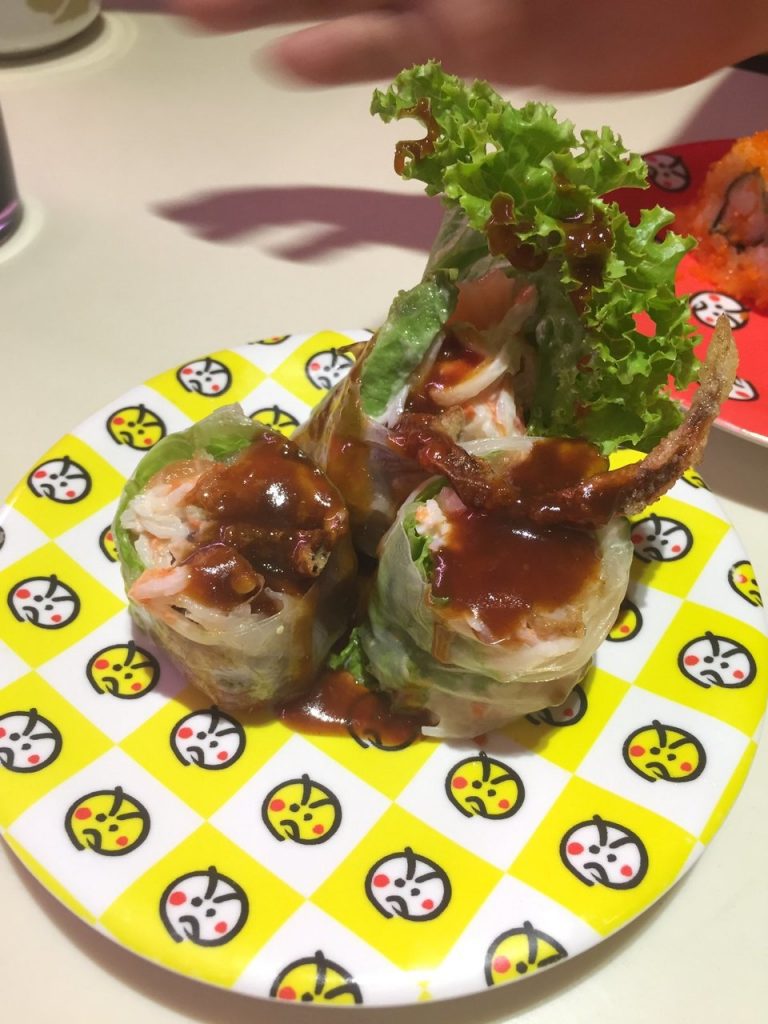 My sister favorite's baby octopus – Chuka IIdako
Quality of Food -

7/10

Customer Service -

7/10

Value for Money -

7/10

Atmosphere -

6/10
Summary
We spent around $100 for 4 persons, which is around $25 per person. By leveraging on modern technology, Genki Sushi's serving speed of the sushi is commendable. Their quality of sushi is good and reasonably priced too. For $25, you can definitely get yourself full. If you love sushi, consider trying Genki Sushi and try out their high-tech sushi experience. The team @ Genki Sushi is definitely in the right direction in their mission to provide a unique dining experience. 🙂