Glamping, this is a word that I think you would have come across in social media these recent years. Yup, and you probably landed here while searching for reviews of glamping at east coast park. For the benefit of those who don't know, Glamping derives from these two words – Glamour and Camping. It's basically experiencing nature with luxurious camping if you ask me. The Glamping movement has been popular globally and even in a small island country like Singapore, we too see glamping starting to rise in popularity recently. As aspiring travel enthusiasts, it has always been our interest to try out new experiences! In this post, let me share with you our first hand experience glamping at east coast park.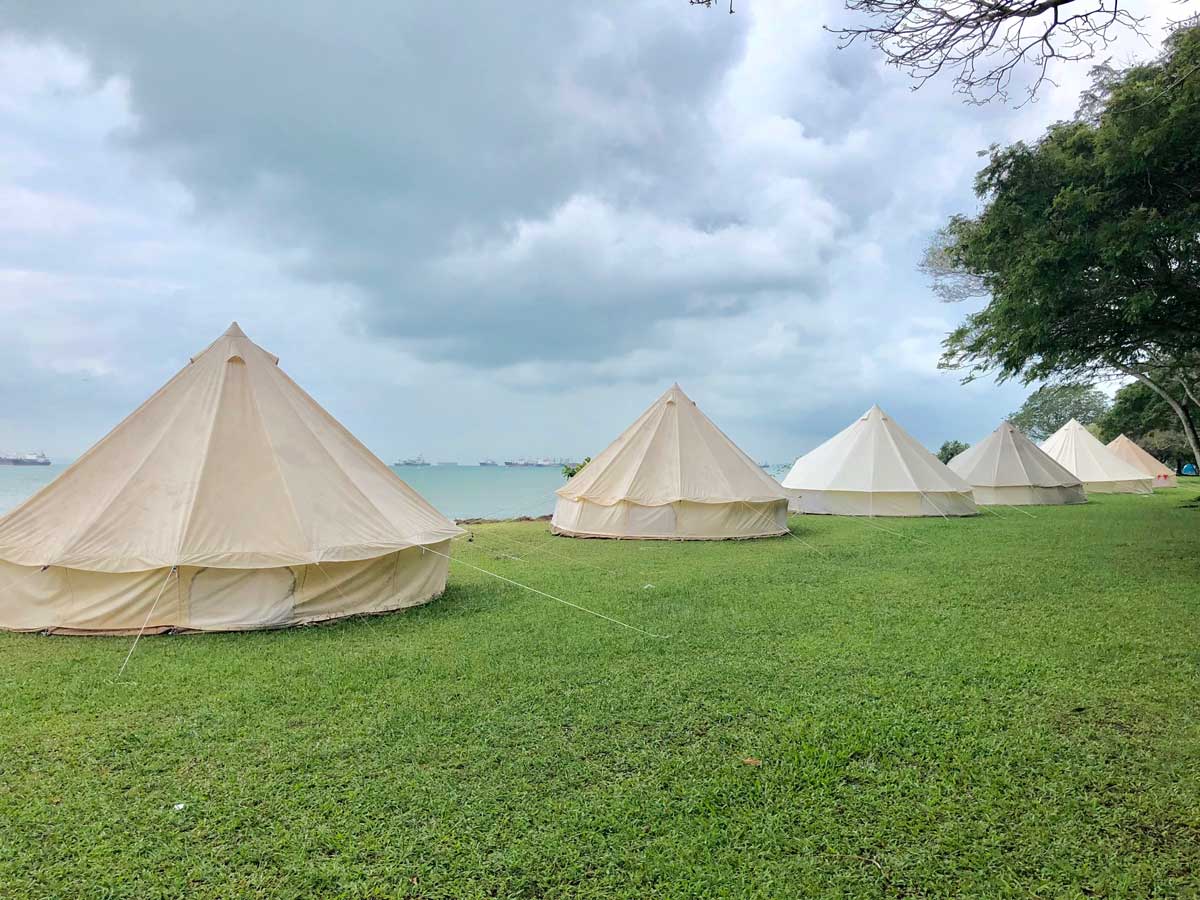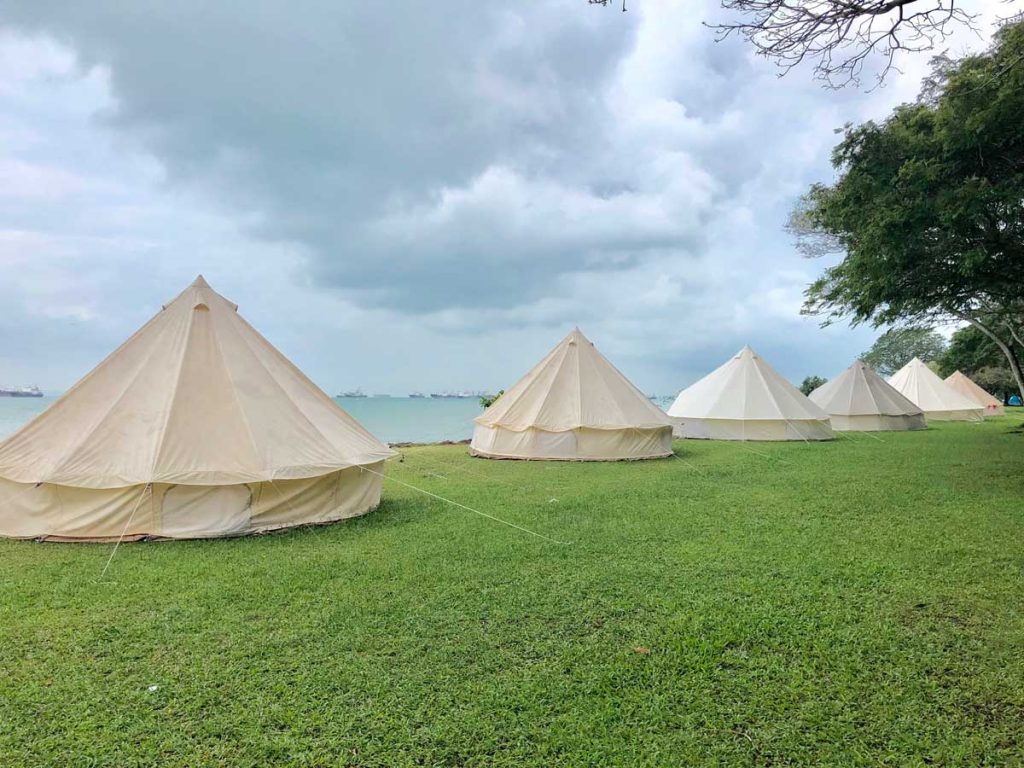 There are several glamping providers popping up in Singapore due to the rise of the Glamping Wave. The price differences are pretty minimal and I think each offers pretty similar services. It's up to you on which to choose! On the check-in day, we were informed that our tent is set up in Camping Area G. Upon reaching the site, we were amazed by the number of tents already set up for guests. Wow, is this still the East Coast Park we are used to? The scene is magnificent! It's like "Little Mongolia" in Singapore. Don't you think so? We met the staff who set up our tent and she directed to our medium sized bell tent.
---
Glamping Bell Tent Tour
This is how the inside of the tent looks like. You'll get a double air mattress as well as a "mini bar" which consists of mineral water and some snacks. Utensils, glasses etc are also provided.
Note that there is no shower and toilet facilities and those are only accessible through public toilets located not quite far away. Also, we find the inside of the tent quite stuffy and hot, so it is recommended you bring your own electric fan if you have one. Don't forget the batteries! You can request for a battery powered electric fan from the staff too.
In case you are wondering, there is a small lock that will be provided for the tent zippers. However, it's definitely better to keep your valuables with you.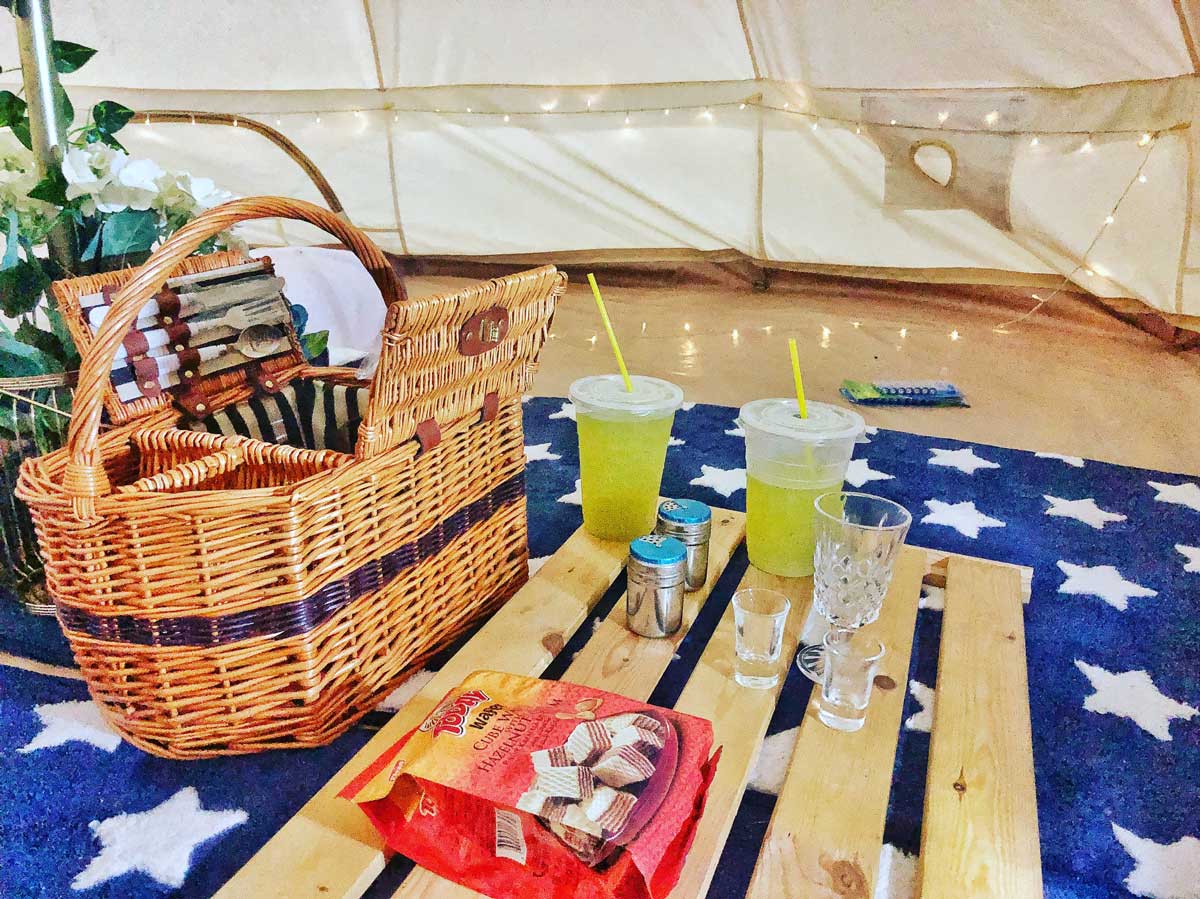 Most of the bell tents are set up by the sea. This means as you stepped out of your tent, you can enjoy and experience the sea view and breeze. Weather is a bit gloomy but the air is refreshing.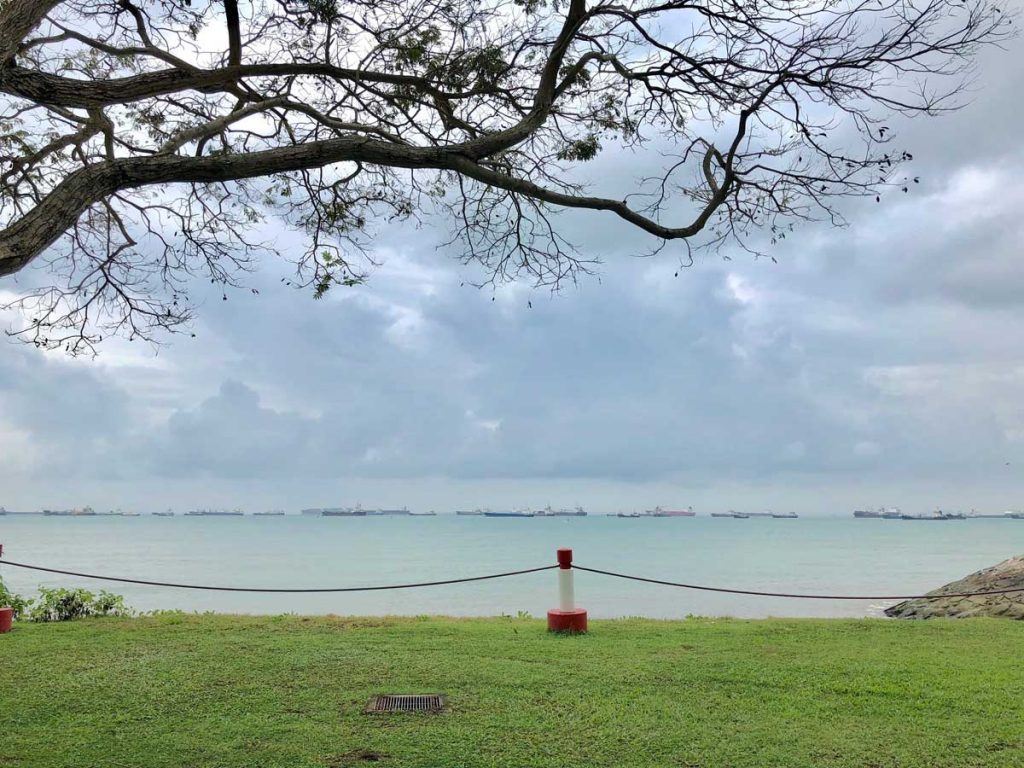 This how our bell tent looks like from the front. The tent is not super big, but it's enough for two people. One downside I would say is that our tent looks quite old and yellowish.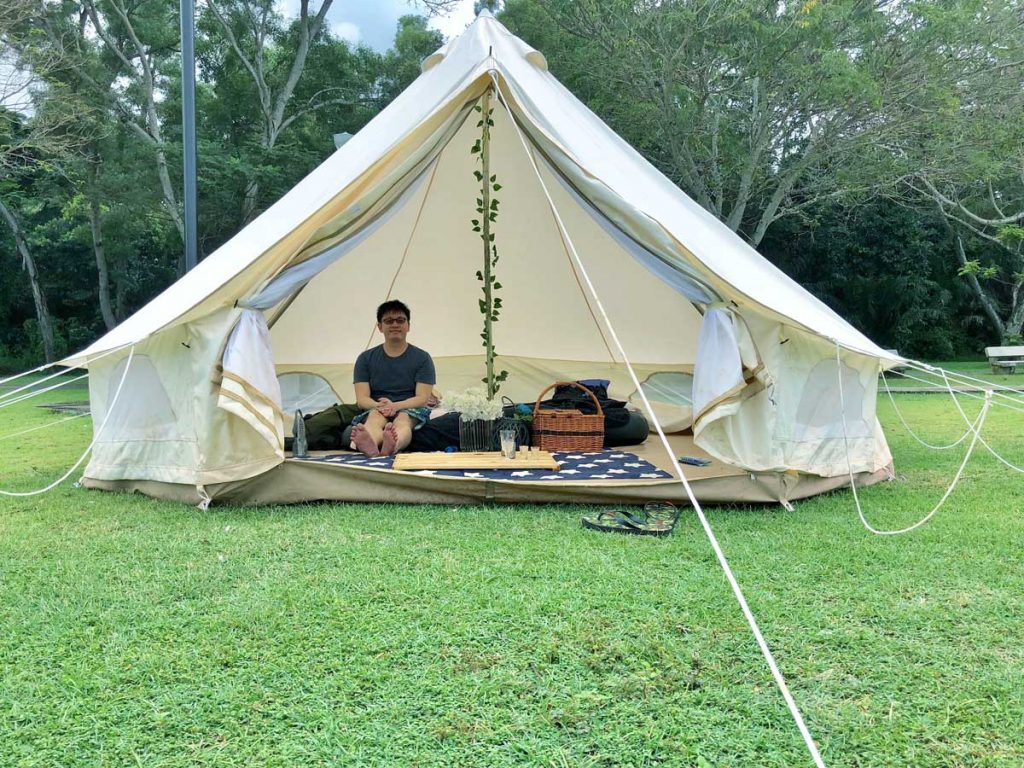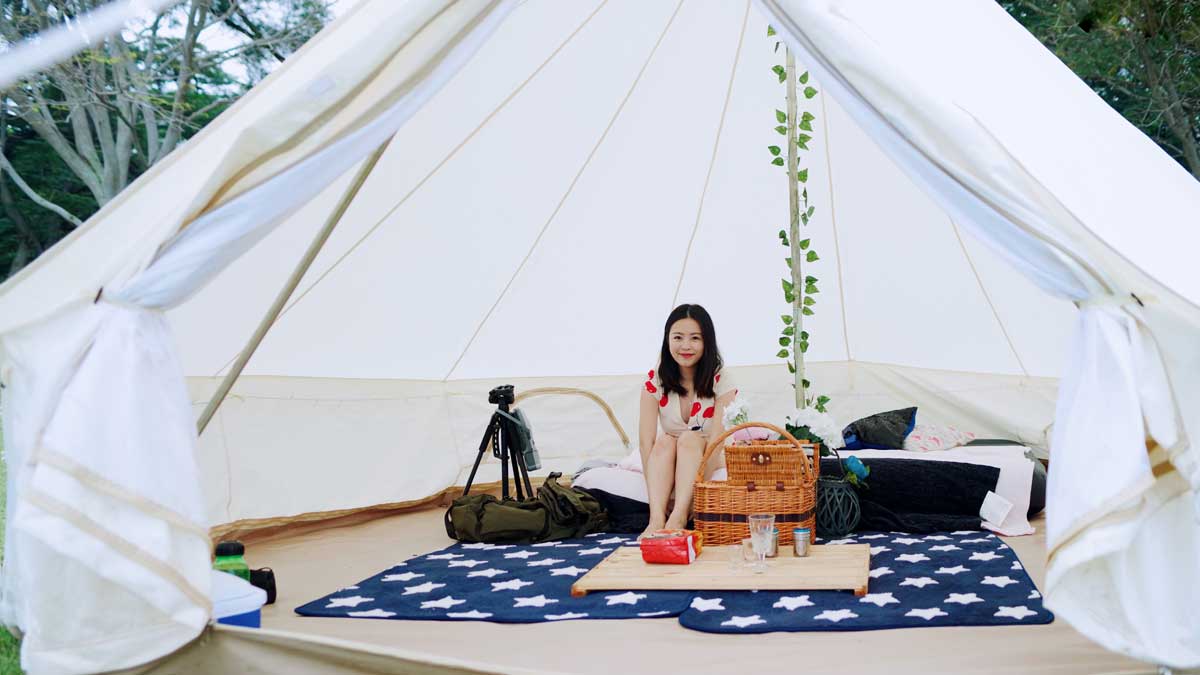 Campsite area G is nearer to the airport, thus it is not surprising that you can see planes taking off frequently. Note that some people may find it a bit "noisy" too.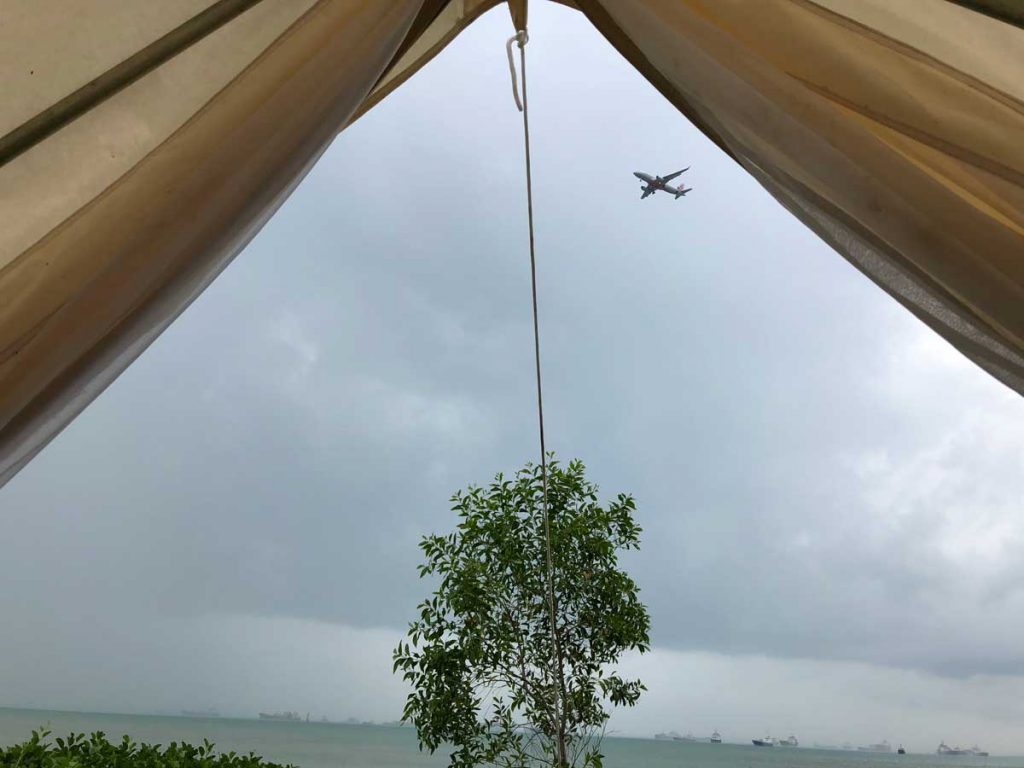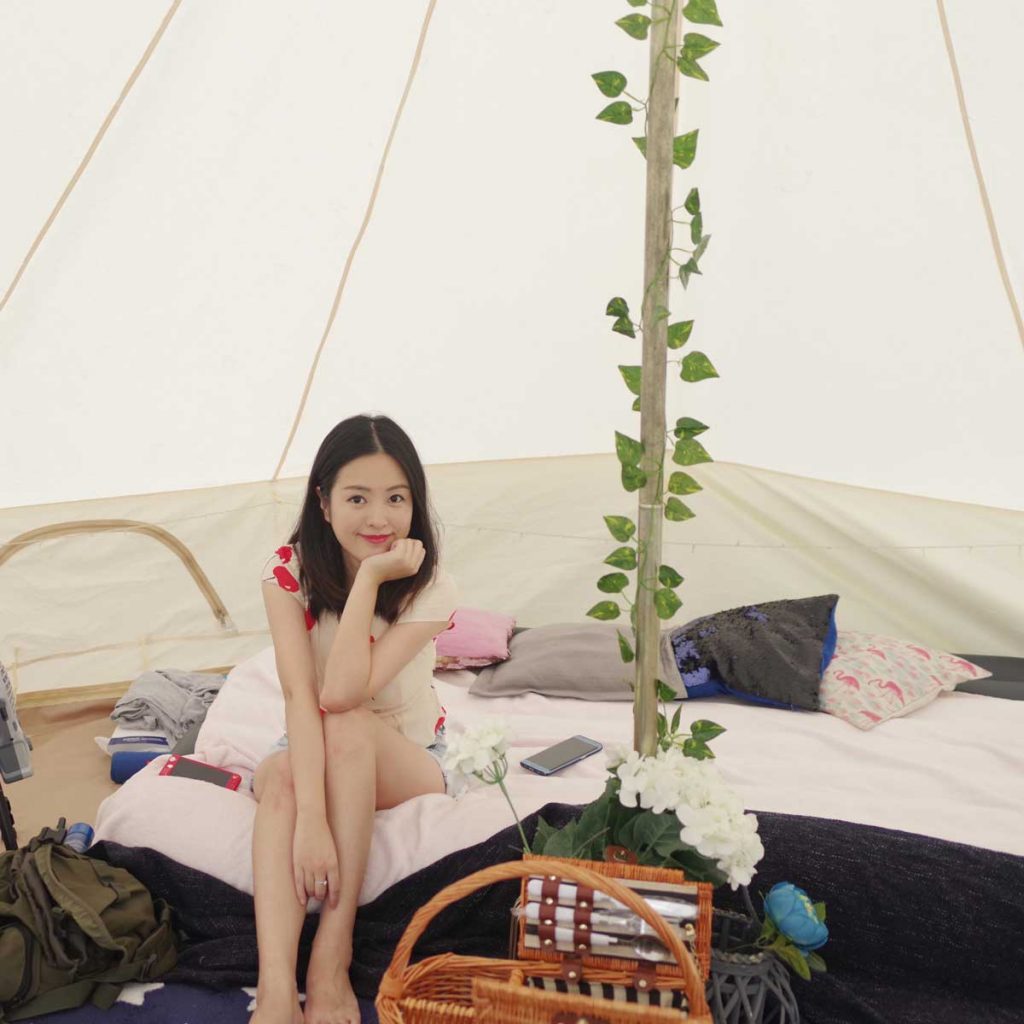 You can also book a barbeque pit to elevate your glamping experience. If you have a big group, that will be awesome! We didn't as its just the two of us and we prefer to dine at a nearby restaurant. Note that if you are planning a BBQ session, you can request to have your tent pitched near to your pit for convenience. Click here to book your bbq pit.
---
Tips for Glamping at East Coast Park
Book and have your tent pitched in Camp Area G as it's more quiet and peaceful in my own opinion.
Bring your mosquitos repellent!
Bring an electric fan and lots of batteries because the inside of the bell tent can get quite hot and stuffy.
If you are planning for a BBQ session, request for your tent to be pitched near the pit.
Zip your tents before retiring for the night.
---
FAQs on Glamping at East Coast Park
What is glamping, and how does it differ from traditional camping?
Glamping, short for glamorous camping, combines the experience of camping with the luxuries and amenities of a hotel. It allows you to enjoy nature while staying in comfortable accommodations.
Where is East Coast Park located?
East Coast Park is located on the southeastern coast of Singapore, along the shores of the South China Sea.
Do I need to bring my own camping equipment for glamping at East Coast Park?
No, you don't need to bring your own camping equipment. Glamping at East Coast Park provides fully equipped tents with all the necessary amenities.
5. Are there private bathrooms and showers at the glamping sites?
No unfortunately. You need to use the public toilets in East Coast Park.
Is glamping at East Coast Park suitable for families with children?
Yes, East Coast Park offers family-friendly glamping options with larger tents to accommodate families, making it a great choice for a family getaway.
7. Can I cook my own meals while glamping at East Coast Park?
Of course, you can book barbecue pits where you can grill your own meals. If you have portable cooking equipment, you can bring those as well. Alternatively, you can also prepare and bring your own meals.
What recreational activities are available at East Coast Park for glampers?
East Coast Park offers a wide range of recreational activities, including water sports, cycling trails, fishing, and beachside relaxation.
How far is East Coast Park from the city center of Singapore?
East Coast Park is approximately a 15-20 minute drive from the city center of Singapore, making it easily accessible for both locals and tourists.
Is it necessary to book in advance for glamping at East Coast Park?
It's recommended to book your glamping experience in advance, especially during peak seasons, to secure your preferred dates and accommodations.
---
Conclusion
Glamping at East Coast Park offers a unique blend of luxury and nature, making it an ideal getaway for those seeking a refreshing escape from the hustle and bustle of city life. Whether you're a solo traveler, a couple looking for a romantic retreat, or a family seeking quality time together, East Coast Park has the perfect glamping experience waiting for you. So, pack your bags, leave your worries behind, and immerse yourself in the magic of glamping by the sea.
Overall, our first glamping experience is quite fun and interestingly unique! This is something that you should try out in your life time. Let me know how your first glamping experience is like!
If you are looking for camping experience in Singapore instead, check out our other post on Camping at East Coast Park.