We visited River Safari Singapore to experience river wildlife and most importantly to visit the lovely Singaporean pandas – Kai Kai, Jia Jia, and Le Le. It had been so long since I last visited Singapore Zoo! If I remembered correctly, my last visit was when I did a part time gig as a waiter during my school days. In this post on River Safari review, let me share with you everything you need to know before visiting River Safari in Singapore.
River Safari is Asia's first and only river-themed wildlife park.
About River Safari Singapore
River Safari Singapore (河川生态园) is the first river-themed zoo and aquarium in Singapore. With over 12 hectares in size, it is nestled between Singapore Zoo & Singapore Night Safari. One of the most popular and main attraction of River Safari is the Giant Panda Forest (featuring Kai Kai & Jia Jia) which was opened to the public in late november 2012.
River Safari Review
We had our lunch at Ang Mio Kio S11 hawker centre before taking bus 138 from Ang Mo Kio MRT. The journey took just around 20 minutes. When you alighted at the bus stop, follow the signboard and you will reach River Safari Singapore's entrance after a 5 minutes walk.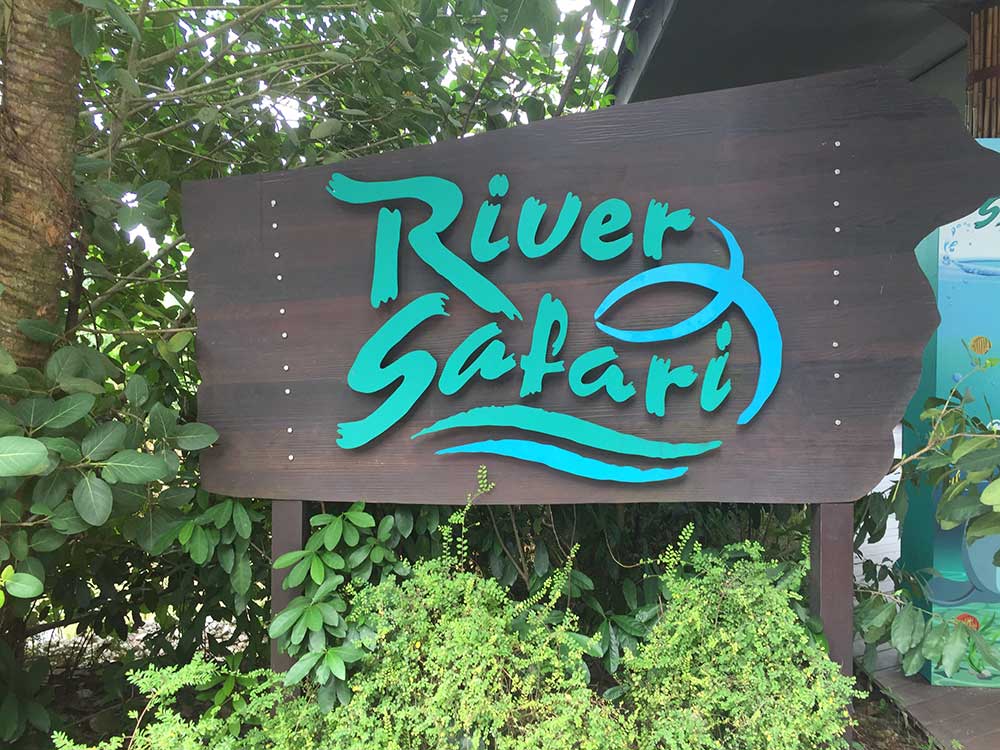 River Wonders
River Wonders showcases a huge diversity of life in rivers: Mississippi River, Congo River, River Nile, Ganges River, Mary River, Mekong River & Yangtze River.
River wonders is quite similar to SEA aquarium and underwater world in Sentosa. You can see huge aquariums featuring different species. It's pretty impressive.
Giant Panda Forest
After the river wonders, we visited the Giant Panda Forest to see Kai Kai & Jia Jia. When we reached, there was already a queue. After a short briefing by the staff on the not-dos, we went in. The climate-controlled biodome is air conditioned and it's very cooling. The weather is super hot and we were so glad.
Do you know an adult panda eats about 20kg of bamboo a day? That's roughly about the weight of 100 bowl a rice!
Just when we went in, we saw the Red Panda (also known as firefox) climbing around on the tree. The size of the red panda is slightly larger than a domestic cat. It has a fox-like face with a rust colored fur. It was said that it is the original panda being discovered around 50 years before the giant panda.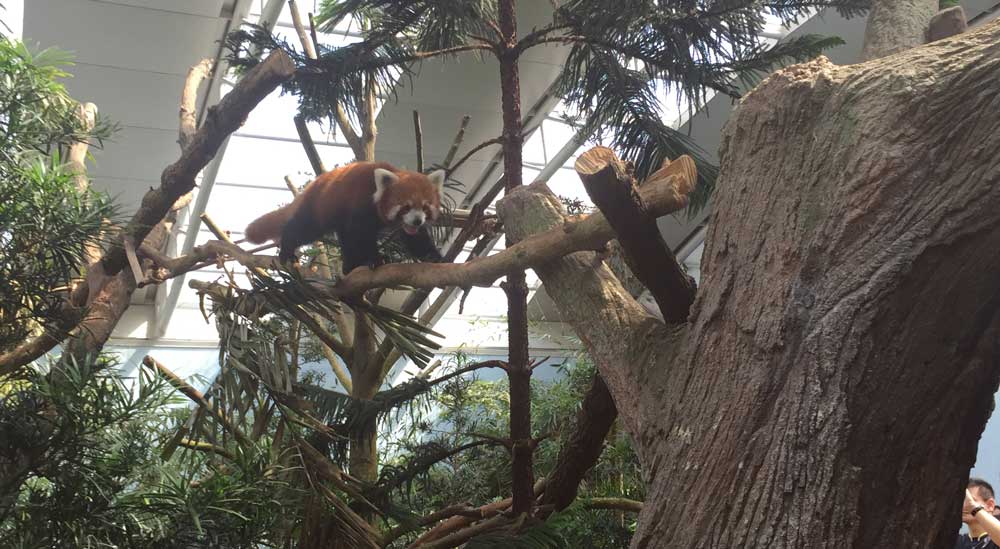 Kai Kai was sleeping #likeaboss in the open space. Unfortunately, we only had a glimpse of Jia Jia in the CCTV. Unlike Kai Kai who is more outgoing, Jia Jia is a little shy and retiring and prefers to be in her private quarters most of the time!
Kai Kai & Jia Jia are on a 10-year loan from the Chinese government to mark 20 years of close ties between Singapore and China.
It's surprising to learn that Kai Kai & Jia Jia's favorite food are apples & carrots! Well, I thought panda love bamboos only.
Amazon River Quest
Next, we embarked on the boat adventure to experience the different lives in the amazing Amazon river. The ticket for amazon river quest cost $5 per adult ticket and the boat journey is around 10 minutes. (Pretty short IMO)
Watch the latest Amazon River Quest experience by Jens & the Henry's
The Amazon River is the second longest river in the world and the world's largest river by volume of waterflow.
Some of the animals you can see are the Jaguar, Brazilian Tapir and Giant Anteater!
River Safari Cruise
After the Amazon river, we took the river safari cruise. It's a Saturday and the queue was extremely long. We waited for nearly 35 minutes before we got our chance to board the cruise. The weather is extremely hot recently and we were sweating like hell. The river safari cruise is non-ticketed and free for all admission. Basically, the cruise will take your around the perimeter of the River Safari, explaining the various species of wildlife you may see along the way. I do feel that the river cruise isn't worth the wait, but nevertheless, it's our first time in river safari so we should at least experience it.
Trying the Signature Panda Buns
Finally, we went to try out the popular Panda buns in Mama Panda Kitchen (熊猫妈妈小吃). We also ordered a few soft drinks to quench our thirst! Well, the panda buns tasted pretty common, though it is "instagram-worthy".
---
River Safari Map
Click here to download the high res map.
---
Things To Take Note Before Visiting River Safari
Bring umbrellas and your water bottles along.
For amazon river quest, you may get wet if you are seated in the first row.
Giant Panda Forest queue may be very long from 11.30am – 12.30pm. Skip the peak period!
Don't miss the river talk and feeding session show (11am & 4pm) at the Amazon Square (Just outside entrance of Amazon river quest).
---
FAQs on Visiting River Safari Singapore
What is the River Safari in Singapore?
The River Safari is a unique wildlife park in Singapore that focuses on showcasing aquatic and terrestrial animals from various river habitats around the world. It's a part of Wildlife Reserves Singapore and offers a chance to explore diverse ecosystems in a single location.
Where is the River Safari located?
The River Safari is situated at 80 Mandai Lake Road, Singapore 729826. It's located near the Singapore Zoo and Night Safari, making it convenient to visit all three attractions in one day.
What animals can I see at the River Safari?
You can observe a wide range of aquatic creatures including river otters, giant pandas, manatees, piranhas, giant freshwater stingrays, and various fish species. The park is divided into zones representing different river habitats like the Amazon, Mississippi, and Mekong.
How long does it take to explore the River Safari?
The duration of your visit can vary, but on average, visitors spend around 2 to 3 hours exploring the park. You might want to allocate more time if you plan to see all the exhibits, attend shows, or take part in additional activities.
Are there any shows or attractions within the River Safari?
Yes, there are various animal presentations and feeding sessions scheduled throughout the day. Some highlights include the Amazon River Quest boat ride, where you can observe animals from the Amazon rainforest, and the Giant Panda Forest, home to giant pandas Kai Kai and Jia Jia.
Can I buy tickets in advance?
Yes, you can purchase tickets online in advance through the official River Safari website or other authorized ticketing platforms. This is recommended, especially during peak tourist seasons, to ensure your entry.
Is the River Safari suitable for children?
Yes, the River Safari is family-friendly and offers an educational and entertaining experience for visitors of all ages. Children often enjoy the animal exhibits, interactive displays, and special programs designed just for them.
Are there dining options available inside the park?
Yes, the River Safari has various dining options ranging from casual to more elaborate dining experiences. You can find cafes, snack kiosks, and restaurants offering a variety of cuisines.
Is photography allowed in the River Safari?
Yes, photography for personal use is generally allowed throughout the park. However, there might be restrictions in certain areas or during animal presentations to ensure the safety and well-being of the animals.
Is the River Safari wheelchair and stroller accessible?
Yes, the park is designed to be accessible for visitors with mobility challenges. Wheelchairs and strollers are available for rent at the entrance on a first-come, first-served basis.
---
Getting To River Safari Singapore
Opening hours – 10:00AM to 7:00PM. For ticketing information, click here.
Address: 80 Mandai Lake Rd, Singapore 729826
If you are taking public transport:
Choa Chu Kang MRT – Take bus 927
Ang Mo Kio MRT – Take bus 138
Marsiling/Woodlands MRT – Take bus 926 (Only operational in weekends & public holidays)