Glamping, this is a word that I think you would have come across from your families, friends or colleagues these recent years. Yup, and you probably landed in this post while searching for reviews of glamping experiences. For the benefit of those who don't know, Glamping derives from these two words – Glamour and Camping. It's basically experiencing nature with luxurious camping if you ask me. The Glamping movement has been popular globally and even in a small island country like Singapore, we too see glamping starting to rise in popularity recently.
As aspiring travel enthusiasts, it has always been our hobby to try out new experiences and check them off our to-do list. We are glad to finally book for our first Glamping experience in East Coast Park, Singapore. If you follow our blog, you will know that we have our first camping experience a year back. This time around, we are back to East Coast Park again, but with an upgraded experience to try out camping with modern luxury.
There are several glamping providers popping up in Singapore due to the rise of the Glamping Wave. The price differences are pretty minimal and I think each offers pretty similar services. It's up to you on which to choose! On the check-in day, we were informed that our tent is set up in Camping Area G. Upon reaching the site, we were amazed by the number of tents already set up for guests. Wow, is this still the East Coast Park we are used to? The scene is magnificent! It's like "Little Mongolia" in Singapore. Don't you think so?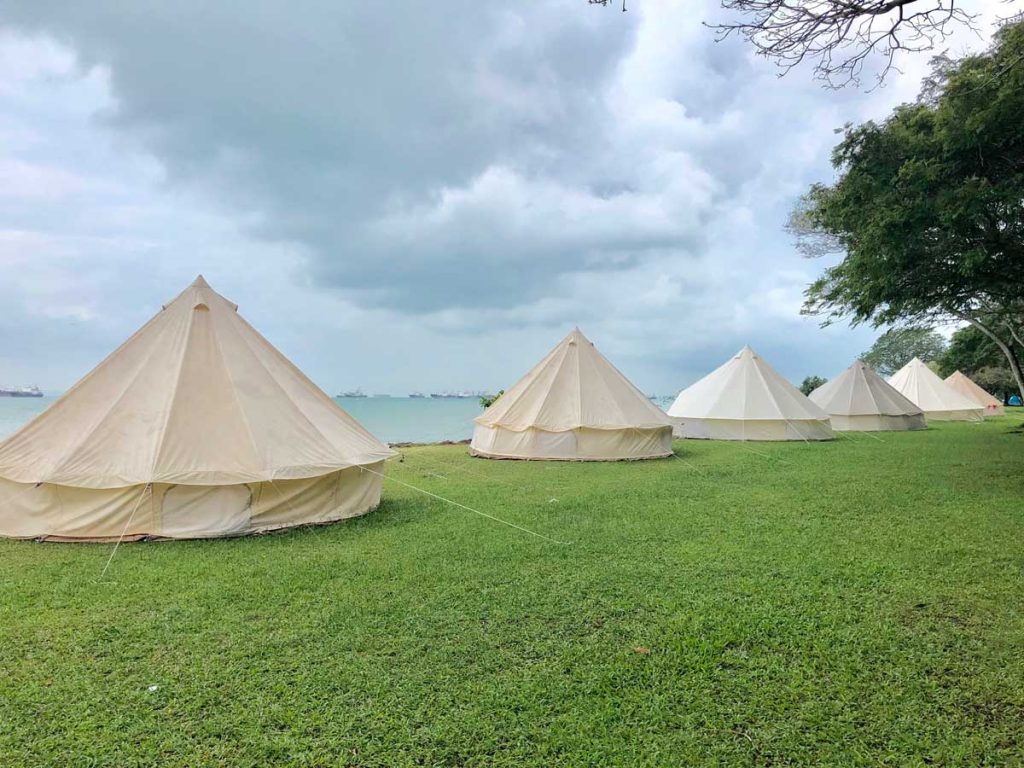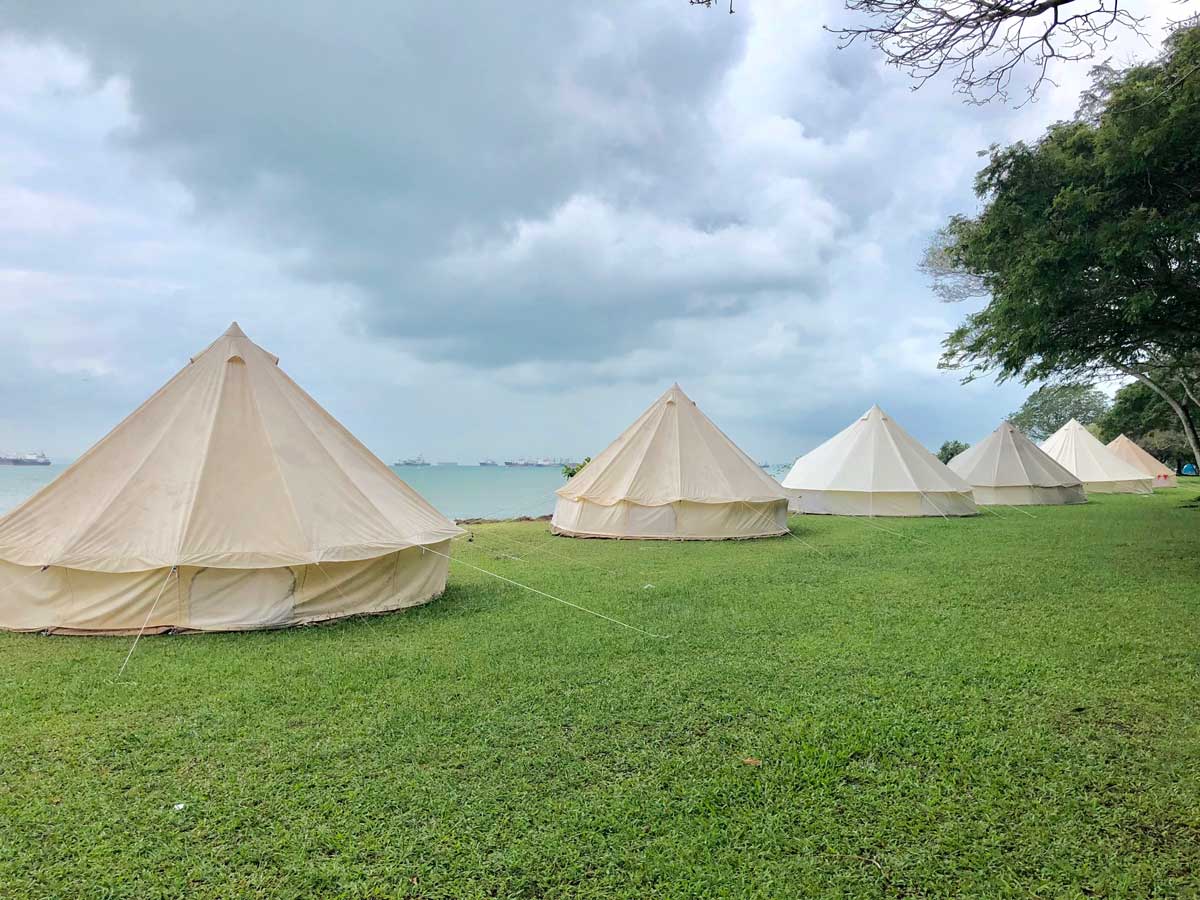 We were directed to our medium sized bell tent by the friendly staff. This is how the inside of the tent looks like. You'll get a double air mattress as well as a "mini bar" which consists of mineral water and some snacks. Utensils, glasses etc are also provided.
Note that there is no shower and toilet facilities and those are only accessible through public toilets located not quite far away. Also, we find the inside of the tent quite stuffy and hot, so it is recommended you bring your own electric fan if you have one. Don't forget the batteries! You can request for a battery powered electric fan from the staff too.
In case you are wondering, there is a small lock that will be provided for the tent zippers. However, it's definitely better to keep your valuables with you.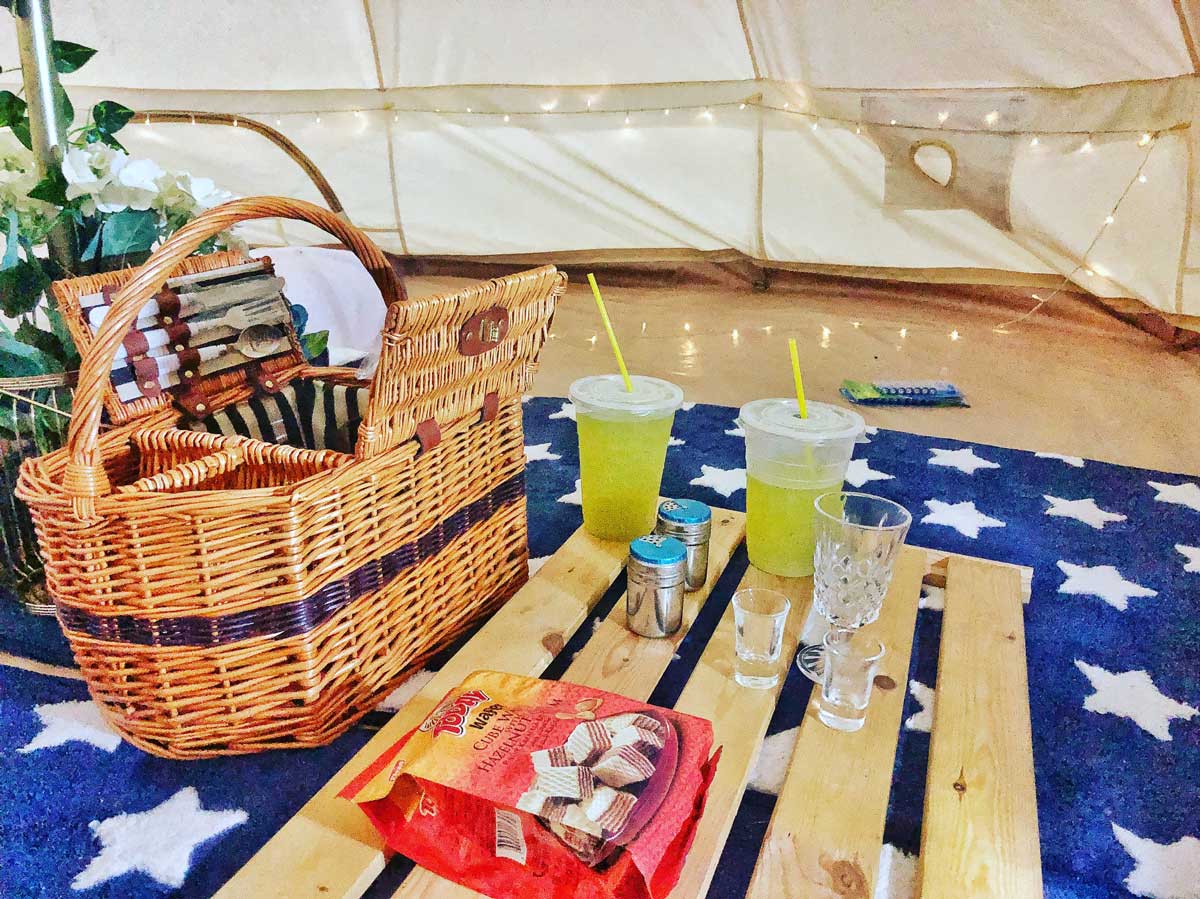 Most of the bell tents are set up by the sea. This means as you stepped out of your tent, you can enjoy and experience the sea view and breeze. Weather is a bit gloomy but the air is refreshing.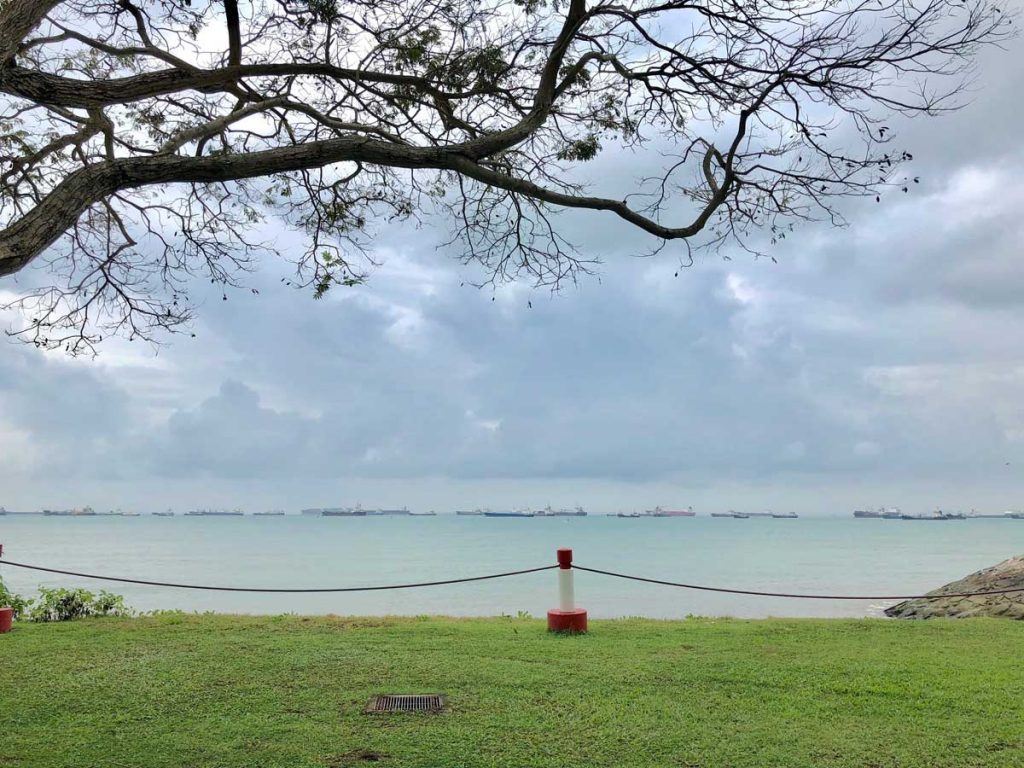 Hello, and this is how our bell tent looks like from the front. The tent is not super big, but it's enough for two people. One downside I would say is that our tent looks quite old and yellowish.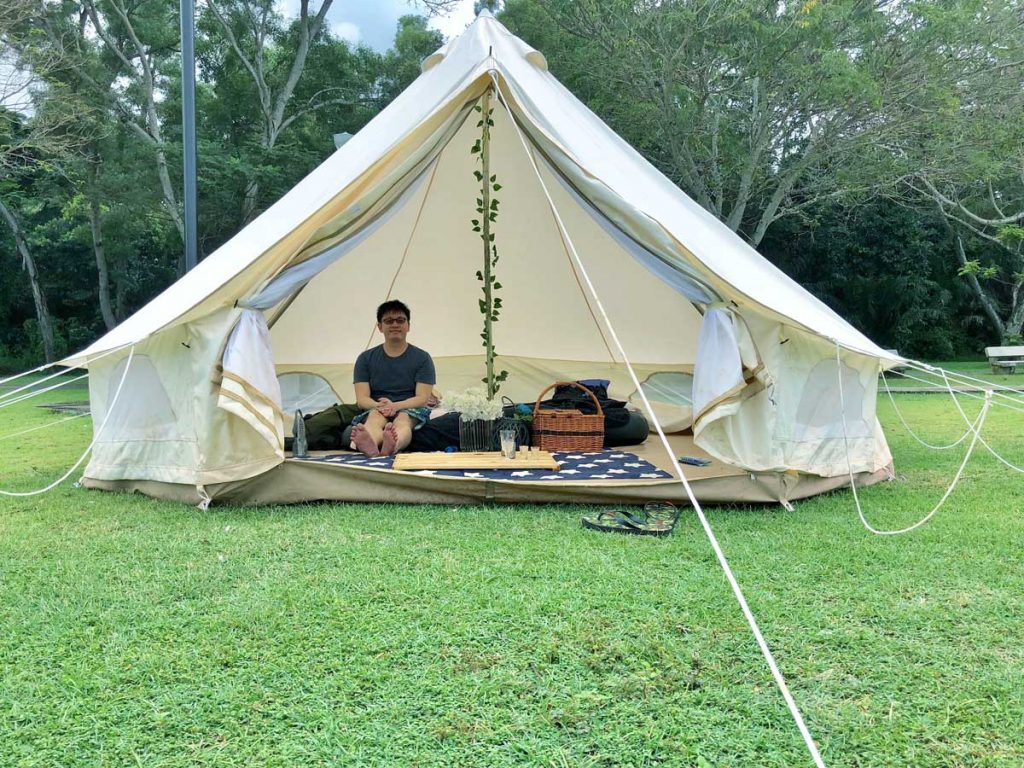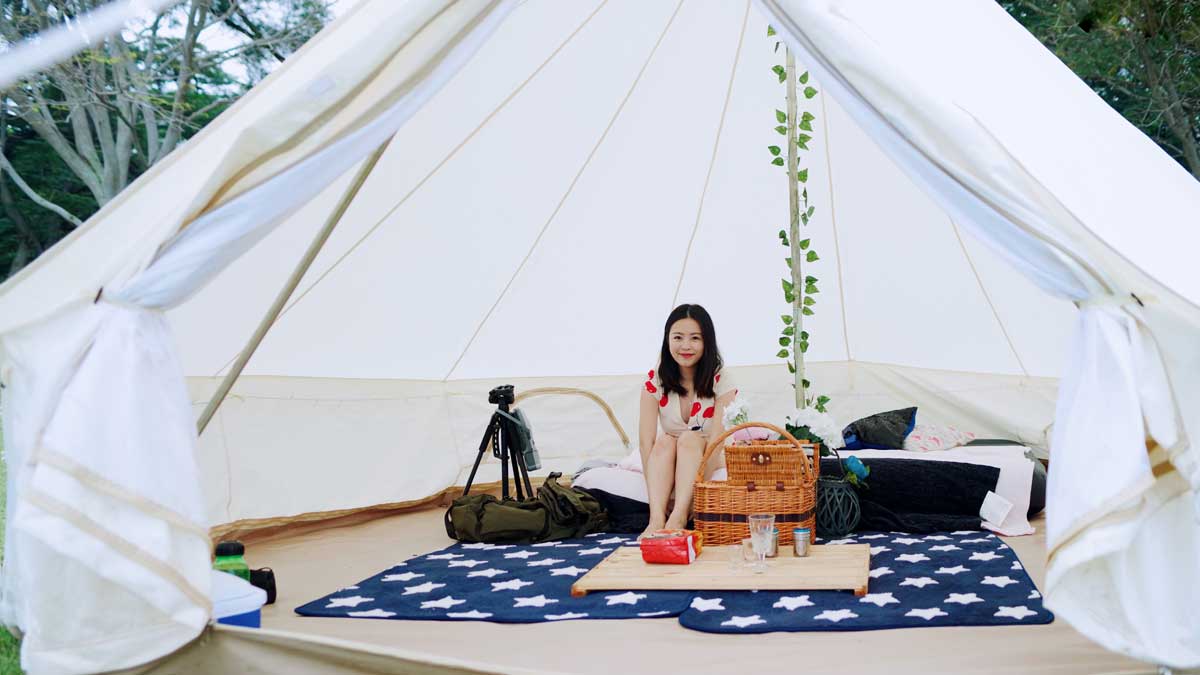 Campsite area G is nearer to the airport, thus it is not surprising that you can see planes taking off frequently. Note that some people may find it a bit "noisy" too.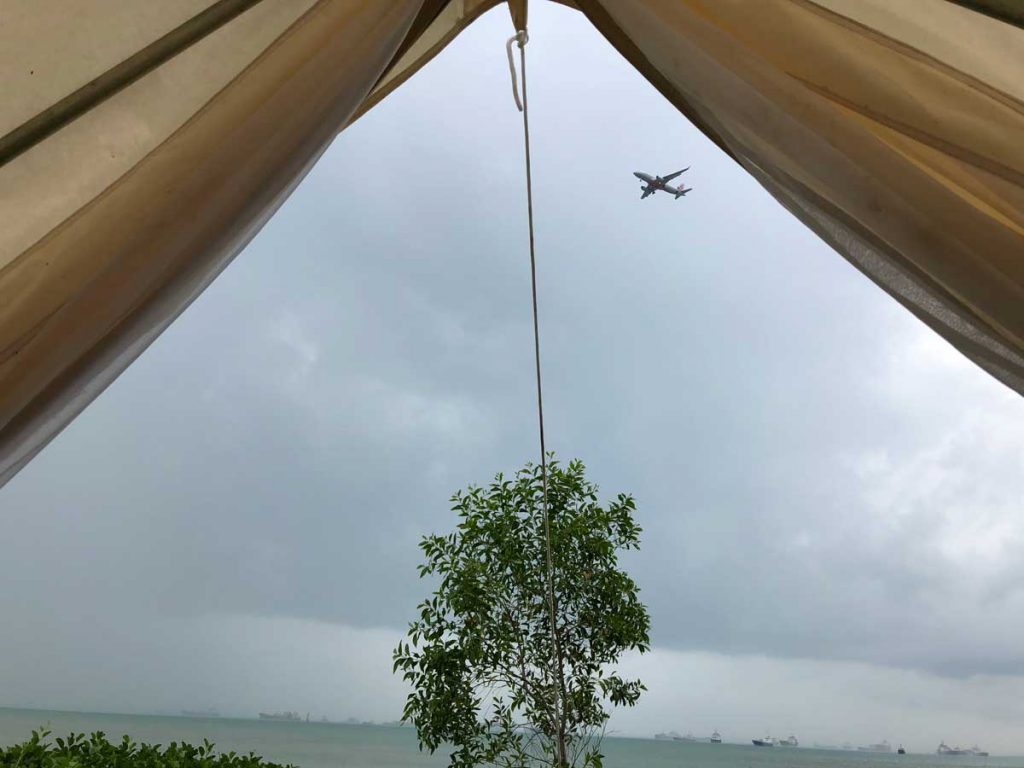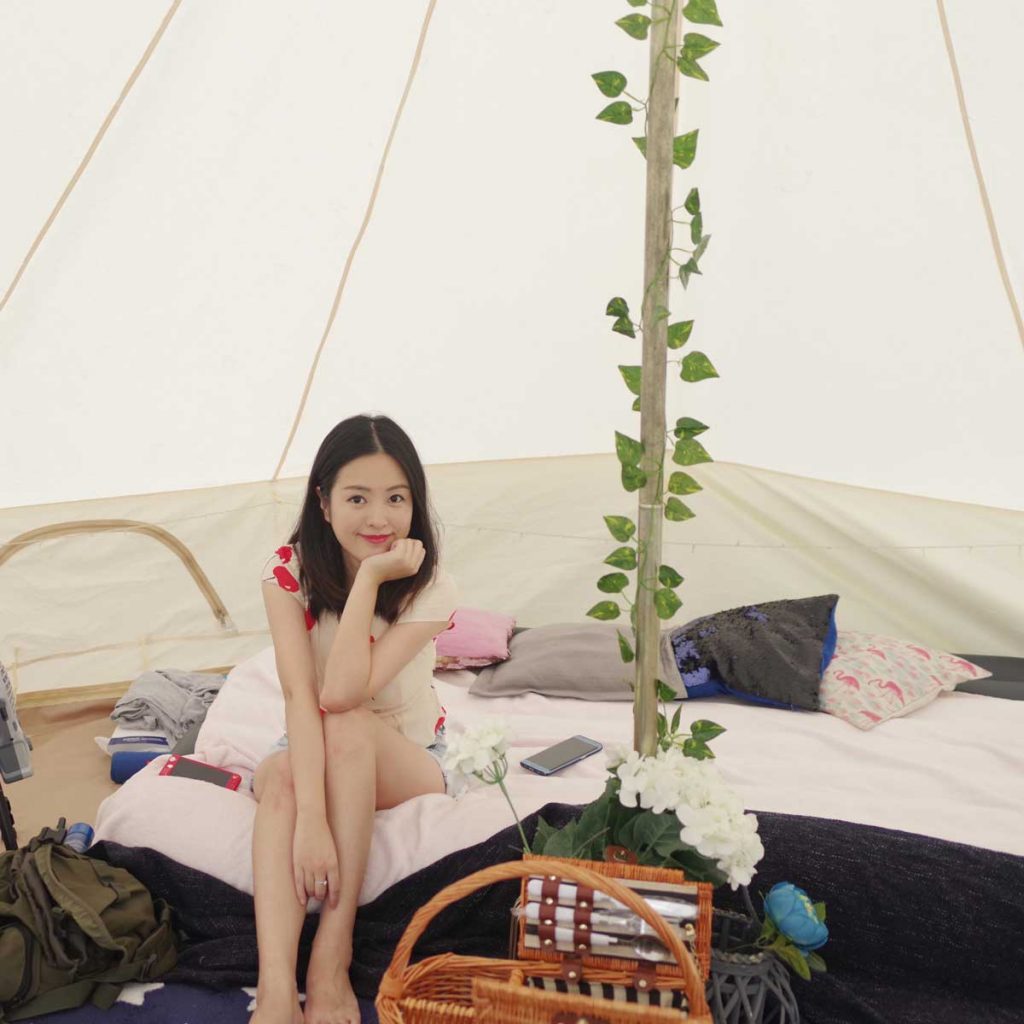 You can also book a barbeque pit to elevate your glamping experience. If you have a big group, that will be awesome! We didn't as its just the two of us and we prefer to dine at a nearby restaurant. Note that if you are planning a BBQ session, you can request to have your tent pitched near to your pit for convenience. Click here to book your bbq pit.
Glamping Tips
Book and have your tent pitched in Camp Area G as it's more quiet and peaceful in my own opinion.
Bring your mosquitos repellent!
Bring an electric fan and lots of batteries because the inside of the bell tent can get quite hot and stuffy.
If you are planning for a BBQ session, request for your tent to be pitched near the pit.
Zip your tents before retiring for the night.
Overall, our first glamping experience is quite fun and interestingly unique! This is something that you should try out in your life time.
Let me know how your first glamping experience is like!