4 February 2023 – To kickstart our Saturday, we decided to head down to PRAIRIE by Craftsmen at Bukit Timah for lunch and then take a short stroll in Singapore Botanic Gardens. Yuyi is already nearing 8 months old… Nicole and I plan to start bringing her outdoor more frequently as this will help with her cognitive development. Exploring new sights, sounds and surrounding can actually helps to simulate babies' brain, and most important Yuyi really enjoy getting outside.
I didn't really heard of PRAIRIE by Craftsmen as it has been a while we cafe hop ever since Yuyi comes into our lives… We simply found the place through Googling and sorting by the recent reviews.
PRAIRIE by Craftsmen @Bukit Timah Review
PRAIRIE by Craftsmen @ Bukit Timah is very accessible with public transportation (MRT). It's located just directly opposite Botanic Garden MRT (Exit A).
We didn't make any prior reservation and just walk-in. At around 11:50am, the cafe is not fully packed and we manage to get a table almost immediately. Maybe because its a rainy Saturday and people prefer to stay indoors. Also, we are super glad that they have baby chairs available for use. The staff is friendly and seeing we have a baby along with us, they also make extra effort to sanitise our table and chairs.
At first, we wanted to order from their brunch menu as it seems that their Smoked Salmon & Avocado Bunwich looks interesting. But unfortunately, the brunch hours are already over. So if you are looking to eat brunch, please note that the last order is 11.45am. Instead, we ordered the Roasted Half Poulet ($28) & Duck Confit ($36) from their MAINS, along side with Ice Lemon Tea ($7) & Ice Latte ($7), and curly fries ($9). You will have to order and pay at the counter yourself and the food will be sent to your table.
Our drinks and side dish are served quickly, but we have to wait quite a while for the main dishes. I think we waited for around 20 mins, but i think it's still consider reasonable.
Meanwhile as new parents, Nicole and I are also getting used to ensuring our baby is well fed before we start our own lunch.
Food wise, my honest review is the food taste average and nothing really exceptional. It's decent however. Let say if I stay far away, I will not travel down all the way just for the food. In total, we spent around $104 SGD for our lunch ($52 per pax) which I would consider it fairly expensive for just a typical lunch. With the current market conditions – high inflation rate and recession this year, well, we should expect food to get more expensive and yes, I think we are starting to feel it already in our daily life. 🙁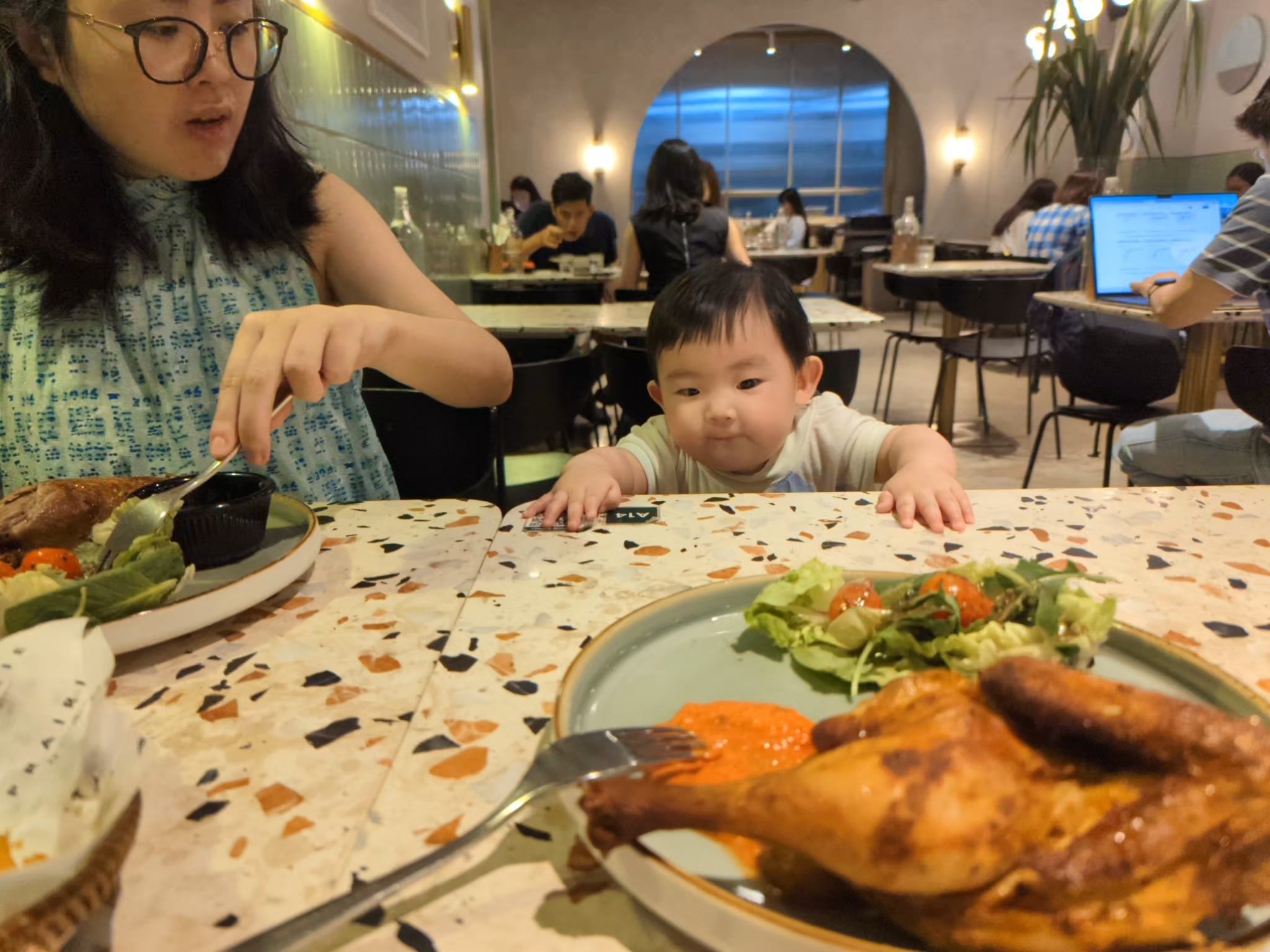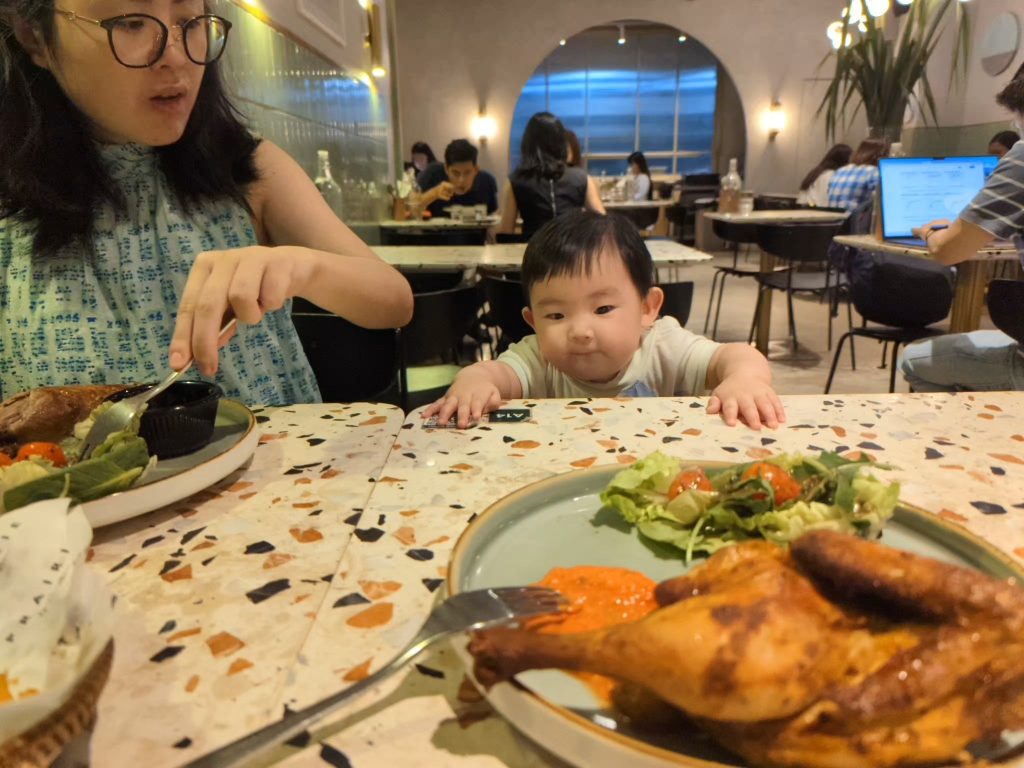 Strolling in Singapore Botanic Gardens
After lunch, we spent some quality time strolling around Botanic Gardens before heading back. We didn't venture long as its drizzling and does not seems to end any soon. As usual, our Yuyi fell asleep just after walking for some time.. (we hope she can last longer though.. oh well, one baby step at a time,,).
The shot of the day is the below photo featuring Nicole & our sleeping Yuyi in Singapore Botanic Gardens. 🙂
Wrapping the day
Overall, I would say it's a pleasant Saturday, we managed to bring Yuyi out to enjoy outdoors and also we manage to fill our stomach with some decent food. Definitely, we will be coming back to Botanic Gardens again to try out some other cafes and will post some other reviews.