If you have been to Chijmes in Singapore, it is going to be hard to believe that this white historical building was once a Catholic school for girls. Constructed since the 1800s, Chijmes is well located at Victoria Street in Singapore's central business district. As you enter Chijmes, you can experience that Chjimes feels like an enclosed village filled with artistic and Christianity atmosphere. Chijmes is a blend of the past and the present, offering a unique experience that brings history and modern entertainment together. In this post, we're taking you on a journey into the world of Chijmes Singapore, where stories from the old days meet the excitement of today.
If you are wondering, Chijmes is pronounced as "Chimes"
A Peek into the Past
Before we dive into the fun stuff, let's rewind the clock a bit. Chijmes didn't start as a bustling hub – it began as something completely different. Back in 1854, it was a school run by French nuns, known as the Convent of the Holy Infant Jesus. Can you imagine that? Generations of young women walked these halls, learning and growing.
The place itself is like a beautiful mix of old and new styles, giving it a classic yet timeless look. Think about wandering through halls where young girls once laughed and learned. It's like history comes alive as you step through the doors.
Modern Makeover
Now, let's fast forward to today. Chijmes is like a phoenix rising from the ashes – it's been reborn in the best way possible. Instead of being stuck in the past, it's transformed into a lively destination that celebrates the old while embracing the new. These days, Chijmes is a vibrant reflection of Singapore's diverse culture and lively spirit.
Renovations in the early 1990s turned Chijmes into a masterpiece. They kept the historic parts intact while giving it a fresh look. Even the chapel, with its gorgeous stained glass and stunning architecture, found a new purpose as a place for events like weddings, concerts, and art shows. It's like they found the perfect balance between tradition and modern life.
Tasting the Good Life: Where Food Takes Center Stage
If you're a food lover, get ready to be amazed. Chijmes is a foodie's dream come true. From international flavors to local favorites, this place has it all. It's like a symphony of tastes that'll make your mouth water.
Imagine the sun setting, and Chijmes coming to life with the sound of sizzling food. You could be savoring sushi that's practically a work of art, sipping on creative cocktails at a trendy bar, or enjoying the incredible flavors of classic Singapore street food. It's a food adventure that'll have you coming back for seconds, thirds, and more.
If you are interested to dine in Chijmes, here is a list of restaurants & pubs.
A Splash of Culture: Where Entertainment Lives
But wait, there's more! Chijmes isn't just about good eats – it's a hub for culture and entertainment too. The place is always buzzing with activities, from live music and art shows to dancing and theater. It's like a constant celebration of creativity that makes every visit unforgettable.
Art lovers, this is your haven. The art galleries at Chijmes showcase local and international talent, giving you a chance to dive into a world of imagination. And don't forget about the courtyard – it turns into a stage where magic happens. From classical tunes to modern dance moves, Chijmes knows how to put on a show that'll leave you in awe.
Retail Therapy and More
Guess what? Chijmes isn't just a feast for your taste buds and a treat for your eyes and ears – it's a shopper's paradise too. If you're a fan of shopping and discovering unique treasures, you're in for a treat.
Wander through the walkways and you'll stumble upon all sorts of hidden gems. Boutiques and stores offer everything from stylish clothes to handcrafted goodies that you won't find anywhere else. It's the perfect place to find a special gift or a little something for yourself to remember your Chijmes adventure.
Visit to Chijimes
We visited Chijmes during evening time, however, I do recommend visiting Chijmes at night too. At night Chijmes will "lighten" up with romantic orange lights (just like Paris) and begin buzzing with activities and music. There are also many pubs & restaurants inside Chijmes for people to chill out at night. It's definitely worth checking out.
After strolling & exploring Chijmes, and taking photo shoots, this pretty wrap up our evening at Chijmes. In a nutshell, Chijmes is a beautiful place to visit in Singapore! Make a trip down and take some photos!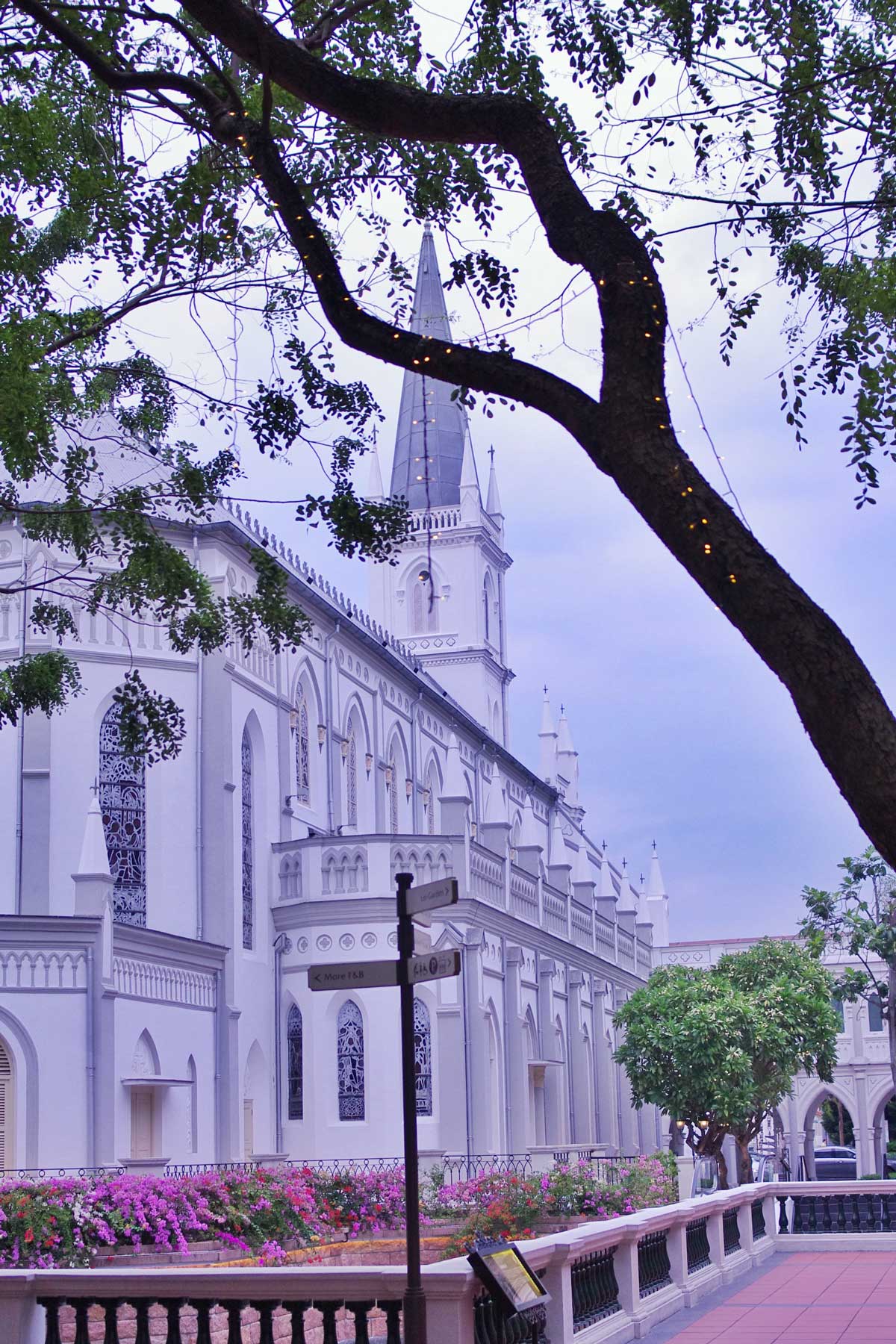 FAQs on Visiting Chijimes Singapore
What is Chijmes Singapore?
Chijmes Singapore is a historic landmark located in the heart of the city. It was originally a convent and school, but it has since been transformed into a vibrant hub of culture, dining, entertainment, and shopping.
When was Chijmes Singapore established?
Chijmes was established in 1854 as the Convent of the Holy Infant Jesus by French nuns. It served as a school for young women for over a century.
What makes Chijmes unique?
Chijmes is unique for its blend of rich history and modern attractions. It retains its original neo-gothic and colonial architecture while offering a diverse range of experiences, including restaurants, art galleries, events, and more.
What can I do at Chijmes Singapore?
You can explore a variety of activities at Chijmes, including enjoying diverse culinary experiences, attending live performances, shopping for unique products, and immersing yourself in art exhibitions.
Is Chijmes only for tourists?
No, Chijmes is enjoyed by both locals and tourists. It has become a popular spot for people of all ages to indulge in great food, cultural events, and entertainment.
Can I host events at Chijmes Singapore?
Yes, Chijmes offers event spaces, including the repurposed chapel, for weddings, concerts, art exhibitions, and other special occasions.
What type of dining options are available at Chijmes?
Chijmes boasts a diverse array of dining options, ranging from international cuisines like Japanese and Italian to local Singaporean dishes and trendy bars for cocktails.
Are there shopping opportunities at Chijmes?
Absolutely. Chijmes features a collection of boutiques and stores where you can find fashion items, artisanal crafts, and unique souvenirs.
How do I get to Chijmes Singapore?
Chijmes is conveniently located in the city center, making it easily accessible by various modes of transportation, including MRT, buses, and taxis.
Is Chijmes family-friendly?
Yes, Chijmes offers a family-friendly atmosphere with its wide range of activities suitable for all ages, including cultural events, dining options, and shopping opportunities.
---
Directions to Chijmes
Take the MRT and alight at City Hall MRT Station.
When you reached, follow the road signs and walk along Stamford Road.
Turn right at the junction of Stamford Road and Victoria Street.
If you walk inside Raffles City Shopping Mall, follow the directional signs to Raffles City Tower. When you exit the shopping mall, you can see Chjimes just opposite the road.