After a long renovation period, the SingPost Centre Mall in Paya Lebar has finally reopened a few days ago. Among all fascinating restaurants, the Chinese noodle shop Nuodle (牛一嘴) which is well known for its authentic Lanzhou hand-pulled noodles is definitely one of the most popular ones.
About Lanzhou Hand-pulled Noodles
Lanzhou hand-pulled noodle is also called 兰州拉面 in Chinese. As the name suggested, the noodle is hand pulled on the spot making it more elastic and chewy. The history of the noodle can be traced back to Tang dynasty. As one of the top 10 noodles in China, Lanzhou hand-pulled noodle is a halal food that originates from Gansu where many Chinese muslims cluster.
About Nuodle Restaurant
Nuodle restaurant is a very famous noodle brand in China and has more than 30 franchisees in different provinces up to date. This restaurant in Paya Lebar is the first franchise opened in Singapore. The restaurant adopted a Japanese renovation style interior even though Nuodle sells authentic Chinese noodles instead of ramen.
Nuodle follows the traditional way to make Lanzhou hand-pulled noodle, taking particular efforts in making its beefy riched broth and noodles with white radish, red chili, and green caraway.
Our Experience
As expected, the queue in front of the store is incredibly long. We arrived at 6 pm on Saturday and had to wait for about 40 mins to enter the restaurant. Just when we thought the wait was over, we were wrong! The waiter will guide you to find your seat first and then you need to proceed to the cashier to order and pay for your meal.
You have to self-collect your orders and it takes approximately another 20 mins. The reason for the long wait is that the noodles are freshly made and pulled from dough on the spot. I do hope that the problem with the long waiting time is only temporary.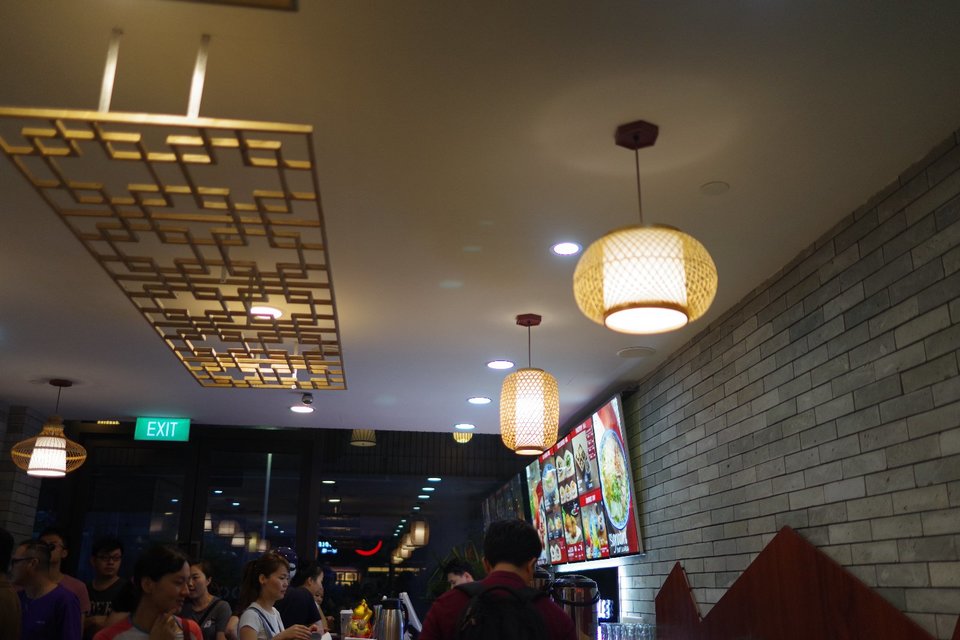 In general, the price is considered reasonably cheap. Since it's newly opened, customers can enjoy the 'buy one big bowl for one free small bowl' promotion. The big bowl costs S$12.9 and we ordered two ice lemon tea priced at S$2.5 each.
To be honest, the ice lemon tea is just so-so but is good to quench your thirst when you are eating a bowl of spicy noodle.
Although having queued and waited for quite a long time, Nuodle noodle overall is not bad. Rich broth, chili sauces mixed with coriander and chives make the noodle dish tasty and quite photogenic. The hand-made noodles present a good color, texture and taste smooth and chewy. I am more impressed by their beef which was sliced into thin slices. The beef slices taste good with all the noodle ingredients and spices infused on the meat.
Nuodle Menu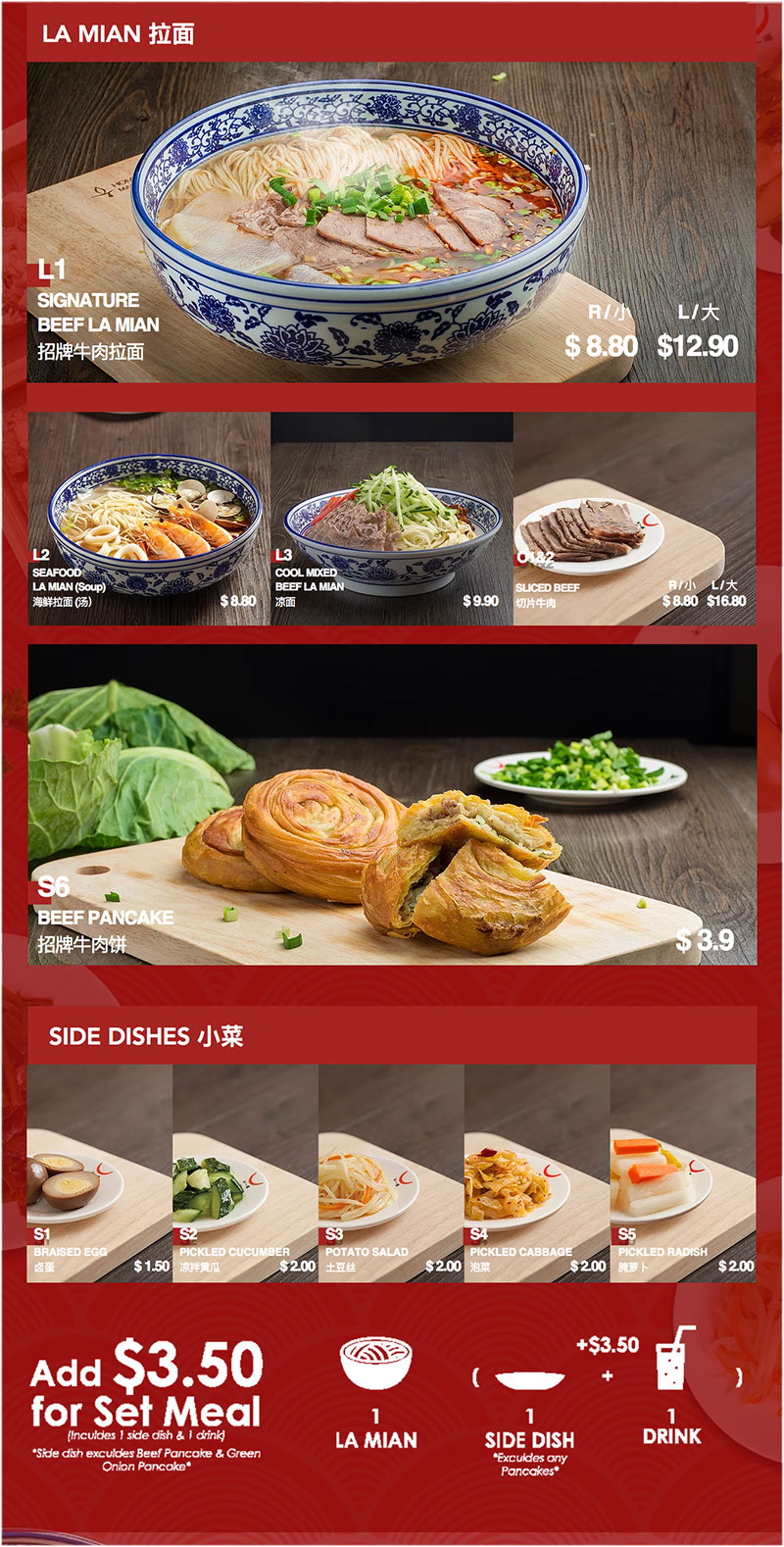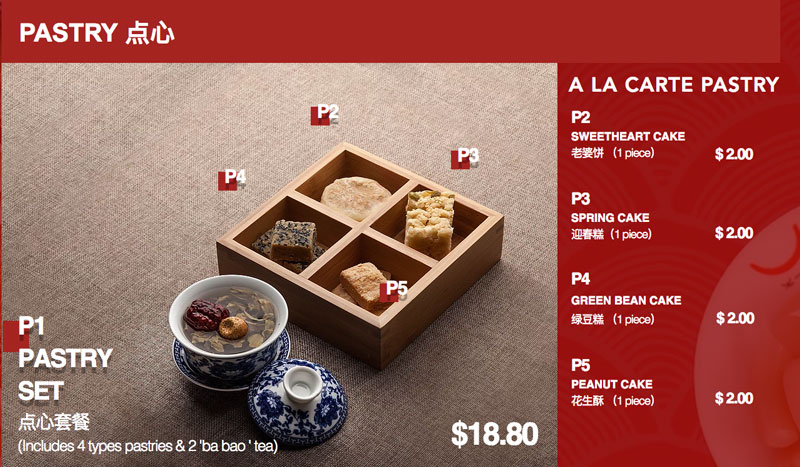 Getting to Nuodle @ SingPost Centre Mall
Address: SingPost Centre Mall Paya Lebar, 10 Eunos Road 8, #01-136, S408600
Opening Hours: 11Am – 10PM
Quality of Food -

7/10

Customer Service -

6.5/10

Value for Money -

7/10

Atmosphere -

6.5/10
Summary
It is worth a try if you never taste authentic Lanzhou hand-pulled noodle or really miss your hometown dishes. The restaurant is generally good but personally, I feel it didn't live up to expectation.There are still a lot of things it can improve on. First, with the popularity and hype, there is a strong need to improve their queue management. Waiting about 1 hour or more is a definitely big minus. Second, the menu should be expanded with more varieties and choices. Third, I personally feel a Chinese noodle restaurant should maintain a Chinese style environment. For me, it feels really weird to see Japanese-styled interior while you are eating Chinese noodles.