It will be hard to miss out this specialty coffee and bar named Oriole Coffee + Bar when one lingers near 313 @ Somerset. Located just on the ground level of Pan Pacific Serviced Suites Orchard, Oriole Coffee is founded in 2008 to share and inspire people for love for coffee.
Oriole is built on three pillars – Coffee, Food, and Community.
It had been a while since we spend our Saturday morning having brunch and chilling out together, reading books and at the same making full use of the cafe WIFI, surfing the internet and writing posts in ShinyVisa. Getting to Oriole Coffee Cafe is extremely easy if you take public transport. It is just outside 313 @ Somerset which is the shopping mall above Somerset MRT station.
I first came across Oriole after reading the review by Singapore popular food blogger, Seth Lui and I always wanted to try the food out myself. We were early birds and we reached the cafe at around 10 am in the morning. Surprisingly, quite a few tables were already taken. You can find tables both indoor and al fresco in Oriole, and the interiors of the cafe give patrons a relaxing and carefree feeling. Wanted to enjoy the streets view while chilling out, we settled on al fresco dining.
Taisho White and Citrus Ice Tea
Oriole is popular for their coffee so it's a no-brainer to try out their coffee. I ordered a Taisho White which comes in a cute little glass bottle. Do you know that all their coffee beans are handpicked and roast in-house? Can't expect anything less from a cafe which mission is to inspire and share the love for coffee. 🙂 Nicole ordered a Citrus Ice Tea instead as she is not a fan of coffee,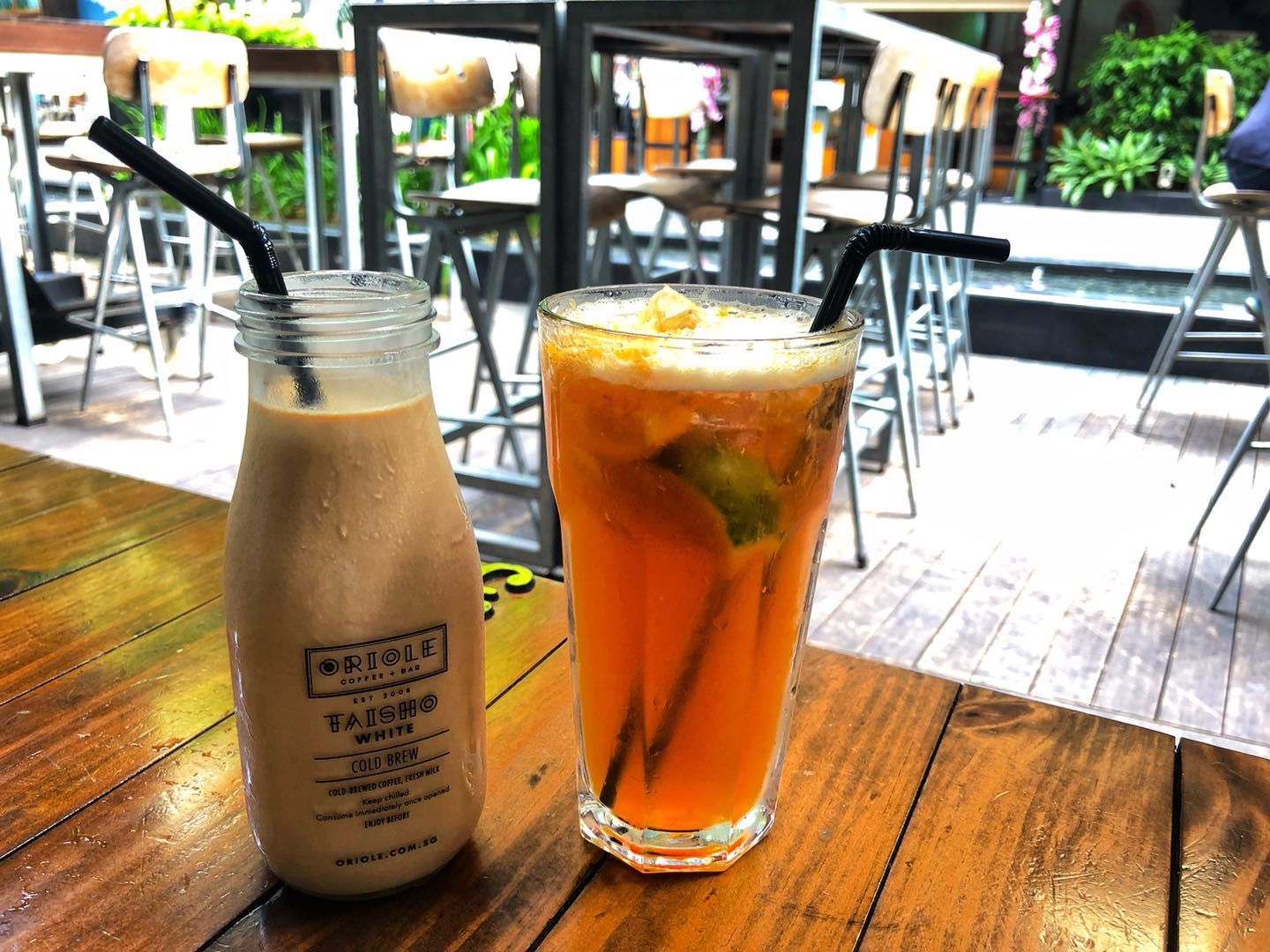 Want some ice water? No problem, you can help yourself at the water station located just beside the door entrance.
Each table comes with a set of utensils contained in a metal tin. I think there are some ongoing promotion in VISA Explore App too as the staff asked if we are using their app.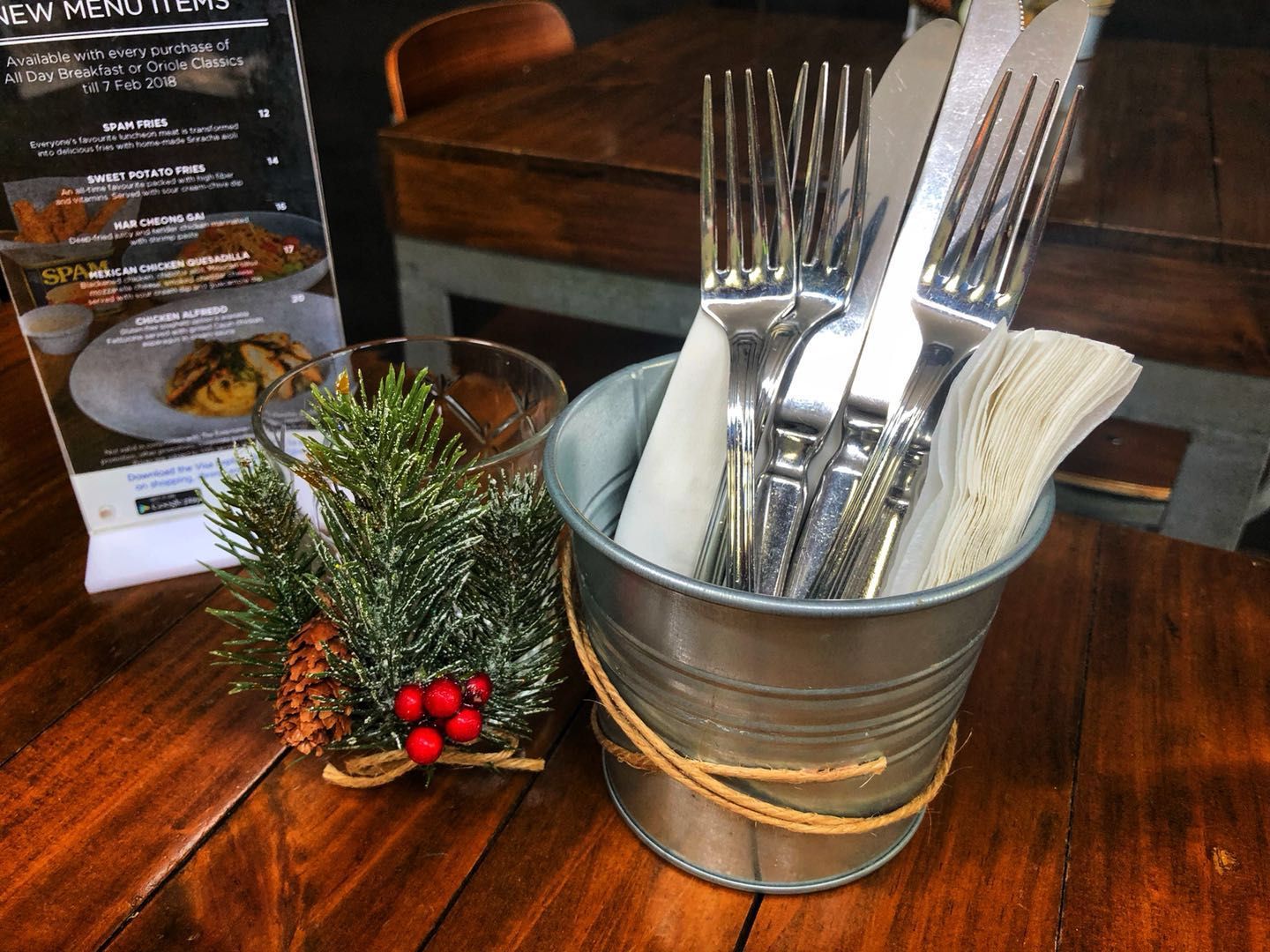 Fully Loaded
Oriole's Fully Loaded is a dish ideal for brunch. There is a choice of pork/cheesy chicken/lamb mint/veat sausage, 2 eggs (scrambled, sunny, over easy, poached) and it comes with maple glazed bacon, roasted potato and tomato, baked beans and multigrain toast. As you can see, they are very generous with the servings. I will recommend you to order this for brunch.
Eggs Benedict – Maryland Crab Cake
The eggs benedict comes with choice of ham and cheese, salmon and spinach, or maryland crab cake. As the maryland crab cake sounds more interesting, I decided to go with it. Their egg benedict is well cooked, and a small poke on the egg yolk results in yellowish yolk gushing out. 🙂 To be frank, I am not that used to the maryland crab cake as it comes with a mild sour taste which I don't quite like. Overall, not quite bad.
Getting to Oriole Coffee + Bar

Quality of Food -

7/10

Customer Service -

7.5/10

Value for Money -

6.5/10

Atmosphere -

8/10
Summary
Our total bill comes around S$70. It's not consider cheap for just the two of us. The customer service is great with their staff being extremely helpful and friendly. I think the friendiness is a big plus! Food wise, the servings are big and generous. If you ask me, I will recommend you to try out their Fully Loaded. Coffee wise… its awesome! Be sure to try their specialty coffee too.
It's a pleasant brunch experience for us.