Since the past month, we have made it a morning routine to have breakfast outside on Sundays. Well, our objective is to try out more cafes as well as to spend some quality time together as a family. So, together with my sister and Nicole, we went to try out Grub which is located in the center of Bishan Park.
After alighting at the bus stop, we took a 5-minute walk to Grub. It was just around 9:30am and Bishan Park is already bustling with people doing their morning jogs and exercises.
When we arrived, we were served to a table just beside the window. The sun is blazing hot and you can easily feel the heat while settling down on the table. So, we kindly requested to change our table and the staff politely prepared another table for us.
After settling down, we started browsing through the menu. Grub has a dedicated weekend brunch menu. As our initial aim was to try out their brunch, we ordered from their weekend brunch menu. There is also another menu where you can order dishes like burgers, fish & chips etc.
After placing the orders, we went to explore Grub cafe for some photo taking session. Every table is equipped with a vase of flower which makes the dining experience a little more refreshing.
There are some photos of Grub's signature dishes on the wall. Look at the burgers? Maybe they are popular for their burgers instead. For your information, Grub's concept is about dining in the park.
Like any other typical cafes, if you are craving some cakes, they have a selection of cakes at the counter as well.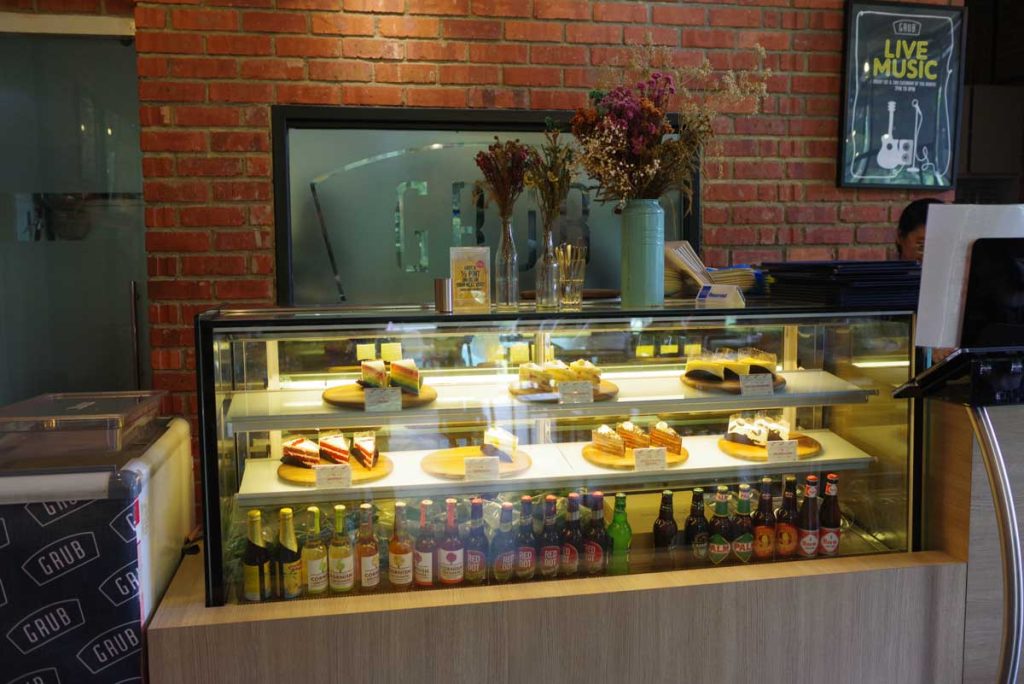 Finally, our orders arrived. Every brunch set comes with a choice of ice lemon earl grey or ice honey lime juice. You can also top up $2 for a hot specialty coffee or $4 for an iced drink/float. For me, I topped up for a hot green tea latte.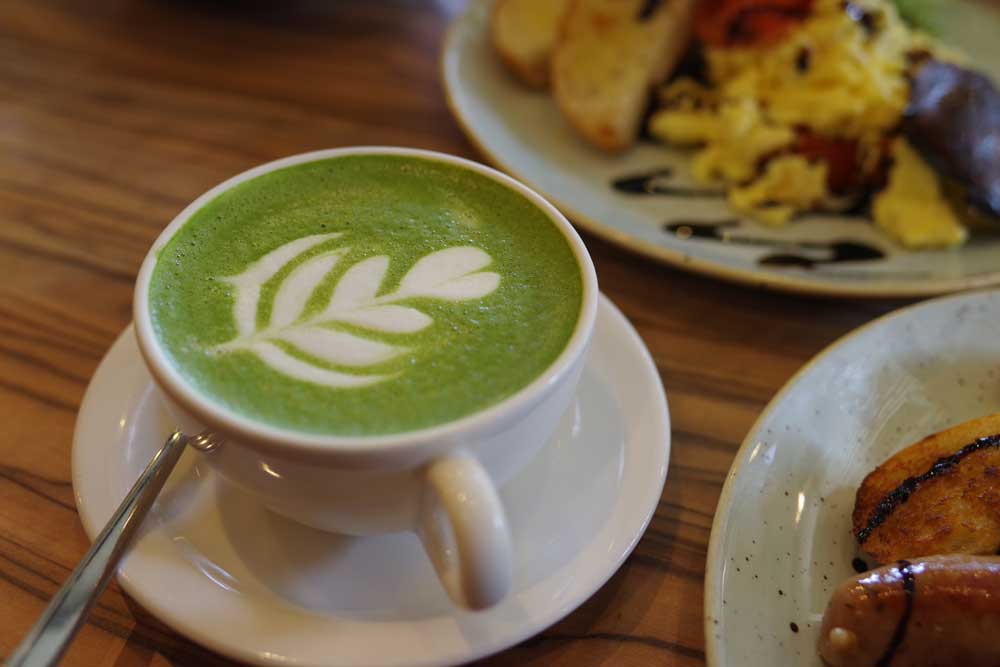 It's brunch time, but we are craving for some fries. Their mentaikio fries is good, especially the sauce that comes with it. I will recommend it.
Mentaikio Fries – $9 SGD
I am not a big fan of Churros, but Nicole wanted to try this out. In the end, my sister finished most of them.
Churros – $8 SGD
Here comes the Grub's brunch set.
Smoked Salmon Breakfast Plate – $16 SGD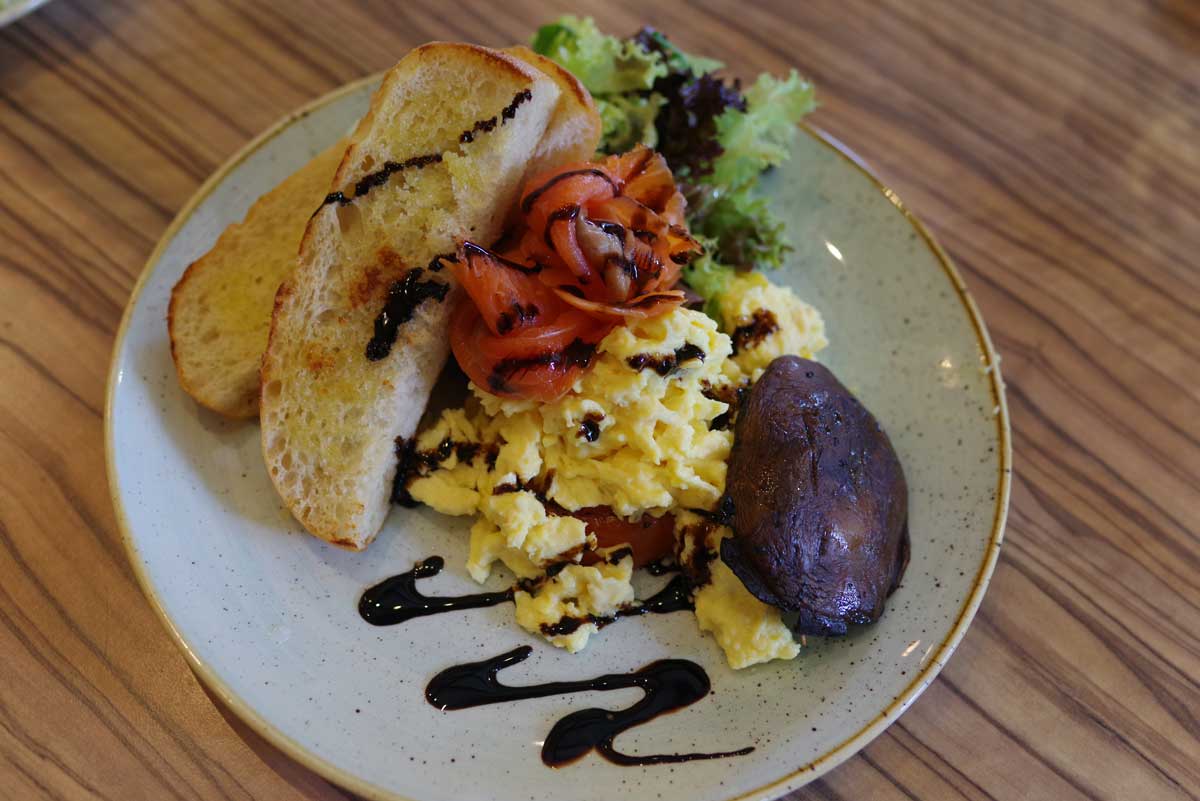 Grub Brunch Stack – $16 SGD
Grub Breakfast Plate – $16 SGD
A photo of our table full of dishes before we started digging in.
Note: I revisited Grub on 16 Jun 2018 to try out more dishes.
Truffle Floss Fries – $9.50 SGD
Their truffle floss fries are awesome and I think it this is even better than their best seller fries – Mentaikio Fries. The fries come in a huge serving so I do recommend this dish for sharing. I think the combination of fries, with truffmayonnaisenise and pork floss is perfect.
Shrimp Ebi Pasta – $18.50 SGD
I ordered this because this is listed under their best seller pasta. However, their shrimp ebi pasta falls short of my expectation. The pasta is extremely dry and cooked in a agilo olio style which I dont really like.
Just after we paid for the bill, the staff actually gave us a voucher for 2 free beers where we can redeem it during weekdays from Mon – Thurs.
Getting to Grub
Address: 510 Ang Mo Kio Ave 1, Singapore 569983
MRT & Bus: From Bishan MRT Station, take bus no. 52 or 410W (NOT 410G). After passing The Salvation Army on your right, alight at the 3rd bus stop [no. 53341].
Opening hours:
Mon – Fri (11:00am – 3:00pm, 5:30pm – 10:30pm)
Sat, Sun and PH (9:00am – 4:00pm, 5:30pm – 10:30pm)
Menu: Click here for their food menu.
Quality of Food -

6.5/10

Customer Service -

7.5/10

Value for Money -

6/10

Atmosphere -

7/10
Summary
I feel that Grub's weekend brunch set is quite normal and not that impressive. The scrambled eggs are a-bit over cooked and Nicole also feedbacked that her pork sausages didn't turn out as good as she expected. Nevertheless, the staffs' attitude is very good and make us feel welcomed. Thanks for the vouchers for 2 free beers as well. Next time if I re-visit Grub, I will definitely try out their burgers.