As the first rays of dawn break through the horizon, casting a warm and golden hue over the world, there's a magical moment that unfolds at Changi Beach Park in Singapore. Nestled on the eastern shores of the island, this picturesque haven offers an enchanting escape from the bustling urban landscape. Catching the morning sunrise at Changi Beach Park is an experience that's not only visually stunning but also soul-soothing!
The good news to share is that we are proud to "check" another item in our todo list! Finally, we stepped out of our comfort zone and caught our first morning sunrise in Changi Beach Park, Singapore. Like most millennial, we always wake up late during weekends so having do this together is a quite a feat for us! We are proud of our achievement!
In this post, we are excited to share the captivating experience of catching the morning sunrise from this hidden gem on the eastern shores.
Changi Beach Park is around 3.3KM long with stretches of sandy beaches between Changi Point and Changi Ferry Road.
About Changi Beach Park
Changi Beach Park, located in north-eastern part, is one of the oldest coastal park in Singapore. It is a great place for family activities such as jogging, fishing, bbq, picnics, beach swimming or even watching landing aeroplanes. The place is very popular among people who love solitary activities.
---
Catching Sunrise at Changi Beach Park
Changi Beach Park is a gem that offers a tranquil retreat from the urban hustle. As the city slumbers, the park comes alive with the soft whispers of the sea breeze and the gentle lapping of waves against the shore. Arriving early, well before the sun graces the sky, allows you to immerse yourself in the serene ambiance that envelopes the park. The serene atmosphere sets the perfect stage for a serene morning experience
I still can't believe it! We woke up at 5:00am on Sunday morning. After 30 minutes wash up and preparation, we went downstairs to wait for our Grab car. We hopped on and here we go!
We arrived at Changi Village around 5:50am. For those of you who may not know, Changi Beach Park is just a short 5 minutes walk from Changi Village via a pedestrian footbridge.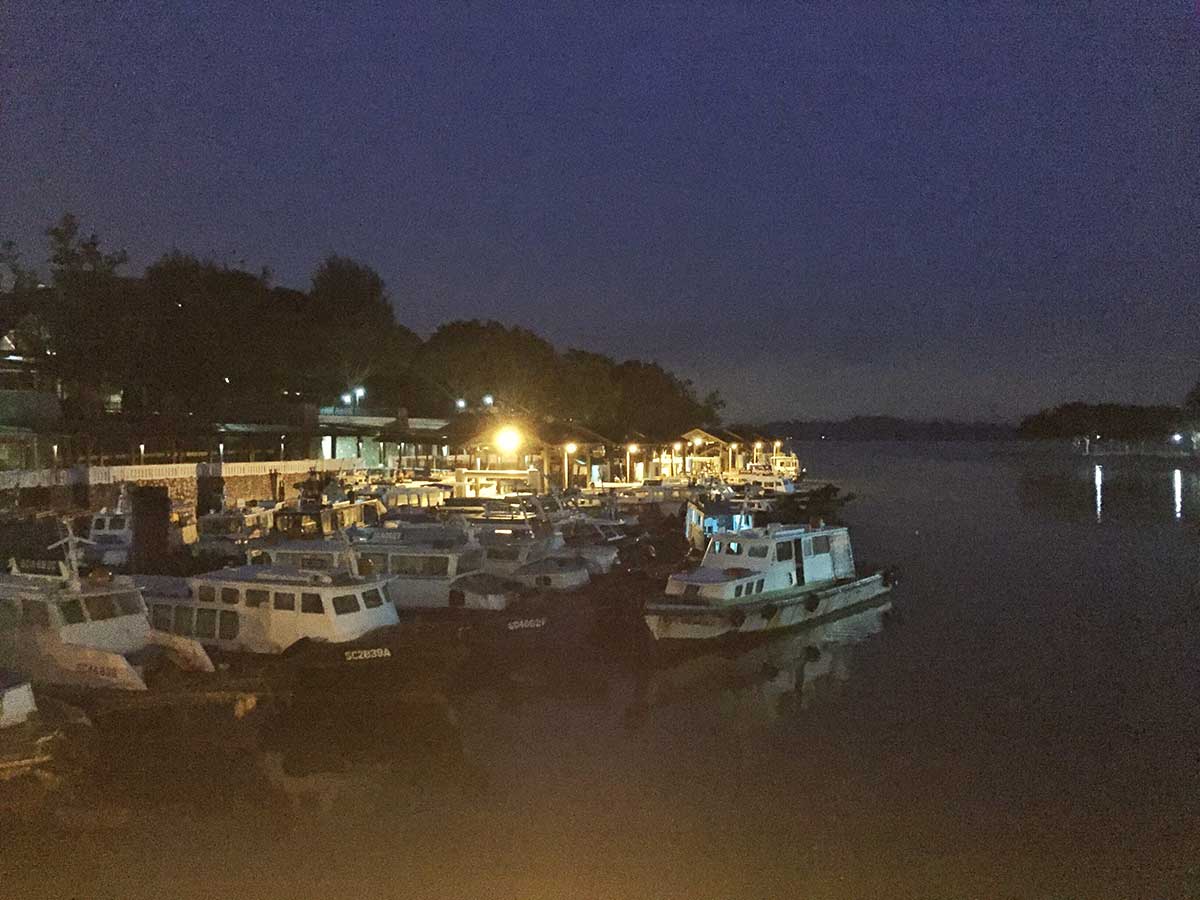 We waited patiently as the sun rises slowly up in the dull dark sky. Emitting sun beams in different direction, it lights up the sky gradually…
The sunrise at Changi Beach Park is a breathtaking display of nature's canvas. As the sun ascends, the sky transforms into a masterpiece of colors – from deep purples and rich blues to hues of orange and pink that dance harmoniously across the horizon. These vibrant colors reflect upon the calm waters, creating a mesmerizing mirror-like effect that leaves you awe-struck. Every moment is a fleeting work of art, capturing the ephemeral beauty of the world.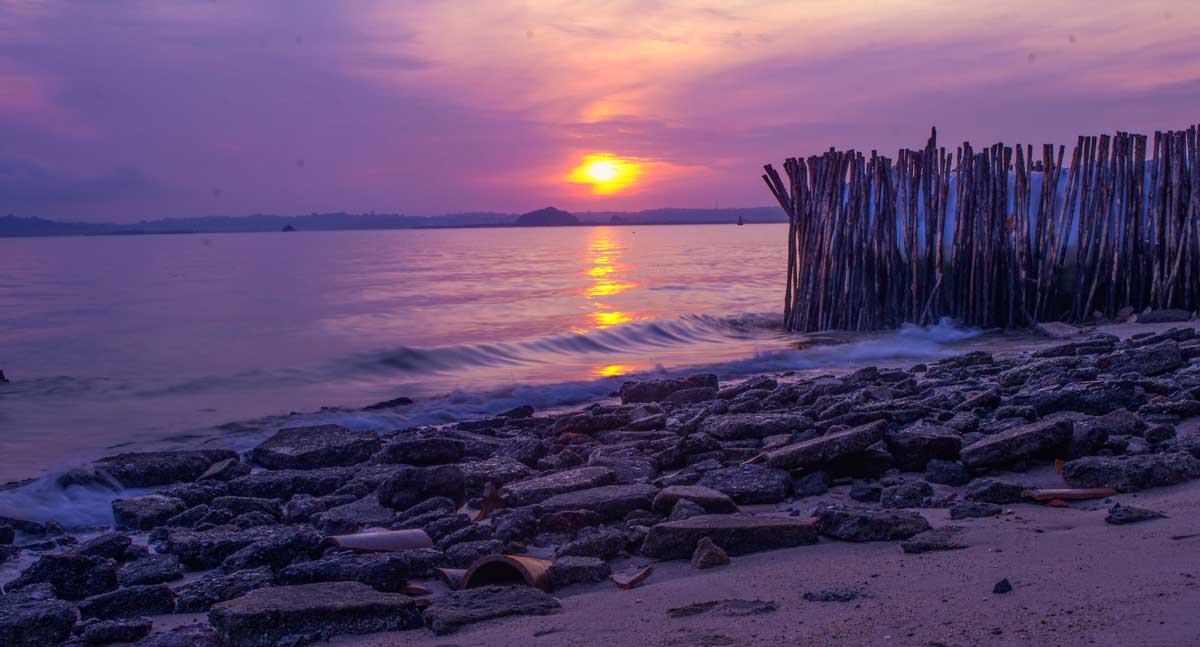 As the sun climbs higher and higher, the sky become more radiant. Yes! a brand new beautiful morning just started. It's a great experience, enjoying the sea breeze and watching the sun rises up.
One of the most appealing aspects of catching the morning sunrise at Changi Beach Park is the sense of solitude it offers. Unlike the bustling crowds that often gather during the day, the early morning hours grant you the luxury of having the beach virtually to yourself. This solitude invites contemplation and self-reflection, allowing you to connect with nature and your inner thoughts on a deeper level. It's a precious opportunity to find solace in the midst of a busy world.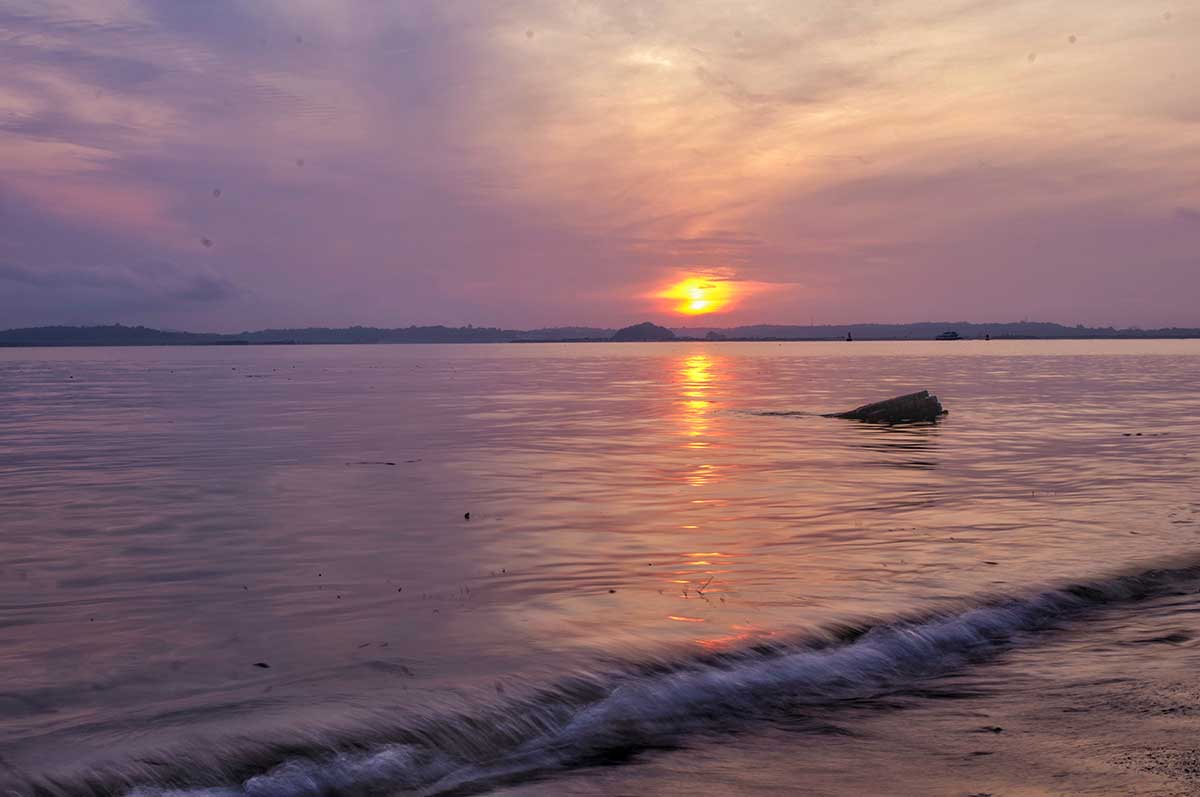 For photography enthusiasts, Changi Beach Park presents an endless playground of creative possibilities. The interplay of light and shadow, the silhouettes of palm trees against the rising sun, and the reflections on the water's surface offer a myriad of captivating scenes to capture. Whether you're a professional photographer or an amateur with a smartphone, you're bound to leave with stunning snapshots that encapsulate the essence of this captivating sunrise.
Another great thing about watching sunrise in Changi Beach Park is that sometimes you can see airplanes taking off. We managed to capture the sunrise and a plane flying off.
Photograph of Nicole posing under the sunrise while sitting on a big tree branch.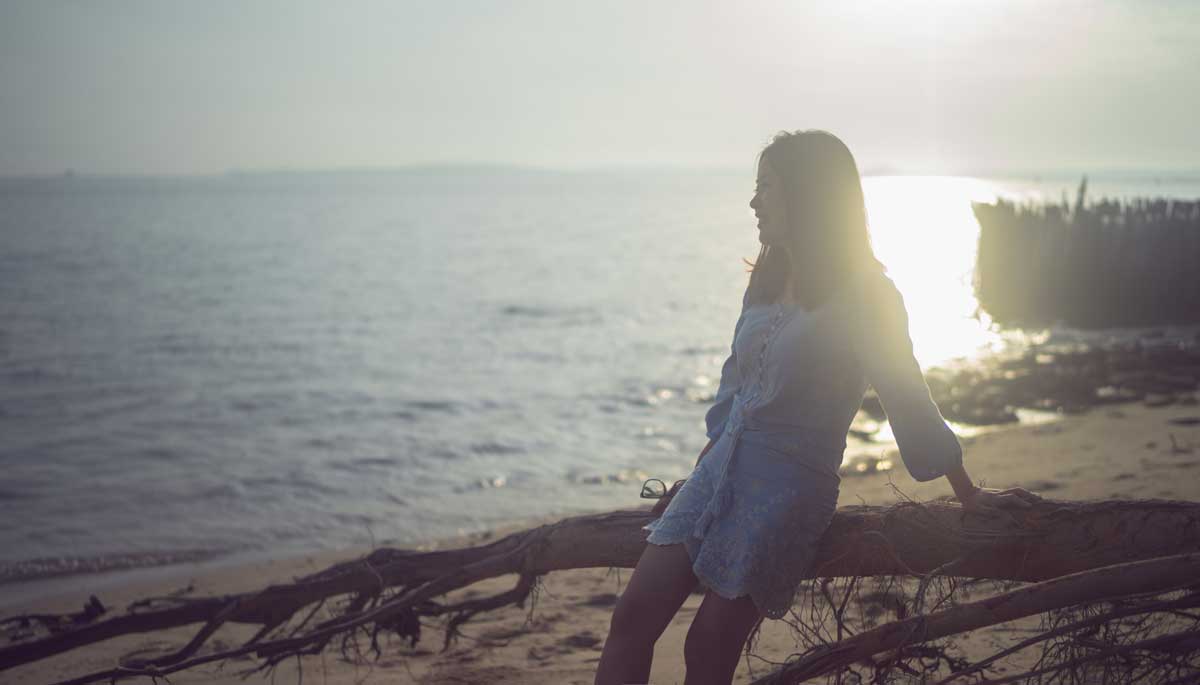 The sky is fully lit up…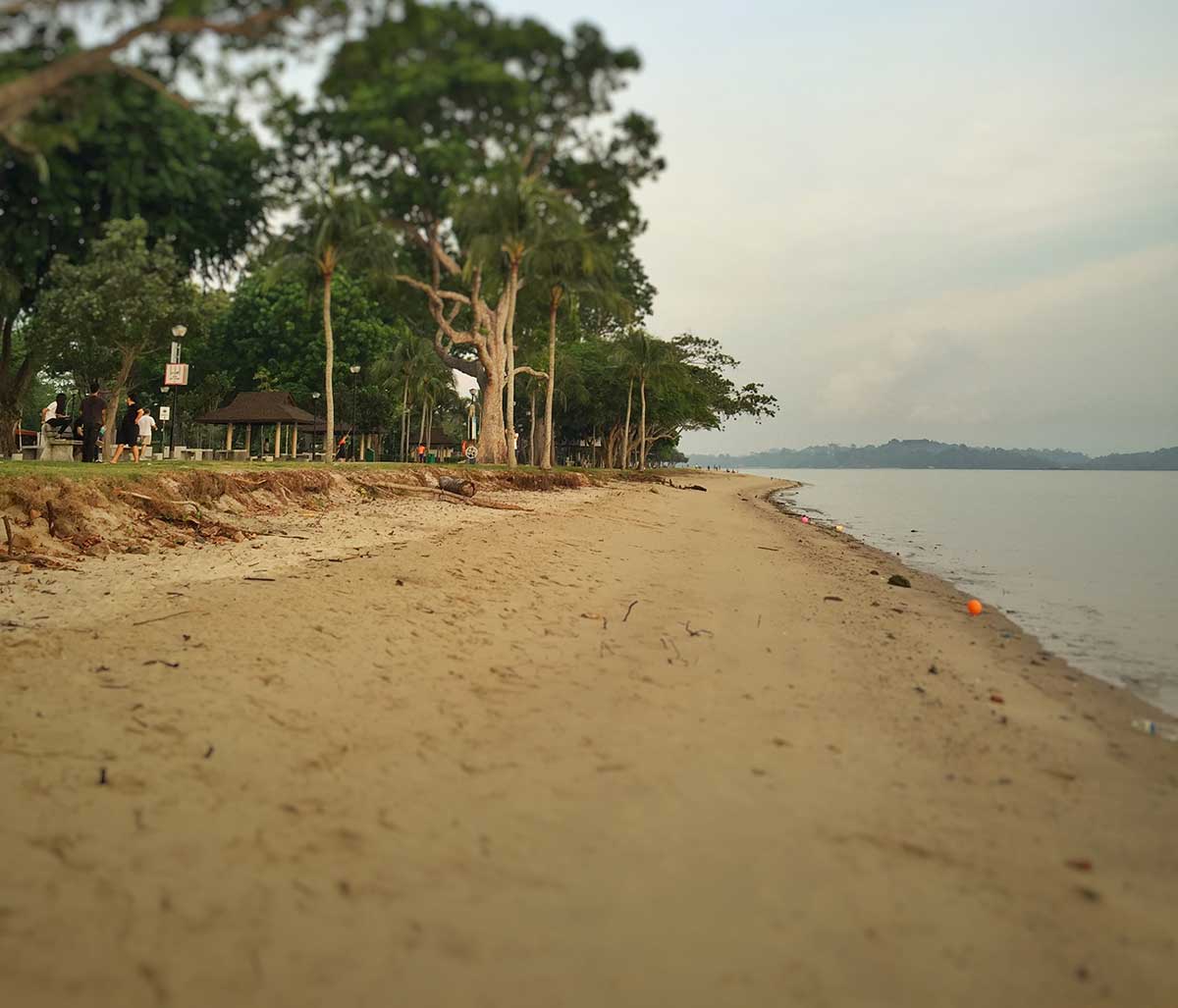 A beautiful tree and bench. Okay, can you see a tent? There are some people camping in Changi Beach Park. In fact according to nparks.gov.sg, camping (including usage of tents) is not allowed in Changi Beach Park. Well, many people still camp despite the notice.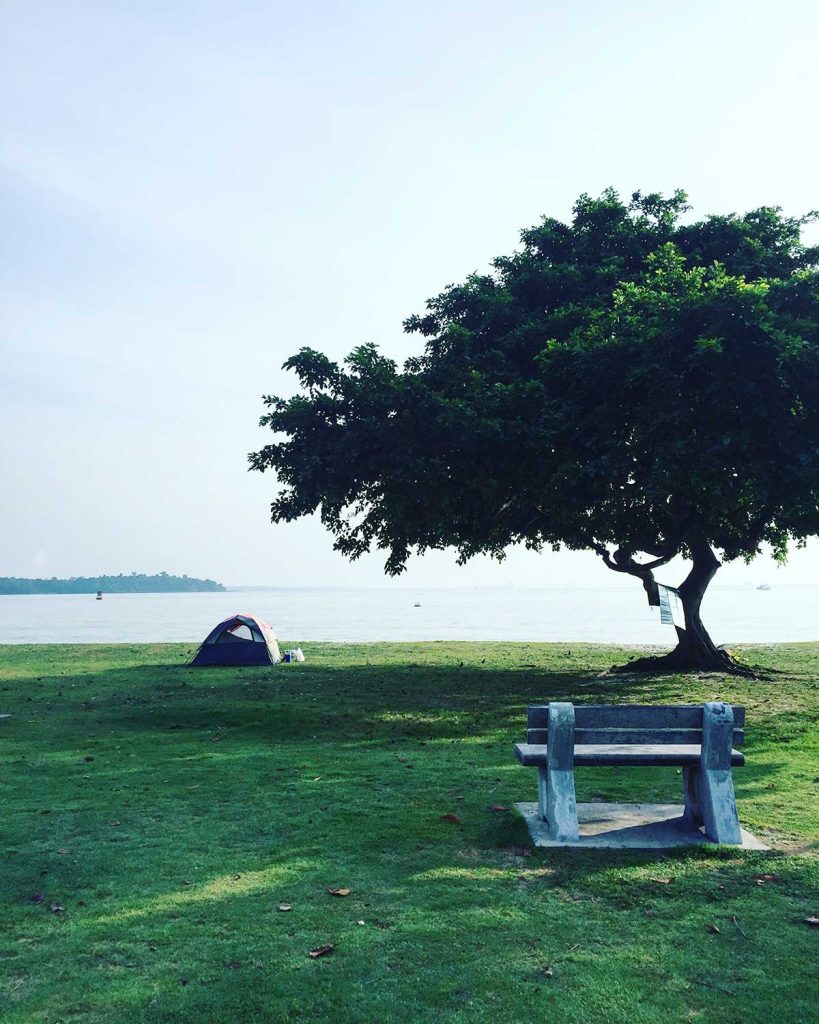 Catching the morning sunrise at Changi Beach Park is more than just witnessing a natural phenomenon; it's a chance to embrace the beauty of stillness, solitude, and the sheer wonder of the world around us. From the mesmerizing play of colors in the sky to the tranquil embrace of the sea breeze, every aspect of this experience is a reminder of the simple joys that nature has to offer. So, whether you're a fervent photographer, a seeker of solace, or simply someone who appreciates the marvels of the natural world, make sure to add a visit to Changi Beach Park's sunrise to your bucket list. It's a memory that will illuminate your heart long after the sun has risen.
If you have yet to catch a sunrise in Changi Beach Park, plan and do so soon! It's a refreshing experience and everyone should do it once a while. Well, life is short, how many more sunrise can we still catch in our lifetime? Sacrificing just a few hours of your sleep is well worth it!
---
Tips for a Perfect Sunrise Experience in Changi Beach Park
Arrive Early: Aim to arrive at the park at least 30 minutes before sunrise to secure a good spot and fully enjoy the pre-dawn ambiance.
Bring Essentials: Pack a light blanket, a thermos of hot coffee or tea, and some light snacks to make your morning comfortable and enjoyable.
Check Sunrise Timings: Keep an eye on the sunrise timings for the day you plan to visit, as they vary throughout the year.
Dress Comfortably: Wear comfortable clothing and footwear suitable for a relaxed beach experience.
Respect Nature: As you enjoy the sunrise, remember to respect the environment by refraining from littering and disturbing local wildlife.
---
FAQs On Catching the Morning Sunrise at Changi Beach Park
What makes catching the sunrise at Changi Beach Park special?
Changi Beach Park offers a serene escape from the urban rush, providing a tranquil setting to witness the breathtaking sunrise and reflect in solitude.
How early should I arrive to catch the sunrise?
Arriving around 30 minutes before sunrise is ideal to secure a prime spot and fully immerse yourself in the pre-dawn ambiance.
What should I bring for a comfortable sunrise experience?
Pack a cozy blanket, a thermos of your favorite hot beverage, light snacks, and perhaps a camera to capture the magical moments.
Are there different sunrise timings throughout the year?
Yes, sunrise timings vary seasonally, so it's a good idea to check the schedule in advance to ensure you don't miss this stunning spectacle.
Is Changi Beach Park crowded during sunrise hours?
No, the early morning hours offer a tranquil environment with fewer visitors, allowing you to enjoy the sunrise in a serene setting.
Can I engage in photography during the sunrise?
Absolutely! Changi Beach Park provides endless opportunities for photography enthusiasts to capture the play of light and shadows, creating stunning shots.
How do I get to Changi Beach Park?
You can reach Changi Beach Park by public transportation, taxi, or car. The park is well-connected, making it easily accessible.
Are there any guidelines for respecting the environment at the park?
Yes, it's essential to respect the natural surroundings. Please refrain from littering, disturb wildlife, or causing any harm to the environment.
Can I have a beachside breakfast after the sunrise?
Yes, after enjoying the sunrise, you can set up a simple breakfast picnic on the beach, making your morning experience even more delightful. Just remember to clean up after yourself!
---
Changi Beach Park Map
Below is the official map of Changi Beach Park.
---
Getting to Changi Beach Park
Address: Nicoll Dr, 498991
Bus: Take Bus 2, 29, 59, 109 to Changi Village. 5 minutes walk to Changi Beach Park.