Mercure Singapore Bugis is a 4-star hotel in Singapore ideal for any business or leisure trips. Located just behind Bugis+ Shopping mall and 5 minutes away from Bugis MRT, this is a beautiful modern contemporary hotel which is strategically located in the heart of Singapore's cultural and shopping district. Since our last staycation at Capella Singapore, we have longed for another weekend staycation in Singapore. This time around, we wanted to book a loft concept room and after contemplating between Studio M Hotel and Mercure Singapore, we decided to try out for the latter as there aren't many detailed hotel reviews for Mercure Singapore available online.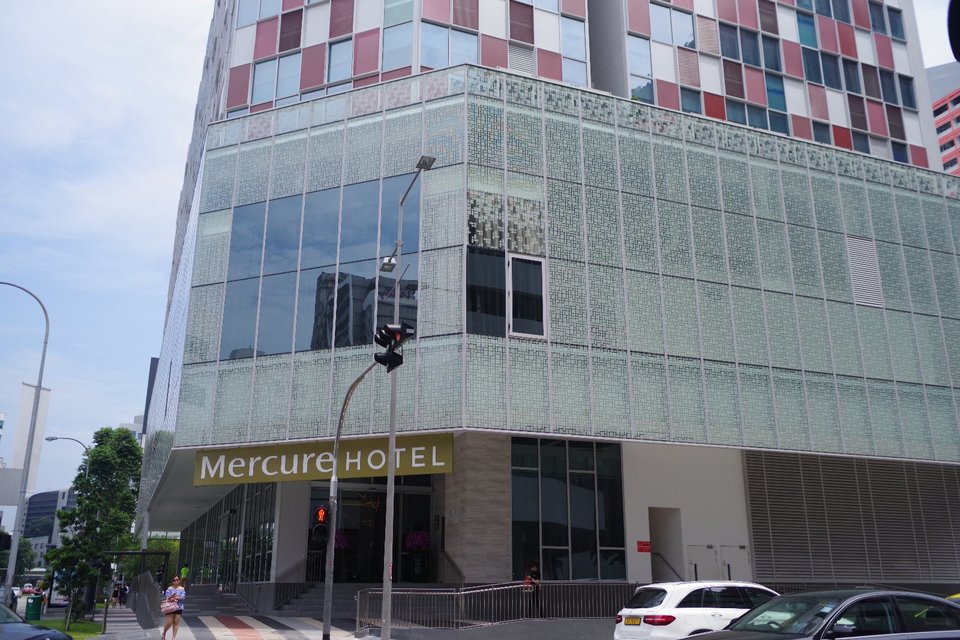 As you enter the hotel, you can find a funky and bold decorated lobby which looks like a library. The red carpet and tiles give the interior an amazingly refined look. We arrived and checked in the hotel at around 1:30 PM. The check-in process is a breeze and will take just around 5 minutes after verifying your identification.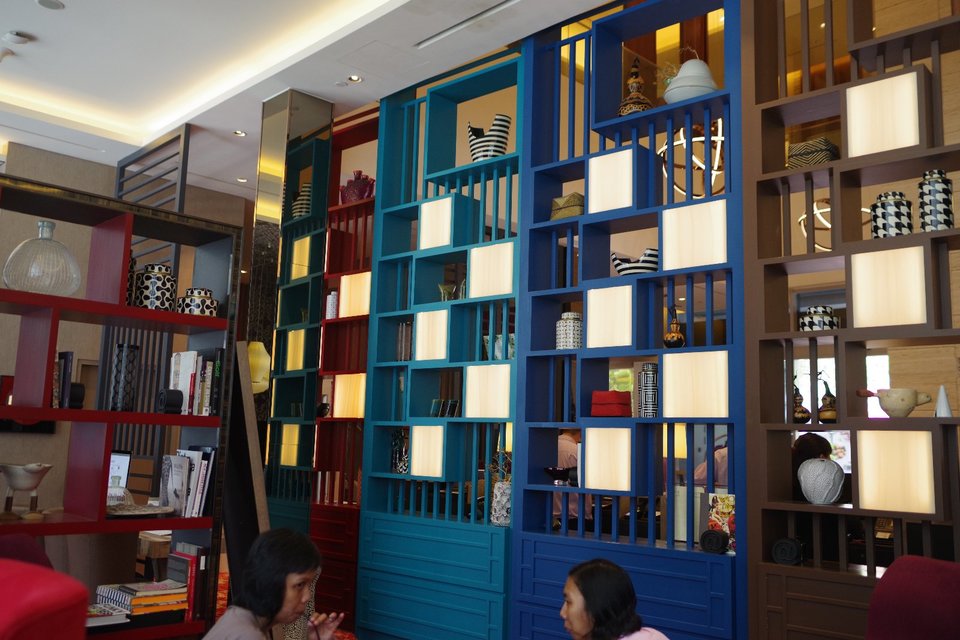 Our signature loft room is located at level 6 of the hotel. For your information, there are only two types of loft room available – Signature & Executive Loft room. Both rooms follow the same interior layout except that the executive loft room is slightly bigger (2sqm more) and it comes with a coffee maker.
This is how the corridors along the rooms look like.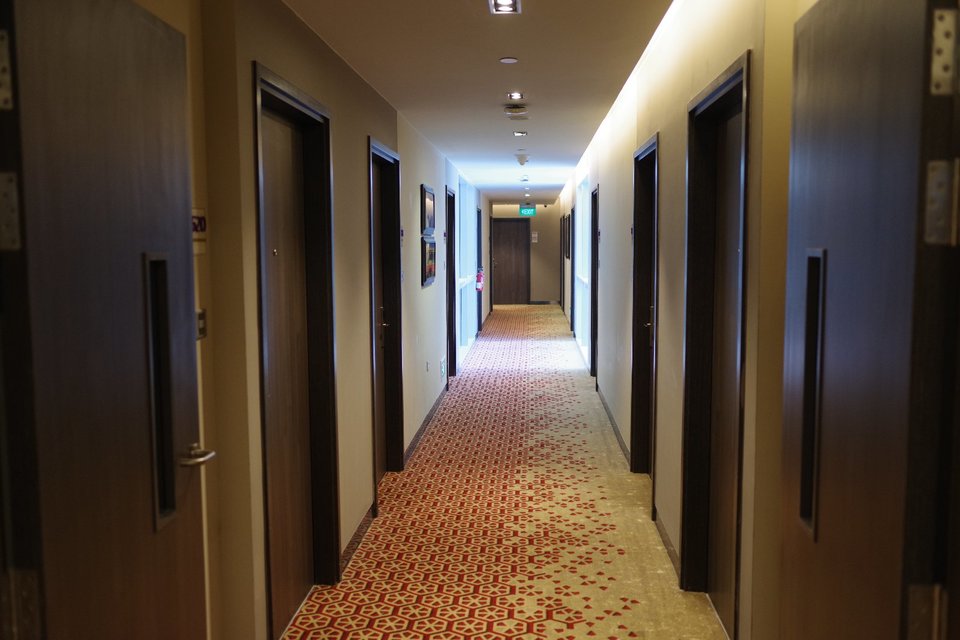 The Signature loft room follows a rectangular interior with the bathroom directly on the left/right side as you entered the room. Just in front of the bathroom are an open concept wash basin, mirror and clothing racks. The toiletries are from Mercure in-house brands.
On the wall, you can see bold purplish-blue decors which give the whole room a sense of artistic feel. Also, you can find a foldable sofa bed just in front of the LCD television.
There are no door locks for the bathroom as it comes with only push-only doors. The whole bathroom is not that spacious and the toilet cubicle and shower are located side by side in separate enclosed areas.
Just on the desk, you can find a Handy phone which offers unlimited mobile internet access. You can use this android powered phone islandwide as you explore Singapore.
If you wish, you may keep your valuables into the electronic safe found in every room. You can find Mercure printed plastic bags as well.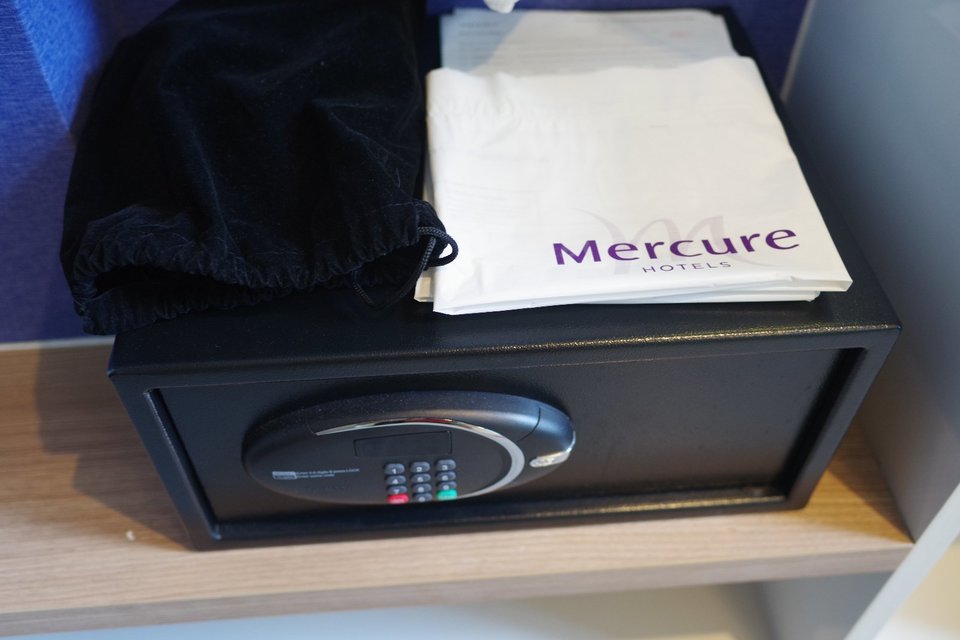 Every rooms comes with complimentary tea/coffee bags and an electric kettle.
There is a small mini bar fridge just below the electric kettle. You can find chocolates, beers, and soft drinks. As usual, the drinks in the mini-bar are very overpriced. The good thing is that the nearest 7 eleven outlet is just a few minutes walk away and I would recommend buying the drinks from the convenient stores instead.
The bed is located at the 2nd level and it is accessible via a flight of wooden staircases.
The bed area is quite cosy and the mattress is comfortable to tuck into. There isn't a bed frame and the bed is almost placed on the floor. Just in front of the bed, you can find a Samsung LCD television as well.
I couldn't power on the LCD TV due to a faulty remote controller. 🙁 The bright side is that you can use the same controller for the TV downstairs below.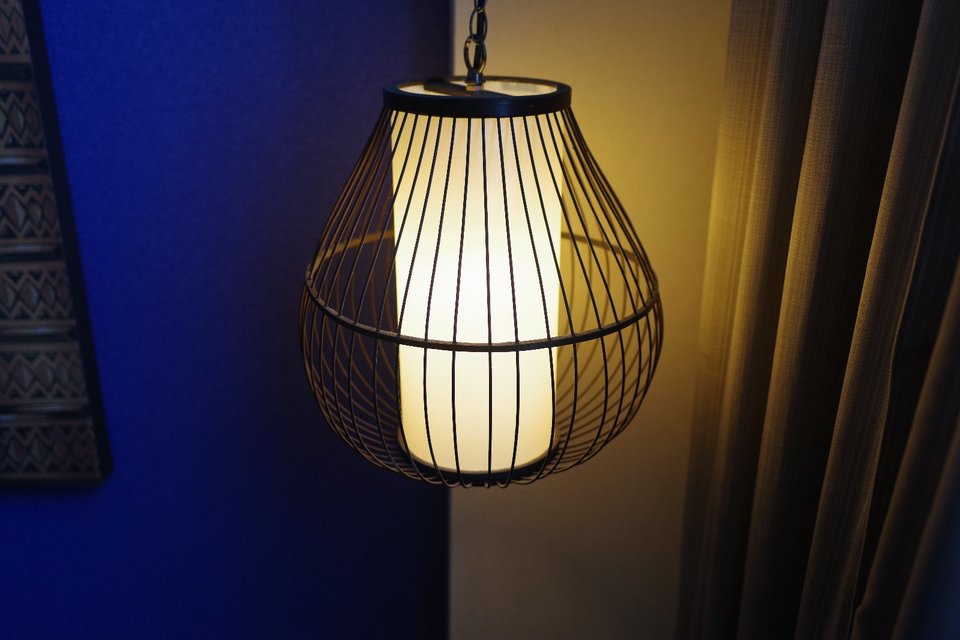 Mercure Singapore Bugis has a infinity pool located at level 7 of the hotel. Their infinity pool is quite amazing and it comes with a small jacuzzi pool at the far right. Dipping into the infinity pool, you can have a surrounding view of National Design Centre, National Library, St Joseph Church and HDB flats. The best timing to visit this infinity pool will be during evening where the sunset view will be captivating.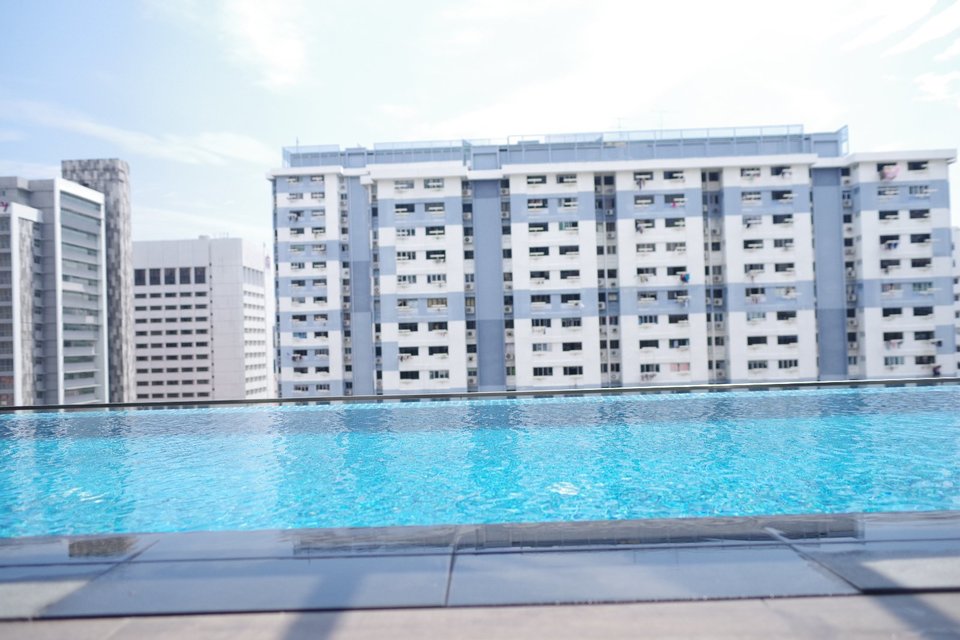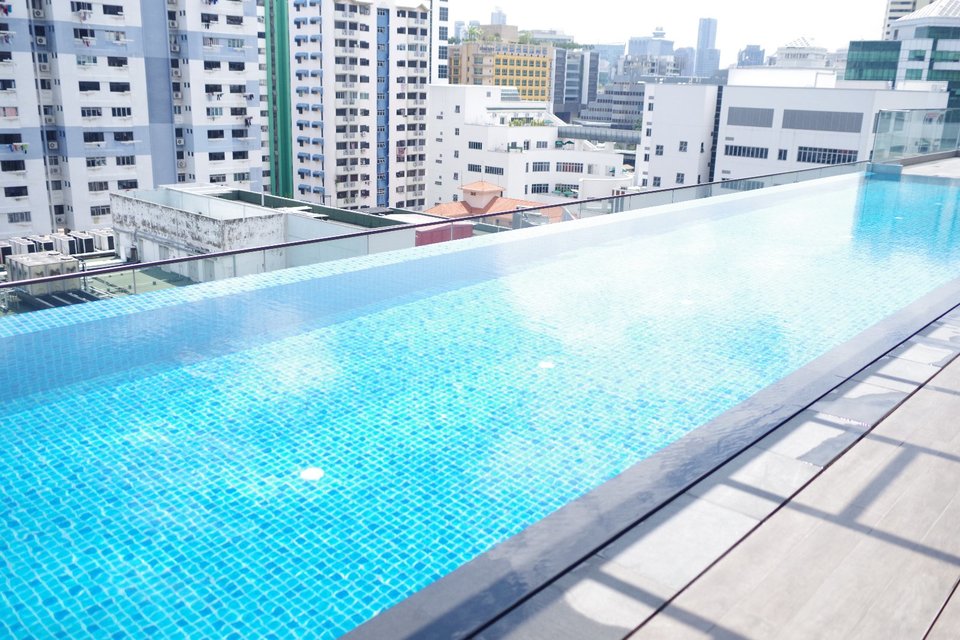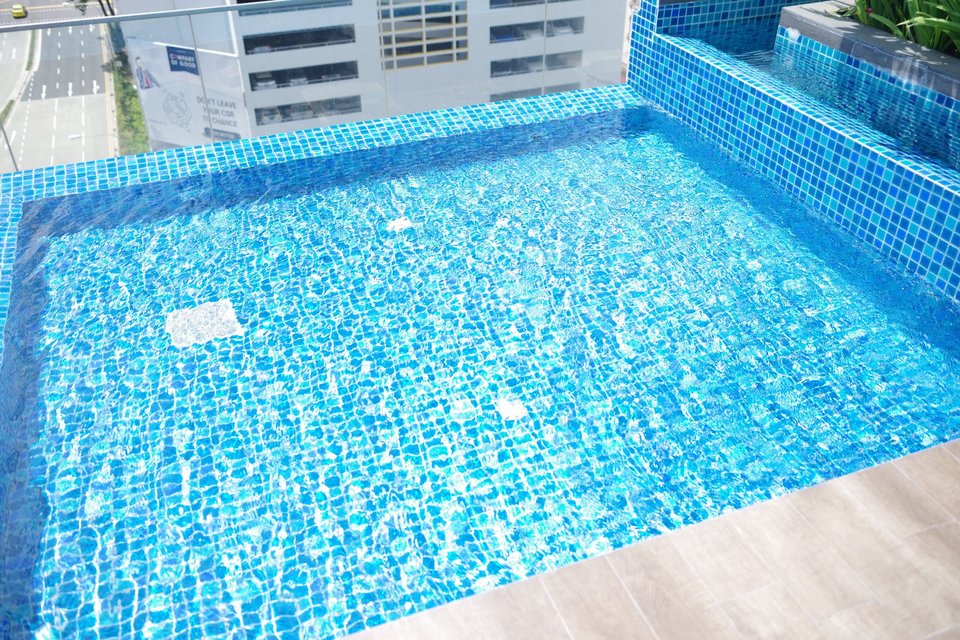 The depth of the swimming pool is just 1.2m. You can get your towels at the swimming pool side. Please note that appropriate swimming gear is required.
At level 7, you can also find a modest and small gym room which comes equipped with treadmills and dumbbells.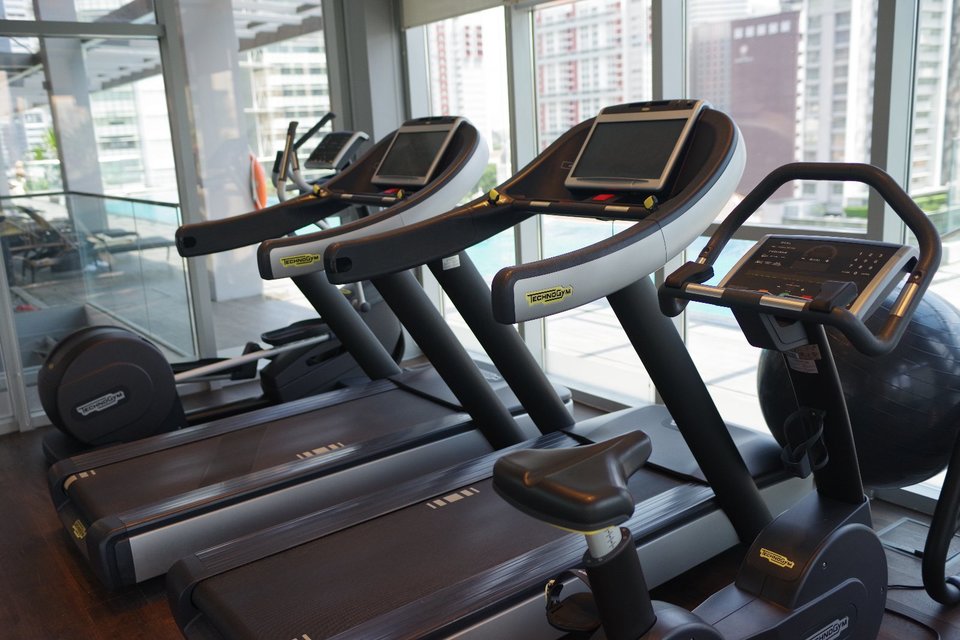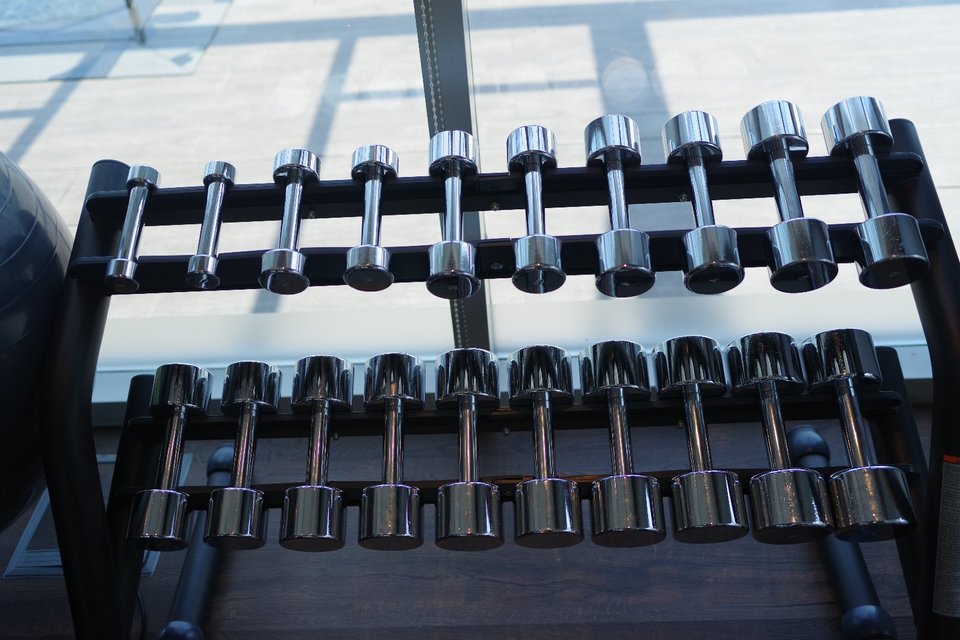 There is also a cabinet full of gym towels and complimentary mineral water bottles.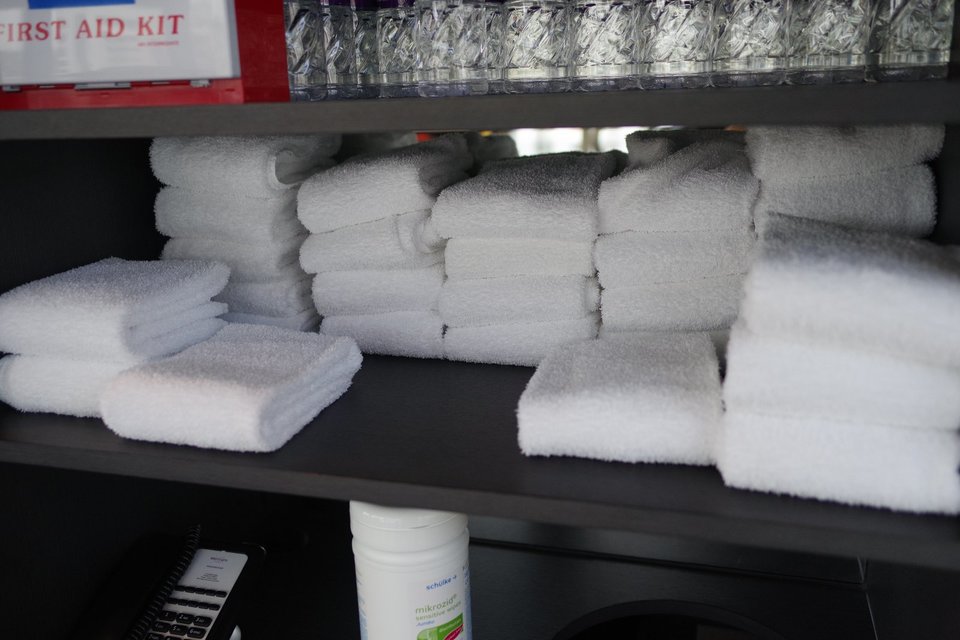 The breakfast buffet is located at Royale restaurant, at level 3 of Mercure Singapore Bugis hotel and it starts from 6:30 am – 10:30 am. Initially, I was quite skeptical about including breakfast buffet into the room package as I read some bad reviews from other bloggers about Mercure Singapore Bugis breakfast. However, I wanted to give an updated review on Mercure so we decided to go for it.
There is quite a spread of items for the breakfast buffet and I would say I am quite impressed by the food quality and service. There could be an improvement since previously, but ultimately I would say I enjoyed the breakfast and it's quite a value for money. We top up just around S$30 on top of the room price for the breakfast buffet for 2 pax.
Now, let's check out what Mercure Singapore Bugis offers for their breakfast buffet. In my opinion, it is quite comprehensive from western to chinese delights.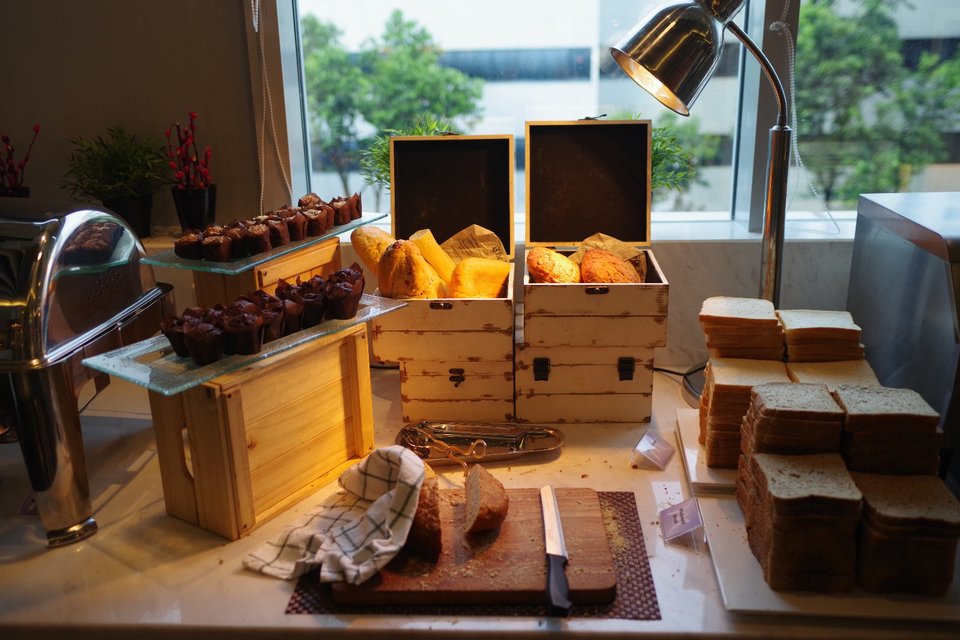 There is a wide variety of cooked food like scrambled eggs, fried tofu, sausages, braised chicken, bacon, baked beans, curry, nasi lemak and a lot more.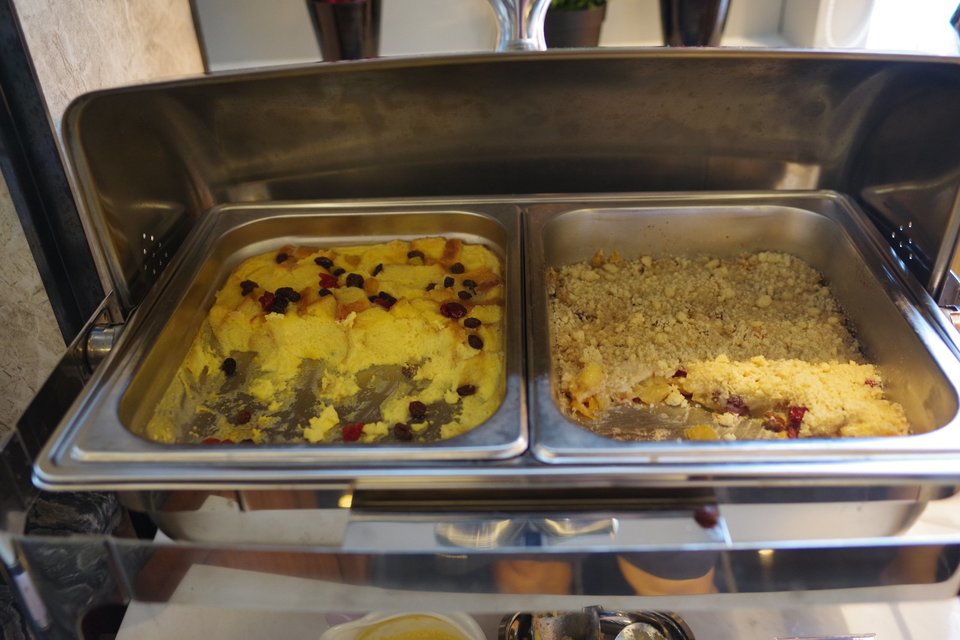 There are also Plain Congee and Miso Soup for people who may want a more light hearted breakfast.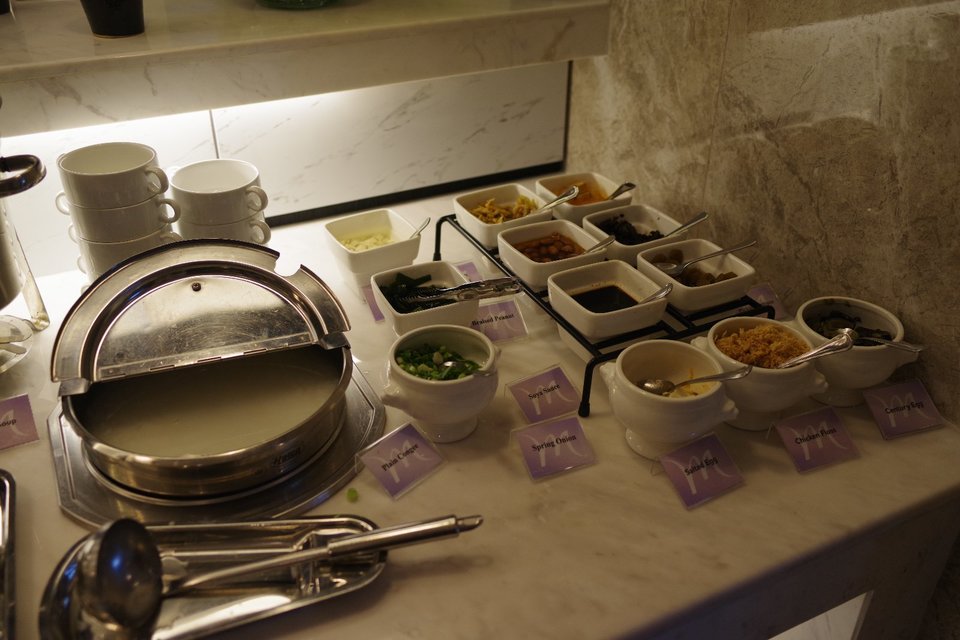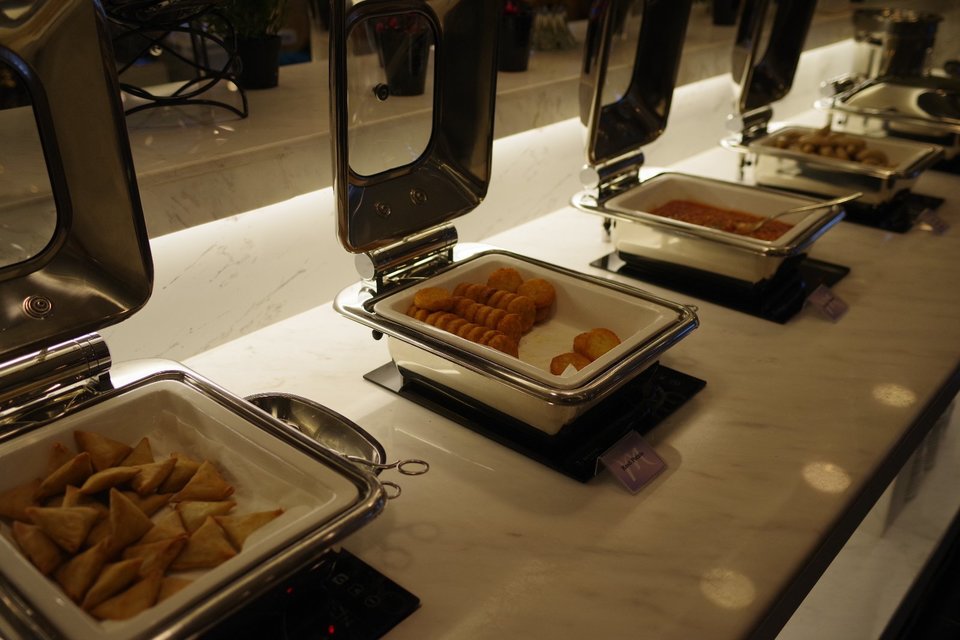 Last but not least, no breakfast buffet is complete without a dedicated egg station! It will be even better if they have a live roti prata station too. 🙂
Cleanliness -

7/10

Location -

7/10

Facilities -

7/10

Room comfort and quality -

7.5/10

Value for money -

7/10

Breakfast -

7.5/10

Service -

7/10
Summary
Mercure Singapore Bugis is a great choice if you are looking for a mid-scale hotel for either business or leisure purposes. This 4-star hotel is equipped with excellent facilities like infinity pool and gym, and the best part is that it is conveniently located near Bugis MRT in the heart of Singapore. For tourists, this is no doubt an affordable and convenient hotel that you can consider.
If you love loft style room concepts, try their Signature & Executive Loft rooms out. Their breakfast buffet is quite good as well with a wide spread of dishes.
If I were to pick on a bad aspect, it will be that the detergent smell in my room is a bit strong. This could be personal though.