Talking about 'Nanyang'(how Singapore was called historically by mainland China), what will come into your mind immediately? For me, it's the colorful shophouses which were born with a mix of Peranakan, heritage and modern gems.
It is said that shophouses were initially evolved from "bamboo houses" that are originated from Southern China (Guang Dong or Fu Jian). As the name suggested, they were traditional shops that merchants set up businesses on the first floor while living like a house on the second floor. Time passed by, the styles of shophouses inevitably evolved with culture and politics. Luckily, Singaporeans respect history and many heritages were preserved well just like they were. Here in Singapore, you can see a lot of traditional shophouses, making you feel that time flows backward (to learn more history on shophouses, you can read more at visitsingapore).
Although shophouses are scattered all around Singapore (e.g. haji lane, little India and Chinatown etc.). We have chosen the most beautiful ones and visited them in one day just recently. If you are a tourist visiting Singapore, exploring shophouses in Singapore, and take some Instagram worthy photos is one of the unique things you can do.
Shophouses in Joo Chiat Road
Nearest MRT: Paya Lebar
Visiting time: around 1 hour
Our journey started with the famous heritage neighbourhood Joo Chiat in the east of Singapore. The Joo Chiat Road is named after a wealthy Chinese businessman of Peranakan descent Chew Joo Chiat who became the owner of most of the land near the road in the are early 20th-century. Once being the suburb for wealthy and upper middle class, now the place is known for the colorful Peranakan shophouses, colonial bungalows, and traditional coffee shops.
We passed by a Buddhist temple situated amongst private estates along Joo Chiat Road. I am not a religious person but the beautiful pink color has attracted my attention very much. Built with a good aesthetic sense, the temple is the spiritual sustenance for the area.
Several steps forward, I was again impressed by the beautiful yellow two-storey shophouse that is decorated exquisitely with floral ceramic tiles.
20 mins walk from the MRT, we finally reached the Koon Seng Road, where the most Instagram-worthy Peranakan style shophouses are located. Along the two sides of the road, there is one array of colourful shophouses on each side, one of which is more light and pink while the other is more saturated.
I am very impressed by the intricate floral or geometric motifs on the ceramics. They are all so different and elegantly repetitive on every single shophouse.
The Joo Chiat and Katong area is such a heritage-attractive place that really worth a one-day stay. To explore more, you can have a look at the visitsingapore.
Tips for photo-taking: do remember to bring a wide angle or zooming lens for stunning Instagram photos.
Shophouses in Ann Siang Hill
Nearest MRT: Tanjong Pagar
Visiting time: around 40 mins
Ann Siang Hill is named after Chia Ann Sian, a rich Hokkien Merchant. He was born in Malacca in 1832. At the age of 16 years old, he found employment with a British firm Boustead & Company, whose core business was in the trade of natural resources – spices, coconut, tobacco, tin, tea, and silk along the China-Europe trade routes. After eight years on the job, Chia Ann Siang was promoted to chief produce storekeeper. He eventually left the company and ventured into timber business. He became a partner of Geok Teat and Company in 1863. After he became one of the most successful merchants of his time, he acquired Ann Siang Hill.
Transferred from Paya Lebar MRT we took the green line and reached Tanjong Pagar station. This is the CBD area of Singapore where many financial companies landed offices there. We took the route to An Siang Hill via Amoy Street where there are also numbers of colorful shophouses along the roads.
Interestingly here in Amoy street, many of the shophouses are three storeys. Regardless of their historical usage, now they either become a convenient restaurant for the busy white collars or hipster bars after work.
As expected, the weekend look of Amoy street is so different from what it looks like during weekdays. Many stores are closed but the streets are peaceful without crowd and music as if they were also resting like us.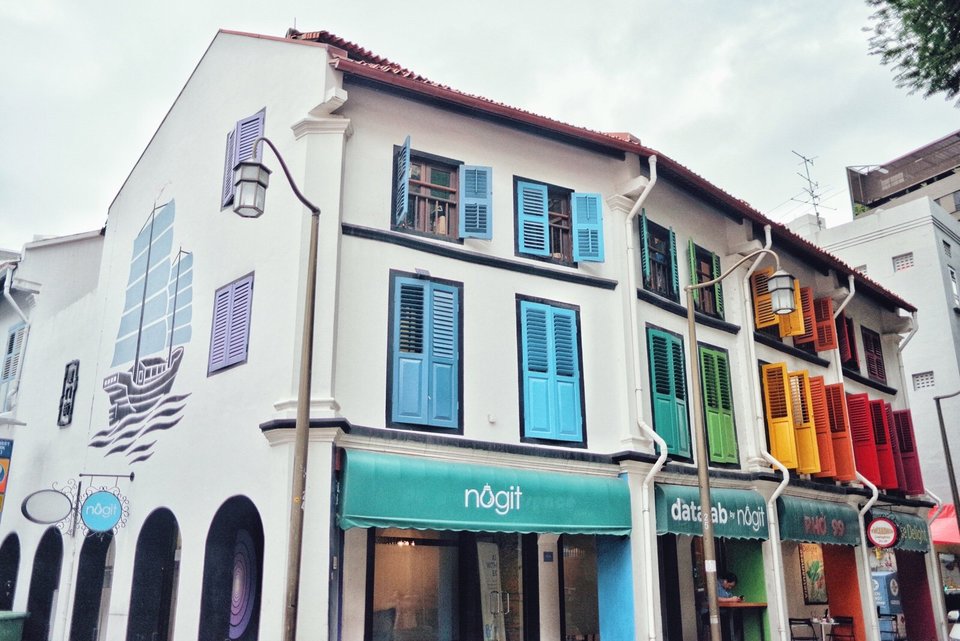 Speaking of hipster bars, no place is comparable to An Siang Hill in my eyes. To be honest, the night of An Siang Hill will be more appealing but the serenity during the weekends has also made the place uniquely attractive.  Many of the architectures are actually provincial guild halls from the past. With a modernized furnishing, they become one of the favorite places for working people to relieve the stress, catch up with friends and kill the lonely time.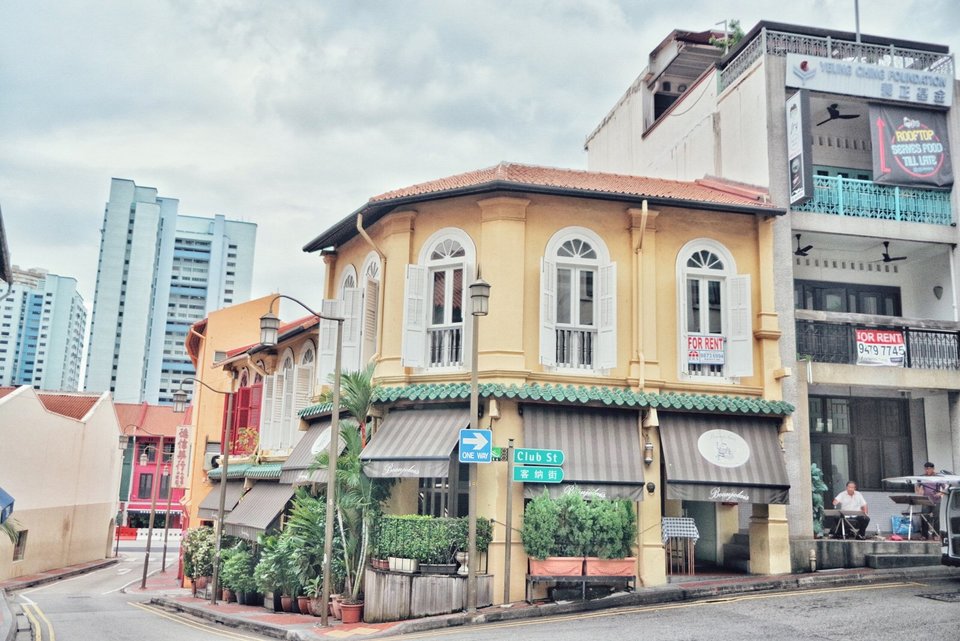 Shophouses in Petain Road
Nearest MRT: Farrer Park
Visiting time: around 20 mins
Ann Siang Hill is only 5 mins walk to Chinatown MRT where we took the purple line to Farrer Park. Farrer Park area is more known to young people by its hipster cafes and restaurants. We have visited there many times and are most impressed by the stunning shophouse on the Petain Road that is said a 'later style shophouse' featuring a blend of Spanish glazed tiles, Chinese animal reliefs, and Malay eaves.
The shophouses have become a range of stores such as wedding boutique and even an Airbnb (Bright & Airy). Above all, it is really an Instagram-worthy place.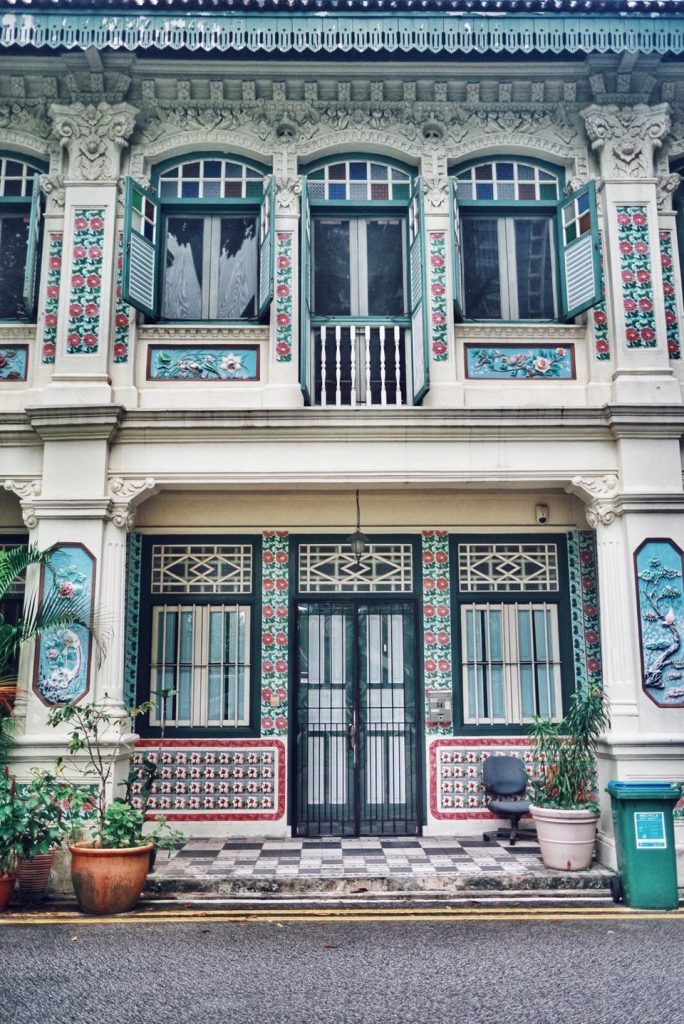 Walking around, you will find out that the scale of shophouses around the area is no smaller than anyone mentioned above. In fact, there are a lot of cute designs just like the one below. Isn't it like the famous Old Hill Street Police Station in Clark Quay?
This concluded our one-day unique Shophouses Singapore tour. I wish you'll enjoy the beautiful shophouses in Singapore just like we do!