With 3 restaurants and 15 coffee shop stalls islandwide, Collin's (also known as Collin's Grille Bento) is definitely a success story for a western food business. As the name suggested, Collin's is started by Chef Collin Ho with 16+ years of experience in the culinary field.
Refining your dining experience ~ Collin's
My first encounter with Collin's was at their Toa Payoh outlet and I still remembered that after the meal, I was quite impressed by the quality of their food at quite an affordable price. Having known that they have a branch in Ang Mo Kio Jubilee Square, I was elated and excited to make a visit again. This time around, I will be able to try more dishes and contribute a review for the readers.
The queue (walk-ins) at their Jubilee restaurant can be quite long if you arrived late at around 7:00 PM plus. The best time to visit the restaurant will be around 6:00 PM – 6:30 PM, I will definitely recommending arriving within this time range for dinner. If you are not walking in, it is best to make a reservation in advance.
Mixed Grill (Chicken Chop + Pork Chop + Pork Bratwurst)
The serving is quite big for their mixed grill platter. As a beef lover, I think if they replace the pork chop with steak, that will be more awesome. The platter also comes with sweet corn, salad, and mash potato. One disappointment is that when my mixed grill arrived, it was not served as hot.
Grilled Chicken Chop with Pepper Sauce Pasta, Corn & Salad
The pasta seems to be a good choice to order. Their grilled chicken chop w/ pasta is quite delicious.
Grilled Prawn, Scallop with Pasta, Corn & Salad
This pasta suits my taste bud better. Probably because I am a seafood lover. Their scallop is fresh and well grilled. The prawn, however, could be bigger.
Ribeye Steak 
I ordered their ribeye steak at medium well. Their steak is well grilled at the right temperature. The meat is tender and juicy. Definitely not comparable to the steak you eat in specialized steakhouse, but if you consider the price tag, I do find it's okay. The steak also comes with corn, broccoli, sliced carrots and wedges.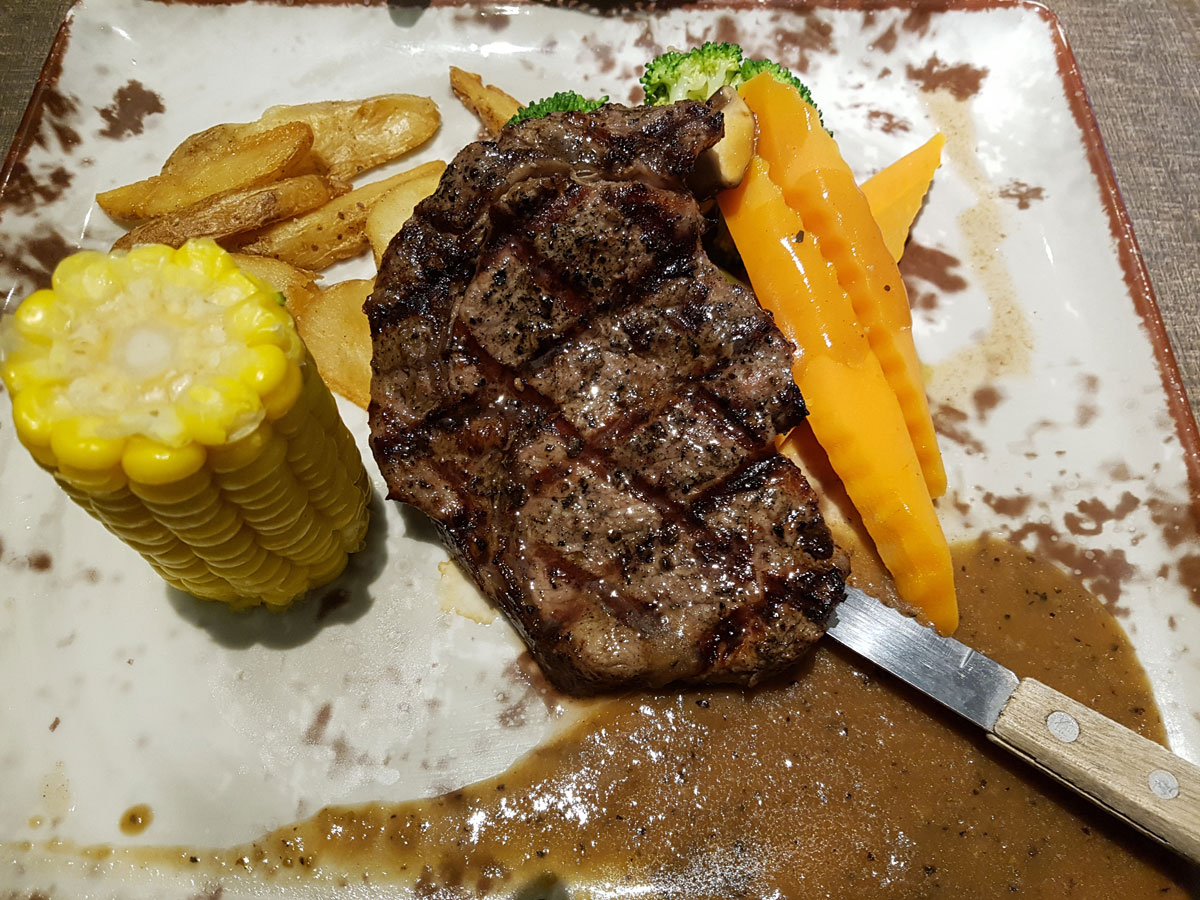 Trio Mushroom Soup
A very common mushroom soup that you can find anywhere else. You can get this soup if you top up to make your main dish a set meal (add on drinks + soup).
Grilled Mid Wings & Sweet Potato Fries
Freshly grilled and tender chicken mid wings with some sweet potato fries
Garlic Bread
Well toasted garlic bread with generous spread of garlic sauce. The serving is a bit little considering the price of this dish. There are only around 5 slices of toast.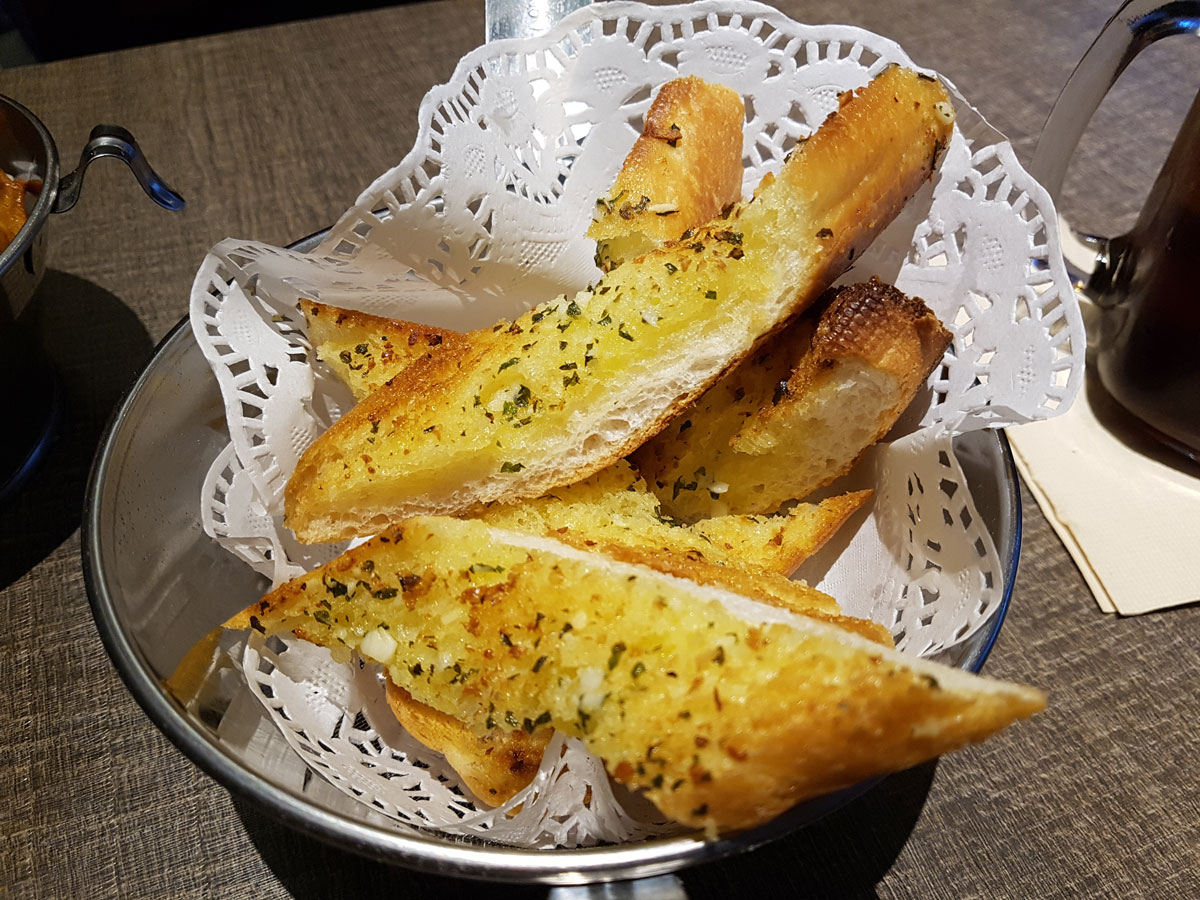 Sausage & Mushroom Pizza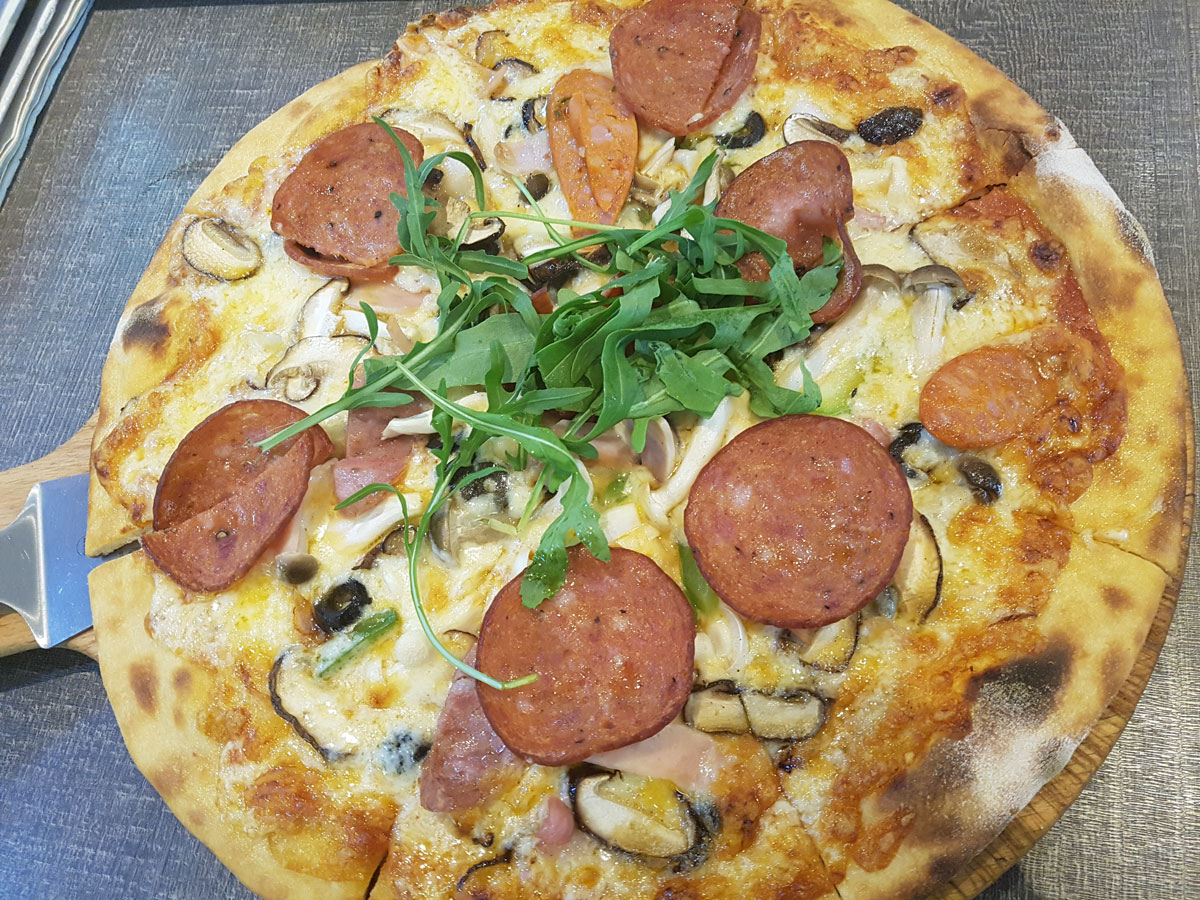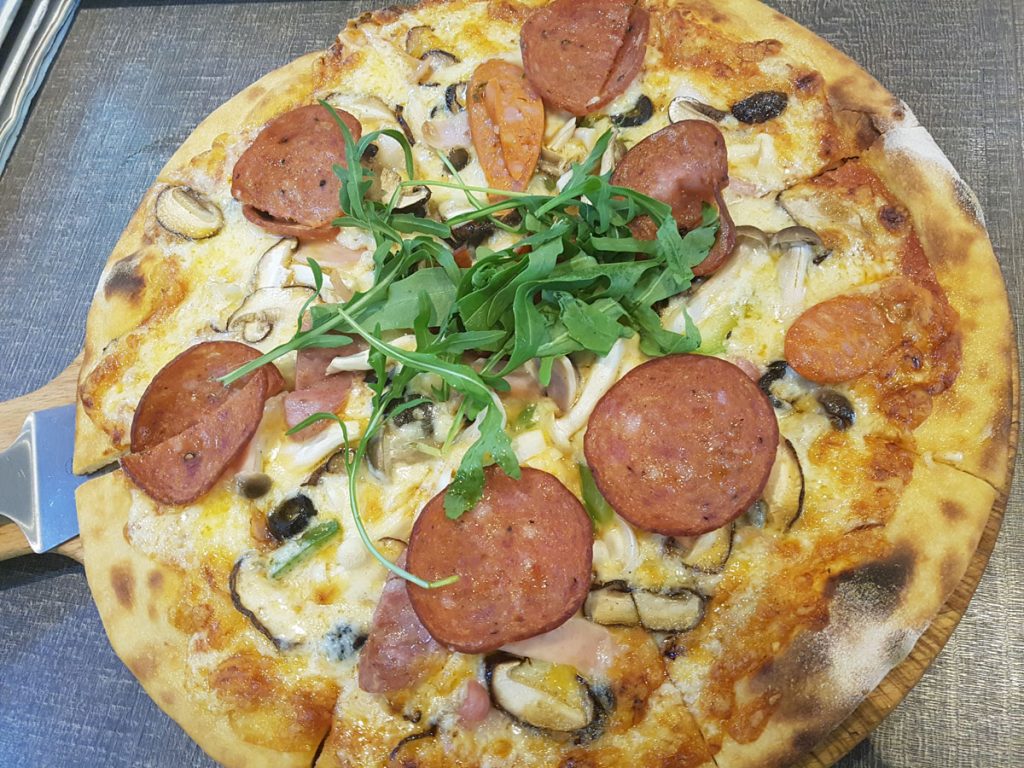 Getting to Collin's Jubilee
Address: No. 61 Ang Mo Kio Ave 8 #01-07/08/09/10 Jubilee Square, Singapore 569814
Business Hours:
Sun-Thurs: 10am – 1am
Fri, Sat & Holiday Eve: 10am – 2am
Tel: (65) 6452 5887
Quality of Food -

7/10

Customer Service -

6.5/10

Value for Money -

6.5/10

Atmosphere -

7/10
Summary
Overall, I find Collin's to be a restaurant that serves good western food.
The customer service could be improved at peak times.
Though a bit small, their Jubilee outlet has quite a nice ambience for dining. As for price, note that Collin's restaurant charges GST and service charge.
If you just want to try out their food and don't really care about the atmosphere and service, you can make a trip down to their coffee shop outlets.