King Crab Fishing in the frozen lake and fjords in Kirkenes is an experience that I would never forget in my lifetime. In this post, I am excited to share with you my experience with King Crab Safari Kirkenes. Most of the hotels in Kirkenes will offer activities for King Crab Safari so I think it will not matter which one you signed up with; the experience will probably be quite similar. My King Crab Safari fishing comes included in my tour package. In this experience, tourists will get an opportunity to learn more about the Arctic King Crab! You get to understand more about this mysterious creature, how it lives, how you can catch, cook, and even eat it. We were picked up by a tour group bus from our hotel and reached Kirkenes Snowhotel after a merely short 30 minutes ride.
The main season for King Crab Fishing is from October – January.
Gearing Up For King Crab Fishing
We were required to put on some thick clothing provided to keep us warm from the freezing weather. It was around -5 Degree Celsius but to the locals, this is quite a warm winter. I can't imagine how cold it will be for a cold winter. We were guided to the changing room where we were given outer jackets, boots, gloves, helmets of our sizes.
Not long after everyone was geared up and ready, we boarded the snowmobiles to the middle of the frozen lake where the king crabs fishing spot was set up. It was just a 10 minutes snowmobile ride. The scene of riding the snowmobile while the snow falls from the sky is something that is memorable. This is not something that you can experience when you live on a sunny island like Singapore.
King Crab Fishing Spot
Curious on how the king crab fishing spot looks like? The spot looks just like a big squarish hole in the lake.
As you can see from the photo above, there is a thick red rope. If you pull the rope up, you will find a cage which contains the red king crabs. Don't ask me, I have no idea how the king crabs got into the cage in the first place. The fisherman did some explanation on the trapping process though, but I didn't catch it. I am too engrossed with the surrounding.
The red king crabs can be extremely large. It can weigh up to 15kgs and its leg span can be almost 2 metres. Can you imagine it?
The fisherman put a few king crabs on the frozen ice to kill it. After they killed it, we picked up a few crabs to take some photos with it! How can one miss this Instagram worthy shot? Someone asked the question if people can eat the king crab raw and alive and the answer was YES! The fisherman skillfully cut a leg off from one of the king crabs and handed over some raw meat for us to try! Amazingly, the raw crab meat tasted so sweet and tender. How I wish there are some soya sauce and wasabi to go along with it.
Cooking the King Crabs
After the crab fishing, we commute back to the Kirkenes Snowhotel via the snowmobile and we were brought to a hut. The fisherman then showed us the Norwegian way of cooking the King Crabs. The secret is… to soak the crabs in salt or seawater and then boils it till bright red color.
The best part of the excursion? or I should say the most enjoyable and fulfilling session is, of course, being able to eat and taste the fresh king crabs that were caught. Just above the changing room, there is a posh and beautiful restaurant where we were served our lunch. Look at the amazing view from the restaurant.
King Crab Feast
We helped ourselves with some hot chocolate and waiting patiently for our king crabs lunch. Even the tour leader who had been here a dozen times was excited about the lunch. I knew this ought to be one of the best lunches of my entire trip (or even my whole year).
Tada! Here is the start of our king crab feast! The fisherman brought two big trays filled with big red juicy, king crabs legs. And I forget to mention, this is buffet style! What big legs, just imagine the meat filling on the inside. How can anyone resist this delicacy?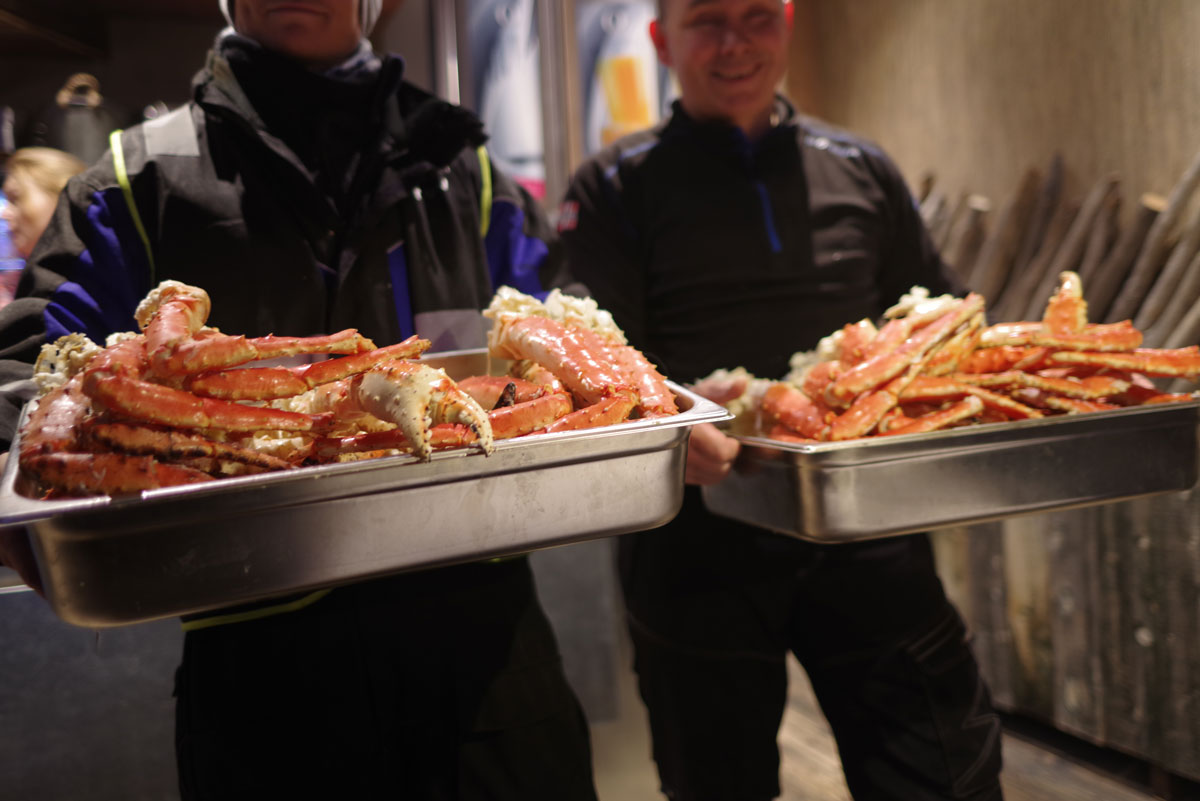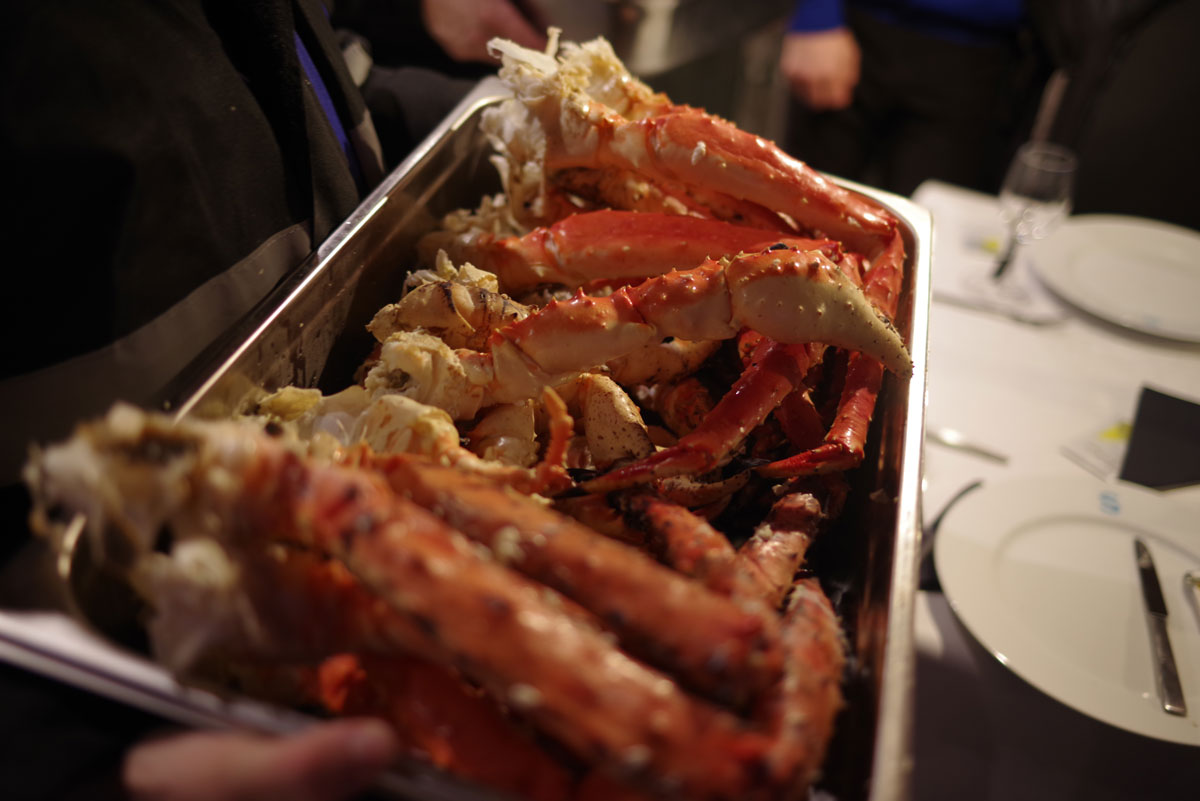 Just for your info, it is recommended to eat King Crabs the local way (Norwegian way). The local way as explained by the fisherman is to eat the crab meat with toast and mayonnaise. Be sure to order some wine to go along with it as well.
Getting to Kirkenes SnowHotel
---
FAQ on King Crab Safari Kirkenes
What is a King Crab Safari in Kirkenes?
A King Crab Safari in Kirkenes is an excursion where you have the opportunity to catch and taste the famous King Crab in the Arctic waters of Kirkenes, Norway.
How do I book a King Crab Safari in Kirkenes?
You can book a King Crab Safari in Kirkenes through tour operators, travel agencies, or directly with the companies that offer this experience.
What is the best time of year to go on a King Crab Safari in Kirkenes?
The best time for a King Crab Safari is during the winter months, from November to April, when the King Crabs are most active and the Arctic landscape is stunning.
Is it necessary to have prior fishing experience to join a King Crab Safari?
No, prior fishing experience is not required. The safari guides provide all the necessary equipment and instructions for crab fishing.
What should I wear for a King Crab Safari in Kirkenes?
Dress warmly in layers, including thermal clothing, as the Arctic weather can be quite cold. Don't forget waterproof clothing and insulated boots.
How long does a typical King Crab Safari last?
A King Crab Safari usually lasts around 3 to 4 hours, including the crab fishing activity and a meal.
Can I eat the King Crab I catch during the safari?
Yes, you can! After catching the crabs, they are typically prepared and cooked by the safari guides, and you get to enjoy a delicious King Crab meal.
Are King Crab Safaris suitable for children?
Yes, many King Crab Safaris are family-friendly, and children can participate. However, it's important to check with the tour operator for age restrictions and suitability for your kids.
Are there any safety precautions during a King Crab Safari?
Yes, safety is a top priority. Safari guides provide safety instructions, and you'll be equipped with life jackets and safety gear while on the boat.
What other activities can I combine with a King Crab Safari in Kirkenes?
You can combine a King Crab Safari with other Arctic adventures like snowmobiling, husky sledding, or experiencing the Northern Lights, making your visit to Kirkenes a truly memorable Arctic experience.
Price -

7.5/10

Experience -

9/10

Hospitality -

9/10
Summary
This is one of the best highlights of entire Norway trip. If you ask me, this is the MUST TRY activity if you visit Kirkenes during winter time. To be frank, this is my first time trying king crabs and I am definitely in love with it. The meat is so fresh, tender, juicy… indescribable with words.