There is a famous old saying that states if you didn't visit Guangji Bridge (广济桥) when you were in Chaozhou, you can't say you actually been to Chaozhou. It is this saying that makes me want to make a trip down to Guangji Bridge to see it for myself.
到潮不到桥,枉向潮州走一遭
I've been planning for a Chaozhou trip for a while but it didn't really materializes until now. Chaozhou is a special place as my family history and roots dated back in this city. Like most other Singaporean's families, my grandmother is born in Chaozhou and she later traveled across the ocean and got married to my grandfather in Singapore. It is amazing know that our roots is from thousand miles away and I always feel excited to be able to find our family roots back.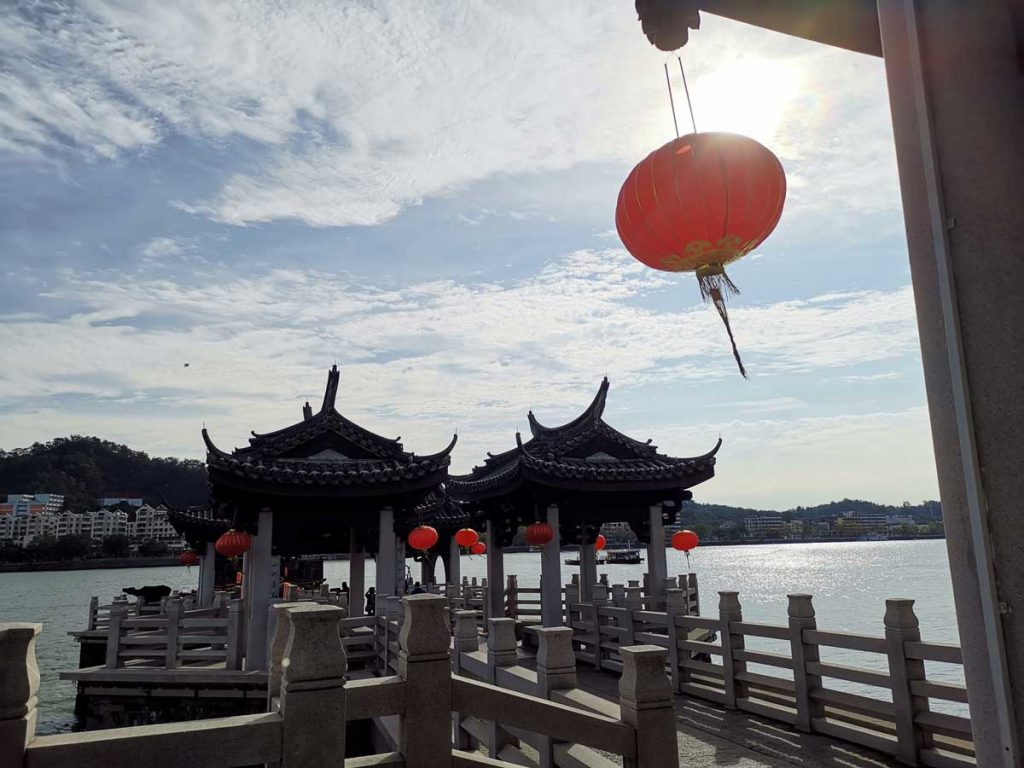 Guangji Bridge Overview
Guangji Bridge (originally known as Kangji) is actually a "floating" bridge which consists of wooden boats being connected together. This bridge is uniquely known in China because its features consist of a beam, pontoon, and arch bridge. If you are curious, yes, Guangji Bridge is dubbed as one of the four ancient bridges in China and is considered one of the greatest bridge construction works in China's history.
The Guangji Bridge, located in Chaozhou City, Guangdong Province, China, is a masterpiece of ancient Chinese engineering and architecture. It is a stone-arch bridge that spans the Han River, connecting the Xiangqiao District and the Chengxi District. Its name, "Guangji," translates to "extensive luck," reflecting the wishes of its creators for prosperity and harmony in the region. The Guangji Bridge holds immense historical significance, dating back over a millennium. It was constructed during the Southern Song Dynasty (1127-1279 AD), making it one of the oldest surviving stone-arch bridges in China. Its age and well-preserved state have earned it the reputation of being the "No. 1 Ancient Bridge in China. During its construction, the bridge served a crucial role in facilitating trade and cultural exchange between the northern and southern regions of China. It played a pivotal role in the transportation of goods, fostering economic development in the area.
---
Guangji Bridge Opening Hours & Ticket Admission
If you are making a trip to visit Chaozhou, I would say this is an attraction that is totally worth your trip. Guangji Bridge is open to the public on both weekdays and weekends, subject to the timing below.
10:00 AM – 5:30 PM, Monday to Friday
9:00 AM -5:30 PM on both Weekends and Chinese public holiday
Please also note that admission stops at 5:00 PM every day.
Lights showcase starts at 8:00 PM.
There is an entrance fee of 20 RMB (adult), free for children with height below 1.2m, and senior citizens aged 60 years old and above. For senior citizens, note that you will need to provide proof of identity at the gantry.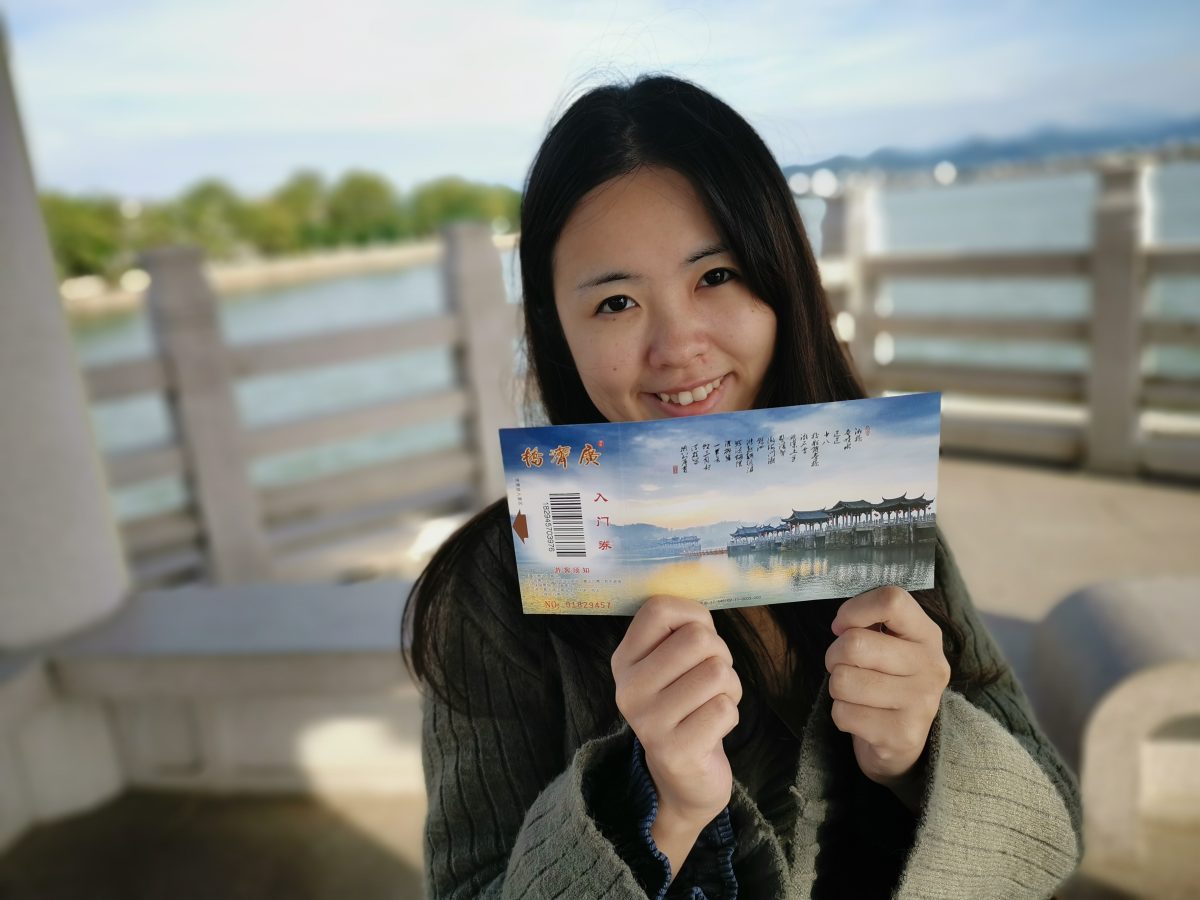 Personally, I think it is best to visit Guangji Bridge twice – both the night and day time in order to get the best of both worlds. The night view of Guangji Bridge is simply amazing with glowing lights lighting up the entire bridge. In addition, there is also a lights showcase display at 8:00 PM – 9:00 PM daily. See below, you may also realize that the mountains at the back is glowing too! The landscape scenery is simply spectacular.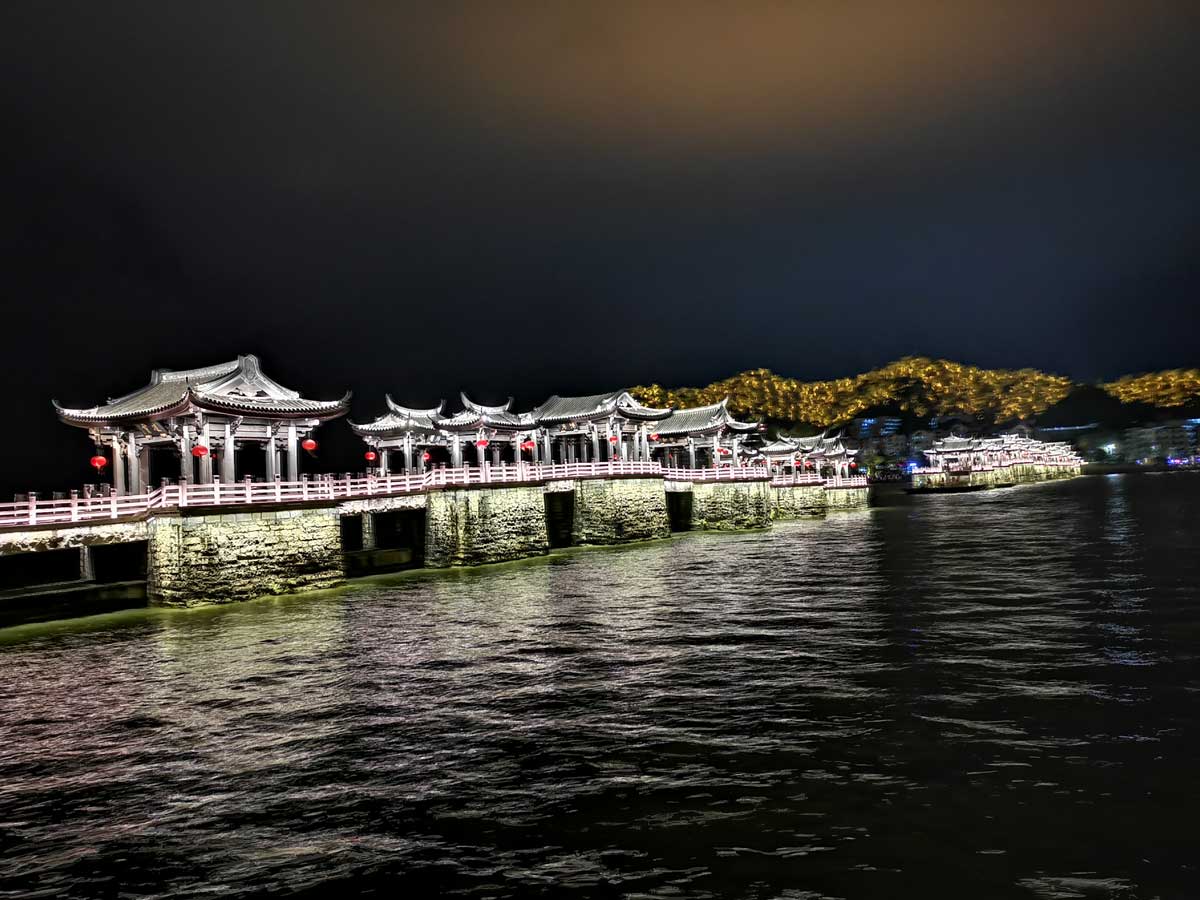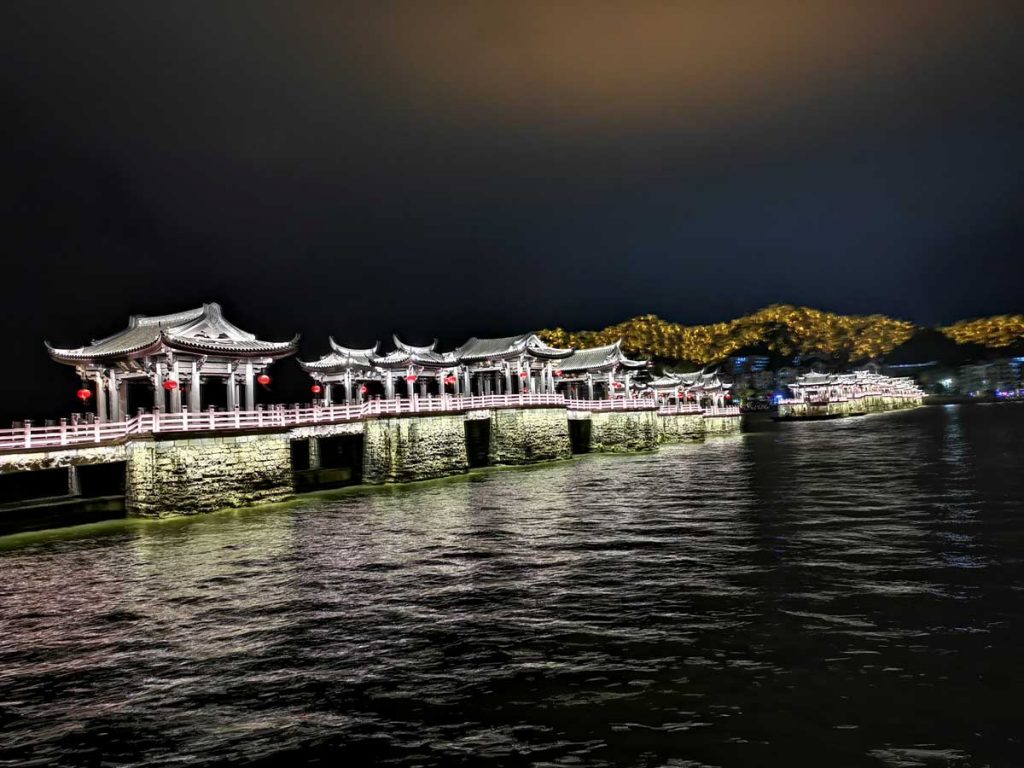 Before heading towards Guangji Bridge, you will be passing by the Guangji Lou. Guangji Lou is built on top of the walls surrounding the whole Chaozhou city. Don't forget to take photo with this magnificent building too.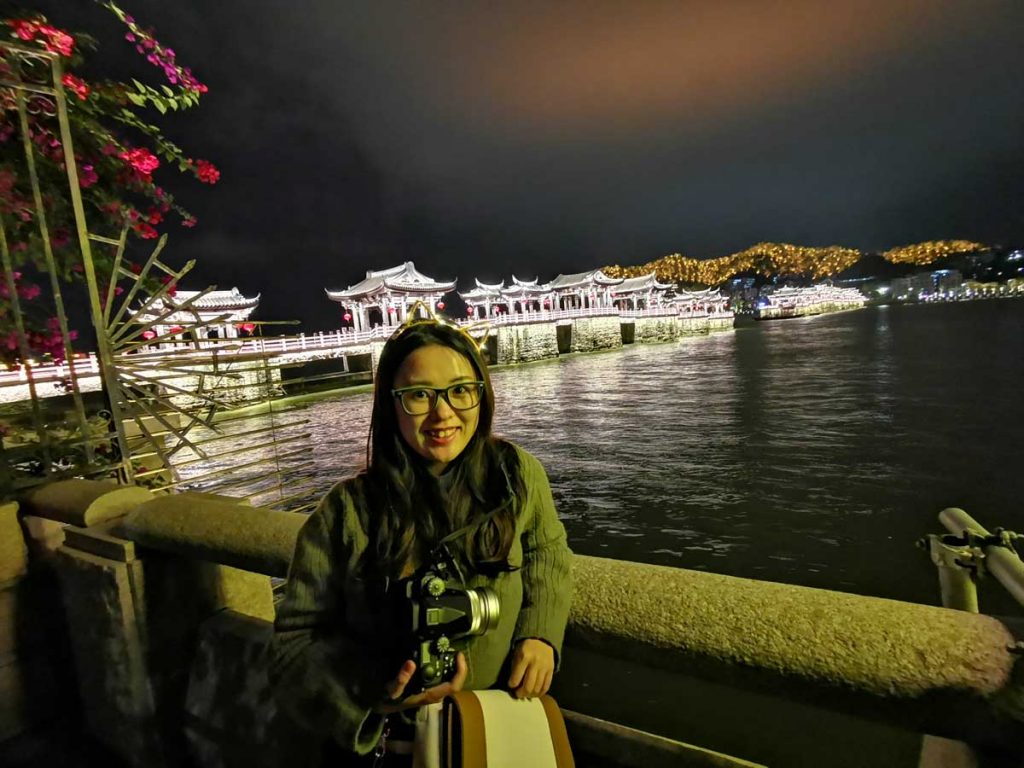 The scenery view during day time is just as amazing as well. I will recommend you to visit Guangji Bridge at 9:00 am sharp if possible so that you can have a chance to witness how the floating wooden boats form the middle part of the bridge (pontoon bridge). Everyday at 5:30 PM sharp, the pontoon bridge will then be dismantled to allow cargo ships to pass through. I am super impressed!
One of the most striking features of the Guangji Bridge is its architectural brilliance. The bridge spans approximately 500 feet (150 meters) across the Han River and stands at a height of 10 feet (3 meters) above the water. What makes it truly remarkable is its use of stone arches, an architectural technique that was revolutionary for its time.
The Guangji Bridge consists of 18 graceful arches, each meticulously constructed with massive stone blocks. The arches are not only aesthetically pleasing but also serve a practical purpose by ensuring the bridge's stability and durability. The bridge's unique design allows it to withstand the test of time, enduring floods and earthquakes over centuries.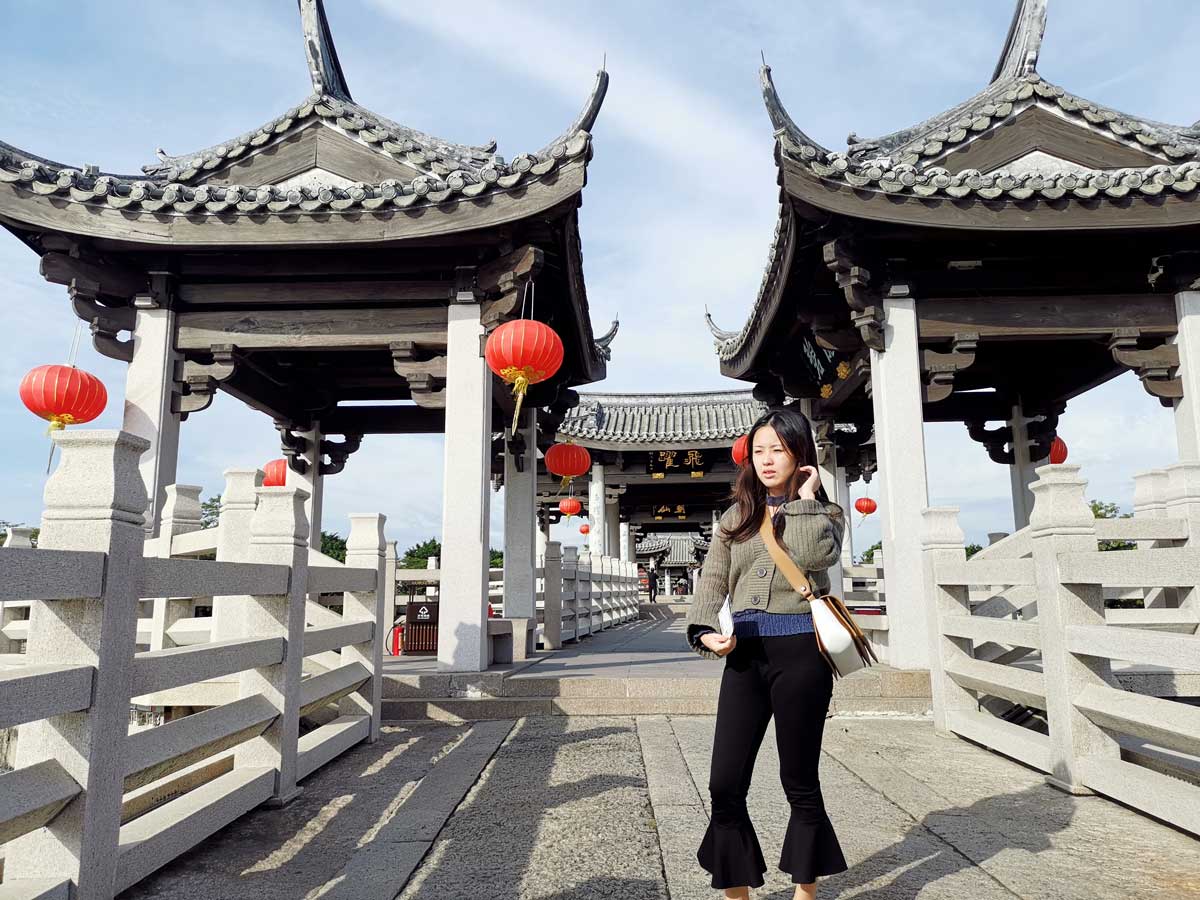 The wooden boats are very instagram worthy too. Don't be surprise that the passage may be blocked by tourists trying to get a good shot with the boats.
---
Tips for Visiting Guangji Bridge
Beware of tourists scams & traps – There will be some rickshaw/trishaw pullers loitering around the entrance of Guangji Bridge. The most common scam is that they will tell you that Guangi Bridge only open to the public at 10:00 AM and they will suggest you to hop on and they will take you for a city tour at around 10 – 20 RMB per person. Do not go for it!
Visit Guangji Bridge during both the day & night time.
Visit early in the morning (9:00 AM) so that you can witness the formation of the pontoon bridge by the eighteen wooden shuttle boats
---
Getting to Guangji Bridge
---
FAQs on Visiting Guangji Bridge
Where is the Guangji Bridge located in Chaozhou?
The Guangji Bridge is located in Chaozhou City, Guangdong Province, China. It spans the Han River, connecting the Xiangqiao District and the Chengxi District.
What is the historical significance of the Guangji Bridge?
The Guangji Bridge dates back to the Southern Song Dynasty (1127-1279 AD) and is one of China's oldest surviving stone-arch bridges. It played a crucial role in trade and cultural exchange between northern and southern China.
How can I get to the Guangji Bridge in Chaozhou?
You can reach Chaozhou by train or bus from major cities in Guangdong Province. Once in Chaozhou, you can take a taxi or public transportation to the Guangji Bridge, which is a well-known landmark.
4. Is there an entrance fee to visit the Guangji Bridge?
Yes, it is a ticketed admission. Please check the ticket booth for the latest ticket price.
What is the best time of year to visit the Guangji Bridge?
The best time to visit the Guangji Bridge is during the spring and autumn months when the weather is mild and comfortable. Avoid the hot and humid summer and the chilly winter months.
Are there guided tours available at the Guangji Bridge?
While there may not be official guided tours, you can find local guides or hire tour guides in Chaozhou who can provide insights into the history and significance of the bridge.
Can I take photographs while visiting the Guangji Bridge?
Yes, you are welcome to take photographs of the Guangji Bridge and its surroundings. It is a popular spot for photography due to its historical and architectural significance.
Are there any nearby restaurants or cafes for dining?
Chaozhou is known for its delicious local cuisine. You can find numerous restaurants and cafes in the vicinity of the Guangji Bridge offering a variety of traditional dishes.
What are some other attractions to explore near the Guangji Bridge in Chaozhou? – Chaozhou has a rich cultural heritage. You can explore other attractions like Kaiyuan Temple, Guangji Gate Tower, and Chaozhou Ancient Town, all of which are relatively close to the Guangji Bridge and offer unique experiences of the region's history and culture.
---
Conclusion
The Guangji Bridge, with its rich history, architectural brilliance, and cultural symbolism, stands as a timeless testament to human creativity and ingenuity. It is not merely a physical structure but a bridge that connects the past with the present, reminding us of the importance of preserving our heritage.
As we explore the magnificence of the Guangji Bridge, we are reminded of the profound impact that architecture can have on culture, trade, and human connection. This ancient bridge, standing for over a thousand years, continues to inspire awe and reverence, inviting us to appreciate the wonders of our shared history.