Mount Emei is one of the four most divine buddhist mountains in China. Located in Sichuan province in Southwest China, Mount Emei attracts tourists from all over the world for its stunning natural scenery and buddhist culture. As a yearly family trip, we decided to visit Mount Emei and challenge ourselves by hiking this sacred mountain which is around 3,099 m above the sea level. G
About Mount Emei
Embarking on a journey to Mount Emei is like stepping into a realm where nature and spirituality intertwine in a breathtaking dance. This wondrous mountain, cradled within the heart of Sichuan, China, offers an exquisite tapestry of experiences for both intrepid adventurers and soulful seekers.
As you venture forth, you'll find yourself enveloped by verdant forests, the melodies of cascading waterfalls, and the soothing embrace of meandering streams – a true communion with the natural world. Amidst your ascent, ancient temples and monasteries appear like whispers from time immemorial, inviting you to explore their hallowed halls and absorb the weight of centuries of devotion. And then, the pinnacle – the Golden Summit (Gold Peak)
Here, the world unfolds beneath your gaze, a sea of mist-kissed peaks that stretches into infinity, etching an ephemeral masterpiece across your senses. Be it an outdoor escapade or a spiritual sojourn, a visit to Mount Emei weaves an enchanting tale of wonder and introspection, etching memories that linger like footprints on a sacred path.
Read more on our adventurous Mount Emei Hike below!
Transportation
I am departing from Chongqing. There is a direct high-speed rail from Chongqing to Mount E'mei which will takes around 2 hours. Alternatively, you can take a coach bus at the Xin Nan Men station in Chengdu like what we did. This is a two-hour journey. Once you reach the bottom of Mount E'mei where the famous Baoguo Temple is located, you can either purchase the bus ticket to go all the way up to Lei Dong Ping (the middle of the mount) or begin your adventure right from the here. The bus ticket cost 98 RMB per round trip.
Accommodation
We will be spending a night in the hotel called "You Hao Hotel" in Lei Dong Ping (middle of the mountain). We booked the hotel from Qunar.com at 268 RMB per night. Most of the hotels also provide rooms at around the same price. I feel that the hotel prices is at the steep side in Mount Emei and this is quite common in popular tourism attractions in China.
Mount Emei Hike
We arrived at Mount E'mei pretty late on the first day and 'officially' begin our journey the next early morning. For people who do not have much experience in mountain climbing like me, I do suggest taking the cable car to the mountain peak and then slowly get down (although getting down seems more dangerous and difficult than climbing up).
To enjoy the magnificent view of the sunrise and sea of clouds, we woke up at 430am and then walked around 20 mins to the cable car station. When we arrived, there are already a lot of people queuing. For your information, one way trip of cable car is around 45 RMB.
Starting from a weak light, the whole sky was gradually light up by the warm and orange sunlight from the very far end. The sun was hiding itself in the clouds at the very beginning like a shy little girl. With the movement of clouds, it gradually emit the sun ray to cast on the cloud, trees, cliffs and everything else. The entire world is like newborn and it feels sacred and mysterious. The whole sunrise process was merely 3 minutes, but everyone appreciated the stunning view.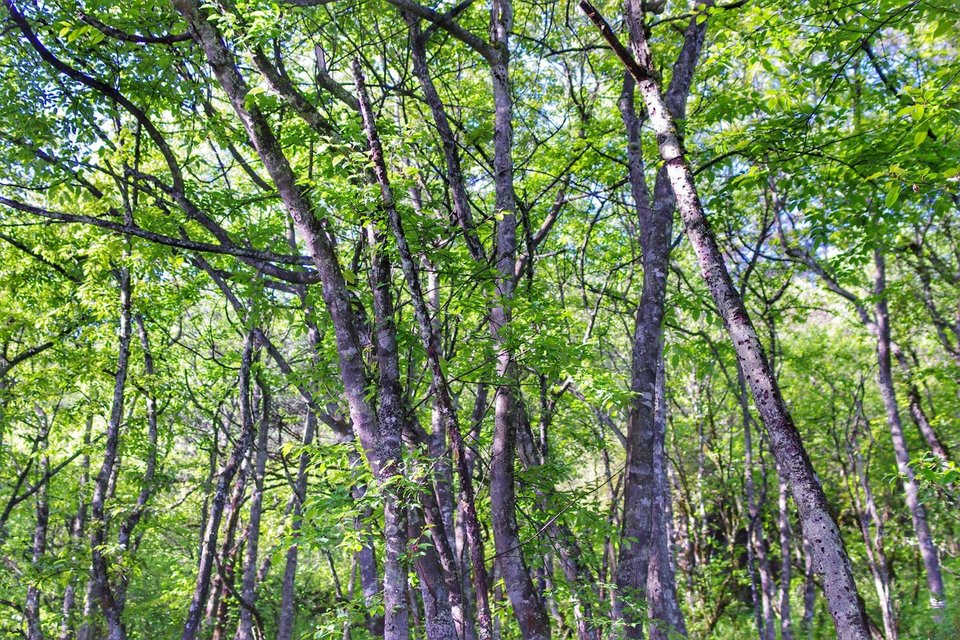 The highlight of the trip was actually the Gold Peak. There is a Buddhist temple called Jin Ding (translated as Gold Peak) which is built in gold color at the peak of the mountain. Beneath the sun, the temple looked even more shiny and mysterious on the mountaintop below which you can clearly see the steep precipices and cliffs.
We explored the Gold Peak for around 1 hour and then decided to descend Mount Emei
Tip: You can either take the cable car back or the so-called Hua Gan which you will be sitting in a seat tied on two solid bamboo that is carried by two experienced mountain labor workers (fee involved)
As we make my way down from the heights of Mount Emei, each step feels like a stroke of vivid color on the canvas of my memory, creating a breathtaking tapestry of an unforgettable journey. The rugged paths I've trodden, the mist-wrapped vistas I've gazed upon, and the whispered stories of ancient temples – they all blend together into an experience that has touched my very soul.
Hiking to a towering elevation of 3,099 meters wasn't just about conquering a peak; it was a voyage of self-discovery, a harmonious dance between the outer majesty and my inner contemplation. While this chapter of my Mount Emei hike is drawing to a close, the story it has imprinted on my heart will forever remind me of the heights I can reach – both on trails and in the journey of life itself.
---
FAQs on Hiking at Mount Emei
How difficult is the Mount Emei hike, and is it suitable for beginners?
The hike's difficulty varies, but some sections can be challenging. Beginners should opt for shorter trails, like Leidongping to Jieyin Hall.
What is the best time of year to embark on the Mount Emei hike?
Spring (April to June) and autumn (September to November) offer pleasant weather and clear views, making them ideal for the hike.
Are there any accommodations available along the Mount Emei hiking trail?
Yes, there are guesthouses and lodges at various points along the trail, providing basic amenities for hikers.
What are the must-see attractions or viewpoints during the Mount Emei hike?
Golden Summit, Wannian Monastery, Qingyin Pavilion, and Huazang Temple are some key attractions offering stunning vistas.
How long does it typically take to complete the entire Mount Emei hike?
The full hike can take around 2-3 days, but shorter routes can be completed in a day. Plan according to your fitness level and preferences.
Are there any permits or fees required for hiking Mount Emei?
Yes, an entrance fee is required, and it's recommended to check local regulations and fees before starting the hike.
What should I pack in terms of clothing, gear, and supplies for the hike?
Pack sturdy hiking boots, rain gear, warm clothing, sunscreen, water, snacks, and a flashlight for the hike.
Are there any safety precautions or guidelines to keep in mind while hiking Mount Emei?
Stay hydrated, follow trail markers, respect local customs, and be cautious on steep sections. Check weather forecasts and inform others of your plans.
Can you provide information on transportation options to reach the starting point of the hike?
Buses and cable cars are available to take you to different points on the mountain, facilitating easy access to the hiking trails.
Are there any cultural or spiritual aspects associated with the Mount Emei hike that visitors should be aware of?
Mount Emei holds great significance in Buddhism, with temples and monasteries dotting the trail. Visitors should show respect and observe local customs when exploring these sites.
---
Conclusion
Mount E'mei is a good experience if you love mountain climbing. It might be challenging for some people. Nevertheless, the scenery is stunning and it's worth an experience.