Singapore Flyer is one of the must visit tourist attraction in Singapore. Standing at a height of 165m, it is one of the largest observation wheel in the world. Singapore Flyer is designed by Dr. Kisho Kurokawa & DP Architects and officially open to the public in year 2008.
Do you know each capsule in Singapore Flyer measures 4m x 7m with an interior area of 28 square metres and one capsule can carry 28 passengers.
Visiting Singapore Flyer
This is my first experience at Singapore Flyer. Well, it took me years to finally visit Singapore Flyer since it is first launched. We bought our tickets from Singapore Flyer booking website. When we reached Singapore Flyer, we collected our flight tickets from the ticket booth at level 1 (entrance).
Before reaching the place where we board the capsules, we went through a simple security check and Journey of Dreams. Journey of Dreams showcases the Singapore Story and some background information of the Singapore Flyer. There are so many engaging multimedia showcases that you can play with. Pretty sci-fi right? There are no time restrictions here so you can spend all your time here. Kids will love it.
Just when we reached the place to board the capsules, a staff verified our tickets again. Like other attractions places, we got our photo taken by the staff and given a photo tag. If you are interested, you will be able to purchase the photos after the Singapore Flyer ride.
Inside Singapore Flyer Capsule
We waited patiently for our turn to board the capsule. One by one, we stepped into the capsule following the guidance from the staff. The capsule is clean and spacious and you can have a clear view of the outer surrounding. The capsule started to move slowly and without knowing, we are already quite high up in the sky. It's pretty amazing how smooth the journey is. For those who "chicken" out at heights, there is nothing to worry about.
We started taking photos once we are up in the sky. The scenery is beautiful right? We are fascinated.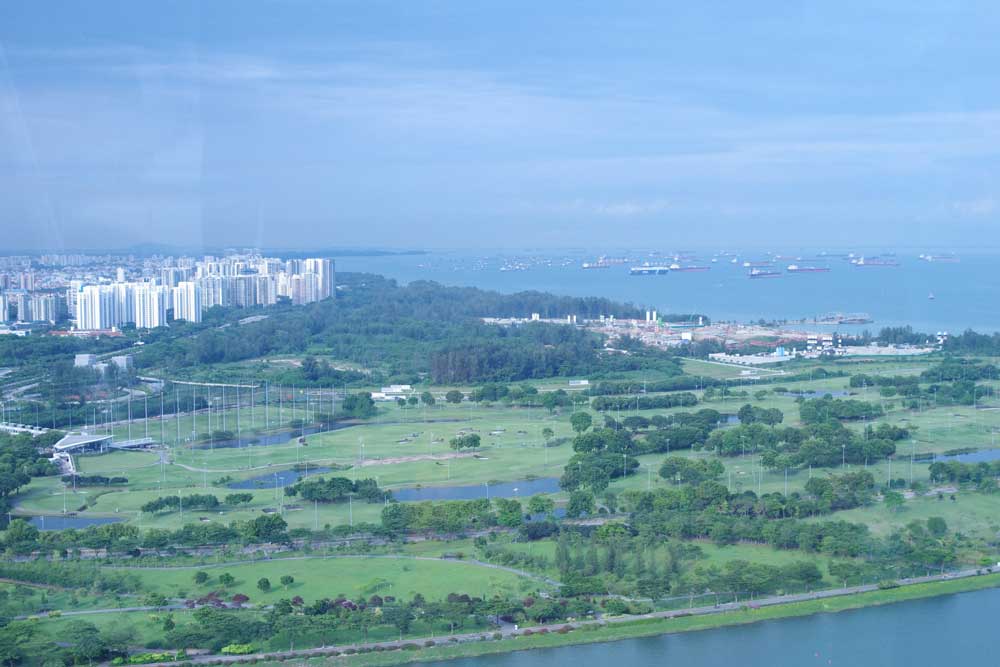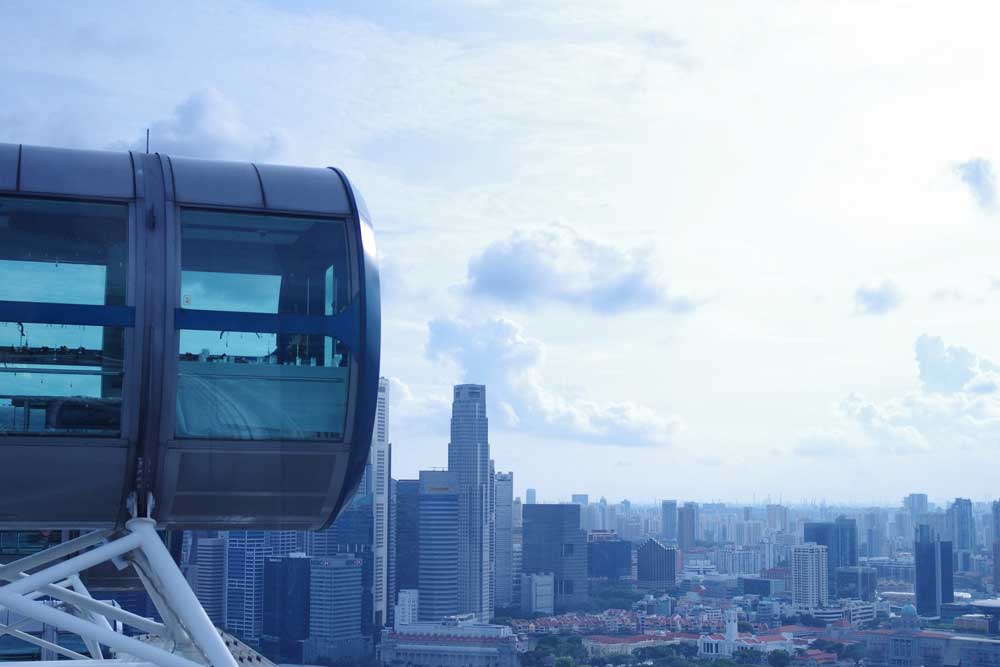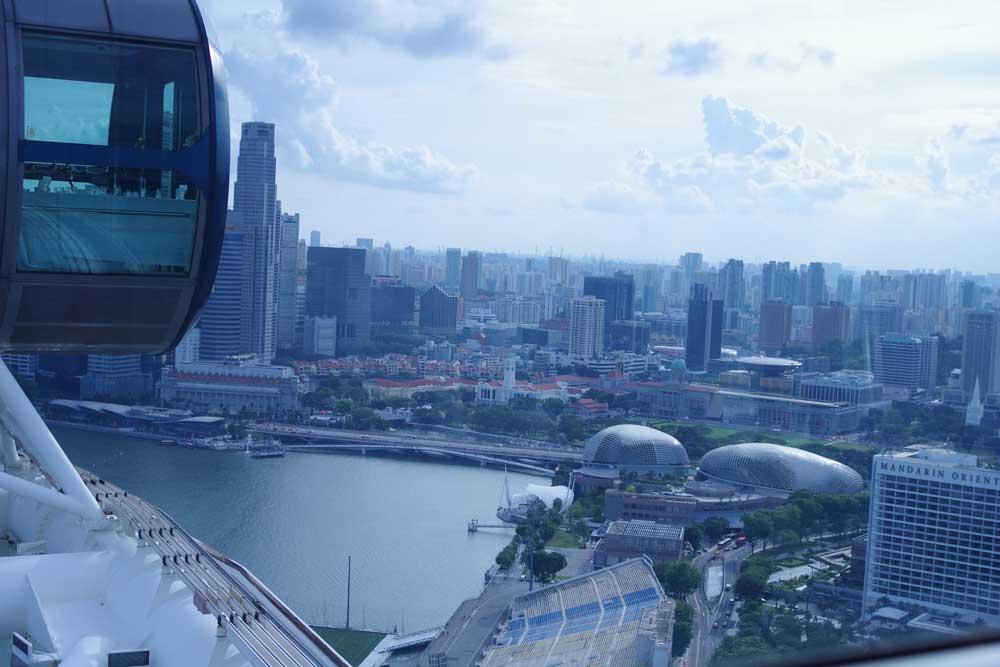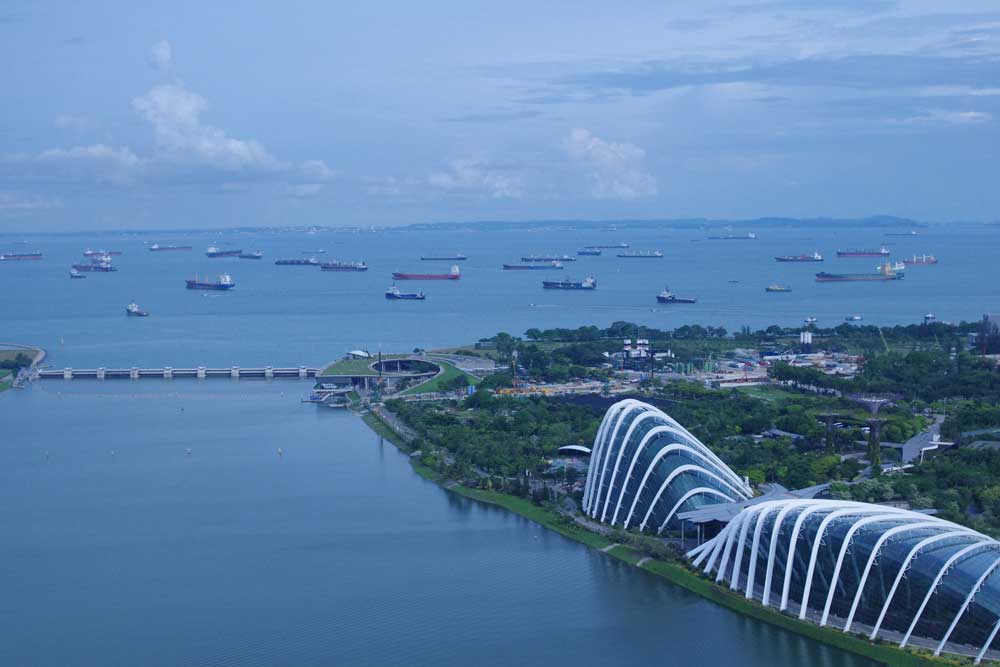 165m is around 42 storey high. That's how high Singapore Flyer is!
There is an audio recording explaining each of the attractions that you can see from Singapore Flyer. We are so engrossed in the photo taking that we only realized this after a while.
So after 30 minutes of rotation, we finished our ride in Singapore Flyer. It's quite a pleasant experience. We are thinking to ride Singapore Flyer again at night to experience the night view. After the ride, you may also consider visiting the restaurants in Singapore Flyers for lunch/dinner.
---
FAQs on Visiting Singapore Flyer
What is the Singapore Flyer?
The Singapore Flyer is a giant observation wheel located in Marina Bay. It's one of the world's largest observation wheels, offering stunning panoramic views of the city and its surroundings.
How tall is the Singapore Flyer?
The Singapore Flyer stands at a height of 165 meters (541 feet), making it one of the tallest observation wheels globally and a prominent landmark in Singapore's skyline.
What are the operating hours of the Singapore Flyer?
The operating hours of the Singapore Flyer typically range from around 8:30 AM to 10:30 PM. However, it's recommended to check the official website for the most up-to-date information on opening and closing times.
How long does a rotation on the Singapore Flyer take?
A full rotation on the Singapore Flyer takes approximately 30 minutes, allowing visitors ample time to enjoy the breathtaking views and take memorable photos.
Do I need to buy tickets in advance?
While you can purchase tickets on-site, it's advisable to buy your tickets in advance, especially during peak tourist seasons, to avoid long lines and ensure your preferred time slot.
What can I see from the Singapore Flyer?
From the Singapore Flyer, you can enjoy panoramic views of the city's skyline, iconic landmarks like Marina Bay Sands, Gardens by the Bay, the Central Business District, and even glimpses of neighboring Malaysia and Indonesia on clear days.
Is there a best time to visit the Singapore Flyer?
The best time to visit the Singapore Flyer is often during sunset or early evening, as you can witness the transition from daylight to the city's illuminated night skyline.
Are there dining options available on the Singapore Flyer?
Yes, there are dining options available, including the Sky View Pavilion, where you can enjoy a meal while taking in the stunning views. Advance reservations are recommended for dining experiences.
Is the Singapore Flyer wheelchair accessible?
Yes, the Singapore Flyer is wheelchair accessible, with ramps and designated spaces available. Wheelchairs can be accommodated, and there are accessible restrooms on-site as well.
Can I book a private capsule on the Singapore Flyer?
Yes, you can book a private capsule for special occasions or a more intimate experience. Private capsules often include additional amenities and personalized services. It's recommended to inquire about availability and pricing in advance.
---
Getting to Singapore Flyer
Address: 30 Raffles Ave, 039803
With MRT – Singapore Flyer is easily accessible by circle line (orange). Alight at Promenade MRT, use Exit A and follow the pedestrian signs. You will be able to see the great giant wheel when you come out of the MRT station.
---
Singapore Flyer Opening Hours & Ticket Prices
Singapore Flyer opens daily from 8:30am to 10:30pm. The first flight starts at 8:30am and the last flight is at 10:15pm. The entire moving experience will take around 30 mins.
Adult (13 years or older) – $40
Child (3-12 years old) – $25
Senior (60 years old and above Only Singapore Citizens and Permanent Residents are eligible to purchase) – $25
*Children under 3 can ride for free. Senior citizens are required to provide NRIC for verification.
Parking at Singapore Flyer
If you're planning a visit to the Singapore Flyer and thinking about bringing your car, you're in luck! They've got parking facilities right near the entrance that make it super convenient for you to start enjoying the attraction as soon as you arrive.
Parking Rates: Now, when it comes to parking rates, they might vary based on how long you plan to stay. It's a good idea to double-check the current rates before you head over. You can usually pay with cash or major credit cards, so you have options.
Accessible Parking: The folks at the Singapore Flyer are all about making sure everyone can enjoy their experience. That's why they've got accessible parking spaces available close to the entrance, making it easy for folks who might need a bit more assistance.