Besides Chongqing hotpot, the grilled fish is another extremely popular dish from Chongqing. It was said that in the era of Three Kingdoms, Liu Bei, Guan Yu and Zhang Fei swore brotherhood in a peach garden. To celebrate the union, they had asked chefs to prepare for a grand dinner banquet. One of the chefs was an expert in grilled fish and he prepared grilled fish. Everyone was very satisfied and the army morale was perked up significantly. From then on, grilled fish has become a signature dish in Chongqing.
Traditionally, an entire fish will be taken and grilled on a charcoal stove. Mixed with the characteristics of Chongqing hotpot, the Chongqing grilled fish is famous for its nutritiousness, freshness and numbing spiciness. If you are also a spicy food lover, you can't miss out the famous China's Riverside Grilled Fish restaurant in Rafflescity Mall.
Our Experience with Riverside Grilled Fish
Riverside Grilled Fish was founded by two friends who happened to try grilled fish topped with Ma La sauce while traveling in Wushan Town, Chong Qing.
The restaurant in Rafflescity Mall is the first overseas chain. Furnished with a contemporary oriental design, the restaurant gives the customer a similar feeling of dining in a traditional fish restaurant by the river (yeah, just like the name suggests).
The menu has two sections – First section is for grilled fish where customers can choose different types of fish, sauces, and ingredients that they want to cook together with the fish. Normally, one fish should be enough for two persons. The price here is quite standard, however in Chongqing, we will pay by the weight.
Fish: Red Tilapia ($35), Sea Bass ($35), Black Promfret ($38) or Garoupa ($42).
Sauces:
Signature Fragrant Spicy Sauce (Recommended)
Black Bean Sauce (Recommended)
Unique Sauce (Recommended)
Ma La Sauce (Recommended)
Fragrant Paste Sauce
Sweet Fragrant Sauce
Pickled Vegetable Sauce
Double Cut Red and Green Chillies Sauce
Ingredients include sausages, seaweed,  potatoes slices and more etc.
To cook the fish, it will take around 15 mins and the fish will be served with a stone pan with a heater underneath.
The second section of the menu consists of traditional Sichuan food which include various spicy noodles, cold dish, and desserts.
We ordered Sichuan cold noodle and pork chop spicy noodle to try out. To be honest, those noodles are not as authentic as the ones you ate in Sichuan. Overall, the grilled fish is so much better and I recommend to try their grilled fish instead.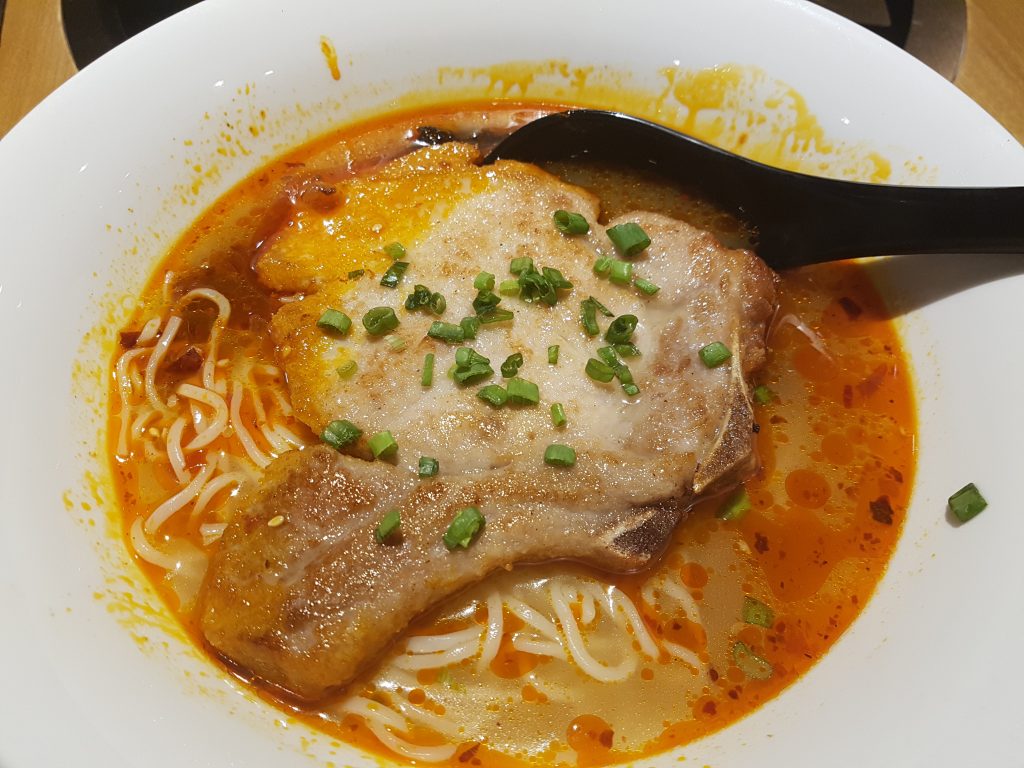 One of the must try dish is the famous dumplings in spicy sauce, also known as 红油抄手. The authentic one in Chongqing is not only spicy but also a bit sour as vinegar is poured inside.
I am a big fan of sticky rice and their fried rice cake with soya powder layered with egg suits mtaste budud perfectly. It costs $6.80 each.
The red bean pan with seasame on top of it is also perfect after your tongue has been challenged by all those numbing peppers in grilled fish.
Beverages are quite normal.
How to get there
Address: 252 North Bridge Road, Raffles City Shopping Centre, #b1-06/07, Singapore 179103
Tel: +65 6352 2035
Opening Hours: Daily 11:00 am to 10:00 pm
Facebook: https://www.facebook.com/RiversideGrilledFishSG/
Chinese Website: http://www.jbcw.cn/

Quality of Food -

7.5/10

Customer Service -

7/10

Value for Money -

6.5/10

Atmosphere -

7/10
Summary
The dining experience at Riverside Grilled Fish is generally quite good. Particularly with the authentic taste of the grilled fish, I do feel this is a good place to challenge your spicy level. The downside is that the other Sichuan food in the menu is not up to authentic standard. The noodle I ate does not taste like a Sichuan dish at all, although it is still spicy. Their beverages are also tasted quite normal with only a limited selection of drinks available.