Nestled within the bustling streets and towering skyscrapers of Singapore lies a culinary wonderland that truly captures the essence of the nation's cultural diversity: the legendary hawker centers. To most tourists, Singapore is well known for its food, and Singapore is commonly being known as a Food Paradise. However, do you know that most of our popular dishes come from hawker food centres? Hawker centres are uniquely "Singapore" and I am pretty sure you won't find a similar setup in any other countries in the world. When you visit Singapore, hawker centres are definitely a must visit if you want to try our delicious local food. Every hawker centre has its own piece of history with different characteristics and food varieties. In this post, we will share the the most popular and best hawker centre Singapore.
Hawker centres are open-air complex that house many food stalls selling a variety of cheap food.
Lau Pa Sat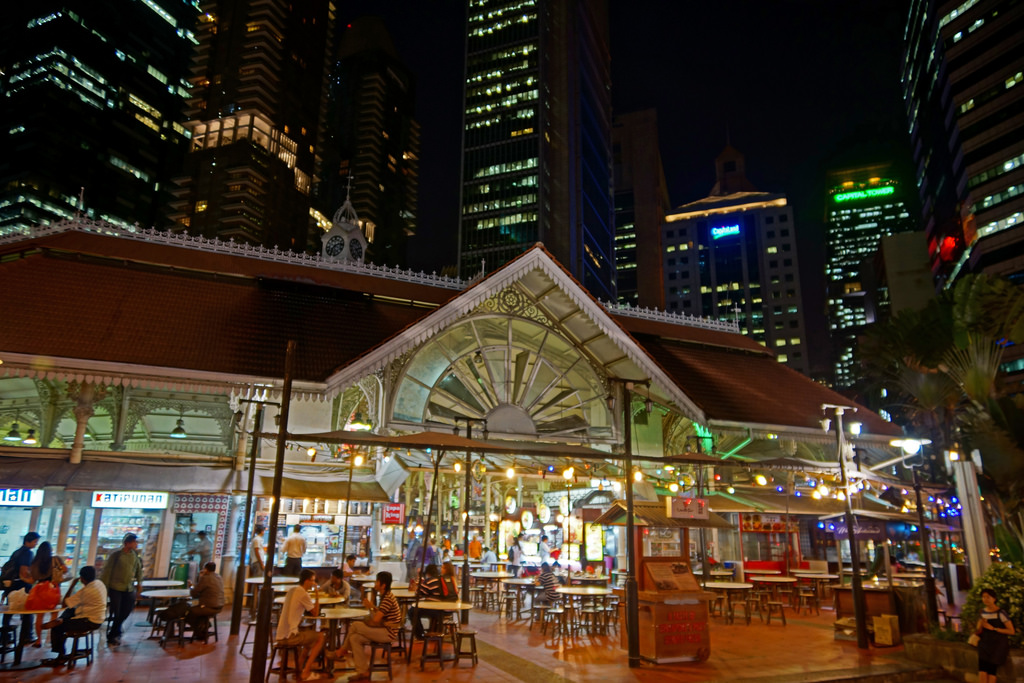 Amidst the gleaming skyscrapers of the Central Business District stands Lau Pa Sat, a historic gem that transports you to a world where old meets new. Also known as Telok Ayer Market, Lau Pat Sat is the most popular hawker centre among tourists. It is located in the heart of Singapore at CBD district and is also the largest Victorian filigree cast-iron structure in Southeast Asia.
Address: 18 Raffles Quay, 048582
MRT: Raffles Place MRT – Take Exit I. Follow the road signs and walk across Cross Street.
---
Maxwell Road Hawker Centre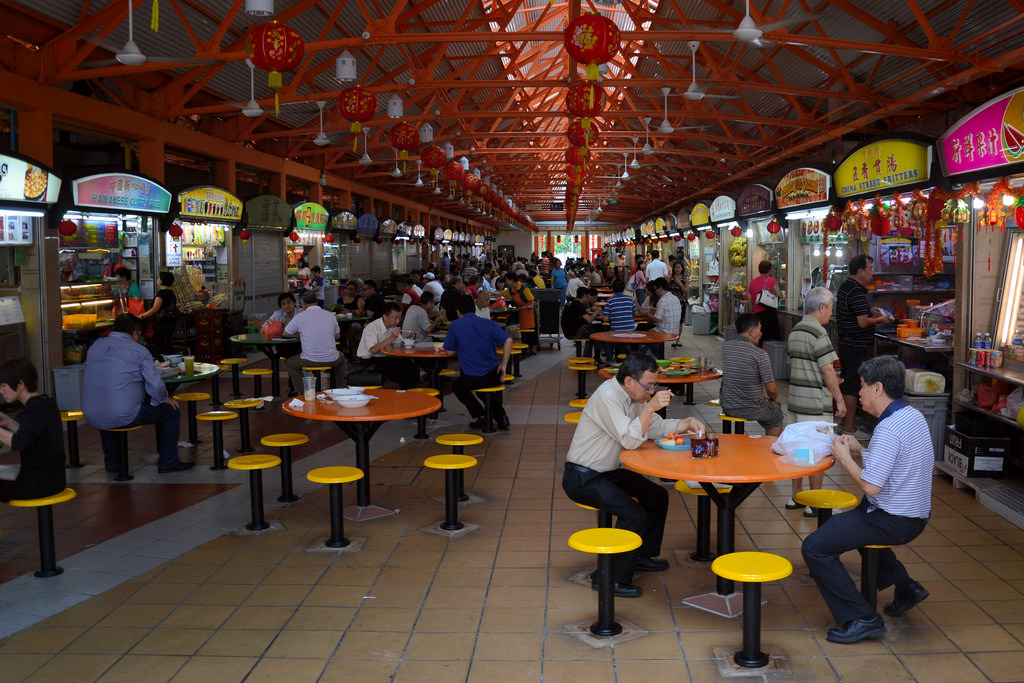 Imagine wandering into the heart of Chinatown, where the intoxicating aroma of spices and sizzling delicacies fills the air – that's Maxwell Food Centre for you. Maxwell is one of Singapore's most well-known hawker centre among tourists (after Lau Pa Sat). It is located near Chinatown, which makes it a popular destination among tourists. Even celebrities chef like Anthony Bourdain and Gordon Ramsey visit Maxwell. From the mouthwatering Tian Tian Hainanese Chicken Rice, with its succulent chicken and fragrant rice, to the irresistible char kway teow and laksa, every bite here is a taste of pure heaven. Don't be surprised by the long queues – the food are well worth the wait.
Address: Kadayanallur Street, Singapore 069184
MRT:
Tanjong Pagar MRT – Take Exit G. Approximately 6 minutes walk.
Chinatown MRT – Take Exit A to Pagoda Street, After South Bridge Road, head south down South Bridge Road.
---
Chomp Chomp Food Centre
For a laid-back and authentic street food experience, Chomp Chomp Food Centre in Serangoon Gardens is the place to be. This place is perfect for supper. It is nestled in a private estate neighborhood in Serangoon. It is recommended to go early and reserve (or "chop") your seats at the outdoor area. The outdoor area is free from the bbq smoke. Savor the delectable sambal stingray, relish the irresistible barbecued chicken wings, and lose yourself in the savory delight of char kway teow.
Address: Kensington Park Rd, Singapore 557269
MRT: Serangoon MRT – Take bus 315 from Serangoon Bus Interchange.
---
Tiong Bahru Market and Food Centre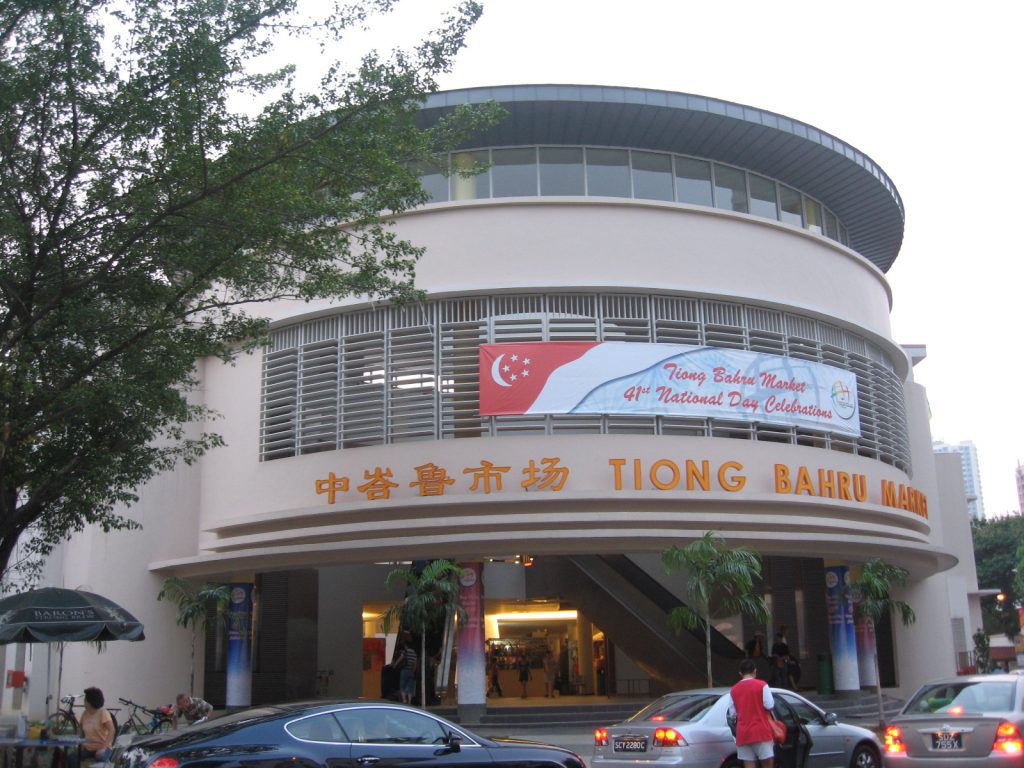 Tiong Bahru, an enchanting neighborhood that seamlessly blends the charm of yesteryears with modern allure, is home to the ever-vibrant Tiong Bahru Market. It is one of the most popular hawker food centre among locals in Singapore. It is the first modern market to be built in housing district in 1955. It is usually packed with queues during weekends. Satisfy your cravings with classic favorites like fishball noodles and chwee kueh, then treat yourself to artisanal coffee and pastries that beautifully capture the essence of contemporary tastes.
Address: 83 Seng Poh Rd, 168898
MRT: Tiong Bahru MRT – Take Exit B. Walk around 8 minutes.
---
Bukit Timah Food Centre
Located at the west side of Singapore. Also known as 7 miles (chit ko), it is one of the earliest hawker centres in Singapore.
Address: 116 Upper Bukit Timah Rd, 588172
MRT: Beauty World MRT
---
Newton Food Centre
The newly renovated Newton Food Centre is popular among tourists and people who are working nearby. It's famous for its seafood dishes. One of the few food centres where you can call in advance and reserve a table with your favorite seafood stall.
Address: 500 Clemenceau Avenue North
MRT: Newton MRT – Follow the signs
---
Hong Lim Market & Food Centre
Many people may know Hong Lim for its speaker's corner, but don't forget about this 2 storey food centre. Built in 1978, this food centre housed a lot of first wave street hawkers. Avoid going at night as only a few stalls will be opened.
Address: 531A Upper Cross Street, 051531
MRT: Chinatown MRT – Take Exit E via Chinatown Point
---
Old Airport Road Food Centre
Stepping into the Old Airport Road Food Centre is like taking a trip back in time. It is a popular choice among locals. It is built in the 1970s and is one of the largest hawker food centres in Singapore. This place housed a high number of famous stalls as compared to the other food centres. Prepare to be dazzled by a smorgasbord of authentic local delights, ranging from BBQ stingray and oyster omelette to noodles crafted with passion and mouthwatering desserts that ignite your taste buds.
Address: 51 Old Airport Rd, 390051
MRT: Dakota MRT
---
Adam Food Centre
Located in Adam road, the is the place to visit if you want to try Muslim and Indian Muslim food delights like mee goreng & nasi lemak. This place is popular among locals for the delicious nasi lemak.
Address: 2 Adam Rd, Singapore 289876
MRT: Botanic Garden MRT – Take Exit A and cross the overhead bridge.
---
Chinatown Complex Food Centre
In the heart of bustling Chinatown, a vibrant mosaic of cultures comes alive at the Chinatown Complex Food Centre. It is a great place to eat if you are spending your day in Chinatown. It is located in the heart of Chinatown and you can get traditional and local dishes at cheap prices. It is also the largest hawker centres in Singapore with over 260 stalls. From tantalizing dim sum and crispy roast meats to aromatic congee, the choices seem endless. As you savor the delectable offerings, you're not just enjoying a meal – you're partaking in a cultural journey that showcases the harmonious blend of flavors and traditions.
Address: 335 Smith St, Chinatown Complex
MRT: Chinatown MRT – Take Exit A. Make a right turn to Trengganu Street. Pass by Temple and Smith streets.
---
Redhill Market and Food Centre
Tucked away in the heart of the charming Redhill residential area, the Redhill Market and Food Centre beckons with its inviting culinary offerings. This unassuming gem is a true reflection of local flavors, where stalls brim with beloved Singaporean dishes like the irresistible char kway teow, flavorful hokkien mee, and mouthwatering satay. Well, even Singapore Prime Minister Lee Hsien Loong is found queuing up in Redhill Food Centre to buy fried chicken wings.
Address: 85 Redhill Ln, 150085
MRT: Redhill MRT – Take Exit A.
---
ABC Brickworks Market & Food Centre
ABC Market is home to relatively popular hawker brands like Tong Fong Fatt chicken rice & old airport road western bbq. There is a relatively high proportion of Muslim food stalls here.
Address: 6 Jalan Bukit Merah, Singapore 150006
MRT: Queenstown MRT – Take Exit A.