I love sushi so much to the point that I can eat sushi for every meal for a few months. I had a craving for sushi recently and decided to visit Itacho Sushi (板长寿司) to satisfy my cravings. To be exact, I am killing two birds with one stone. I had to fetch Nicole from Changi Airport and so why not visit Itacho Sushi in Changi Airport for dinner and then fetch Nicole on that day she's back.
Itacho Sushi is not a new sushi brand in Singapore . It is one of the Japanese restaurants that is well known for serving fresh sushi. Serving fresh sushi means that your sushi will only be made after an order is placed. This is opposed to the sushi chef making sushi in advance. Originating from Hong Kong , Itacho Sushi has now opened several outlets in Singapore like Ion Orchard (debut outlet), Changi Airport Terminal 3, Bugis Junction, Bedok Mall and more.
Getting to Itacho Sushi
Address: 65 Airport Blvd, #03-30/31 Changi Airport Blvd, Terminal 3, 819663
Opening Hours: 10:30AM – 11:00PM
This is not my first time trying Itacho Sushi. I first tried Itacho Sushi in their outlet in Bedok Mall a couple years back. As expected, there was already a long queue when we reached Itacho Sushi in Terminal 3. Itacho Sushi seems very popular among Singaporeans – there is bound to be long queue no matter which outlet you visit. We joined the queue and waited for our turn patiently. After around 20 minutes, we got our table.
Flipping through their sushi menu, Itacho Sushi does has quite a wide variety of sushi. There are also some special items with 60% off original prices. We quickly ordered our dishes as we were famished.
Hot Green Tea
Hot green tea is a must order when you eat sushi. Typically when you are in Japan,  hot green tea is served for free in most local sushi restaurants.
Fatty Salmon Sushi
We ordered 2 X serving of fatty salmon sushi as the salmon is amazingly sweet & fresh. I can't get enough of it. I will definitely recommend you to order this item.
Roasted Salmon /w Tenkasu Roll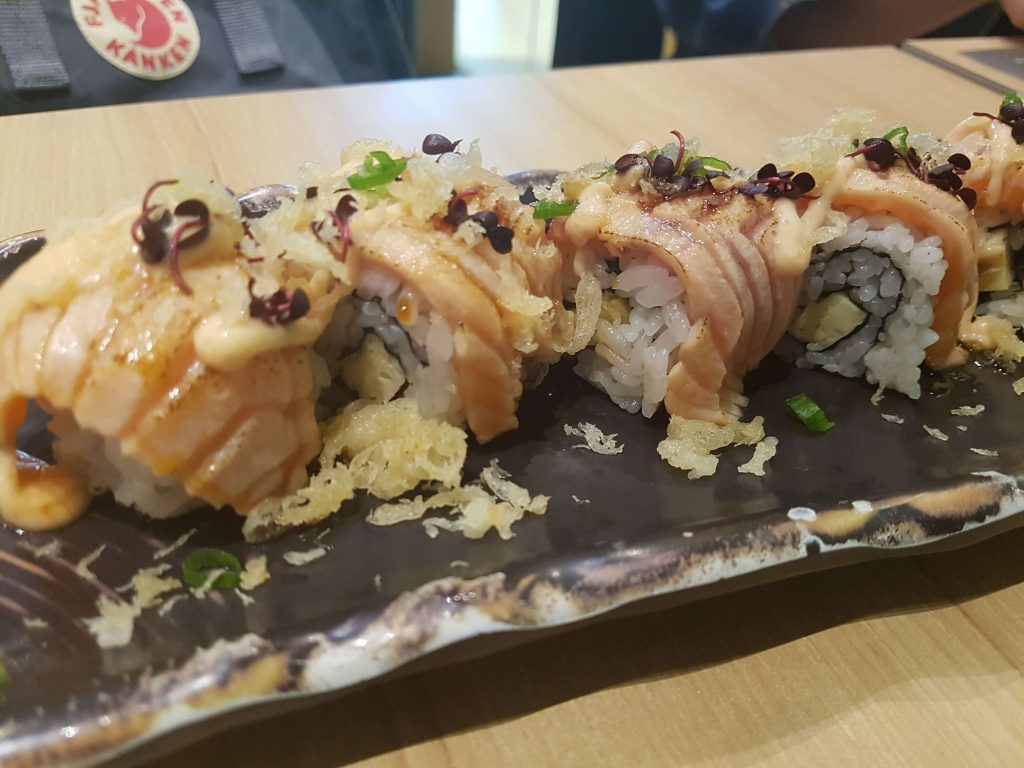 Spicy Salmon Hand Made Mayo Sauce w/ Rice, Egg & Scallop
At first, I thought this dish consist of a hotplate of egg + salmon + scallop + mayo sauce and that the rice comes separately in a bowl. But I am wrong. The rice is cooked together like a typical baked rice dish. Nevertheless, the combination of taste is good.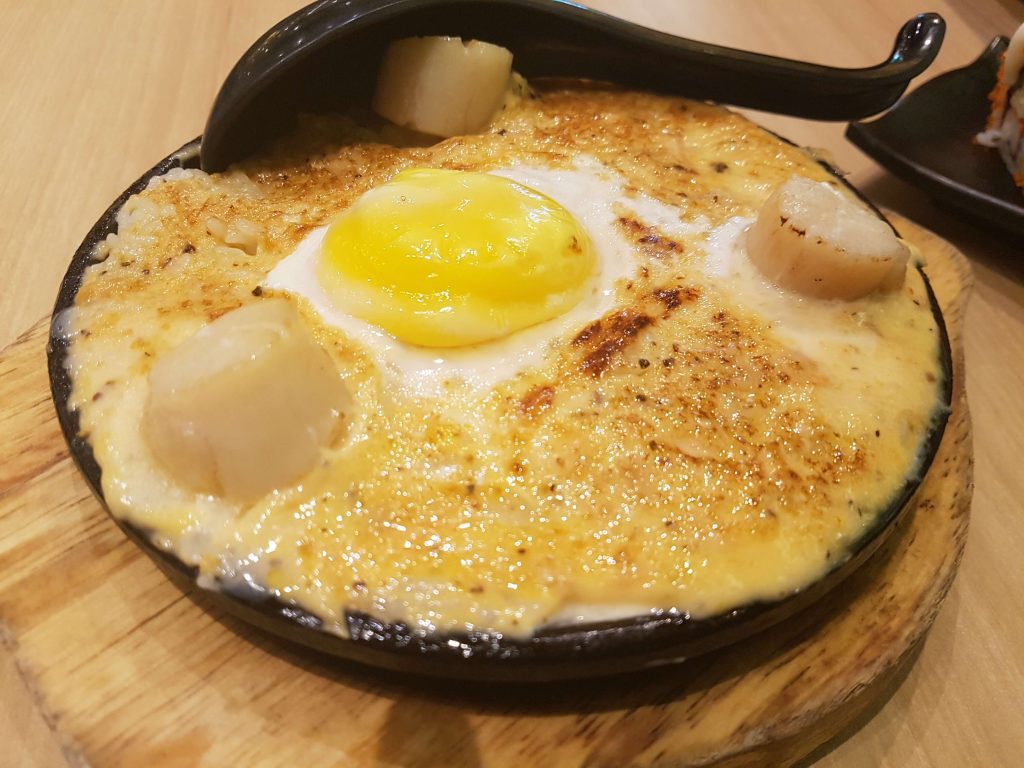 Scallop Lobster Avocado & Scallop Cheese Tobiko
Japanese Octopus Ball Mentaiko
The octopus balls doesn't quite suit my taste. I feel the balls are over fried and a little small. But that's just my opinion, you may beg to differ.
California Roll
I don't know why I just love California rolls.
Steam Egg w/ Scallop & Steam Egg w/Ikura
Chawanmushi is one of the dishes I must order when I eat sushi and almost all sushi restaurants served that. Their chawanmushi (Steam egg w/scallop & Steam egg w/Ikura) tasted great. It will be better if the portion is bigger though.
Quality of Food -

8/10

Customer Service -

7/10

Value for Money -

7/10

Atmosphere -

6.5/10
Summary
Glad to be able to satisfy my sushi cravings at Itacho Sushi in Changi Airport Terminal 3. In a nutshell, Itacho Sushi serves good sushi with quality. I am impressed that the management makes it a point to serve fresh sushi by only making them after an order is placed. Though this increases the serving time, but it's definitely worth the wait. As the restaurant is pretty busy with customers, it takes quite a while to re-fill our green tea but it's also understandable. With the wide variety of sushi, I will definitely be back to try out other items next time. Price wise, it's pretty affordable with each person averaging around $25.