Connecting the modernity of a futuristic skyline with the deep Japanese traditions and customs, Japan's capital is full of imagination. The city is massive and dotted with several world-renowned must-see sites which makes it a truly iconic travel destination. From the delicious cuisine and endless eateries to century-old temples and world-class museums, you will never run a shortage of fun activities to indulge in. As a matter of fact, it is very normal for visitors to feel overwhelmed on what to see especially the first timers who have limited time. Surprisingly, with a very good plan in mind, even 3 days is enough for you to get well acquainted with this buzzing and vibrant city. If you only have 3 days to enjoy the city but still stuck, read on to learn how to spend 3 days in Tokyo.
Day 1: Visit Modern Tokyo (West Side)
After arriving in the city, on the first day of your 3-day itinerary Tokyo we would suggest covering the vast cosmopolitan areas of the city.
Morning
The most ideal place to start your 3 day Tokyo itinerary would be Harajuku where you can have your fill gazing at the busy locals. If it is during the weekend, you will find that most of the paces will be filled with musicians, artists, and cosplayers wearing fancy costumes. While here, don't forget to head over to the nearby Meiji Shrine.
Afternoon
While in Harajuku, the city's very popular and shopping corner, Omotesando, will be just a few meters away. If you are not so excited about shopping around for goods, you can still go there to watch and also meet the ever interesting locals who frequent there. You can also consider having a taste of the unique Japanese nourishments from one of the many cafes and restaurants around.
Evening
As darkness falls, you should now start thinking of heading to Shinjuku where you will be able to fully immerse yourself into Tokyo's fascinating nightlife. Here, you will find a good number of hole-in-the-wall bars playing live music while also serving their guests with whiskey.
Day 2: Visit Traditional Tokyo (East Side)
After you are done with modern Tokyo, it would only be best to explore the city's most historic areas, the oldest shrines, and scenic temples on your second day.
Morning
From your hotel room, the best place to alight at would be Asakusa Station and then head straight to Asakusa, the city's most atmospheric neighborhood. On reaching there, your first place to visit should be Sensoji Temple which will have now been opened by 6 am or latest 6:30 am. Before you reach the 645-year-old temple, you will have to go through Kaminarimon, an iconic gate in the city. From the temple, you can pass through Asakusa where you can choose to join one of the many guided tours to take you around the place. Since Tokyo Skytree, the city's tallest structure, will be just a few meters away, it wouldn't cost you much head over there for breathtaking views the whole city.
Afternoon
When you are fully satisfied with the Instagram worthy views from Asakusa, take a quick train to Ueno where you will spend the entire afternoon. Whether you are a history buff or not, you will definitely fall in love with Ueno Park, a public grounds that contains a good number of museums.
Evening
When satisfied with the beautiful views at Ueno, it will be very late in the evening and so the best place to head for a wonderful nightlife would be Shibuya. To get there, just take the subway and head all the way to Shibuya. When you reach there, you will realize that almost all its streets are lined with neon lights making the whole area very attractive at night. While here, don't forget to view the jaw-dropping Hachiko statue and even doing some little shopping if you have a few dollars to spare.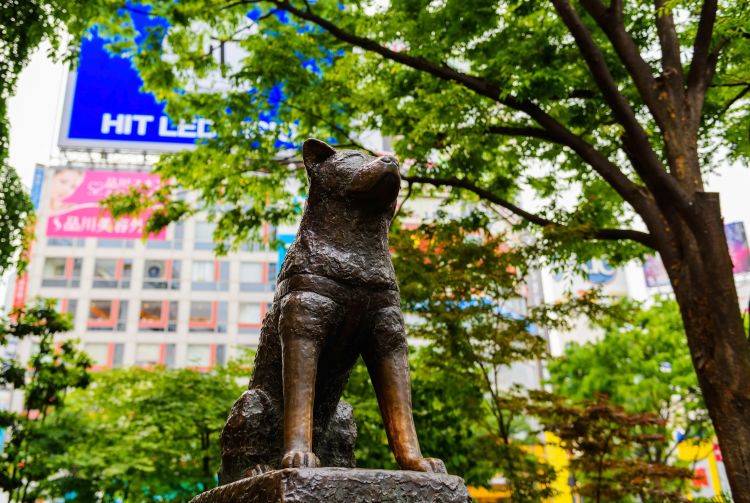 Day 3: Visit Ginza, Imperial Palace, & Roppongi
Morning
On your third day, you should try to get out of bed very early, if possible even 3 am, and head over to the famous Tsukiji Fish Market first thing in the morning. If you kind of manage to reach there before day-break, you will at least manage to have fresh sushi from one of the many nearby restaurants since you won't find very long queues. When you are finally done savoring your sushi serving, there should be enough light outside to enable you to take a walk to Ginza, the city's main shopping street. Here is where you will come across all kinds of items being sold ranging from the well-known global brands to Chinese crafts and souvenirs to take back home with you.
Afternoon
After you have bought a few souvenirs and Japanese crafts, it would be now reasonable for you to take a 5-minute stroll to the magnificent Imperial Palace. Although the area covers endless stretches of land, it is often closed unless you book their private tour.
Evening
There would be no better way to end your 3 day Tokyo itinerary than heading over to Roppongi's Mori Tower to take snaps of the whole city. Although the tower is not the tallest in the city, it is the one that provides the best aerial view. As the dark takes over, you will be introduced to a side of Tokyo that is very new to you. With a buzzing nightlife and several relaxing indoor spaces catering to fusion cuisine, Roppongi is among the few areas in Japan where most expats and tourists come to hang around at night.
Almost every traveler will agree that Tokyo is an intriguing city with both fascinating modern and historical attractions. This is why it will be critical for you to plan an itinerary ahead of time to ensure that you have the best experience. As you have seen above, our 3 days Tokyo itinerary incorporates almost all the top attractions in the city. Even though you will need 3 years to fully see everything Tokyo has to offer, following this guide you can still have the most amazing 3 days of your life.