The Maldives is a popular destination for newlyweds to visit for their honeymoon. Like the many newly weds, after our wedding solemnization, we decided to visit Maldives for our honeymoon. After doing much research, we decided on LUX* South Ari Atoll in the Maldives for our honeymoon vacation. We decided to book our trip using a travel agent based in China. Travel agent in China normally provides a better package price compared to direct booking from the resort. For a 5D4N package, 2 beach pavilion and 2 water villa with AI (light all-inclusive meal plan), the total cost is around 2K USD per person, which is very affordable. In this post, we will share an honest LUX South Ari Atoll Review, based on our own experiences.
Seaplane Transfer
The seaplane is one of the key transport in the Maldives apart from a speedboat. It brings tourists/visitors from the Male international airport to the respective hotel/island. Compared to the domestic flight, the seaplane is much smaller and normally sit 15 people at most. Without being air-conditioned, the cabin is a bit hot and noisy. Nevertheless, we still recommend experiencing taking seaplane as this is the best way to have a bird view of on the atolls, islands, reef, and lagoons. We took Trans Maldivian Airways, which is a private seaplane company which operates the largest fleet of seaplanes in the Maldives.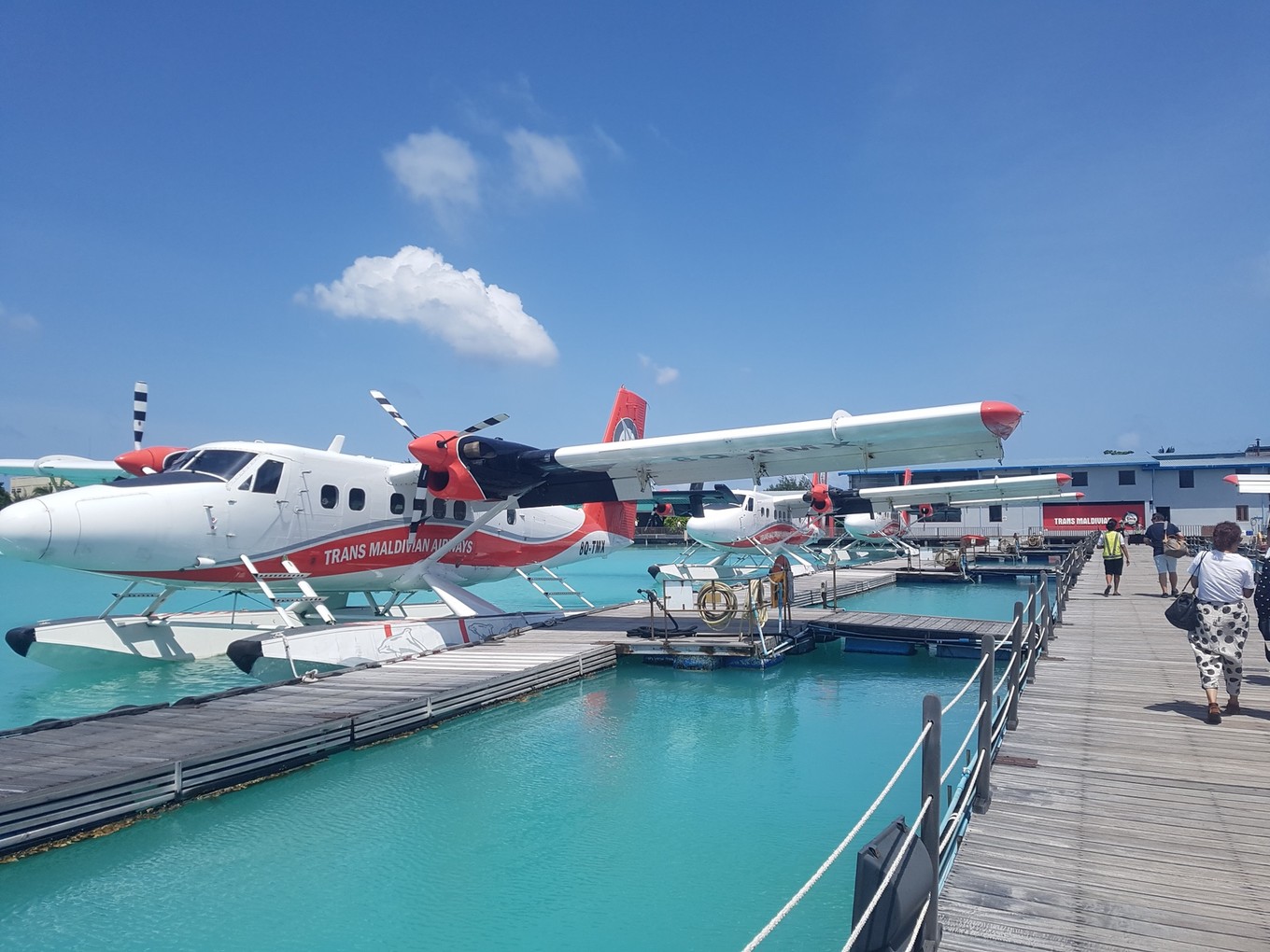 The seaplane cost is between US$250 and US$450 (return), depending on the distance and the deal between the resorts. For us, it's included in our package price. We have also entitled an access to LUX* VIP lounge with free drinks and foods while waiting for boarding.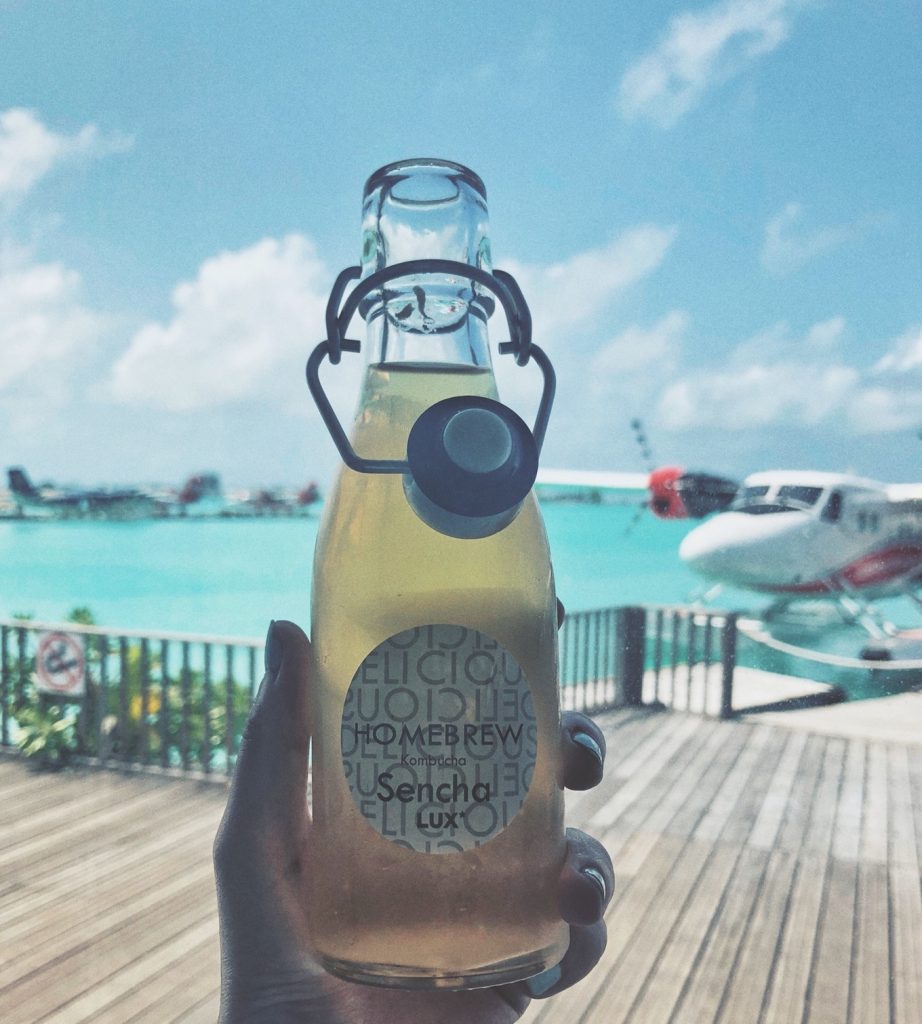 Warm Welcome in LUX* South Ari Atoll
Before our seaplane reached LUX*, we can already see a line up of hotel staff (including the manager), waving and welcoming us warmly to the island. The wind is just as strong as their hospitality. As usual, we are served with welcome drinks while the staff helped us with our villa check-in.
Exploring LUX* Island
After check-in, we could not wait but to have a sightseeing around the island immediately. LUX* is one of the biggest islands in the Maldives. From its west to east, one need to walk about 30 mins. Although we could always wait for the buggy which frequency is around every 15 mins at any place, we chose to walk around to explore the island.
Interestingly, there are several phone booths around the island. It's not only a setup, but one can actually make an international call for free. I am guessing that this is somewhat a VOIP phone set up.
The view is amazing – With a clear sky, the waters look transparently tiffany blue. If you want to play with this hammock, do remember to get up early when the tide is low. The water can get as deep as 1.5M during high tides.
The good thing about the resort is that if you feel tired anytime, you can easily find a place to rest and enjoy the beautiful sea view.
And one of my favorite places to enjoy the sea breeze is hanging myself on a wavering coconut tree.
Because of the windy season, the waves and currents are also really strong.
When exploring the island, you can always find some surprises like this white window set up near the shore.
To be honest, the sands in the Maldives is not as fine as it is claimed to be as there are many dead corals. But you can still see a lot of hermit crab (looks like a transparent spider to me) crawling around on the sands. Most importantly, with this amazing weather, I feel so blessed to be with my family and love.
What to do In LUX* ?
Snorkeling
One of the reasons that tourists come to the Maldives is for the variety of species in the ocean. Yes, the Maldives definitely one of the best places to go snorkeling. However, Lux* is not the best snorkelling site but you can still see some fishes around near the shores.
Alternatively, if you pass the snorkeling test to prove that you are a confident swimmer and not afraid of open waters, you can also go to a nearby house reef for snorkeling where you can see even more fishes.
We are not proficient at swimming and chose to play just near the shores. We are glad that we have put our unicorn float to good use.
Swimming In The Pool
When compared to swimming in the ocean, swimming in the pool might sound not that exciting. Nevertheless, it's a good enough for us.
Going on Sunset Cruise
Sunset cruise is inclusive in our package. Normally it will cost 35 usd++. Also, there is a chance of seeing dolphins but we were not that lucky. Undoubtedly, the ocean is more furious when it gets deep. Our boat was rocking all the way and my parents even did not dare to go to the upper deck. In any way, the sunset is still amazing. Even under a cloudy sky, you can still see the magic gold sunrays cast onto the vast sea and sky.
Sunset Fishing
Nicole's mum favorite part of the trip was the sunset fishing. Together with Nicole's dad, they are two fishing enthusiasts who usually go river/pond fishing over weekends. The sea fishing is definitely a different experience where we even do not need to use the traditional fishing pole but just using the fishing string will do. What matters is really the 'feel' – literally… feel the fish with your fingers. We used tuna fish as the bait to attract other fishes – I know this sounds cruel. Sea fishing is really hard until dad successfully got one fish (although a very small one). It really lighted up the morale a lot and afterward. Nicole also got herself small fish!
During our sunset fishing trip, we did attract a big shark estimated 2 meters long. The staff spends 20 mins to make it closer to the surface. Without a doubt, we could not really pull it out of the water for a closer look.
Wanderlust Library
In addition to the sea activities mentioned above, there are various activities where you can just slack around and spent your afternoon silently and elegantly. There is a very adorable small library called Wanderlust on the island. Built with glasses on the four rounds, Wanderlust library is a good hideout place to enjoy the serenity.
Spa Session
Our honeymoon gift includes a free spa session for 30mins. Convinced by the spa receptionist, we upgraded to a 60mins full body spa with 200 USD in total for 2 people. The price is acceptable particularly when it's conducted in the water villas where you can see fishes swimming around while you enjoy the massage.
There are various activities every day such as water sports that you can name. Trust me, you will never find yourself bored on this island.
Restaurants, Bars & Cafes In LUX*
One of the reasons we chose LUX* as our honeymoon destination is because of its wide variety of restaurants!
There are a total of 8 restaurants and bar in LUX*, each providing different cuisines. In addition, there is a very cute ice-cream shop (called ICI Shop) and a dedicated Cafe LUX* just opposite reception. You can read more details on their official website.
Ice-cream Shop
In all of LUX*, the thing attracts me most is actually its ice-cream shop called ICI. Located just near the beach where coconuts trees are just swaying along with the wind, a colorful ice-cream shop out of nowhere is definitely a magic house in the fairy world. Here, you have a large range of ice-cream, gelato, ice popsicles, frozen yogurt to choose from. And… it's all free if you are in AI (all inclusive). A smiley face and thirst quenching ice-cream are all you'll need to fight against the hot weather, with a happy mood.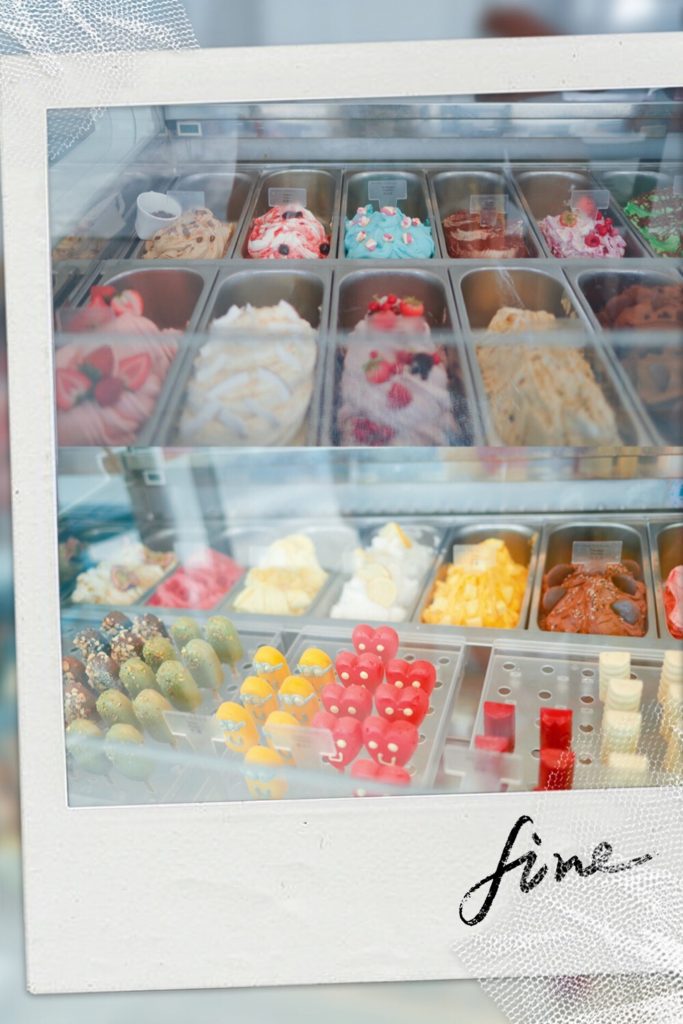 Cafe LUX*
Prior to our visit, we have heard positive reviews on the renowned Cafe LUX* and after we experienced it ourselves, it did not let us down. In this small cafe furnished in white interiors, feel free to order any latte or frappucino to satisfy your caffeine needs. To make things better, you can also try their free yummy afternoon tea cakes if you want.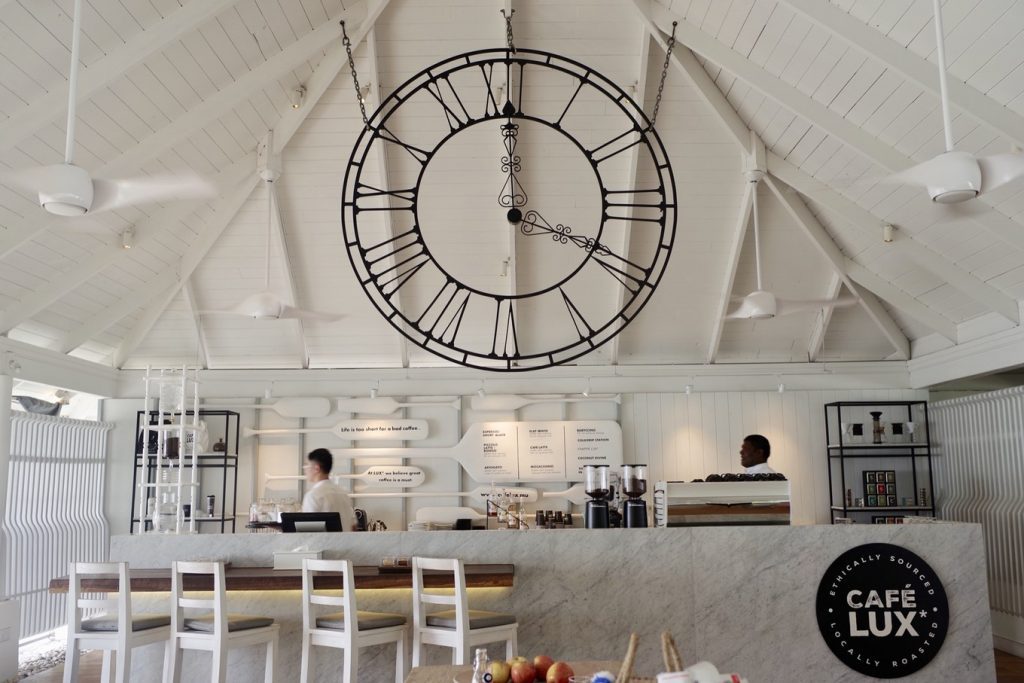 MIXE Restaurant
Our first dinner is at MIXE when there were a yummy BBQ and a Maldivian live dancing show. MIXE is a restaurant for both dinner and breakfast providing an international buffet. It's very Maldivian and not as distinctive as the other restaurants.
Allegria Restaurant
From the bills, I realized that this restaurant the most expensive at LUX*. Offering dedicated Italian cuisines, the restaurant is set up in a very romantic atmosphere. Unluckily the night we went was very windy and I did not manage to take many photos. Personally, I am not a fan of Italian Cuisne except for the classic dessert Tiramisu.
East Market Restaurant
There are East bar and East Market restaurants which are located just each other. Although the restaurant provides breakfast buffet and buffet dinner just like MIXE, the restaurant is more attractive with its oriental cuisines and the over-water structure. Here, you can enjoy your meal while watching fishes playing around.
One secret of this restaurant is its disco like washroom where you can watch fishes through the window on the floor. Besides, there is also a free photo booth for you. You'll need to ask the staff (East Bar) for an access code.
Our favorite bar is the East Bar although we did not dine there at all. We just cannot resist the temptation of catamaran nets floating above turquoise waters. In addition, there are swinging double seats and even a Mahjong table for 4!
---
FAQ for visiting LUX South Ari Atoll
Where exactly is LUX South Ari Atoll located?
LUX South Ari Atoll is nestled in the captivating embrace of the Maldives, specifically on the mesmerizing South Ari Atoll. Imagine an enchanting island haven surrounded by the turquoise embrace of the Indian Ocean.
How do I reach the captivating shores of LUX South Ari Atoll?
Your journey begins with a flight to the Malé International Airport. From there, a short domestic flight or a scenic seaplane ride will whisk you away to the indulgent embrace of the resort. Our dedicated team is here to assist you every step of the way.
What sorts of accommodations await at LUX South Ari Atoll?
Anticipate an array of luxurious accommodations, from those perched above crystalline waters in overwater villas to cozy beachfront suites, each offering lavish amenities and breathtaking views.
Will water sports enthusiasts find their haven here?
Certainly! At LUX South Ari Atoll, an ocean of adventure awaits, with thrilling water activities such as snorkeling, scuba diving, kayaking, paddleboarding, and catamaran sailing. Dive into the kaleidoscopic world of marine life and vibrant coral reefs.
Prepare your taste buds for a culinary journey at LUX South Ari Atoll's diverse restaurants and bars. From international delights to local flavors, our dining venues offer a symphony of tastes set against stunning backdrops.
Does relaxation beckon at LUX South Ari Atoll?
Discover serenity at the LUX* Me Spa, where a realm of rejuvenating treatments and wellness activities awaits. Unwind and restore in a sanctuary of blissful self-care.
What about families traveling with youngsters?
Families are cherished here! Little ones and teenagers alike will find joy in our Kids' Club and Teen Club, offering engaging activities and supervised fun, ensuring smiles for the entire family.
When is the ideal time to plan a visit?
While the months of November to April showcase the Maldives' sunny charm, LUX South Ari Atoll's allure knows no bounds year-round. Each season unveils a distinct facet of its beauty and charm.
Are sustainability efforts part of the resort's ethos?
LUX South Ari Atoll is dedicated to preserving the beauty that surrounds it. Engaging in coral restoration and waste reduction initiatives, the resort is committed to nurturing the local environment.
Can I celebrate special moments at the resort?
Absolutely! From dreamy destination weddings to honeymoon havens and celebratory soirees, LUX South Ari Atoll offers tailor-made event planning services, ensuring your cherished moments are orchestrated flawlessly.