Danang is a very famous beach city in Vietnam. If you are going to visit Danang, don't ever miss the chance of staying in a hotel near to the beach. The 4 star A La Carte Beach Danang Hotel is one of the top beach hotels which is highly recommended by people.
Being the tallest hotel in Danang, A La Carte Beach Danang Hotel resides just 50 meters away from Pham Van Dong beach. Standing at the top, guests can have a good panoramic bird-eye view of My Khe beach and Son Tra Peninsula. Frankly speaking, I am simply attracted by the amazing view from the rooftop bar and decided to book a two-bedroom suite without much hesitance. Comparatively, it was cheaper than a single bedroom standard room for each person. As for the room price, it is around 200 SGD per night per room. This is the price without the breakfast bundle. If you are someone who wants hotel breakfast, fret not, you can add on breakfast by paying more.
We arrived late in the evening for check-in due to our flight timing. When we reached, the staff nicely helped us with our luggage and gave us a warm welcome with a cooling welcome drink. The lobby is brightly lighted, spacious, and seclusive of outside noises to a certain extent. (As you know Vietnam is a country crowded with motorcycles – You imagine how noisy it will be beside the streets!). Typically in Vietnam, hotels will keep passports of the guests and only return upon checkout. So, don't be alarmed if you are requested to hand over your passport. If you do not feel comfortable, feel free to suggest to take a photocopy of your passport instead.
We were extremely excited to see our room which is located on the 20th floor, and yes, it was exactly what I have been expecting! The room has everything you need, from oven, refrigerator to electronics safe where guests can keep their valuables. The living room is not that spacious, however with a mirror on the wall, it looks bigger and more relaxing.
We love this sofa a lot! It feels soft and extremely comfortable under the cozy warm orange lights in the living room. Also, the two bedrooms have its own bathroom respectively. So, no more fighting for bathroom usage!
From the balcony, you can get a beautiful scenic view of the Da Nang city. However, the construction works beside the hotel might be a bit overwhelming though. At the other side, you can also see a partial beach view.
This is how Da Nang city looks like from our balcony during the daytime. The weather is a bit cloudy.
After some rest, we went to the rooftop to chill out. To our disappointment, the swimming pool is much smaller than I expected. It is just approximately like only two meters wide surrounding two small corners of the rooftop.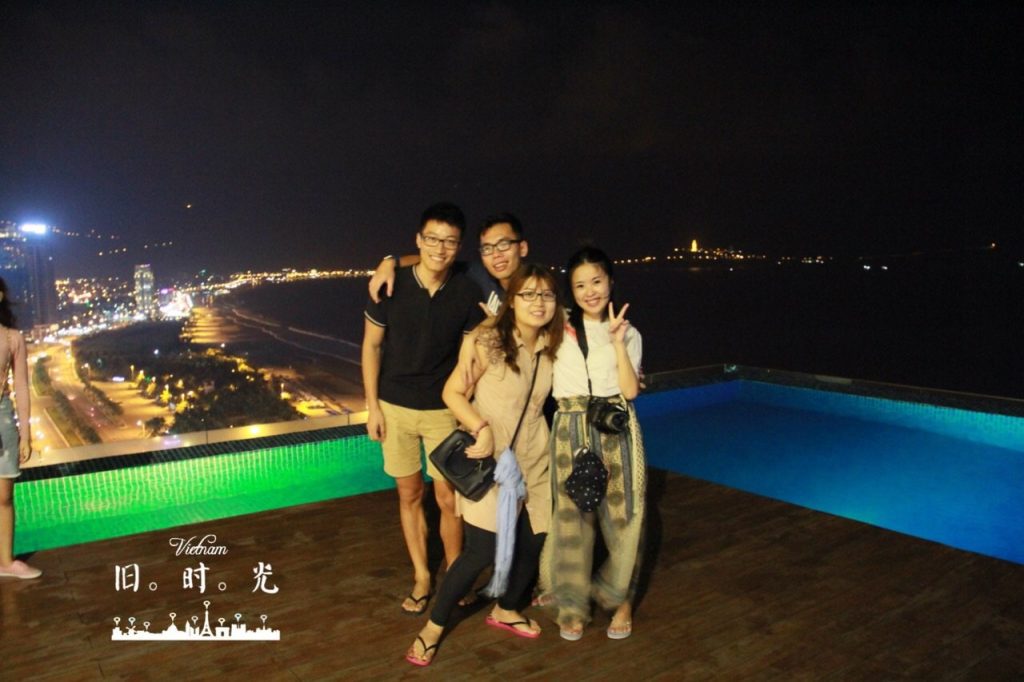 For alcohol lovers, the roof bar is a great place to go to! You can either lie on a beach bed or sit on the balcony, taking a sip of your alcohol while enjoying the night breeze blows slowly on your face.
A La Carte Da Nang hotel comes with a very good spa center. Together with my friends, I signed up for a 1-hour oil spa priced at just 720k VND (around 45 SGD). This was considered relatively cheap as compared to Singapore. Overall, the spa has quite a good service and the staff even prepared a delicious yogurt for us after the spa session.
Getting to A La Carte Beach Hotel
Address: 200 Vo Nguyen Giap Street, Son Tra District Da Nang Vietnam
Normally, most guests will take a taxi directly from the airport. The journey will cost around 100k VND.
If you need more information, visit: http://www.alacartedanangbeach.com/en/
Cleanliness -

8/10

Location -

8/10

Facilities -

8/10

Room comfort and quality -

8/10

Value for money -

8/10

Service -

8/10
Summary
A La Carte Danang Beach Hotel is a smart hotel choice for travelers who want a good value for money accommodation. Besides the temporary constructions works near the hotel which is a bit overwhelming, the hotel experience meets and (if not, goes beyond) our expectation. If you are traveling in a big group or with family, I will highly recommend you to book their suites room.