Do you know that Louvre Museum (or The Louvre) from Paris is the world's largest museum with over 38,000 artworks exhibited? It was originally built as a fortress, but transformed into a royal palace and has embraced France's history for almost 800 years. The whole museum is divided into 8 departments and some of its most globally notable artworks are the Mona Lisa, Venus de Milo & Winged Victory of Samothrace.
The Louvre is the world's most visited museum with 10M visitors in 2012.
---
Getting To The Louvre
Address: Musée du Louvre, 75058 Paris – France
Métro: Palais-Royal Musée du Louvre (lines 1 and 7)
The Louvre is open every day (except Tuesday) from 9 a.m. to 6 p.m.
Night opening until 9:45 p.m. on Wednesdays and Fridays
Closed on the following holidays: January 1, May 1,December 25
---
When we arrived at Louvre Museum, it's totally different from what I expected initially. The museum is so big (just like a palace), and the buildings and their architecture looks amazing. Definitely, this museum is on a different level than the ones we normally visit. It lives up to its reputation!
Here is a full view of The Louvre. Impressive?

Many tourists love to take photo with this Pyramid looking architecture. It's called the The Louvre Pyramid. This is one of the landmark design of The Louvre. The transparent glass make the pyramid looks very modern-like and sophisticated. This is worth a photo.
The Louvre Pyramid was introduced in 1988 under a renovation plan called Grand Louvre. Here is a closer look at the glass from the view taken on the inside. The sunlight beams through the glass and light up the lobby.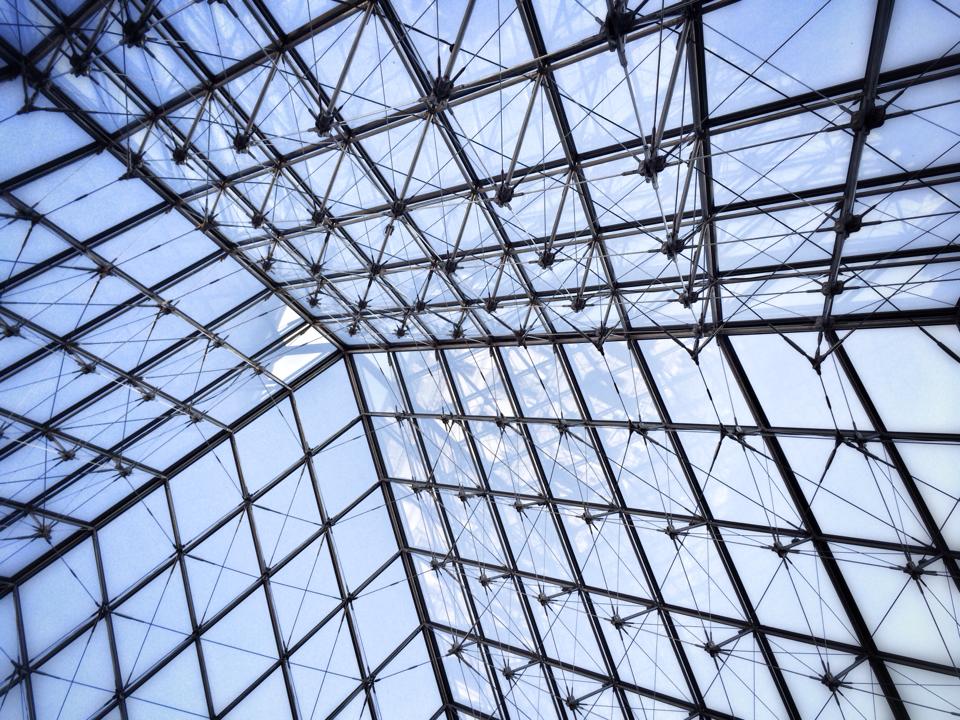 I would say you will need 3 to 4 hours or even more for The Louvre Museum.
The most famous work from The Louvre is Leonardo da Vinci's Mona Lisa. This is also the reason why people from all around the world visit The Louvre for. It took us quite an effort to get really close up to the painting as the place was crowded.
The painting measures 53 by 77 centimeters and is even protected with bullet proof glass. There are also security guards who stationed just beside the painting. I guess the mona lisa theft by Vincenzo Peruggia in 1911 really tighten up the security alot! The painting is believed to be painted between 1503 to 1506 and it was thought to be Lisa del Giocondo – Wife of a Florentine wealthy silk merchant named Francesco del Giocondo.
Why Mona Lisa painting is so popular? Actually it beats me too. After much research online, it seems that the reason for her popularity is her "Enigmatic Smile".
Here are some of the arts exhibition that I came across while exploring the whole museum. I am not much of a historian or artist – Let the other photos do the talking.