One of the reasons why I am attracted to visit Dalat is because of a beautiful French-style villa resort where you can see villas houses in bright yellow color reside in the middle of a mountain, seclusive of the outside world. Yes, I am talking about the Ana Mandara Villas Dalat Resort & Spa.
In this resort, you can find 17 villas and all are heritages from the 1920s and 1930s during the French colonial period. Ana Mandara Villas has several hotels in Vietnam, in different locations and styles. The one in Dalat is the most impressive with the aim to bring tourists back to bygone years and the forgotten times. It resides in the middle of a mountain, 15 mins away from the city center. I would consider this is a really premium location as the city center is incredibly noisy with endless motorcycles roaring back and forth.
We booked our villa studio from Mafengwo.com at a price around 180 SGD. FYI, this price is slightly cheaper than from Booking.com. However, we noticed that although the room types look the same, the actual room layout varies to a different extent. That might be the reason why price differs among different booking agents. Some rooms with bigger sizes are on the first floor, whereas some rooms with a better view are on the second floor. The shared living areas in each villa also vary. For me, I think we were pretty lucky! Although we booked at a cheaper price, we were given a good room in the no.5 villa which is said to be the most beautiful one among all villas.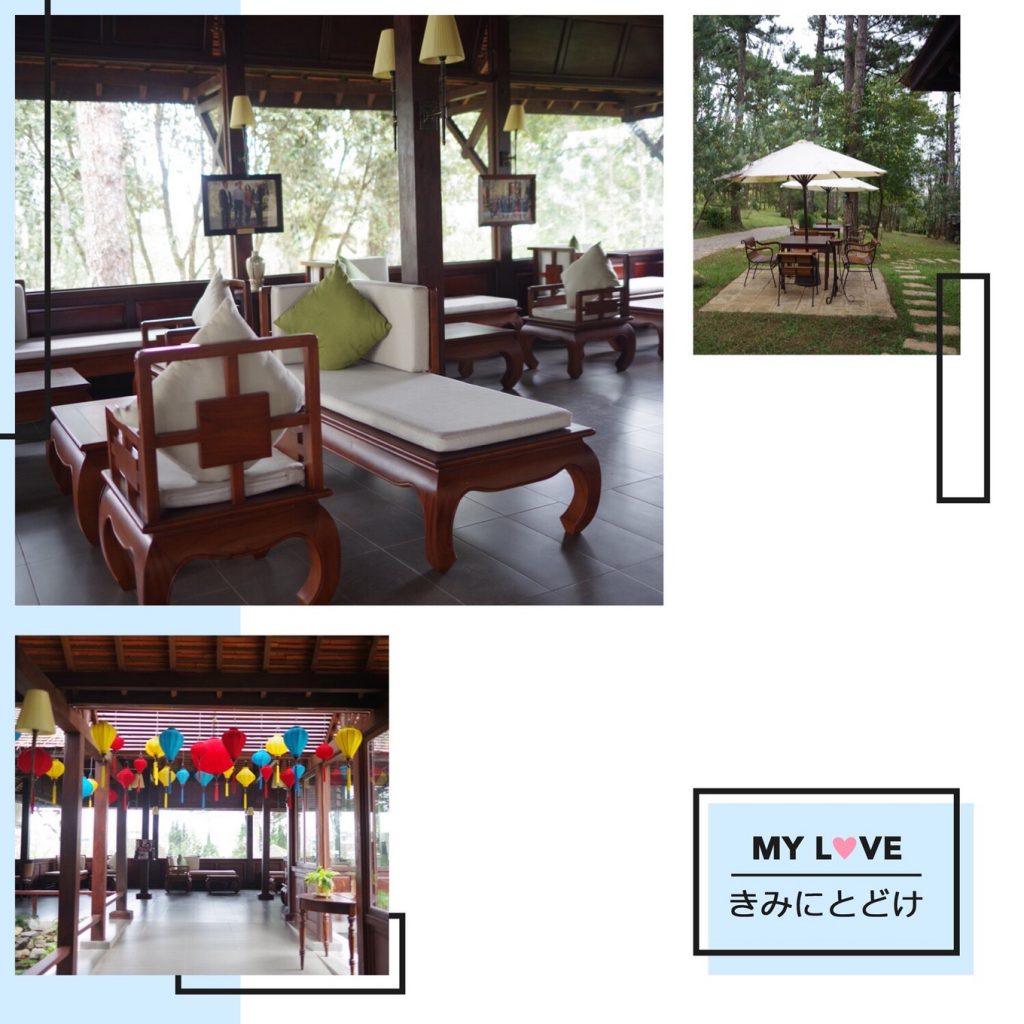 The resort's reception looks quite decent with the typical colorful Vietnamese style lanterns decorating the ceilings. We checked in at 2 pm and the buggy brought us directly to the doorstep of the no.5 villa. The moment I entered the villa, I was totally amazed at the cozy big sofa placed just beside a half-rounded window. The colors of the cushions under the soft sunlight look so warm that I cannot stop taking photos with it. Yes, this was exactly the reason I came here! Time for some photo shooting. 🙂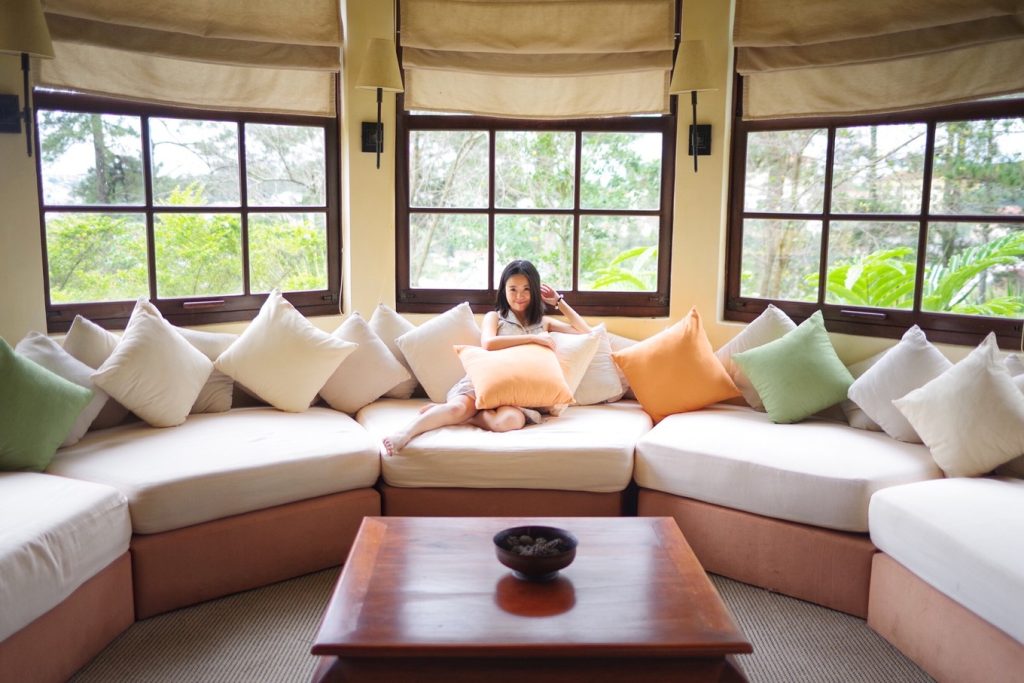 In front of the big sofa, there is a big table with an old-style candelabrum on it. The lighting around this area is generally quite good as it is near to a balcony. For your info, many couples love taking their wedding photos in these Villas. Take a look at some of the photos we took for our lovely friends.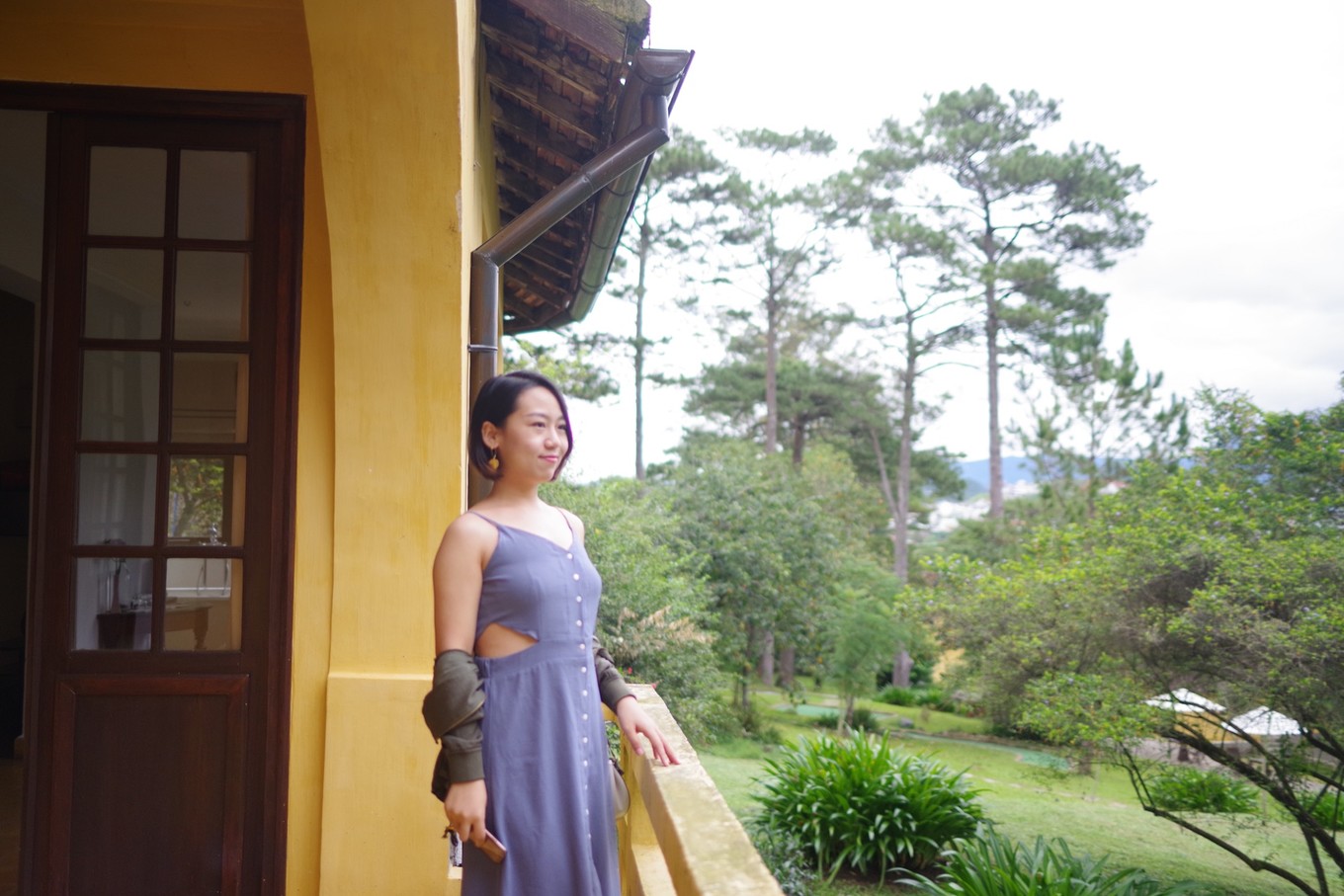 Our room is located on the second floor. There is a small working corner with several windows shedding natural lights into the room. What surprised me is that each room is equipped with a fireplace which can be used later in the night. Yeah, you heard me right. It is a fireplace! It will be really cold during the night in Dalat especially on a mountain like this.
The bed comes equipped with mosquito net. So, if you hate mosquitoes, you are taken care of. The most interesting thing about the room is the vintage style bath tube. A bath tube with a curtain hanging in four rounds is not that common in Asian countries. Every piece of furniture in the room indeed has some old french style to it. What an experience for people who never been to France like me!
Full view of no.5 villa.
Being a 5 star hotel, the facilities are comprehensive too, ranging from golf course to fitness center, and to swimming pool. The water in the swimming pools even comes heated so that guest will not feel cold swimming in this cooling weather.
There are one restaurant and one bar in Ana Mandara Villas. Both lunch and breakfast are served in Le Petite and if you want, the restaurant can even arrange a romantic dinner either by the pool or somewhere in the mountain. We ordered Chinese cuisine for lunch, however, it was not as impressive as we expected.
On the other side, the breakfast is pretty good. There is quite a wide variety of food.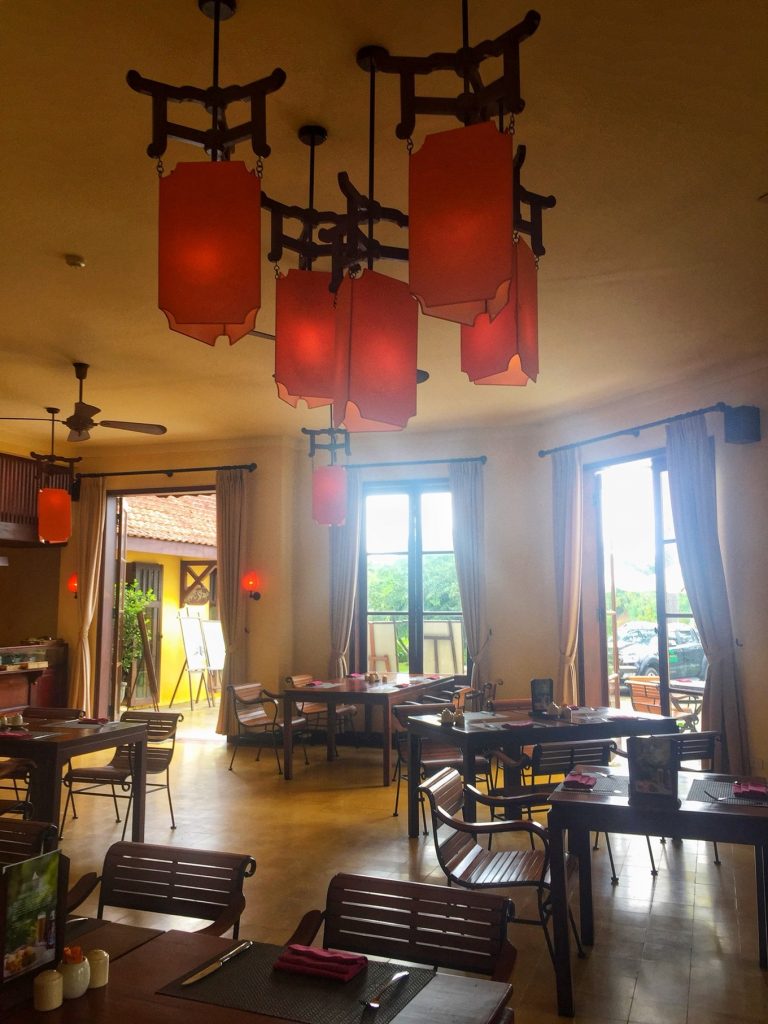 Getting to Ana Mandara Villas Dalat Resort and Spa
Address: Le Lai Street, Ward 5, Dalat City Center, Dalat, Vietnam

If you need more information, visit: http://anamandara-resort.com/
Cleanliness -

8/10

Location -

8.5/10

Facilities -

8.5/10

Room comfort and quality -

8/10

Value for money -

8/10

Service -

8/10
Summary
Personally, I will recommend you to stay at Ana Mandara Villas Dalat Resort & Spa if you visit Dalat. The resort itself is indeed an attraction that represents the colonial culture and history of Dalat to some extent. At a good and reasonable price, you can experience living like a noble in old times!