Previously we reviewed A La Carte Beach Danang Hotel , a 4 star hotel in Danang near the beach. But, that is not cheap especially if you are on a trip with a tight budget. In this post, I am going to recommend a cost-effective and reasonably good hotel in the city center of Danang which will cost you just around 30 USD per night per room with breakfast! Welcome to Flora Hotel & Residence in Danang.
Attractions Near The Hotel
Cham Museum: 1km
Dragon Bridge: 1.3 km
Song Han Bridge: 1.9 km
Da Nang International Airport: 2 km
We asked hotel reception for airport transfer. It took around 10 mins at a cost of 75 k VND including booking fee.
My Khe Beach: 5 km
It ìs a 20 mins journey in a taxi to the beach at the cost of 70k VND. And then we walked all the way back to enjoy the cool sea breeze and street view of Danang. It was an almost 2-hour walk.
Room
Personally, I am quite satisfied with the room. Yes, it is quite small just like many of the visitors have complained, but the room is really cozy and clean. Equipped with Tiffany blue dotted styled furniture, the room shows elegance in some way. Sitting beside the most traffic-heavy roads, I do not really hear the noises (from cars, bikes, buses etc) if I close the window firmly. Above all, one thing I think the hotel can improve on is the bathroom. It was glass-doored and did not really separate the shower and toilet well and thus, water from shower will spill over outside.
Breakfast
The hotel has 8 floors in total. We took the lift to the roof and had a light but joyful breakfast. There is no large variety of food to choose from like the big hotels but I do think that is plentiful enough for a simple breakfast. What I really enjoy most during my stay is sitting on the balcony and appreciating the amazing city view. It was raining during my stay and the weather was extremely cooling and refreshing.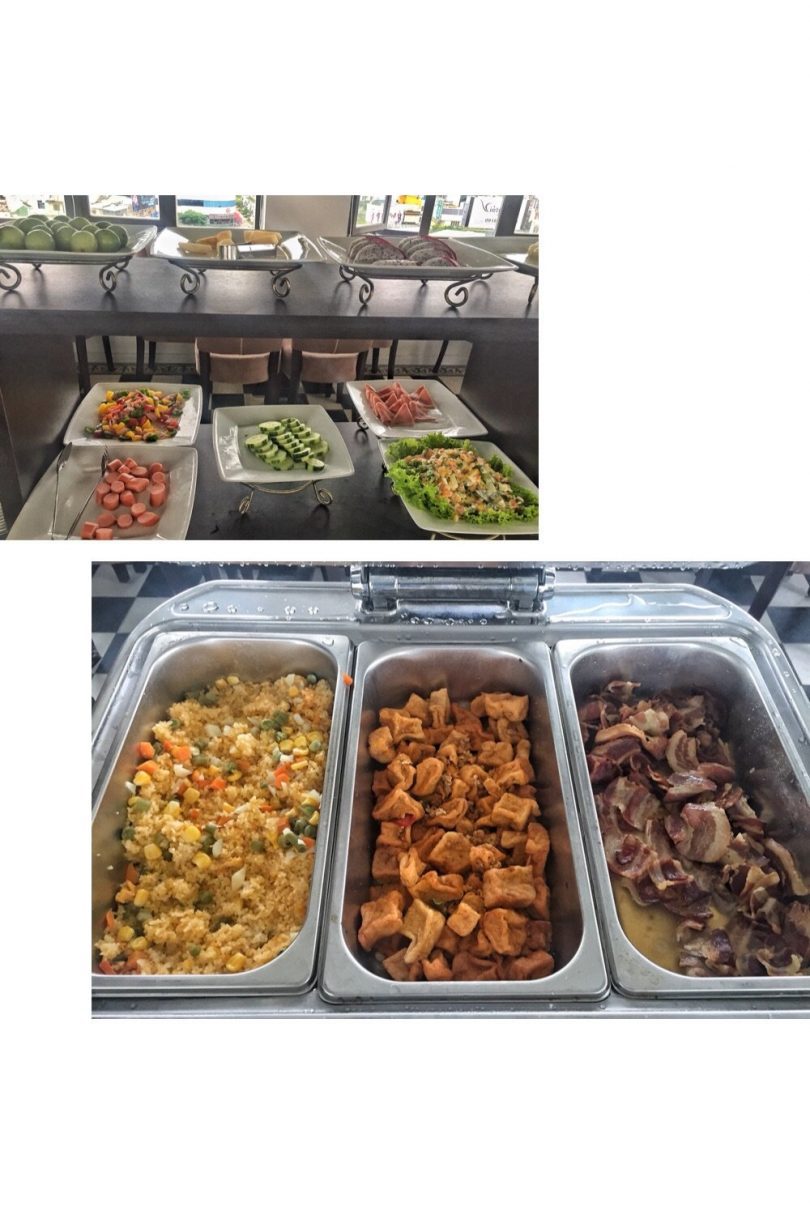 Getting to Flora Hotel
Address: Flora Hotel, 103 Nguyễn Văn Linh, Thanh Khê District, Hải Châu, Da Nang, Vietnam

Cleanliness -

8/10

Location -

8/10

Facilities -

6.5/10

Room comfort and quality -

7/10

Value for money -

8/10

Service -

7/10
Summary
Flora Hotel & Residence is definitely a value for money choice considering its price. The location is great with a lot of restaurants, cafe and convenience store at an accessible distance. Besides, it's near to the airport so no worries when you have to get up early to catch the flight.