We just check-in in Feng Huang ancient town last month and I totally enjoy my short stay in this mysterious ancient town in Hunan, China. Having dubbed as the "most beautiful town in China" by Rewi Alley, Feng Huang town is surrounded by green mountains with the Tuo river running through its center. You can see many wooden houses also known as "Diaojiaolou"  built on stilts just along the riverbank. The people in Feng Huang lives a simple and peaceful life and they have the luxury of enjoying the beautiful nature and its primitive simplicity. Believe me, this is a life that makes city dwellers like us envious!
'Feng Huang" name comes from the Feng Huang Mountain situated 50 miles away.
Stepping into Fenghuang, I feel as if I am transported back to ancient China. The environment is just like what you can see in the dramas and movies. The beautiful bridges and houses make me want to forsake my stressful work and just stay in Feng Huang for the rest of my life.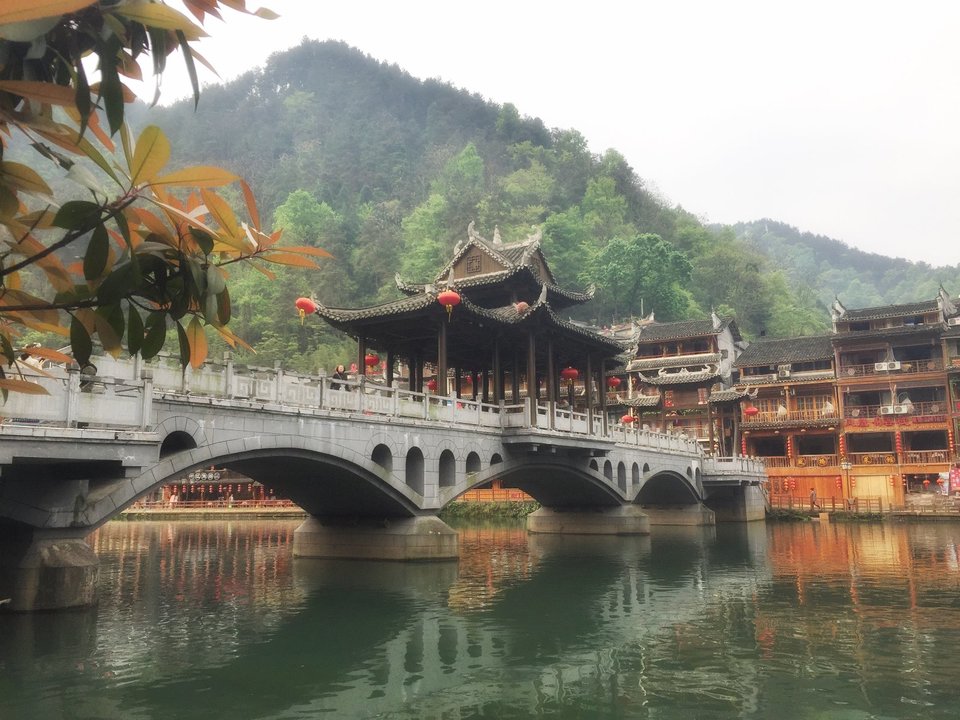 With Tuo river in the heart of the town, the rowboat is a common means of transportation. Tourists can take a short 30 minutes rowboat river cruise to experience Feng Huang town and to enjoy the scenery. I will totally recommend doing so.
How does it feel to be cruising the river with a small wooden rowboat?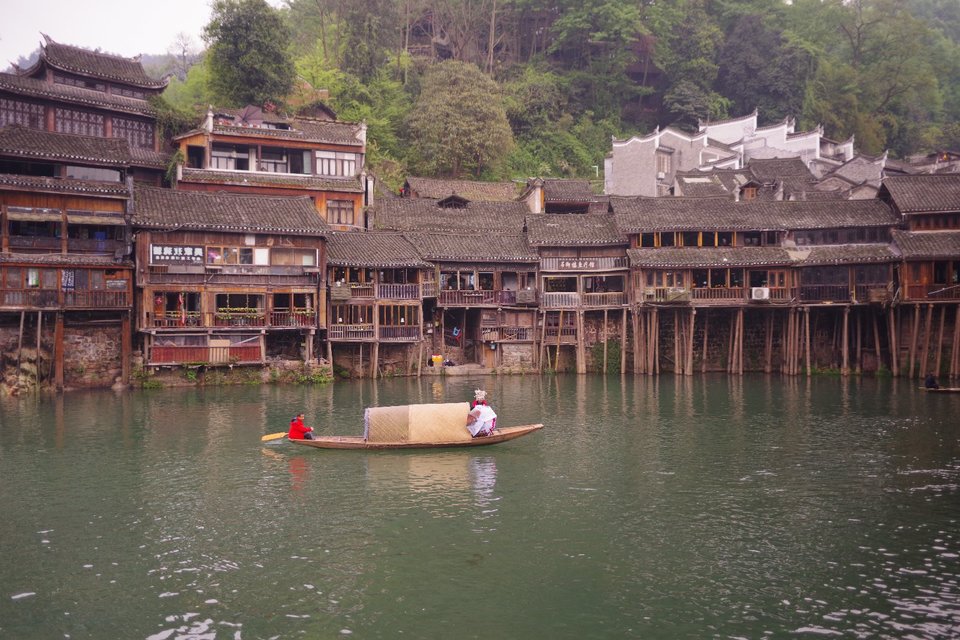 The blue sky, wooden houses, and boats resemble what you can commonly see in Chinese paintings.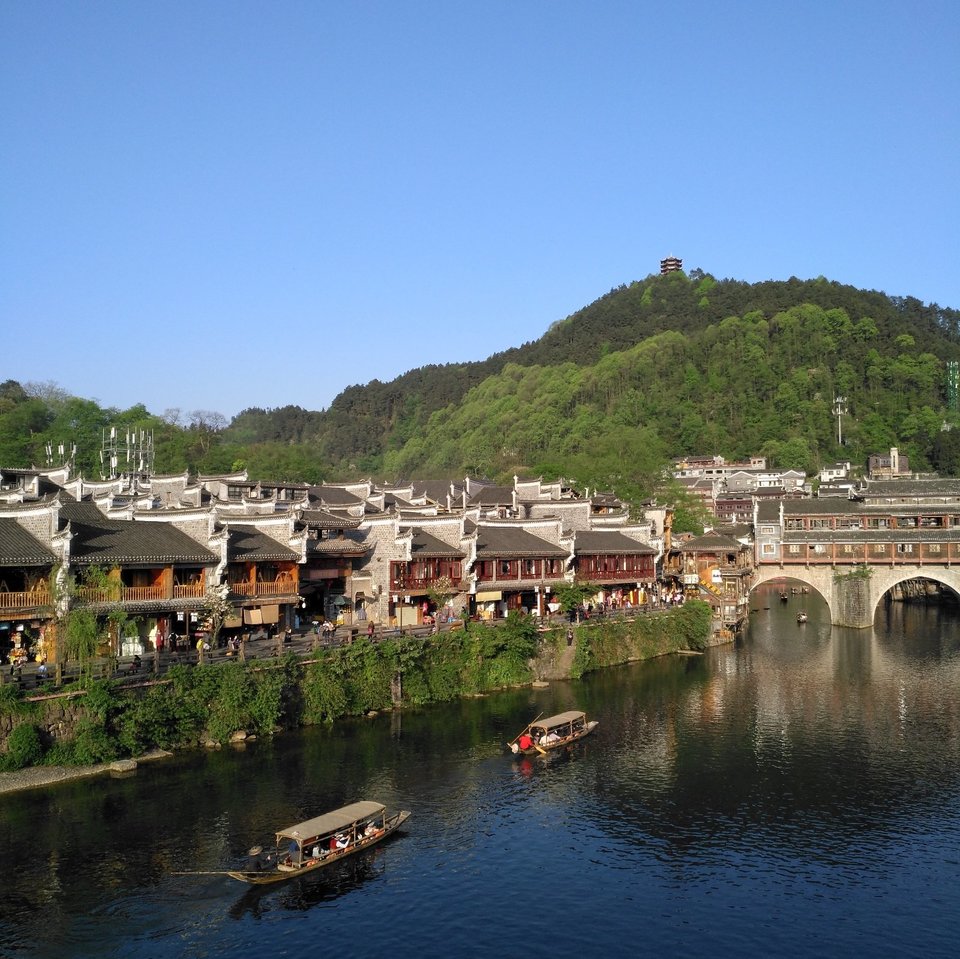 This is the "Hong Qiao (虹桥)" aka covered bridge in Feng Huang town.
If you think that Feng Huang town is just a simple old town, you are wrong. Walking around the town, you can see countless of cafes, pubs, and restaurants. Even when it's early morning, the town is already bustling with activities and crowded with people.
As night falls, you may want to find a nice restaurant for dinner. Note that food prices for the restaurants in Fenghuang old town are a bit steeper than restaurants outside of the town. We had our dinner in one of the restaurants outside the town. Don't worry, there are many restaurants in Fenghuang, so take your time and choose! Look at the yummy dishes below. What can beat having some spicy bbq sticks with some beer to go along?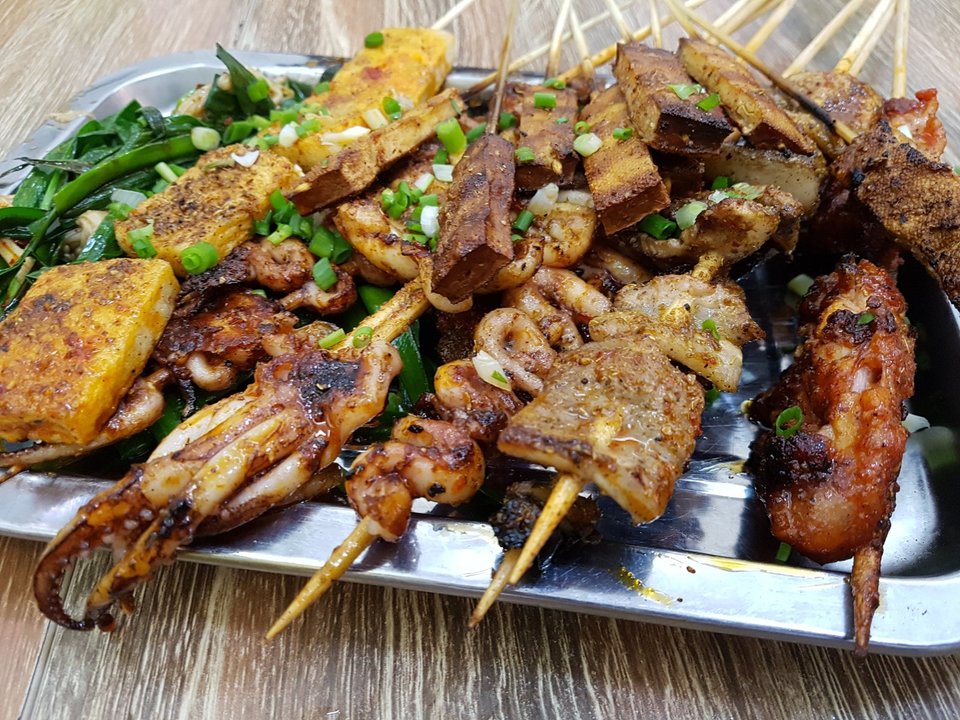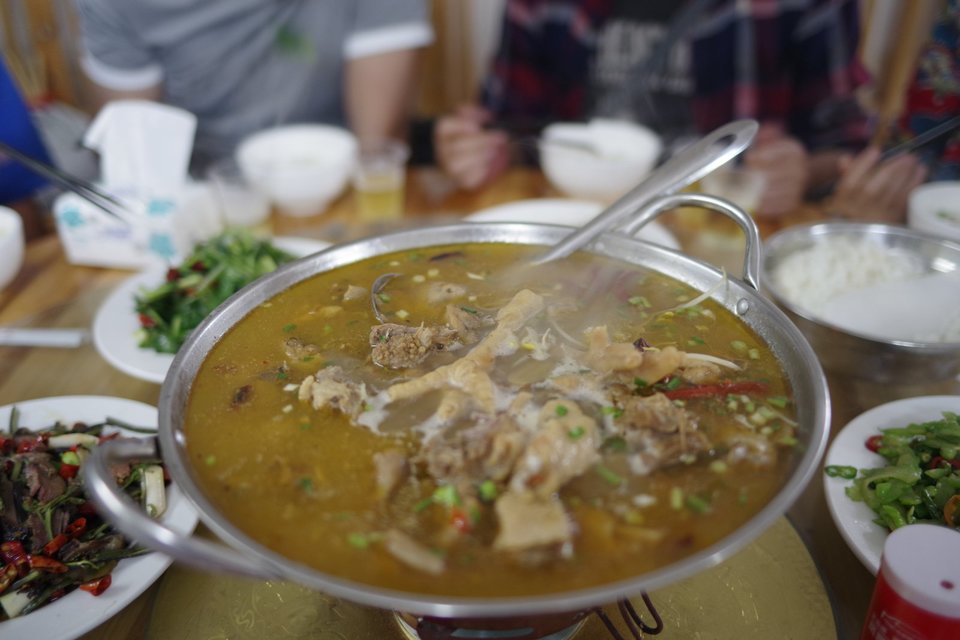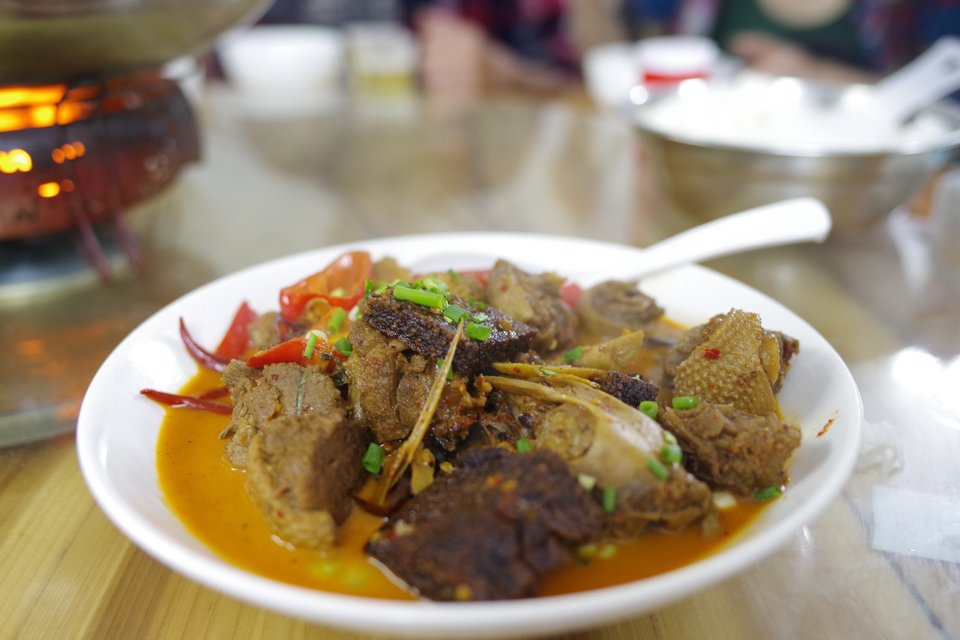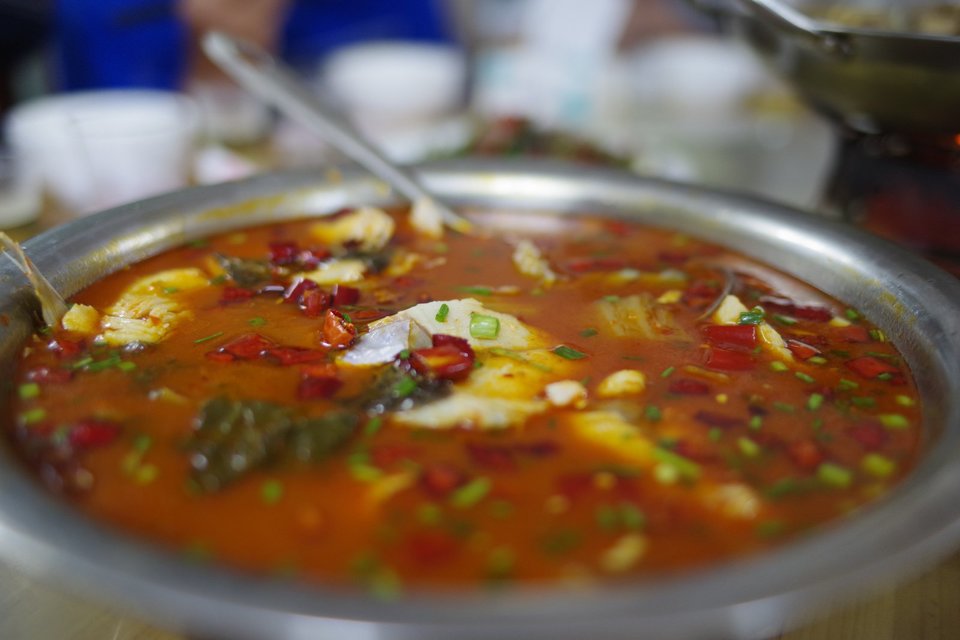 Smelly toufu. Try it if you dare! I can't take the taste.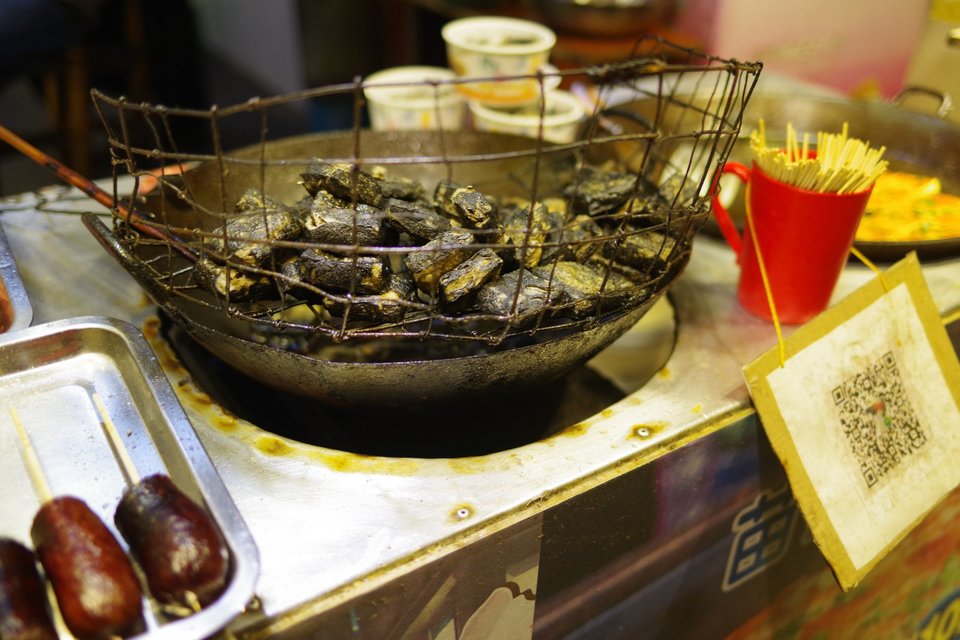 Having a mango dessert after a heavy dinner is the best. It seems like Thai food is quite popular in this vicinity.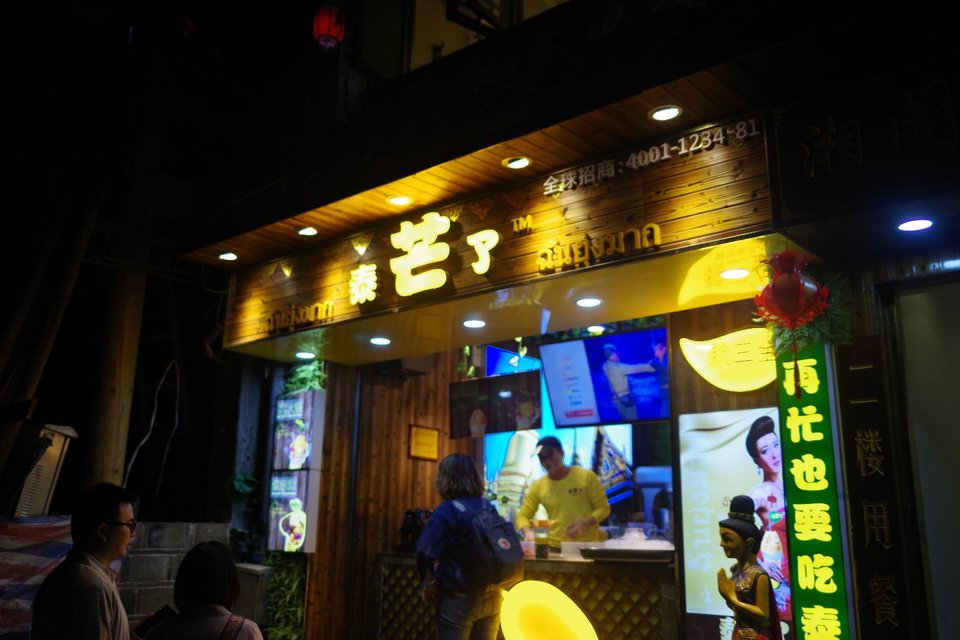 This is called mango hotpot! It's a promotional item and is greatly recommended by the staff. It is made of fresh mango slices, mango ice-cream, shredded ice and mango smoothie. Mango lovers will like this!
The best part about Fenghuang ancient town is that it transform into a glowing and luminous town at night. To be frank, Fenghuang is best to explore at night because the town literally came alive bustling with a lot of activities. It's a great place to chill out and experience the nightlife in pubs, discos, and cafes.
Let the photos do the talking. You can see how magnificent the nightlife is in Fenghuang.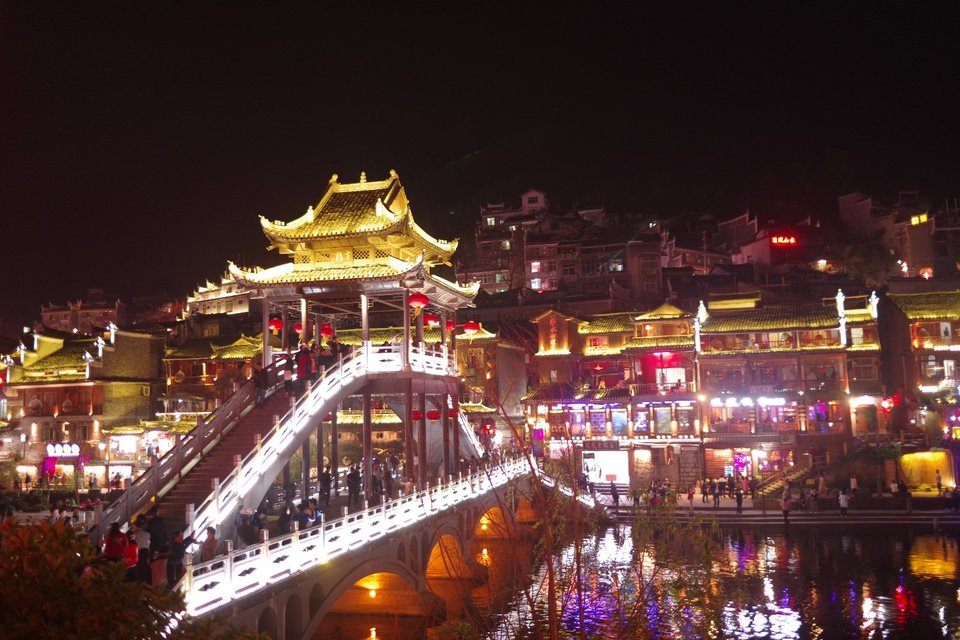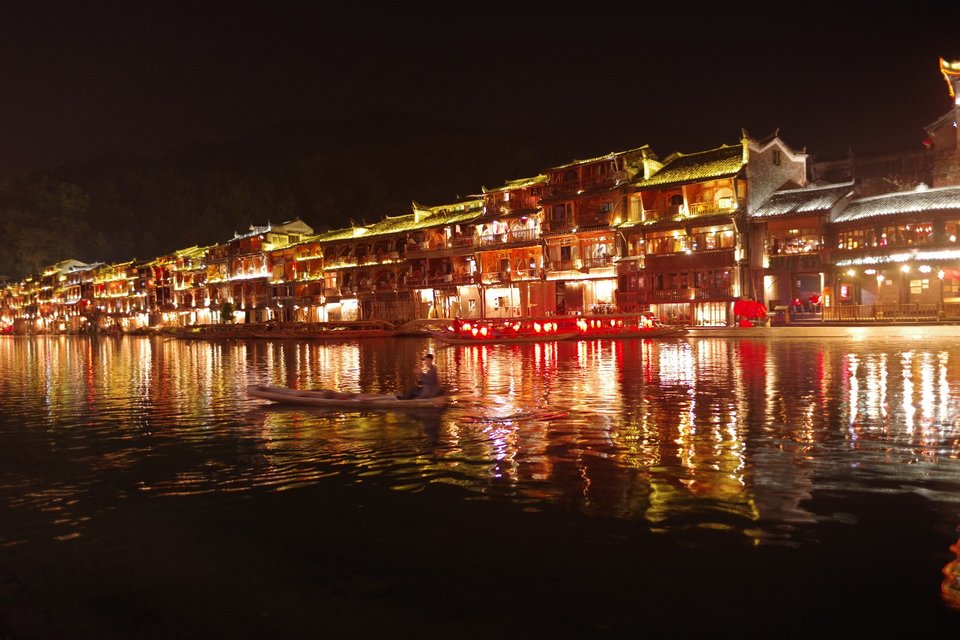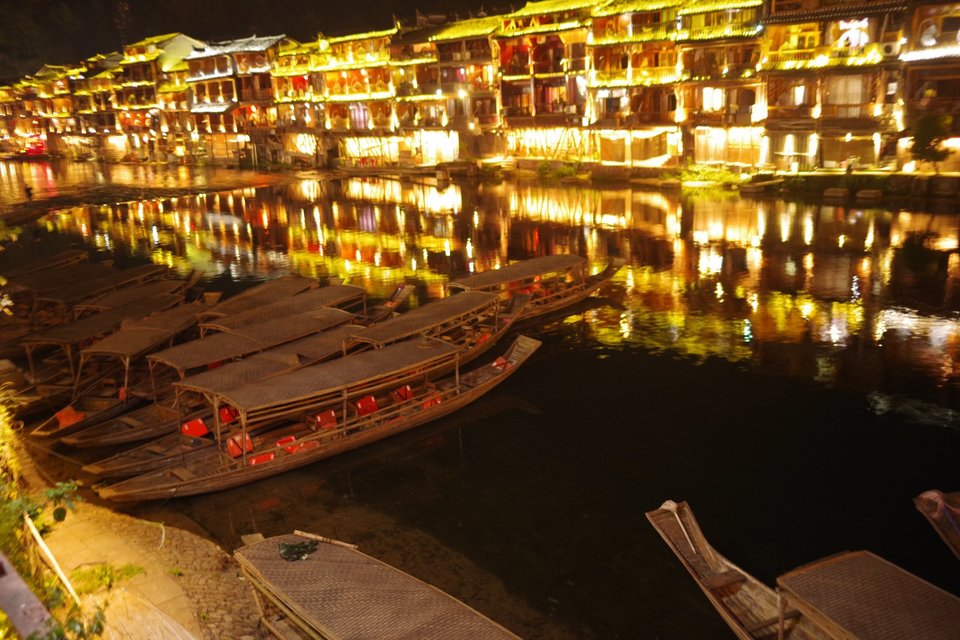 Tian Hou Gong Scam
Do not ever visit this temple called "Tian Hou Gong". It's a scam! The temple promotes a free tour for tourists to learn about the history of the temple. You will be brought to offer and burn some incense sticks. After that one by one, you will be asked to go into a room with a chat with a priest. The priest will pressurize you to make some donation in amounts of 100RMB at the minimum.

Fenghuang Town Travel Tips
Take note of your belongings as Fenghuang town is super crowded at night.
Beware of scams. Be vigilant.
Restaurants inside Fenghuang town is a bit more expensive as compared to the restaurants outside.
A 2 day 1 night stay will be more than sufficient to experience the old town.