During my 5-weeks job training in London, I visited a beautiful city in the United Kingdom called Bath. Cute, graceful, elegant and romantic are the words that just come into my mind when I think of this city. It is a mixture of adorable historical and artistic elements. Today, I'm thrilled to take you on a whirlwind adventure through the enchanting city of Bath. Tucked away in the picturesque English countryside, Bath is a treasure trove of history, culture, and natural beauty. If you find yourself short on time but big on curiosity, fear not! In this post, let me share with you how you can visit Bath in one day.
---
Transportation
Bath is in the Avon Valley near the southern edge of the Cotswolds. It is the only city that became World Heritage Site in UK. You can take a train from London Paddington station within 2 hours at around 55 pounds or simply drive from both the M4 and M5 motorways. Bath is also just 19 miles from Bristol Airport and well connected by regular bus services.
---
History of Bath
Bath was founded in the 1st century AD by the Romans. As the name suggested, Bath used to be famous for its hot springs and ever since then it was used by Romans as a thermal spa. What we can see here today are mostly heritages from Roman ages and thus many of the buildings are presenting elegant Roman and Neo-classical style.
---
Bath One Day Itinerary
Start your day with a English breakfast
As the sun peeks over the horizon, your day in Bath begins with a heartwarming breakfast at one of the charming cafes lining the cobbled streets. Opt for a traditional English breakfast with a steaming cup of tea or indulge your taste buds with a scrumptious pastry and artisanal coffee. Savor every bite as you soak in the cozy ambiance and prepare for the exciting day ahead.
---
Roman Baths Museum
No visit to Bath would be complete without a visit to its namesake – the Roman Baths. As you step into this ancient wonder, you'll be transported back in time to the days when Roman soldiers and citizens alike soaked in the mineral-rich waters. Wander around the well-preserved ruins, marvel at the intricate architecture, and don't forget to toss a coin into the sacred Spring for luck!
In roman baths Museum, I was guided by an electronic audio guide introducing the history of this heritage site. While walking around the museum, I just felt like going back to the old days like an elegant royal Roman bestowed with the one of the best natural resources – hot spring. Although it was thousands of years ago, I cannot help but imagine the scenes when royal Romans bathed in this magnificent architecture while talking about politics, economies and love affairs in their times. I guess this is the glamour of a historical museum!
---
The Royal Crescent
From ancient history, let's fast forward to the Georgian era. A short stroll brings you to the iconic Royal Crescent – a sweeping arc of 30 elegant Georgian townhouses. Take a moment to capture the postcard-perfect view, and imagine the stories these walls could tell. The surrounding gardens offer a peaceful oasis to unwind and appreciate the timeless beauty of Bath.
The Royal Crescent was built between 1767 and 1775 and has became one of the iconic landmarks of Bath. Consisted of 114 Roman columns and 30 linked terrace houses, the building formed a stunning crescent shape. Till now, part of it has become museum open to the tourists and other parts form a luxurious hotel furnished in vintage roman style. I was so lucky to see a newly-wed couple taking their wedding photos here.
---
Lunch at the Bath Market
As noon approaches, head to Bath's bustling market for a lunchtime feast. The aroma of international cuisines fills the air as you browse through an array of food stalls. Whether you're craving a gourmet sandwich, a savory pie, or a refreshing salad, you'll find plenty to satisfy your taste buds. Grab a seat at one of the communal tables, strike up a conversation with locals, and relish the vibrant atmosphere.
---
Bath Abbey
After a satisfying meal, make your way to the awe-inspiring Bath Abbey. The soaring Gothic architecture and intricate stained glass windows are a sight to behold. As you step inside, allow the serene ambiance to wash over you. Climb the tower for a panoramic view of the city, and feel the connection between the past and the present as you gaze out over the historic rooftops.
Bath Abbey welcomes all visitors and invites a donation in lieu of an admission fee. £2.50 suggested per adult/£1.00 suggested per child or student. It is just near the Roman Baths Museum.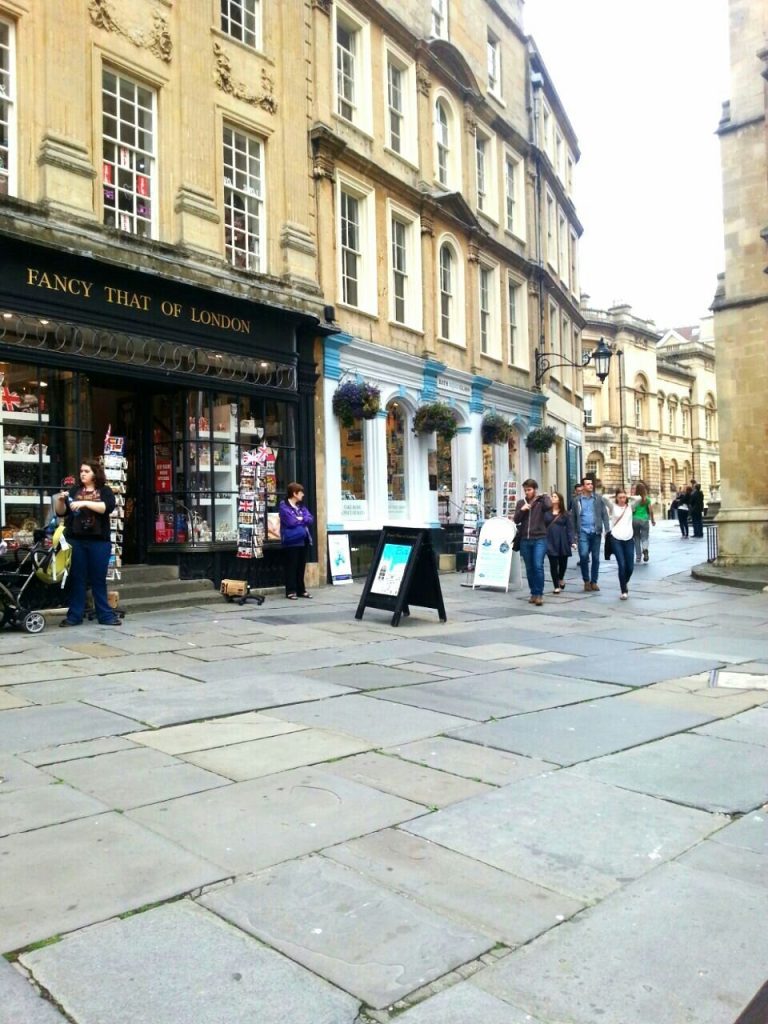 ---
The Circus
The circus is so huge that I was not able to take a full picture of it (of course also due to my poor photography skills at that time). It looks quite similar to the Royal crescent as it also formed a circle shape. It was originally known as The King's Circus and is consisted of three curved townhouses.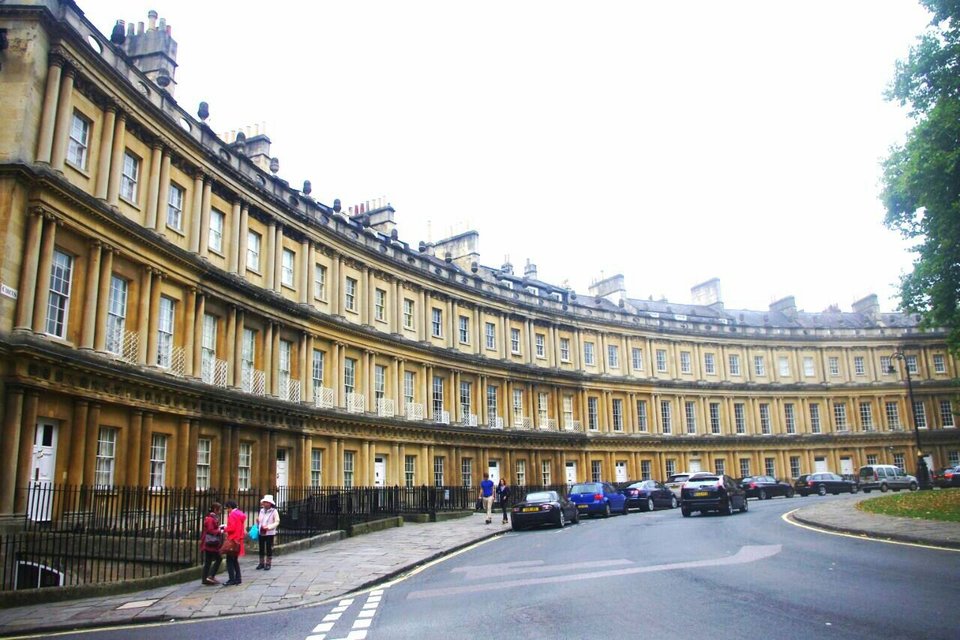 ---
Pulteney Bridge
As the sun starts its descent, cross the Pulteney Bridge – one of the few bridges in the world adorned with shops on both sides. Pause for a moment to admire the reflection of the bridge in the gentle waters of the Avon River. If you're lucky, you might even catch a romantic swan glide by as you snap your perfect postcard shot.
I have never been the Ponte Vecchio in Florence (which is said one of the most beautiful bridges in the world), but for me Pulteney Bridge is the most impressive one I have seen so far. Crossing over the Avon river, the bridge plays an important role connecting the old town and new town together. There are many shops built on it too.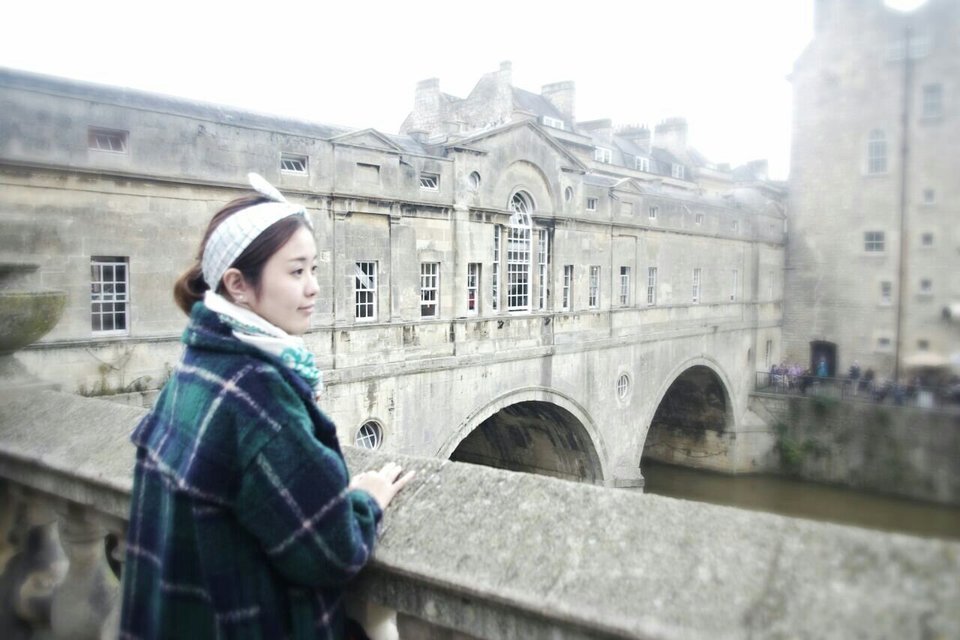 ---
Strolling Bath Street
I already forgot how many streets I have walked and which one was exactly named as Bath Street. One thing I am sure is that wandering around the small town, I can always find little surprises, either a delicately-designed souvenir shop or unbelievable street artist standing still like a statue. Here, you can spend the entire day without worrying about the project to be due next week or exam coming soon. All you need to do might just be finding a quiet cafe, sitting down and chitchatting with friends or cycling around the city.
Visit Bath Travel Tips
Recommended trip duration is 1-2 days.
You will need to book accommodation in advance as the town is small there are limited accommodations available with affordable prices!
Official Bath Tourism website: http://visitbath.co.uk/
---
FAQs on Visiting Bath
Is one day enough to explore Bath?
Absolutely! While you won't be able to see everything, a well-planned day can give you a taste of Bath's highlights and unique charm.
What's the best time to visit Bath?
Bath is lovely year-round, but spring and summer offer pleasant weather for walking and exploring the city's outdoor attractions.
What's the must-visit attraction in Bath?
The Roman Baths are a must-see. These ancient ruins provide a fascinating glimpse into Bath's history and culture.
How can I make the most of my one-day visit?
Plan your itinerary strategically, focusing on a mix of historical sites, architectural wonders, and local experiences.
Can I explore Bath on foot in one day?
Absolutely! Bath is a compact city, and most of its attractions are within walking distance of each other, making it perfect for a day of exploration.
Where can I find the best views of Bath?
Climb the Bath Abbey tower or visit the Thermae Bath Spa's rooftop pool for stunning panoramic views of the city.
What's the signature food in Bath?
Don't miss trying a traditional Bath bun – a sweet, enriched bread roll often filled with currants and topped with sugar.
Is it worth visiting the Thermae Bath Spa?
Definitely! The Thermae Bath Spa offers a unique experience of bathing in natural thermal waters while enjoying breathtaking city views.
Can I visit the Royal Crescent for free?
While the Royal Crescent itself is a public area and free to access, some of the buildings are private residences. However, you can still enjoy the architecture and take photos.
What's the best way to get around Bath?
Walking is the best way to explore the city center, but you can also use the efficient local bus service to reach attractions slightly farther away.
---
Conclusion
As you bid adieu to Bath, remember that this city is a gracious host, always ready to welcome you back for a deeper exploration. Whether you seek to uncover more of its hidden corners, unwind further in its therapeutic waters, or simply bask in its timeless charm, Bath will be waiting with open arms. I hope this visit guide for Bath in one day has ignited your curiosity and sparked a desire to experience this city for yourself.