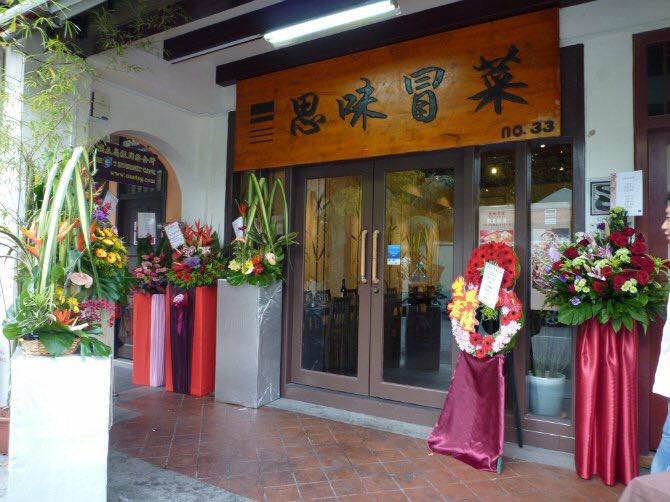 If you "Google" the top Si Chuan restaurant in Singapore, and you will most likely see Si Wei Mao Cai (思味冒菜) on the top list. This is how popular this restaurant is among the Si Chuan food fanatics. Serving authentic and traditional Si Chuan cuisine in Chinatown, Si Wei Mao Cai debuted in the Singapore food scene in 2011. It has already been 7 years of existence and the restaurant is still fully crowded with customers daily with a long queue at peak hours. This is how well received the restaurant is!
Maocai is a stew-like dish from Chong Qing, and it composed a variety of meat & vegetables in mala sauce.
Suddenly craving for Si Chuan spicy food on a Friday night, I made a visit to Si Wei Mao Cai to satisfy my spicy needs for #TGIF. Si Wei Mao Cai is located at 33 Mosque Street in Chinatown which is just a 10 mins walking distance from my workplace. Pretty convenient! I was there at 6:45 PM without making a prior reservation and thankfully, I've got myself a table for two.
The menu in Si Wei Mao Cai is quite extensive, serving a big variety of Si Chuan dishes like the bullfrog, chicken, fish, vegetables and more. I like their cutlery set which looks quite unique and ancient.
Sitting down, I began browsing through the menu for dishes that caught my tastebud's attention. As we only have two persons, I can't order much.
I was looking for my favorite Ice Lemon Tea brand called the 冰红茶 (bing hong cha), but its nowhere to be seen. In the end, I ordered my 2nd favorite – The Sour Plum drink (also known as Suanmeitang). If you frequent Chinese Si Chuan restaurants, I recommend you to try this two brands. In addition to its nice taste, I think it helps in soothing the spiciness (my opinion though).
After a couple minutes of contemplating which dish to order, I've made up my choice.
Dry Pot Bull Frog
I become a fan of bullfrog ever since my "virgin" visit to Wah Kungfu in Chinatown. The bullfrog in Si Wei Mao Cai did live up to my expectations. Their bullfrog is big, chunky and juicy, and it comes with green and red papers, onions, garlic, black fungus… The mala sauce is good and tasty. I recommend you to order a bowl of rice to go along with this dry pot bullfrog.
Pan Fried Chicken (With buns)
I found this dish quite interesting, thus I decided to try it out. A combination of mala pan-fried chicken with several vegetable buns. As weird as it sounds, the dish is actually not bad. But, note that this dish may be too overwhelming for two persons. I will recommend you to try this out with at least 3 people or more. The pan-fried chicken tastes a little sour with some mala sauce as well. I think the sour taste comes from the vinegar added. For me personally, I prefer the mala sauce from the bullfrog better. The vegetable buns taste fresh and I enjoy savoring it. I would think they made the vegetable bun in-house. Note that there are 6 buns in total – 2 of the buns comes in a separate plate.
Mala Chuan Chuan
We were already overstretching our stomach with just the dry pot bullfrog and pan-fried chicken above, but we just can't resist the fragrance from their mala Chuan Chuan. There is a minimum order of 30 sticks. Along with the Chuan Chuan sticks is also a homemade sauce that was specially made for dipping. Not bad, and I think it will be great if we have some beers to go along with it. If there is something to pick on, I would say I am a little disappointed by their crispy sausages. Their crispy sausages are not the one where you can order in Hai Di Lao. It's not crispy at all, it will be better if they uses the ones Hai Di Lao is using.
Getting to Si Wei Mao Cai (思味冒菜)
Reservation: Call 6223 1170
Quality of Food -

7.5/10

Customer Service -

7/10

Value for Money -

7/10

Atmosphere -

6.5/10
Summary
Si Wei Mao Cai (思味冒菜) definitely lives up its reputation as one of the best Si Chuan restaurants in Singapore. Our total bil for two pax which is quite average considering that Si Chuan cuisine in Singapore is normally a little pricer. Food quality wise, I am satisfied with what I am getting. This is a great place to get your "mala fix"! I will be planning another trip down to try out more dishes… till then.