Putien Restaurant 莆田 – When we talk about Michelin one-star restaurants in Singapore, one should never miss out Putien (莆田), the Fujian cuisine restaurant chain which originated from the beautiful coastal suburb in Fujian, Putian. Rising from a humble beginning, Putien has garner good reputation among the Chinese people overseas over the years. Today, Putien has restaurant outlets that spanned across Mainland China, Hongkong, Taiwan, Malaysia, and Singapore. Just in Singapore, there are already 12 Putien restaurants outlets.
If you are keen to try out Putien Michelin starred restaurant, you may want to consider visiting their Kitchener Road outlet instead as that is the restaurant that was awarded the Michelin One Star. But, being a lazy bum who doesn't like to queue and wait, I visited their Nex outlet. I believe the food quality will be somewhat on par or close. You can only make table reservations during weekdays. For weekends, only walk-ins will be entertained, except if you have groups of more than 20 pax. The ultimate tip when you visit Putien is that you need to be early as the queue can sometimes get amazingly long in Nex. The restaurant's opening hours are from 5:30 PM and at around 15 minutes before, you can already see a long queue of customers forming up.
I will give a thumbs up for the efforts the Putien's management put into their restaurant interiors and environment. The interior and atmosphere are extremely cozy and I love their brownish tiffany blue themed colors.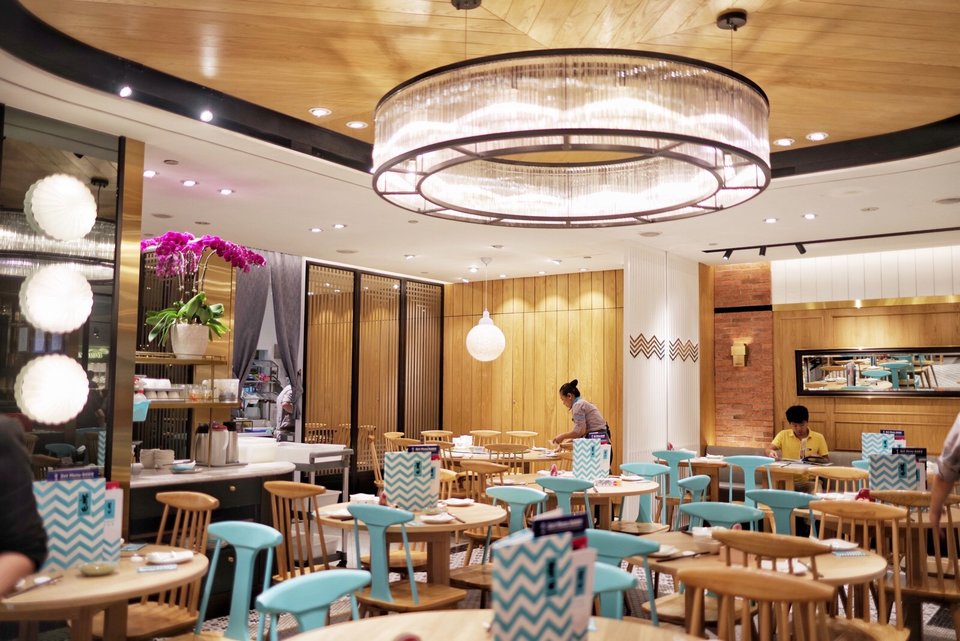 Ordering dishes in Putien is challenging in a good way – There are so many signature dishes to choose from, and when you only have 3 pax, you can't simply try everything out. I like the fact that Putien has a section in the menu that showcase all their top and most popular signature dishes.
Putien Lor Mee
This is one of the must order signatures in Pu Tien. We are so used to black Lor Mee in Singapore, but how about white Lor Mee? The Silky Putien Lor Mee noodles come with pork belly, prawn and fresh clam braised in a luscious pork broth. The serving in different sizes at small, medium, and large. We are advised by the waitress that a medium size can fill up around 5 – 6 bowls. We only have 3 pax, therefore, we ordered the medium size. The Putien Lor Mee is superb and I really like the broth. The noodles are q and silky and it tastes really great. I am glad we ordered this. 🙂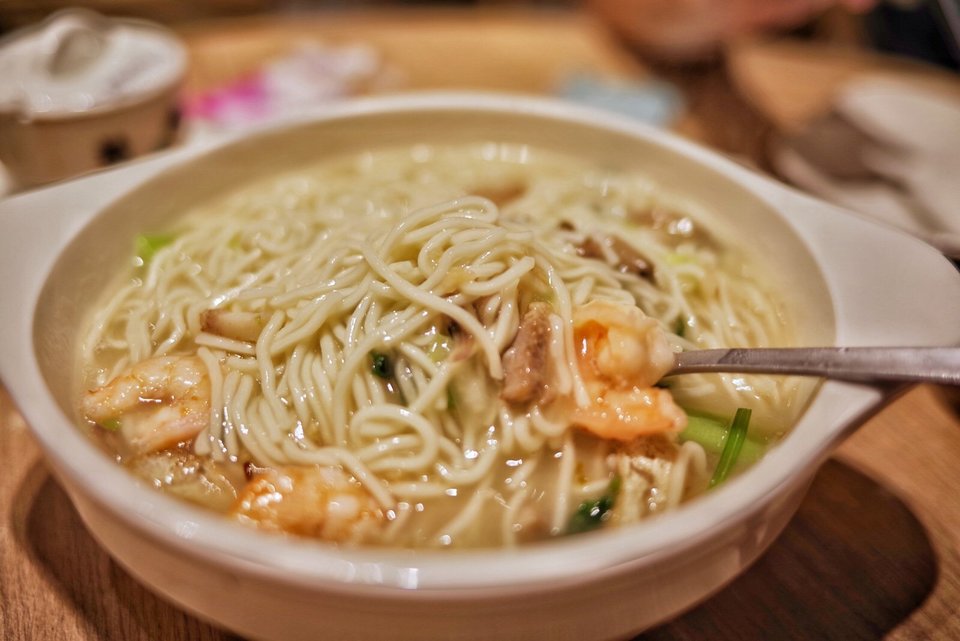 Putien Home Made Chilli Sauce
I think Putien's homemade chili sauce is definitely worth a mention too. The sauce is amazingly addicting and savory. I am not sure of the ingredients that they used to mix this sauce, but I can taste chili paddies, garlic, lime, lemon, dried anchovies (ikan bilis) … If you enjoy the sauce, you can also buy some ready-made sauce off their shelves.
Putien Style Pork Ribs
These pork ribs look quite mouth-watering! Deep with the unique Putien sauce, this makes a good braised meat dish. However, I do not find this dish really exceptional. My two cents though, you can beg to differ. If need to order a min of 2 pieces.

Deep-fried Chicken with Garlic (Half)
As a self-proclaimed "chicken expert", I would say I am quite satisfied with their deep fried chicken with garlic. Most importantly, this dish is served hot for us. The chicken skin is fried till perfection, and it's crispy. The chicken meat also tastes tender and fresh, and the blend of garlic scent makes this dish heavenly. With also a good presentation of the dish with greeneries like lettuce, I think this dish is worth the every $S15.90 that we paid for.

Bayberry Tea with Iced Berry Cubes & Infusion
We also ordered their Bayberry Tea with Iced Berry Cubes and Infusion drink at S$5.90 each. The infusion tastes great, but I am not really a fan of their bayberry tea.

Salted Pepper Fried Oysters
I think this is one of their new dish creations. I kind of like the taste of salt & pepper combined.
Lychee Sweet Sour Pork
This is one of the best sweet & sour pork I have tried. The sweetness of the lychee juice blends perfectly with the deep fried sweet sour pork. The pork that is being used is also juicy and tender. Next time I visit Putien again, I will definitely try this dish again.
Shredded Pork Meat With Bun
This dish is interesting. It comes with plastic gloves so that you can put the pork meat filling into the fried buns without getting your hands dirty. It is quite thoughtful right? Taste-wise, not bad but not awesome. The fried buns are just like those chili crab buns which are fried till golden crispy level and comes with a little taste of sweetness.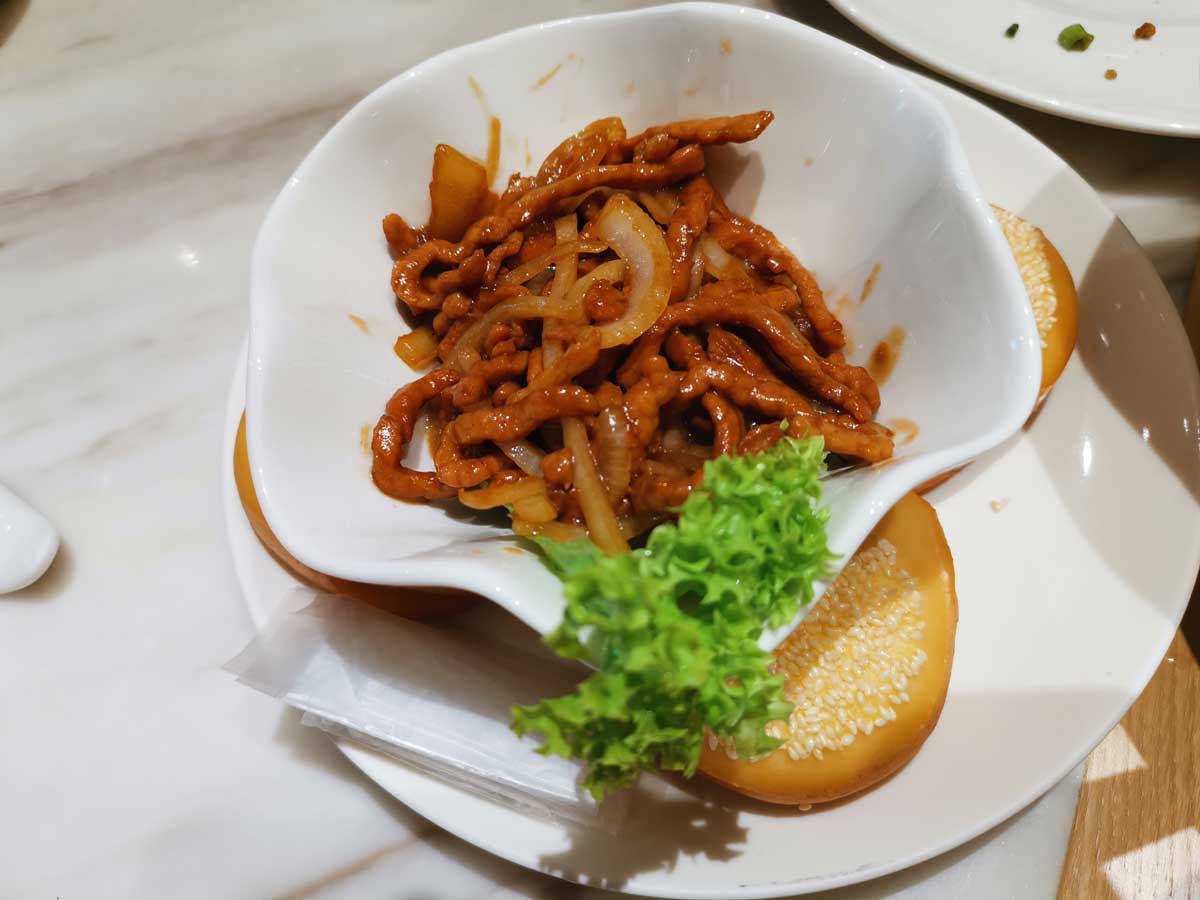 Bamboo Herbal Prawn
As a prawn lover, their Bambo herbal prawn is definitely within my radar. I am not quite impressed by the dish. I feel that the soup is a little bland for me. The prawns, however, are quite fresh and sweet.
Getting to Putien (Nex)

Website: link
Quality of Food -

8/10

Customer Service -

7/10

Value for Money -

7/10

Atmosphere -

7/10
Summary
I really enjoy dining in Putien Restaurant (Nex). I would say I am happy with their food quality and the exceptional friendly attitude of the staff. There's a reason why Putien is awarded a Michelin One Star. Our bills come at around $S68 which is around S$22 each which is quite reasonable I would say.
Definitely, I will be back to try some of their other signatures dishes like Deep-fried Yellow Croaker. Till then. If you frequent Putien(nex) recently, let us know how is your experience.