Visiting Maldives has always been a dream for us. Imagine you lying on the white sand beach, listening to the waves and reading a book while drinking a sip of cocktail. Isn't that the retirement life everyone look forward to? They always said you should live your lives to the fullest, and Nicole and I always believe in enjoying experiences while we are still young and healthy. So, we decided to book 4 days 3 nights (All inclusive package) in Meeru Island Resort & Spa Resort. Our budget for this Maldives trip is pretty tight – around 4k SGD for two people. We chance upon Meeru Island All Inclusive and the resort turns out to be a good fit for our limited budget after doing some research. So, lets go for it!
About Meeru Island
Meeru Maldives Resort Island is a stunning getaway in the North Male Atoll of the Maldives. Surrounded by the beautiful blue lagoon, white sands and marine life, Meeru Island Resort & Spa is the only resort in the Meerufenfushi island.
Meeru Island is 1200 meters long by 350 meters wide – approximately 60 hectares.
Transfer to Meeru Island & Welcome Drinks
Included in our package, we have a complimentary speedboat transfer to/from Ibrahim Nasir International Airport. The speedboat transfer time is around close to 60 minutes. When we reached Meeru Island, we were invited to the lobby where we were served our welcome cocktail while the staff assisted us with the check-in. After so, we hopped on the buggy to our villa.
We wanted to get closer to the beach and marine life, therefore we booked a jacuzzi water villa. Though it was more expensive, we never regretted the decision – money was well-spent.
Jacuzzi Water Villas are located over-the-water in the lagoon.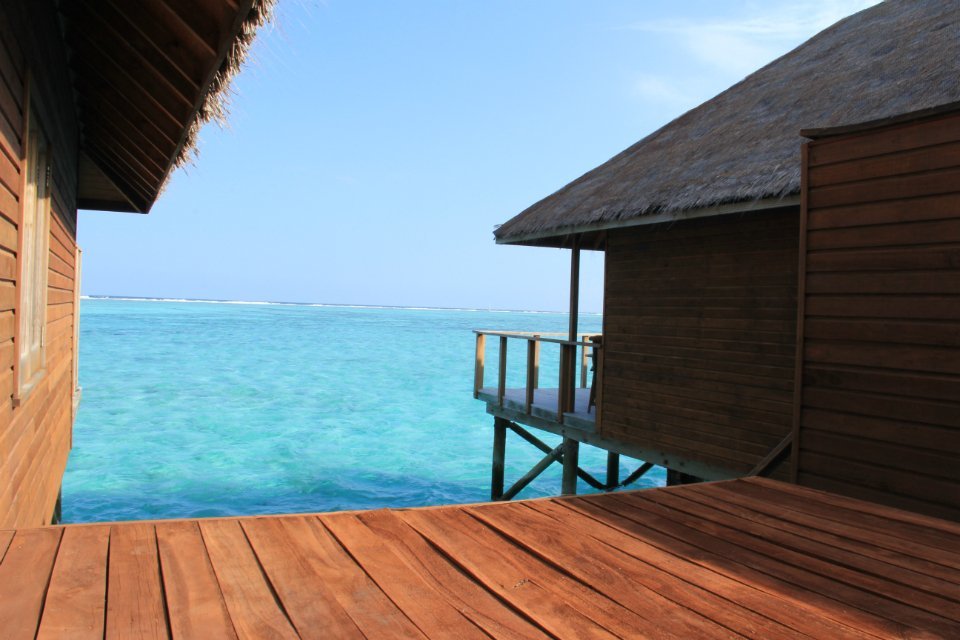 Exploring Meeru Island White Sand Beach
There is this beautiful patch of white sand beach is just directly outside our water villa. Look at how blue and clear the water is! You can also see fishes swimming around in the crystal clearwater.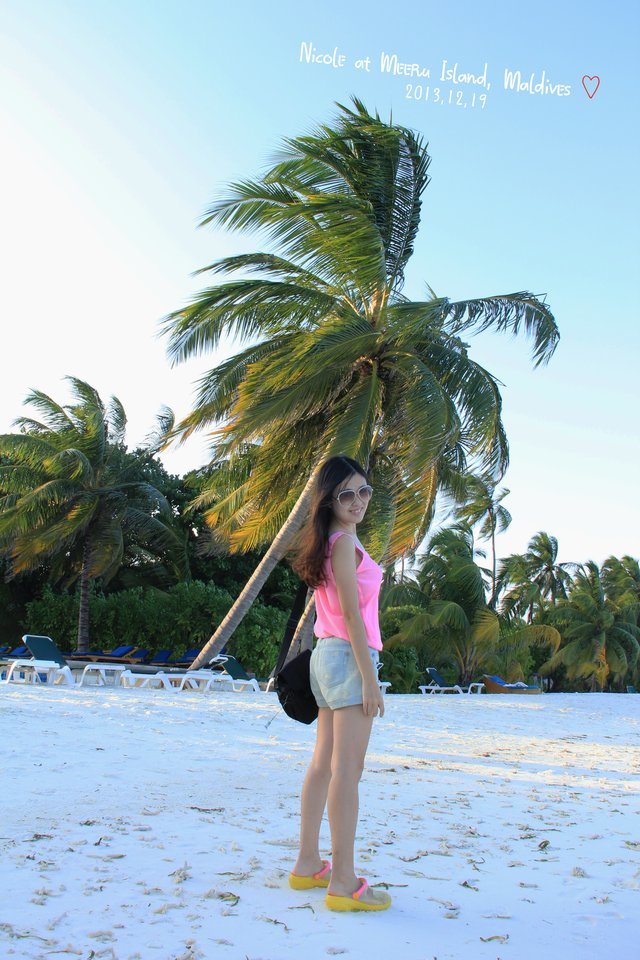 One great thing about being in Maldives is that you are super close to marine life. We discovered this small white shark near the shore. FYI, small sharks are perfectly safe – they don't bite. We found some crabs too.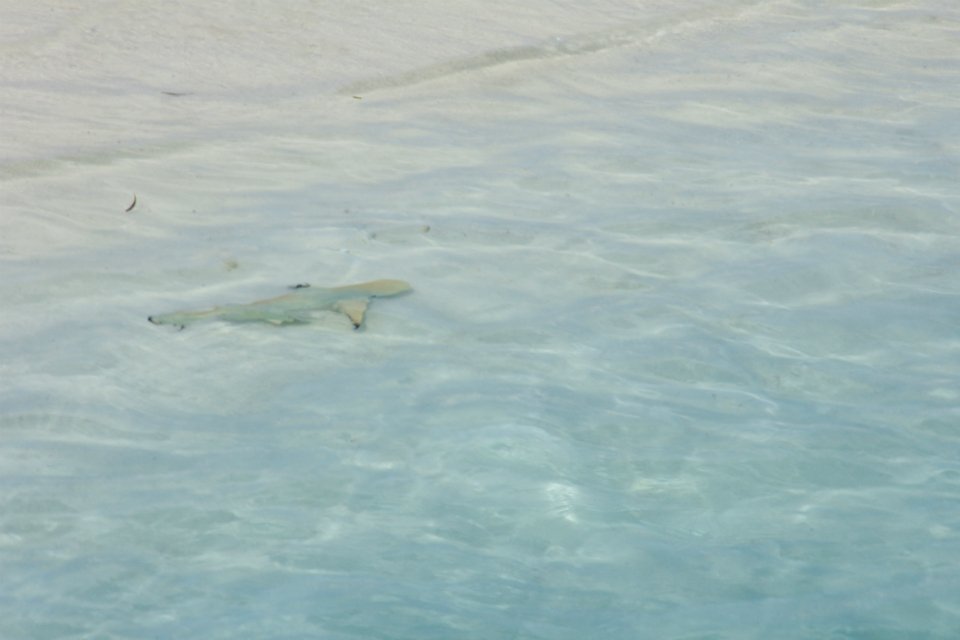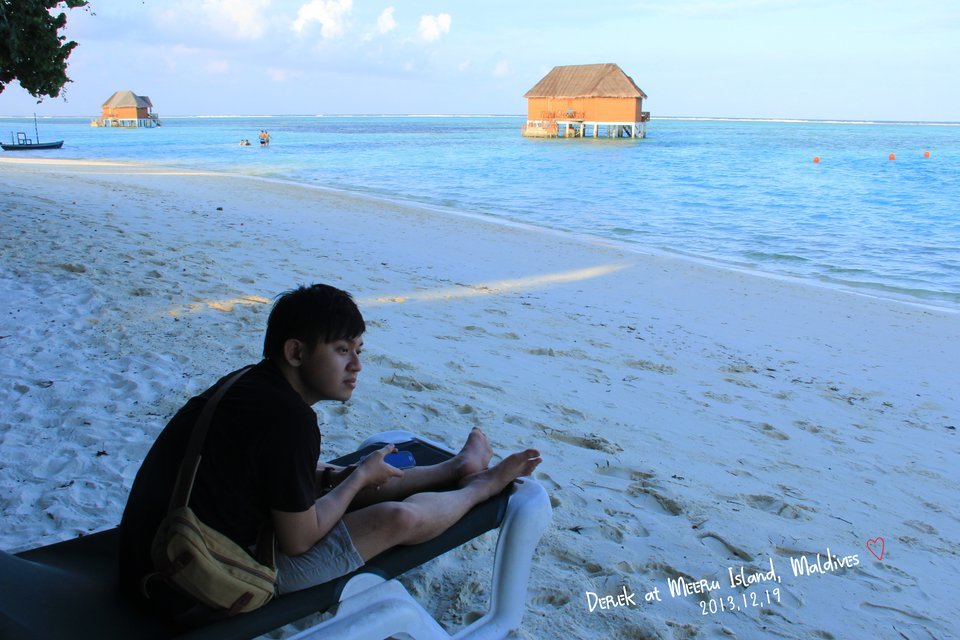 It seems that Meeru Island is also a popular place to get married. We found this simple wedding set up by the beach.
Sunset scenery is magnificent. Life in Meeru island is peaceful and slow-paced. How we wish we can just retire and stay here forever.
Meeru Island Sunset Cruise
It is also our first time going into the ocean for our sunset cruise. We were served a cocktail while enjoying the sunset. The waters here are dark blue and the waves are super strong. It's a bit scary for those who are not used to the ocean waves.
Below are so many other activities you can do in Meeru Island.
Snorkelling
Scuba Diving
Water Sports
Golf, Tennis, Badminton
Spa
Island hopping & other excursions
And more
---
Why we decided on all-inclusive package in Meeru Island?
Planning your dream vacation in the Maldives is all about immersing yourself in the beauty of the azure waters, powdery beaches, and luxurious resorts. But when it comes to making the most of your getaway, opting for an all-inclusive package can truly elevate your experience. Below are why we think going for Meeru Island all inclusive is a better option for us.
A Seamless Escape: The beauty of all-inclusive packages lies in their simplicity. Picture this: you arrive at your resort, and everything you need – from accommodation to dining and activities – is seamlessly taken care of. No need to worry about the nitty-gritty details; you're free to soak in the relaxation and excitement of your vacation.
Budget Bliss: We all know how quickly expenses can add up during a vacation. With an all-inclusive package, you can bid adieu to budget-related stress. Your costs are transparent from the get-go, allowing you to plan ahead and enjoy your time without constantly calculating expenses.
Food: Now, let's talk about food. Meeru Island offers a tantalizing blend of flavors, and with an all-inclusive package, you're in for a treat. From local delicacies to international cuisine, your taste buds will embark on a delightful journey. Pro tip: take advantage of special dining experiences or themed nights for an extra dose of culinary magic.
Free activities included: Whether you're a water sports enthusiast or a relaxation aficionado, all-inclusive packages have something for everyone. Snorkeling, kayaking, sunset cruises – you name it. You're free to embrace your adventurous side or simply lounge by the pool, all without worrying about additional costs.
---
FAQs on Meeru Island Resort & Spa
What is Meeru Island Spa & Resort, and where is it located?
Meeru Island Spa & Resort is located on Meerufenfushi Island, right in the North Malé Atoll – that's the stunning Indian Ocean getaway we've all dreamed about.
How do I get to Meeru Island Spa & Resort?
You can hop on a scenic speedboat or catch a ride on a seaplane from Velana International Airport in Malé. Talk about starting your vacation in style, with amazing views all around!
What types of accommodation does Meeru Island offer?
There are cozy beachfront villas and those amazing overwater bungalows you've seen in pictures. Imagine waking up to the sound of the ocean or having your own private deck to soak in those stunning views.
Are there dining options on the island?
You bet! Meeru Island has a bunch of cool dining spots. You can dive into international flavors, enjoy fresh seafood, or even have a romantic dinner under the stars. And guess what? The all-inclusive package covers meals at some of the top restaurants.
What recreational activities are available at Meeru Island?
Get ready for some serious fun! You can snorkel, dive, try out water sports, or even go on island-hopping adventures. Want to just chill? No problem. You can unwind by the pool or hit those beautiful beaches.
Tell me more about the spa facilities at Meeru Island.
The Duniye Spa at Meeru Island is your ticket to relaxation heaven. Think massages, facials, and wellness treatments that'll have you feeling like a million bucks. All in a totally peaceful and zen setting.
Is Meeru Island suitable for families?
Absolutely! Meeru Island loves families. There are cool spots for the kids, like a kids' club and playground. Plus, the calm waters make it perfect for family-friendly water activities.
Can I have a romantic getaway or a destination wedding at Meeru Island?
Meeru Island is straight out of a romance novel. It's perfect for couples looking for that dreamy getaway or even for tying the knot. Imagine saying "I do" with the most stunning backdrop ever!
What is the best time to visit Meeru Island Spa & Resort?
Well, from December to April, the weather's awesome – all sunny and perfect. But, if you're up for a bit of rain in exchange for great deals, the monsoon season from May to October might be your thing.
Is Wi-Fi available on Meeru island?
Yep, you won't feel cut off from the world. Meeru Island has Wi-Fi all over the place, so you can stay connected and share those envy-inducing vacation pics.
---
Conclusion
Leaving Meeru Island was bittersweet, to say the least. The memories created and the experiences lived will forever hold a special place in our heart. Meeru Island all-inclusive package isn't just about luxury and comfort; it's about embracing a world where worries melt away and you're free to soak in the beauty around you.
Overall, we enjoyed our 4 days 3 nights stay in Meeru Island Resort & Spa. If you are on a tight budget to visit Maldives, Meeru Island is definitely a good choice. Meeru island all inclusive plus package is very worth-it in our opinion.
Whether you're planning a romantic escape, a family adventure, or a solo soul-searching journey, Meeru Island's all-inclusive package is your ticket to a paradise that will rejuvenate your spirit and gift you moments you'll treasure for a lifetime. So, why wait? Let the adventure begin – Meeru Island is waiting to weave its magic on you!