Nan'ao Island is a must visit place for every tourist who visits Shantou. The island is located between coastlines of Taiwan, Fujian, and Guangdong. It comprises the main island alongside with 22 small surrounding islands. Nan Ao is also voted as the top #1 things to do in Shantou in Tripadvisor, therefore you must really include Nan Ao Island in your itinerary when you plan your Shantou trip. The best way to experience locally in Nan'ao island is no doubt to stay in a homestay. If you are not well versed in the Chinese language, finding a homestay accommodation could be challenging. This is because most China homestays are only listed in Chinese leading travel booking sites. It is almost impossible to find Chinese homestays in travel booking sites like Booking.com or Agoda.
I am super excited to share our first local homestay experience in Kome Island, Nan'ao Island. We found this Kome Island via Xiao Hong Shu (A Instagram & Pinterest equivalent social platform in China) and booked directly with the homestay via WeChat.
Getting to Kome Island in Nao'ao Island can be quite daunting, therefore we hired a private driver beforehand to ensure that the journey is stress-free. We reached the Kome Island just after a short 45 – 60 minutes car journey from Shantou Old Town. When we first reached the place, we are warmly welcomed by the hotel attendant whom politely helped us with our check-in process.
My first impression of Kome Island is that I am super impressed by the scenery and surroundings. The place is serene, quiet, and the breeze makes you feel really refreshing. Looking further ahead, you can have an unblocked view of the infinite sea.
Kome Island Room Tour
Our room is located at the first level of the complex, and each room looks like a small container glass container. See below for our room photos at a glance. In summary, I am quite pleased with the room. The room is well maintained, big and comes equipped with necessities like the toothbrushes, toothpaste, towels, television, air-con, teapot set etc. The most impressive thing that caught my attention will be its industrial interior designed toilet which is clean and spacious.
Looking outside of the room's window, you can have a view of the shores with traditional wooden boats. The shore on this side looks a little dirty and unpleasant though, but that's the local life.
Exploring Kome Island
Heading outside, the complex is very big and greenery. Most importantly, I think the homestay owner did a great job maintaining the cleanliness of the whole place. This is my sister who can't help enjoying a ride on the horse toy.
This is the mascot of the Kome Island called "Warmy Bear" or 暖暖熊. Definitely, this is the most photo-worthy shoot in the entire homestay.
Exploring around the place, you can find an observation deck at the second level. Here, there are a few tables, chairs, and benches where you can chill out and have an unblocked view of the big blue sea.
Kome Island At Night
When the night falls, Kome Island instantly transformed into a beautiful luminous glowing place. Neon lights lighted up the whole complex, making the entire place romantic and cozy.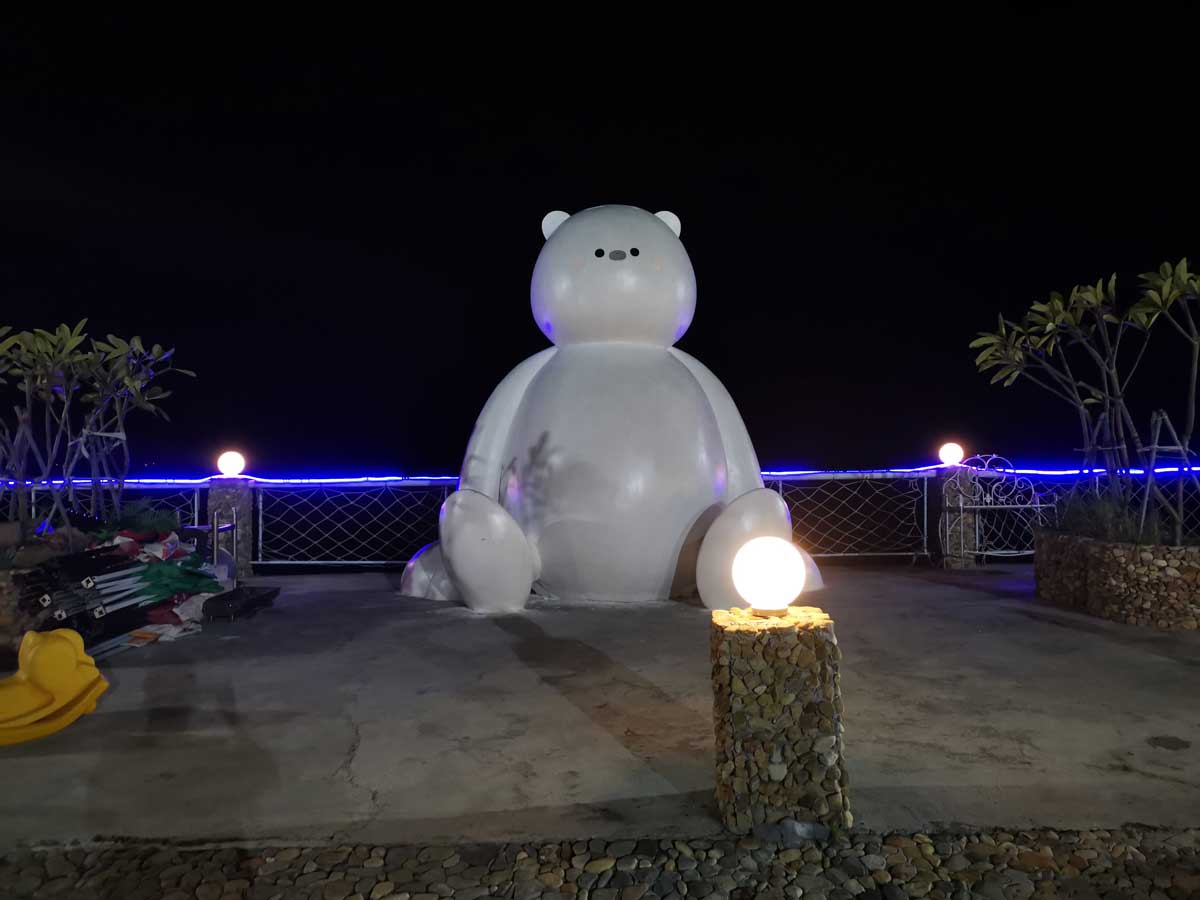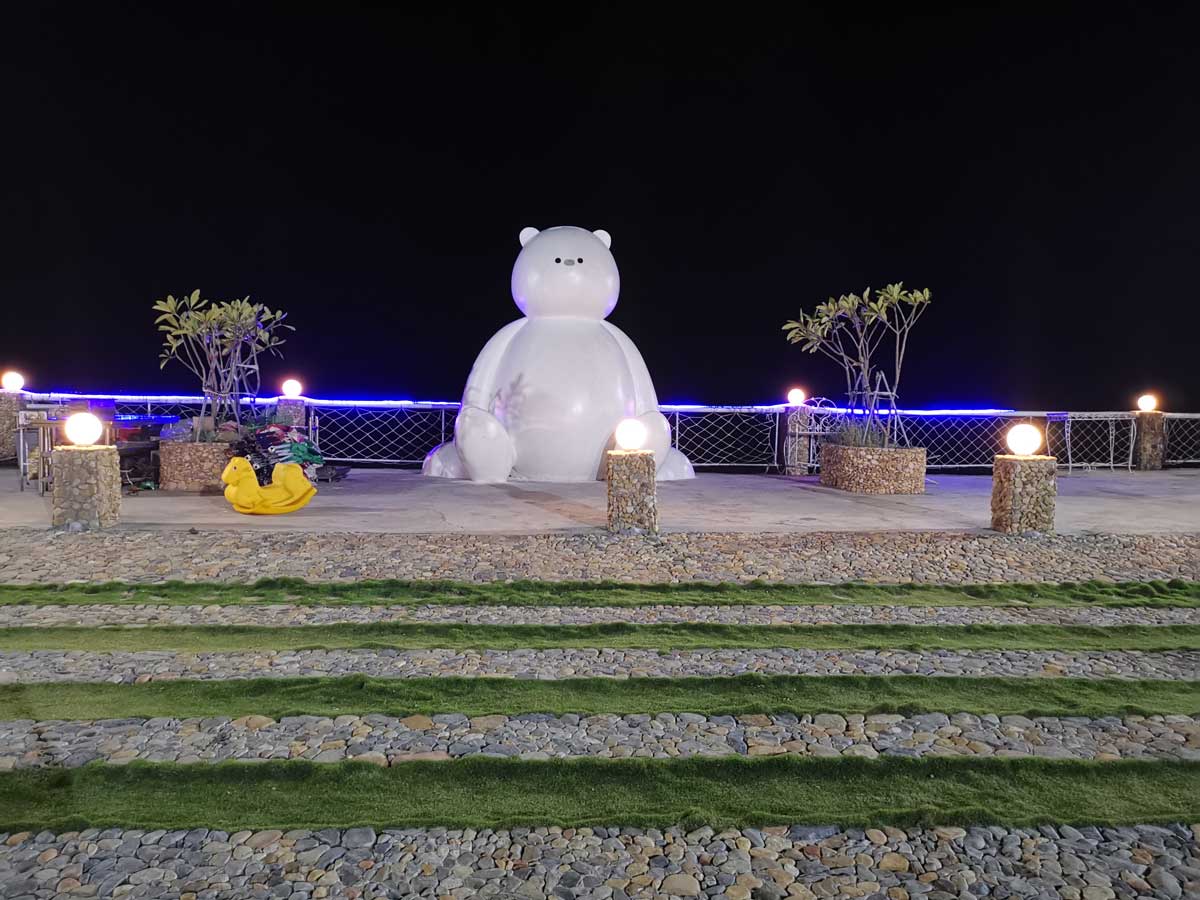 Breakfast in Kome Island
Our room comes with a homemade local breakfast as well. A simple, yet delicious Shantou breakfast was served to us in the small restaurant. The breakfast includes sweet potato porridge, fresh eggs from live chickens, Zha cha (pressed vegetables), and peanuts.
Local Homestay In Kome Island
Booking a homestay in Kome Island can be hard if you do not know Chinese or use WeChat. Nevertheless, if you are keen to experience Kome Island, do feel free to reach out to me via the comments below. I will be super glad to help to connect you with Kome Island, with appropriate biasing. Our homestay per room in Kome Island cost approximately 400RMB.
The story of Kome Island
This is the introduction of Kome Island, from the boss in her own words.
I am a Chaoshan girl. I love to travel and have explored many places. In the end, I returned to my hometown and built a place called Kome Island. We like to live on the island of Kome, enjoy barbecue sessions, display fireworks, and forget every troubles.

I want to build a house, facing the sea, with spring blossoms, from tomorrow, to be a happy person, do not care about human beings, only care about vegetables and food. I am doing to realize this little dream.

On the sea promenade on Komi Island, I boldly cast a giant sculpture called warm bear, which is born for love. When the sun sets, it and the goddess of the sunset are really beautiful. I am at #南澳岛, there is a B&B called Kome Island, waiting for you.
There is even a short film made to promote Kome Island – Kudos to the team.
Cleanliness -

7.5/10

Location -

7/10

Facilities -

7/10

Room comfort and quality -

7.5/10

Value for money -

7/10

Breakfast -

6/10

Service -

8/10
Summary
We definitely enjoyed our first homestay experience on Kome Island. In a nutshell, the place is wonderful and the rooms are well maintained, clean and reasonably priced. The service is up-par and the whole place is simply just very photo-worthy.
If you are visiting Nan'ao Island, I will recommend you to book a homestay in Nan'ao Island. Feel free to connect if you have booking inquiries.