In our recent Chaoshan (Shantou – Chaozhou) family trip in December, we booked Happy Hotel Shantou as our first accommodation stop. Nicole & I typically stay in Airbnb style homes when we travel as we wanted to get as "local" as possible. But as this time around is more of a trip together with my parents and aunt, we opted for a hotel stay as services will be more comprehensive for them.
We decided on Happy Hotel Shantou after comparing several hotels reviews in Agoda and Mafengwo. We had a night flight, and therefore we reached the hotel relatively late at around 7 PM. I think Happy Hotel Shantou is quite a popular hotel for Singaporeans (like us), there were this auntie and her family sitting beside me in the plane and to my amaze, we actually did stay in the same hotel and they were checking in just before us. What a small world!
We stayed on level 11. Okay, when we went into the lift, there wasn't any indicator to level 11, therefore we thought that it may be a mistake or if there is another lift that will bring guests to level 11. Checking with the reception, we then know that to get to level 11, you will have to take the lift up to floor level 10, and then walk up a flight of stairs on a left. So, if you have heavy luggage, maybe it is a good idea to request for different levels.
The room is quite spacious and we were surprised that our room comes with an additional bed. The room, however, looks a little old at first glance and it is reasonable. Also, the interior design of the room is more of a "European" style, which is good in my opinion.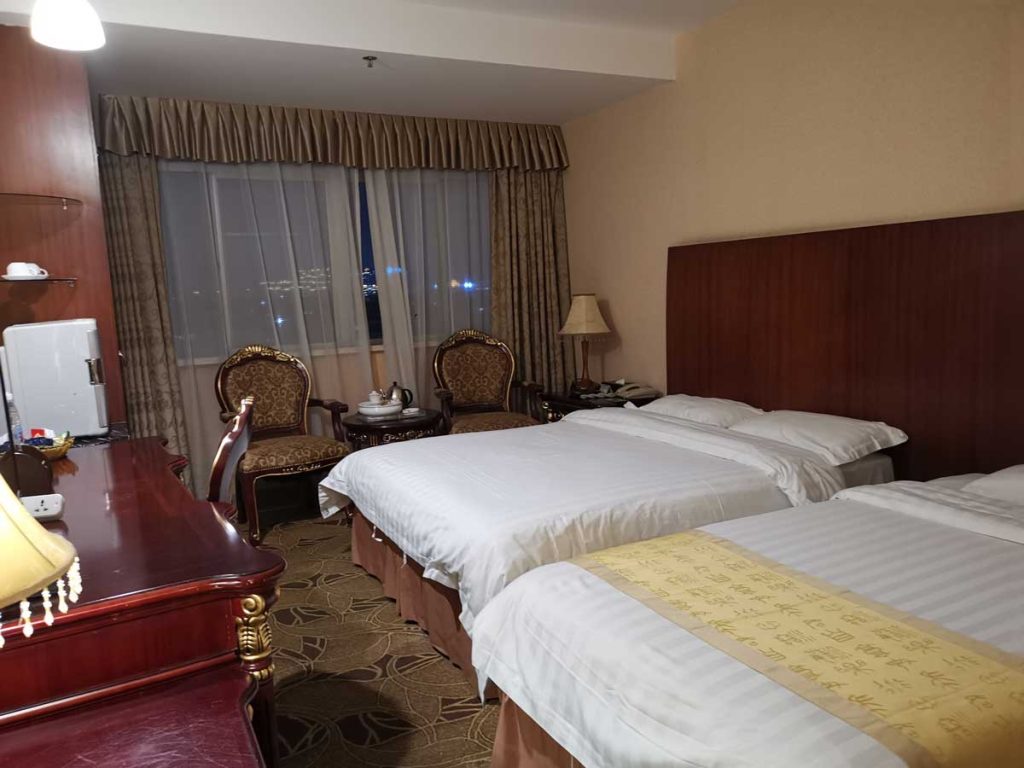 Chaoshan is well known for its local culture of Gongfu tea ceremony, therefore it isn't uncommon to see that hotel rooms come equipped with a teapot, tea table, and necessities.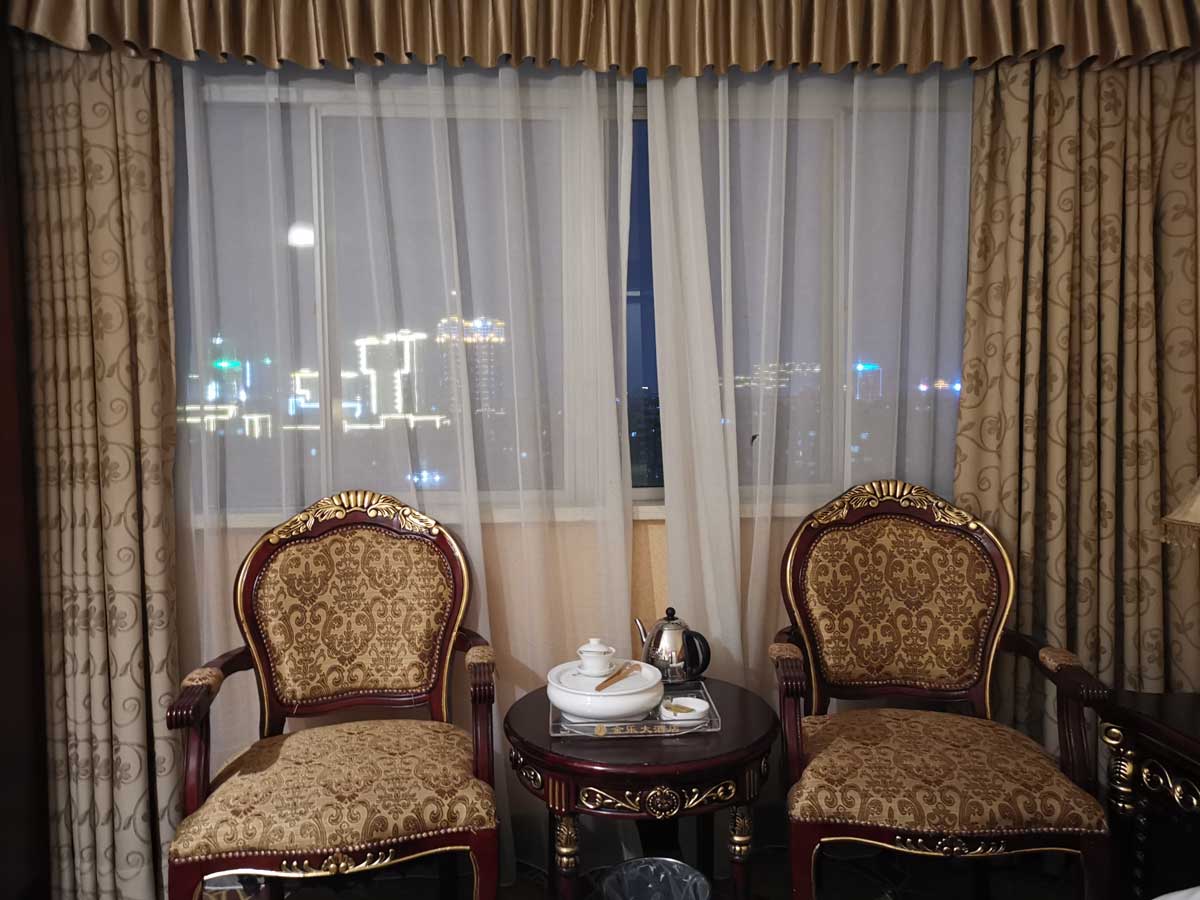 The toilet comes fully furnished with bathing towels, face towels, toothbrushes etc. It's clean and I like the fact that there is a partition between the toilet bowl and the showering room.
Dinner in Cheng Hai Ba Tou Seafood Restaurant (澄海坝头海鲜馆)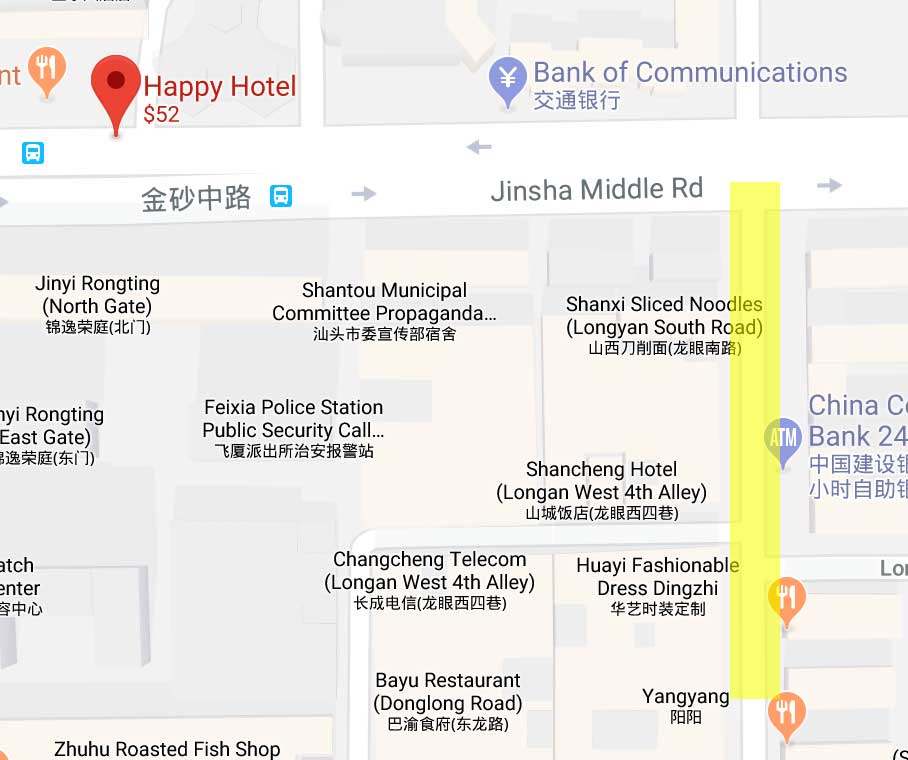 The first thing we did after we finished checking our rooms is to find dinner quickly! From our private driver, he was recommending that we can walk across to the street (Longyan S Road) just nearby Happy Hotel restaurant to find our dinner options. The street is quite easy to locate when you are out of Happy Hotel main entrance, walk left all the way, and shortly after you will be able to see a big overhead bridge. Cross the bridge, and then turn right at the front junction, you will see a long street with restaurants on both side. Most of the better or well-reviewed restaurants and shops are located along this street as well. E.g. Xiao Wu Chang Fen.
We found this shophouse restaurant called "Cheng Hai Ba Tou" Seafood restaurant (澄海坝头海鲜馆) as our parents, aunt, and uncle wanted to go for seafood. We couldn't find any good reviews on this restaurant in our Gao De map app but as the night is getting late and that the shop looks quite good, we decided to give it a try. Who knows we might discover a hidden gem, right?
After much negotiation between the boss, we went upstairs. The food was served quite speedy and it was quite a decent dinner. My favorite dish will be their stir-fried crabs and steamed fish. The total bill comes at 500RMB for 6 persons.
Address: 龙眼园北园9幢106旁
Breakfast In Happy Venice Restaurant
Happy Venice Restaurant is where you will have your meal if your room comes together with breakfast. To be true, I don't quite like the breakfast over here, but this could be just my personal opinion. The food comes a little too simple and bland for me. Food options include porridge, hard-boiled eggs, bread, Chaoshan dim sum, fried youtiao, noodles, rice and more. But, considering the price we are paying, I think this is reasonable and value for money. If you are like me who expect a little more, it could be a good decision to walk out to the streets nearby to get breakfast too.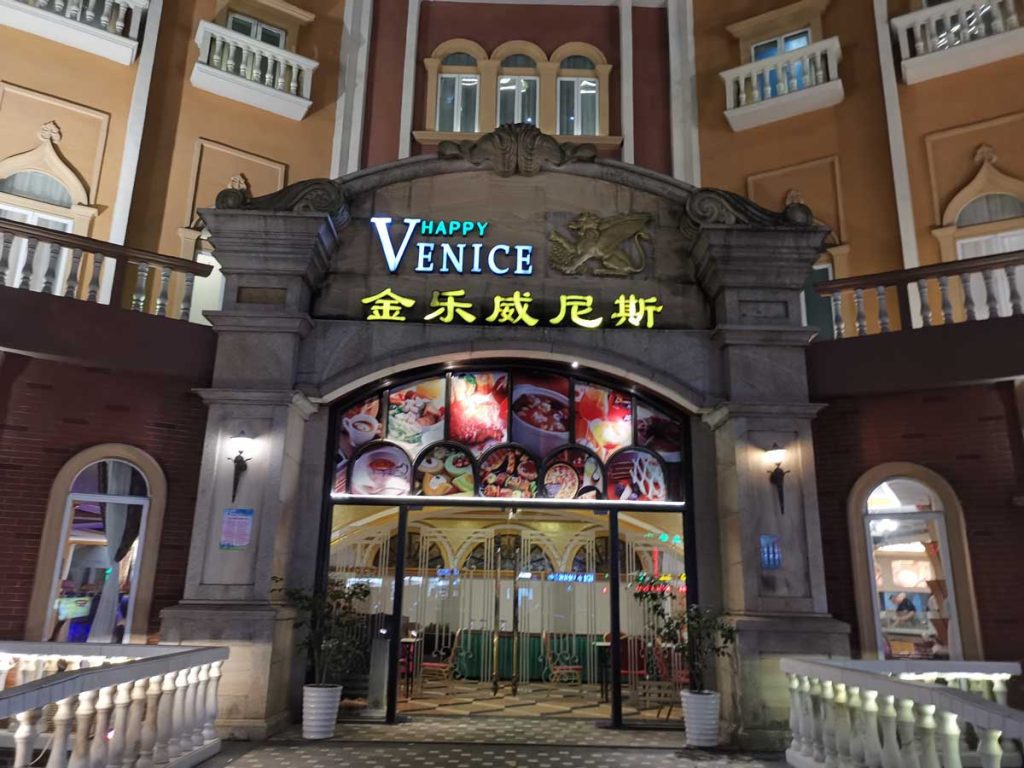 Getting to Happy Hotel Shantou
Address: 81 Jinsha Middle Rd, Jinping Qu, Shantou Shi, Guangdong Sheng, China, 515041
Cleanliness -

7/10

Location -

7/10

Facilities -

6/10

Room comfort and quality -

7/10

Value for money -

8/10

Breakfast -

5.5/10

Service -

7/10
Summary
Overall, I am quite satisfied with our 1-night stay in Happy Hotel Shantou. It is a pleasant stay. I think this hotel is a great option for families and it is also very budget friendly. Subjected to personal preferences, you may find the breakfast okay as well. This is a safe choice if you are looking for a decent stay. Well, there is a reason why Happy Hotel is a popular choice among tourists.