Mont Mirage (山鬼) is a boutique homestay, restaurant, and cafe which is popular among millennials in Chongqing. It is among the top "internet popular" homestays in Chongqing in 2019, and you can expect the place to be really crowded during weekends.
The place is located in the back mountain of Nanshan, Chongqing which makes the view from Mont Mirage simply magnificent – You can view the Yangtze River & opposite mountains. Built on the edge of the cliff on the mountain, almost all of its window glass is transparent. This is so in order to maximize natural lighting. There are a total of five floors, the basement floor is the restaurant, the first floor is the lobby, the second and third floors are rooms, and the top floor has a small garden. The seats at the window are hot spots for taking Instagram worthy photos! Moreover, its interior design and the scenery outside the window constitute a good painting like scenery.
Restaurant (Basement Level)
A good time to visit Mont Mirage will be near noon so you can have your lunch in their restaurant. They serve a fusion of western and Chongqing Sichuan local cuisine like grilled steak, spicy bullfrog, and more. Price wise, it's not considered locally cheap, but well, the experience matters more. Be sure to ask for a window table, so that you can enjoy the beautiful greenery while eating.
We bought these cherries along the roadside in Nanshan and the restaurant even kindly help us wash it up and serve it up with some lemon ice water.
Exploring Mont Mirage Homestay
After filling up our stomach, it's time to explore the Mont Mirage homestay for some beautiful photos. Along the staircase, they also installed big transparent windows where guest can enjoy the mountainous scenery. Take a look at the shots below.
I love how they make use of the interior space by installing concrete walls that partition different section. Great for photo taking.
Cafe (Rooftop Garden)
If you feel like it, you can also order some cakes & coffee from the cafe and enjoy it at their rooftop garden. The experience is relaxing and #lifeisgood. You will have to place your view via their Wechat Account. It is quite a norm now that people make their order via the mini-programs in Wechat. Don't worry as the staff will deliver your order to your table.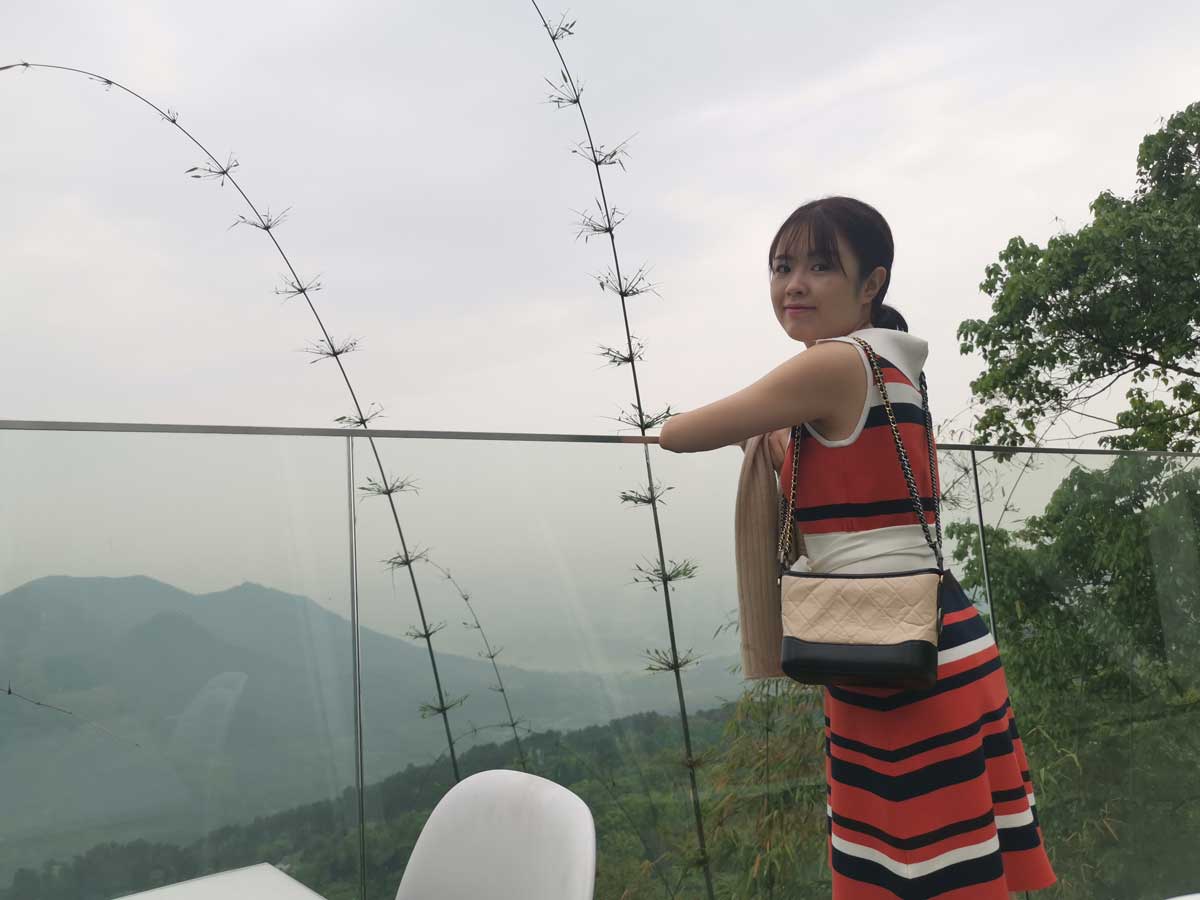 If you are looking to visit Mont Mirage, go early on the weekend. It will be quite crowded and you may have to wait for a while to get the "best" table/seat for photos.
Getting to Mont Mirage (山鬼)
Address: 重庆市南山公园北路24号
The most convenient way is to take a DiDi ride.