There is a mysterious place depicted in an essay of Tao Yuanming, a poet of the East Jin Dynasty (317 – 420) called Taohuayuan which literally means a garden of peach blossom. The garden is hidden from the outside world. Inside it, peach trees grow with fresh and sweet grass petals falling in riotous profusion on hundreds-of-feet-wide land. People live here without even knowing what dynasty it is. All they do every day is plowing, sowing or weeding back and forth.
This is a prototype of how a paradise isolated from the hustle and bustle of the outside will be like. Nobody knows if there is really a place like this exists or not until recently a wonderland also called Taohuayuan in Chongqing comes to the public's sight.
How to get there
Address: Shizhuxi Rd, Youyang Tujiazumiaozuzizhixian, Chongqing Shi, China
Wherever you start with, you need to get to the Youyang County in Chongqing, which is the county where the attraction is in. Once you are in the county, it's only 10-min taxi time to the entrance. There is a direct bus from Chongqing Sigongli Transfer Hub to Youyang which takes about 5 hours. However, for convenience, we recommend you to take a local tour in Chongqing to Youyang Taohuayuang which is not only cheap but also arrange all transportation and accommodation for you.
About Taohuayuan Scenic Area
Located in the north of Youyang County, Taohuayuan Scenic Area is an amazing destination spanning an area of 12,000 acres (about 50 square kilometers). It was rated as one of the four 5-A attractions in Chongqing (which is the highest rating of tourist attractions in China) and got reopened after a renovation in March. The entrance fee is 128 RMB valid for two days. There are mainly two parts in the attraction. One is the Taigu cave which is essentially a karst cave and the Taohuayuan which is the real presentation of the paradise depicted in Taoyuanming's essay.
What to see
After buying the entrance ticket, you have to climb a little bit further through the Youzhou old town to the bus station where a free shuttle bus will lead you to the Taigu cave. On the way to the bus station, there are plenty of Youyang style old architectures on the sides.
Here you will be amazed by how buildings are constructed by the mountain like below.
The Taigu Cave is a 2462.5 meter long karst cave. Coloful lights light up the cave like a beautiful night sky. The stalactite forms in different interesting shapes, looking mysterious and amazing.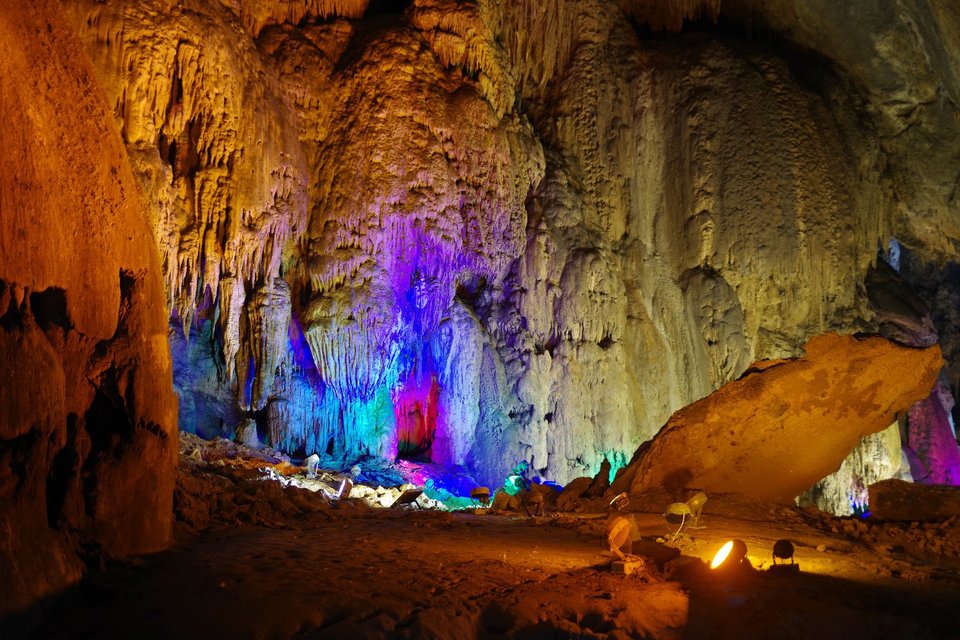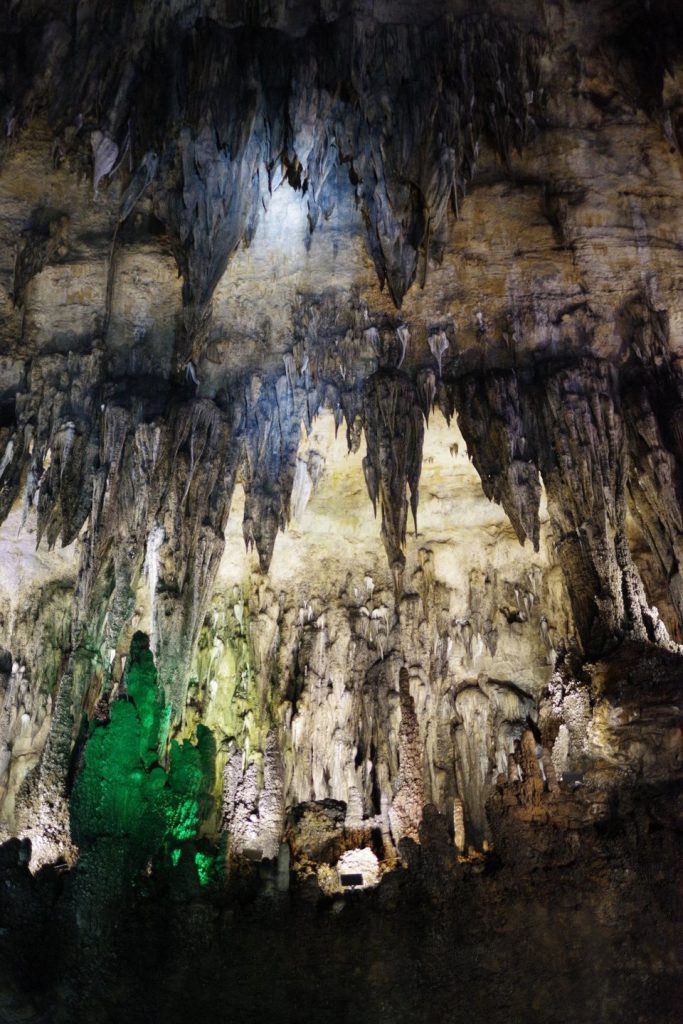 Immediately after you come out from the cave, a new world will come into your eyes. Yes, that is the legendary Taohuayuan!
Taohuayuan is surrounded by mountains on four sides. In springtime, there will be luxuriant peach trees outside the cave. Surprisingly, everything depicted in the essay of Taoyuanming is nicely presented before us. Staff dressed in ancient clothes, doing sewing, weaving, forge ironing, sowing, farming and wine brewing …
Inside the pond, there are ducks and cattle.
Fishes playing inside the pond which lead all the way to a cave where people hide their books high up in the ceiling. This is because at that time the government tried to prosecute scholars who read certain books.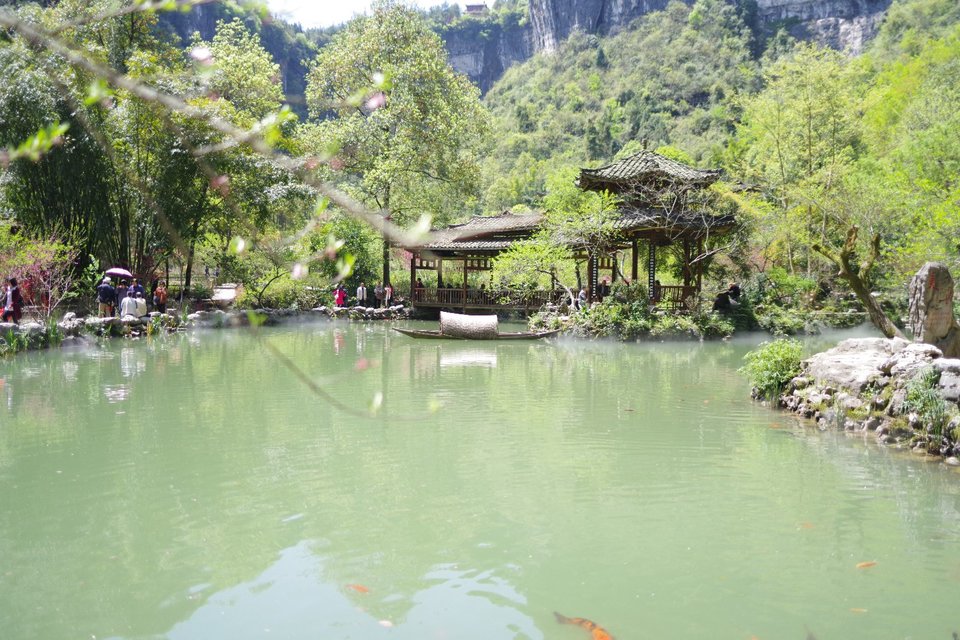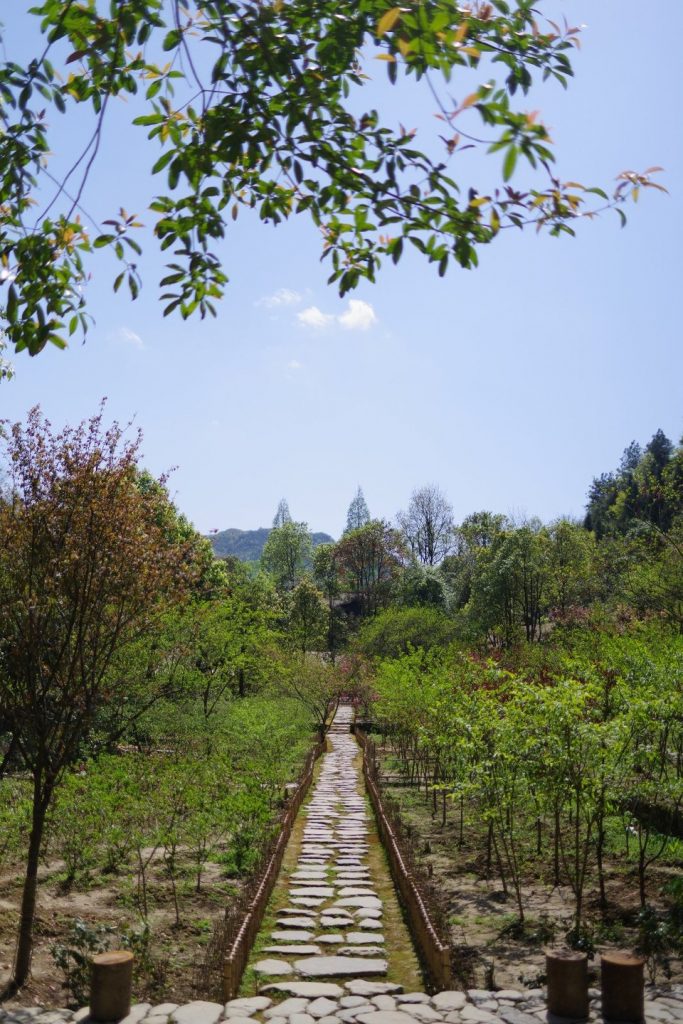 Other tips
From Youyang Taohuayuang, you can also easily go to Gongtan old town, another beautiful attraction in Youyang you should not miss.
Accommodations can be easily found in Youyang County with price as cheap as 100 RMB.
The recommended visit time is 3-4 hours.