Welcome to Georgetown, Penang, a charming city that comes alive at night! As the sun sets and the streetlights flicker to life, the vibrant energy of this UNESCO World Heritage Site comes alive with a plethora of night attractions that are guaranteed to captivate your senses. Whether you're a food lover, history enthusiast, or simply seeking some after-dark excitement, Georgetown has something for everyone.
In this post, let me take you on a journey through the top 10 must-visit night attractions in Georgetown, Penang. From bustling night markets to beautifully illuminated landmarks, we'll guide you to the very best experiences that this enchanting city has to offer after the sun goes down. So grab your camera, put on your walking shoes, and get ready to explore the captivating nighttime beauty of Georgetown with us.
Best Things to Do in Penang at Night
Batu Ferringhi Night Market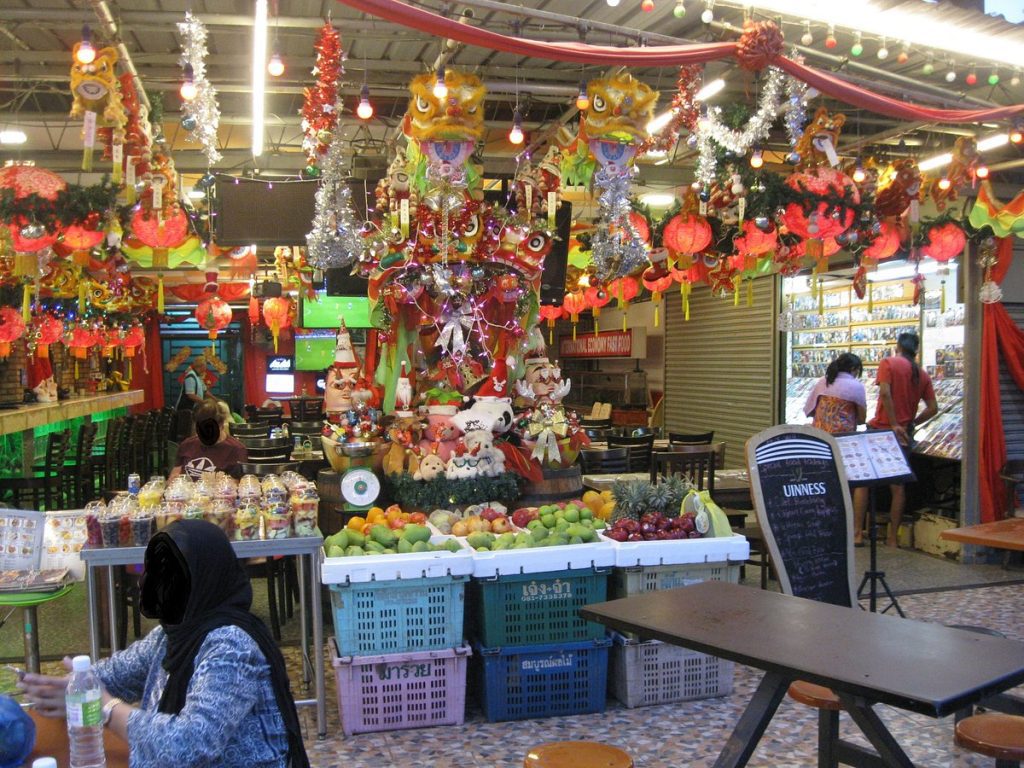 Start your night adventure at the world-renowned Batu Ferringhi Night Market. This bustling market comes alive after dusk, offering a sensory overload of sights, sounds, and smells. Stroll along the vibrant stalls selling everything from local handicrafts and souvenirs to delicious street food. Indulge in delectable treats such as grilled satay, fresh seafood, and mouthwatering desserts. Don't forget to bargain with the friendly vendors for the best deals!
---
Street Art at Armenian Street
Georgetown is famous for its street art, and Armenian Street is the epicenter of this artistic extravaganza. As the night falls, the beautifully illuminated murals and installations bring a new dimension to the city's vibrant art scene. Take a leisurely stroll along Armenian Street and discover the captivating street art that adorns almost every nook and cranny. You'll be amazed by the intricate details and thought-provoking messages behind each piece. Don't forget to snap some Instagram-worthy photos at the iconic "Children on a Bicycle" or "Little Children on a Bicycle" murals.
---
Clan Jetties at Chew Jetty
Step back in time and immerse yourself in the rich heritage of Georgetown at the Clan Jetties. These unique waterfront villages were built by Chinese immigrants and are still inhabited by their descendants today. As darkness descends, the wooden houses on stilts light up, creating a magical ambiance. Take a stroll along the jetties, explore the narrow alleys and interact with the local residents to learn about their traditions and way of life. Don't miss the opportunity to savor freshly caught seafood at the vibrant hawker centers along the jetties.
---
Gurney Drive Hawker Centre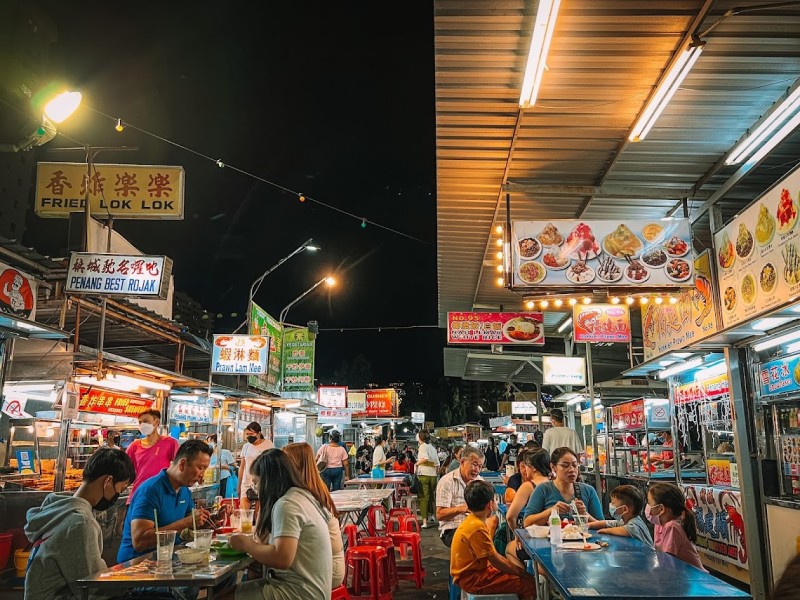 No visit to Penang is complete without indulging in its world-famous street food, and the Gurney Drive Hawker Centre is the ultimate paradise for food lovers. As the sun sets, this open-air food haven comes alive with a plethora of food stalls offering a wide range of local delicacies. From char kway teow and hokkien mee to oyster omelets and satay, you'll be spoilt for choice. Grab a table, order a plate of your favorite dish, and savor the explosive flavors that Penang is known for.
---
Penang Night Street Food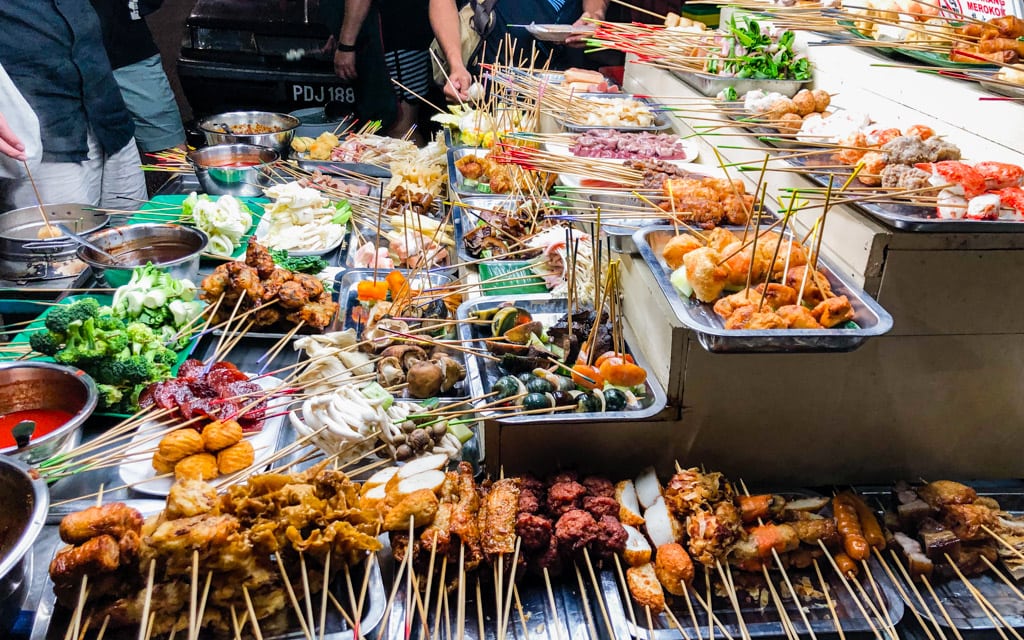 One of the highlights of visiting Georgetown at night is indulging in its diverse street food scene. The city is renowned for its delicious and affordable street food, offering a mouth-watering array of local and international flavors. Whether you're a foodie or simply looking for a satisfying midnight snack, Georgetown's street food delights are sure to leave you craving for more.
Gurney Drive Hawker Centre
Located along Gurney Drive, this hawker centre is a haven for food enthusiasts. Here, you can find a wide range of local specialties such as char koay teow (stir-fried flat rice noodles), asam laksa (spicy and tangy fish noodle soup), and satay (grilled skewered meat). The energetic atmosphere and vibrant food choices make it a must-visit spot for anyone looking to enjoy Penang's culinary delights.
Chulia Street Night Hawker Stalls
Stroll down Chulia Street, and you'll be greeted by a bustling street filled with tempting aromas and sizzling delights. This vibrant stretch is lined with hawker stalls offering an extensive range of mouth-watering dishes. From roti canai (Indian crispy flatbread) to mee goreng (fried noodles) and apom balik (traditional pancake filled with sweet or savory fillings), you're sure to find something to satisfy your cravings.
New Lane Hawker Centre
Nestled in the heart of Georgetown, New Lane Hawker Centre entices locals and tourists alike with its delicious offerings. The open-air food court features a variety of stalls serving delectable treats. Don't miss out on the famous Penang-style oyster omelette, chee cheong fun (rice noodle rolls), and char kway teow (stir-fried flat rice noodles). Grab a seat, savor the flavors, and soak up the lively atmosphere.
Lorong Baru Hawker Centre
Located along Jalan Tendai, Lorong Baru Hawker Centre is a hidden gem favored by locals. This humble establishment offers an authentic dining experience, with stalls serving up traditional dishes passed down through generations. Don't forget to try the mouth-watering Hokkien mee (prawn noodles) and Penang-style rojak (mixed fruit and vegetable salad with shrimp paste dressing) for a true taste of Penang.
Presgrave Street Hawker Stalls
As the sun sets, Presgrave Street comes alive with an irresistible aroma wafting from its hawker stalls. This vibrant street offers an array of tempting options, including Penang's famous char koay kak (stir-fried rice cake) and char hor fun (stir-fried flat rice noodles with egg gravy). Grab a seat at one of the tables, sample the food delights, and watch the lively scene unfold.
Georgetown's street food delights are not to be missed. From flavorful local dishes to international delights, there is something for everyone's taste buds. The bustling atmosphere, tantalizing aromas, and affordable prices make it an unforgettable culinary experience. So, grab your friends and embark on a gastronomic adventure through the vibrant streets of Georgetown at night.
---
Penang Historic Landmarks at Night
Fort Cornwallis
Located at the northeastern coast of Georgetown, Fort Cornwallis is one of the largest and oldest standing fortresses in Malaysia. Built by the British East India Company in the late 18th century, it was initially a defensive structure against pirates and the Kedah Sultanate. Today, it serves as a historical site and houses a museum showcasing artifacts from the colonial era.
Cheong Fatt Tze Mansion
Known as the Blue Mansion, this iconic indigo-colored building is a magnificent example of Chinese architecture. Built in the late 19th century by a prominent Chinese merchant, Cheong Fatt Tze, it is adorned with intricate carvings, stained glass windows, and internal courtyards. Now a boutique hotel and museum, it offers guided tours to visitors interested in its rich history.
Khoo Kongsi
The Khoo Kongsi is a clanhouse that symbolizes the influence and prosperity of the Chinese community in Penang. Established in the 19th century by the Khoo clan, this temple-like complex showcases exquisite Chinese architecture, elaborate carvings, and woodwork. It also houses a museum exhibiting artifacts and photographs depicting the clan's history.
Penang State Museum and Art Gallery
Located within the heritage zone of Georgetown, this museum and art gallery is housed in a heritage building known as the Dewan Sri Pinang. It hosts a vast collection of artifacts, historical documents, and artwork that showcases the cultural heritage and history of Penang.
Pinang Peranakan Mansion
Step into the world of the Peranakans, also known as Straits Chinese, by visiting this beautifully restored mansion. It offers a glimpse into the unique lifestyle and customs of this community through its opulent interiors, antique furniture, and traditional costumes. Visitors can also learn about the Peranakan culture through the guided tours provided.
St. George's Church
As the oldest Anglican church in Southeast Asia, St. George's Church holds a significant place in Penang's history. Built in 1818, the church showcases Georgian architecture with its elegant white facade and steeple. Inside, visitors can admire the beautiful stained glass windows and historical plaques that commemorate notable figures buried in its grounds.
Kuan Yin Teng
Also known as the Goddess of Mercy Temple, Kuan Yin Teng is one of the oldest and most important Taoist temples in Penang. Originally built by early Chinese settlers, it is dedicated to the goddess Kuan Yin, who is believed to bring compassion and mercy to the faithful. Adorned with intricate carvings and colorful motifs, the temple offers a serene atmosphere for visitors to explore.
Penang High Court
Situated along Light Street, the Penang High Court is housed in a grand colonial building that dates back to the late 19th century. The architecture of this heritage building showcases a blend of British, Indian, and Islamic influences. Visitors can marvel at its impressive facade or attend court proceedings to experience the historical significance of this institution.
Penang Islamic Museum
Immerse yourself in the rich Islamic heritage of Penang at the Penang Islamic Museum. Housed in a well-preserved British colonial mansion, this museum showcases the history, culture, and traditions of the Islamic community in Penang. Exhibits include Islamic art, calligraphy, and artifacts that highlight the contributions of Muslims to the state.
Sri Mariamman Temple
Step into the vibrant world of Hinduism by visiting the Sri Mariamman Temple, the oldest Hindu temple in Penang. This colorful temple, adorned with intricate sculptures and vibrant paintings, is dedicated to the goddess Mariamman. Visitors can witness traditional Hindu ceremonies, soak in the spiritual atmosphere, and learn about the rituals and beliefs of the Hindu community in Penang.
Exploring these historic landmarks in Georgetown allows visitors to delve into the rich and diverse cultural heritage of Penang. Each of these sites offers a unique glimpse into the past, showcasing different architectural styles, religious practices, and historical events that have shaped the history of the city. Whether you are a history enthusiast, architecture lover, or culture seeker, these landmarks offer a captivating journey into the roots of Penang's identity. Don't miss the opportunity to experience the vibrant history and heritage of Georgetown through these must-visit night attractions.
---
Art and Culture
Georgetown, Penang, is not only known for its delicious food and beautiful scenery but also for its vibrant arts and culture scene. Here are our top picks for must-visit night attractions in Georgetown that showcase the rich artistic and cultural heritage of the city.
Street Art
Georgetown is famous for its street art, and taking a stroll through its streets is like walking into an outdoor art gallery. The colorful murals and interactive installations by renowned artists like Ernest Zacharevic and Louis Gan add a unique charm to the city. Don't forget to snap some pictures with the iconic "Children on Bicycle" or "Jetty Boy" murals.
Penang Peranakan Mansion
Immerse yourself in the rich Peranakan culture at the Penang Peranakan Mansion. The beautifully restored mansion showcases the opulent lifestyle of the Straits Chinese community with its intricate furniture, porcelain, and collections of artifacts. Take a guided tour to learn more about their customs and traditions.
Cheong Fatt Tze Mansion (The Blue Mansion)
Step into the world of a 19th-century tycoon at the Cheong Fatt Tze Mansion. This indigo-blue heritage building is a UNESCO World Heritage Site and is known for its distinctive architectural design. Marvel at the intricate woodwork, colorful tiles, and elaborate decorations while learning about the fascinating history of the mansion.
Little India
As the sun sets, Little India comes alive in a riot of colors, sounds, and smells. Roam through the bustling streets filled with shops selling traditional Indian garments, spices, and handicrafts. Indulge in authentic Indian cuisine and immerse yourself in the vibrant culture and traditions of the Indian community.
Kwang Siang Tong Temple
Explore the mystical atmosphere of the Kwang Siang Tong Temple, also known as the Kuan Yin Temple. This Taoist temple is adorned with intricate carvings, colorful paintings, and statues of various deities. Witness the locals offering prayers and incense, or simply take a moment to appreciate the serene ambiance.
P Ramlee House
Pay homage to one of Malaysia's most beloved entertainers, P Ramlee, at the P Ramlee House. This museum showcases the life and works of the legendary actor, filmmaker, and musician. Explore the exhibits displaying his personal belongings, film memorabilia, and music recordings that commemorate his contributions to the Malaysian entertainment industry.
Clan Jetties
Take a walk along the Clan Jetties, a series of wooden waterfront villages built by Chinese clans. Experience the unique living heritage of the Chinese communities that settled here centuries ago. Marvel at the traditional stilt houses, bustling activity, and the picturesque views of the waterfront.
Penang State Museum and Art Gallery
Delve into Penang's rich history and art scene at the Penang State Museum and Art Gallery. This colonial-era building showcases a wide range of artifacts, historical documents, and artwork that depict the diverse cultural heritage of the state. Don't miss the special exhibitions highlighting the contemporary art scene in Penang.
The Blue Mansion Theatre
Immerse yourself in the arts at The Blue Mansion Theatre. This intimate venue hosts various performances ranging from traditional music and dance to contemporary theater and storytelling. Catch a live performance and experience the cultural diversity and creativity of Penang's performing arts scene.
Gurney Drive Hawker Center
Indulge in Penang's famous street food at the Gurney Drive Hawker Center. From char kway teow (stir-fried noodles) to assam laksa (spicy noodle soup), this bustling food court offers a wide variety of local delicacies. Grab a table, savor the flavors, and soak in the lively atmosphere of this popular food haven.
In conclusion, Georgetown, Penang, offers a plethora of night attractions that showcase its vibrant arts and culture scene. From the mesmerizing street art to the rich Peranakan heritage, each attraction unveils a different aspect of the city's cultural tapestry. Exploring these must-visit attractions will not only broaden your cultural horizons but also leave you with lasting memories of Georgetown's artistic beauty.
---
Rooftop Bars and Restaurants
Georgetown, Penang offers an array of rooftop bars and restaurants that provide a unique and breathtaking experience. Here, we have curated a list of the top 5 must-visit rooftop destinations in Georgetown:
Three Sixty Revolving Restaurant & Rooftop Bar
Located on the 16th floor of the Bayview Hotel Georgetown, this rooftop bar offers panoramic views of the cityscape. As the name suggests, the restaurant revolves 360 degrees, giving you a different perspective of the city while enjoying your meal or drink. Indulge in delicious international cuisine and unwind with a refreshing cocktail as you take in the stunning vistas.
Address: 25-A, Lebuh Farquhar, Georgetown, 10200 George Town, Penang, Malaysia
The Canteen At China House
Located in one of Georgetown's most iconic heritage buildings, China House offers not only a charming cafe and art space but also a rooftop bar known as The Canteen. Ascend to the rooftop and find yourself in a cozy garden setting with fairy lights, comfortable seating, and a relaxed vibe. Savor a refreshing drink while being surrounded by the lush greenery that adds to the charm of this unique venue.
Address: 183B, Victoria St, Georgetown, 10300 George Town, Penang, Malaysia
Gravity Rooftop Bar
Situated on the rooftop of G Hotel Gurney, Gravity Rooftop Bar offers stunning panoramic views of the Gurney Drive coastline. This modern and stylish bar is perfect for those looking for a sophisticated night out. Enjoy a selection of artisanal cocktails or choose from a wide range of spirits and wines while taking in the mesmerizing skyline of Georgetown and the sparkling sea beyond.
Address: Level 24, G Hotel Kelawai, 2, Lebuhraya Maktab, 10250 George Town, Pulau Pinang, Malaysia
Whether you're seeking a romantic dinner with a view, a spot to unwind after a long day of exploring, or a place to have a celebratory night out with friends, these rooftop bars and restaurants in Georgetown, Penang will provide a memorable experience. So, make sure to include a visit to at least one of these remarkable venues during your time in Georgetown.
---
FAQs on Must-Visit Penang Attractions at Night
What are some popular night attractions in Penang?
Penang offers a vibrant nightlife scene with popular attractions such as George Town's street art, Gurney Drive's food stalls, and Penang Hill's stunning night views.
Are these attractions open every night?
Most of the attractions mentioned this post are open every night, but it's advisable to check specific hours of operation and any special events or closures in advance.
Is it safe to explore Penang at night?
Yes, Penang is generally safe for tourists at night. However, it's always a good idea to stay in well-lit areas, avoid secluded spots, and keep an eye on your belongings.
What should I wear when visiting these attractions at night?
Dress comfortably and appropriately for the weather. Casual attire is suitable for most night attractions, but if you plan to dine at a fancy restaurant, it's advisable to dress smart-casual.
Can I take photos at these attractions at night?
Yes, most attractions encourage photography. However, some places may have restrictions, especially if they involve religious or private properties. Always ask for permission if you're unsure.
How do I get around Penang at night?
You can use various transportation options such as taxis, ride-sharing services like Grab, buses, and even trishaws. Walking is also a great way to explore some parts of Penang at night, particularly in George Town.
Are these attractions suitable for families with children?
Yes, many of these attractions are family-friendly. Places like the Penang Botanic Gardens and Straits Quay offer activities suitable for all ages.
Can I enjoy local cuisine at these attractions at night?
Absolutely! Penang is renowned for its street food. You'll find numerous hawker stalls and food courts offering delicious local dishes throughout the night.
Are there any cultural or religious practices I should be aware of when visiting Penang at night?
While Penang is diverse and welcoming, it's respectful to dress modestly when visiting religious sites and be mindful of local customs and practices. Avoid loud noises during quiet hours in residential areas.