If I remembered clearly, my first visit to Melaka was with a school excursion when I was 8 years old. Since then, 20 years had passed, but I could still remember clearly some of the iconic places once been to… like the Christ Church aka red building. Nestled along Malaysia's enchanting southwest coast, Melaka, or Malacca, beckons with its timeless history, vibrant cultural fusion, and captivating heritage. Graced with UNESCO World Heritage status, this city is a treasure trove of historical wonders, colorful neighborhoods, and an array of mouthwatering cuisine. Being the first contact point of the colonial forces with Malaysia, Malacca is a place rich with heritage & cultural buildings, landmarks and colonial structures. The imprints left behind by the British, Dutch and Portuguese forces has shaped Malacca into a UNESCO heritage site that attracts tourists worldwide. If you're planning a quick escape, our 1 day trip Melaka itinerary is your ticket to an unforgettable adventure.
Melaka means Malacca in Bahasa Malaysia (local language)
Arrival: Check In at Hatten Hotel
After a 3+ hours bus journey from Singapore, we reached our hotel – Hatten Hotel. We booked this hotel as it is located conveniently near to the attractions.
We quickly check-in the hotel and went for our first lunch in Malacca. Here is how our room looks like if you are interested.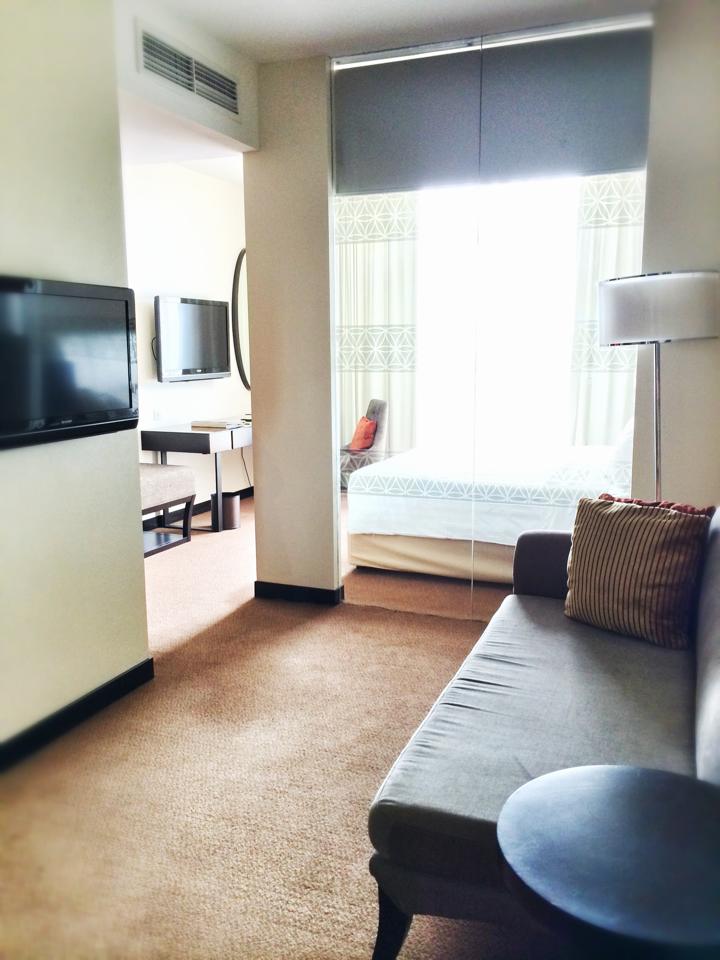 ---
Lunch at Makko Nyonya Restaurant
Lunchtime calls for a rendezvous with Melaka's iconic Nyonya cuisine, a marriage of Chinese and Malay flavors that tantalize the taste buds. Actually, Makko Nyonya restaurant was recommended by the hotel staff and the restaurant is just a 3 minutes walk from Hatten Hotel. Amidst traditional decor and a welcoming ambiance, every bite carries a piece of Melaka's culinary history. Overall, the standard and quality of food are good. Definitely recommending this Nyonya restaurant to anyone who visits Malacca!
After re-energizing ourselves with the Nyonya lunch, we started our exploration of Malacca. The good thing is that all the attractions are within walkable distance.
---
St. Paul's Church
St. Paul's Church is located at the summit of the St Paul's Hill. The remnants of St. Paul's Church hold tales of Portuguese exploration and Dutch conquests. From this vantage point, you'll soak in a panoramic view that whispers stories of a bygone era.
After climbing up a steep flight of stairs, we finally reach the summit. You can have great scenic views of Malacca at St Paul's Hill and there are buskers and stalls selling souvenirs.
---
A'Famosa Fort
At the foot of the hill stands A Famosa, a formidable 16th-century Portuguese fortress. Its weathered walls stand as guardians of Melaka's colonial past, inviting history aficionados and curious wanderers alike. Also known as Porta De Santiago, A'Famosa Fort is built in 1511 and originally constructed by Alfonso de Albuquerque (the guy who lead the invasion on Malacca Sultanate). Located on the hillside, A'Famosa Fort is a great sightseeing destination and good photo stop for tourists!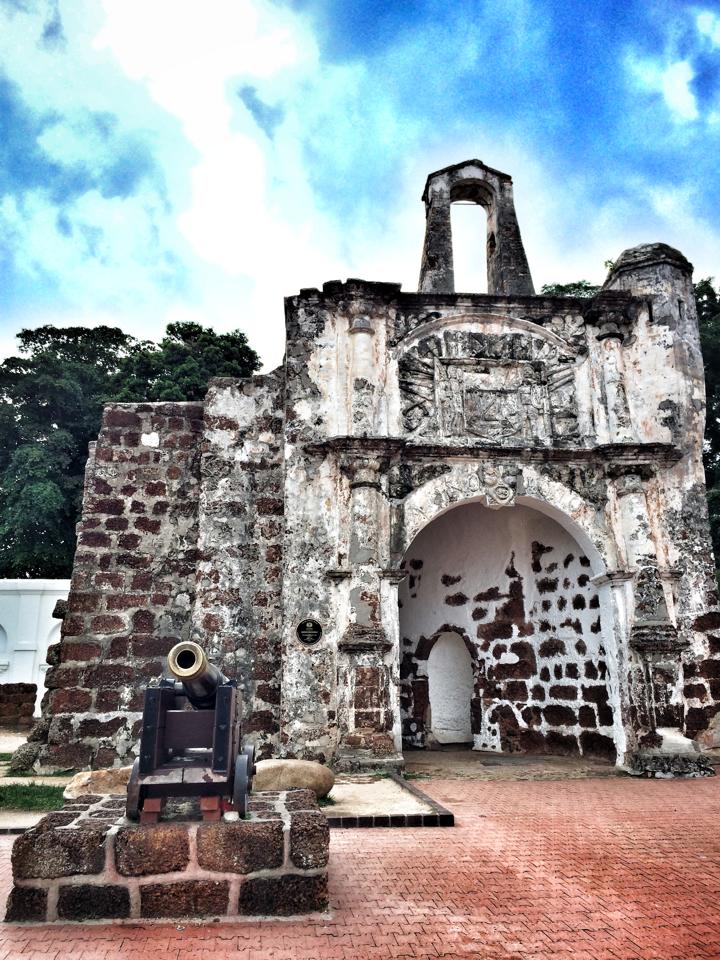 ---
Christ Church
The majestic red-brick structure, once the Dutch administrative nucleus, exudes timeless grandeur. Nearby stands Christ Church, an 18th-century Protestant marvel adorned with a striking red facade and a gleaming white cross. A true Melaka postcard scene. Christ Church is built by the Dutch when they took over Malacca from the Portuguese. It is built in 1753 to celebrate 100 years of Dutch Occupation and also to built another place of worship. This place was pretty crowded with tourists as it is one of Malacca's most defining structures.
This is Queen Victoria's Fountain – situated in the middle of Dutch Square. It was built in 1904 by the Melaka people in memory of Queen Victoria Regina.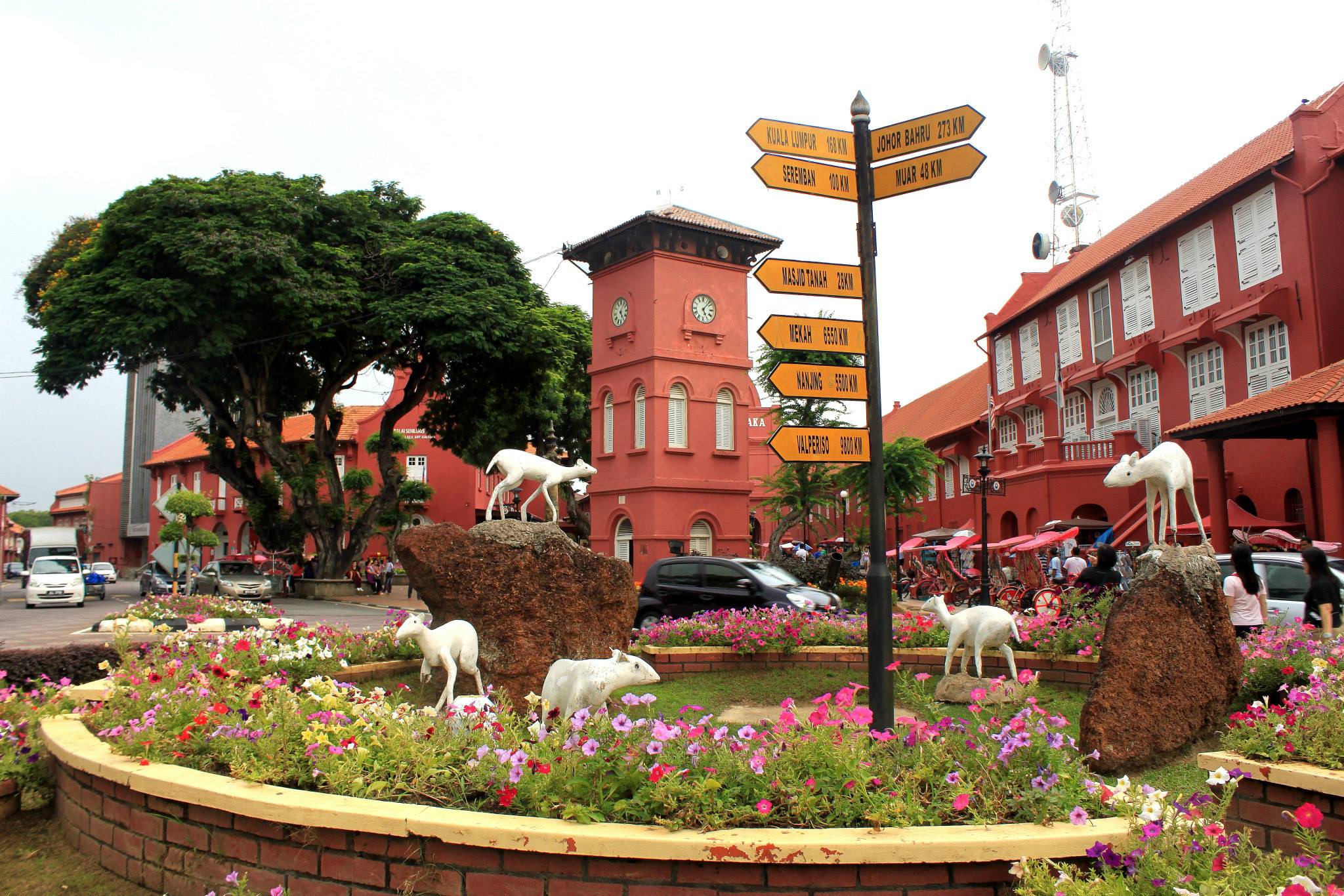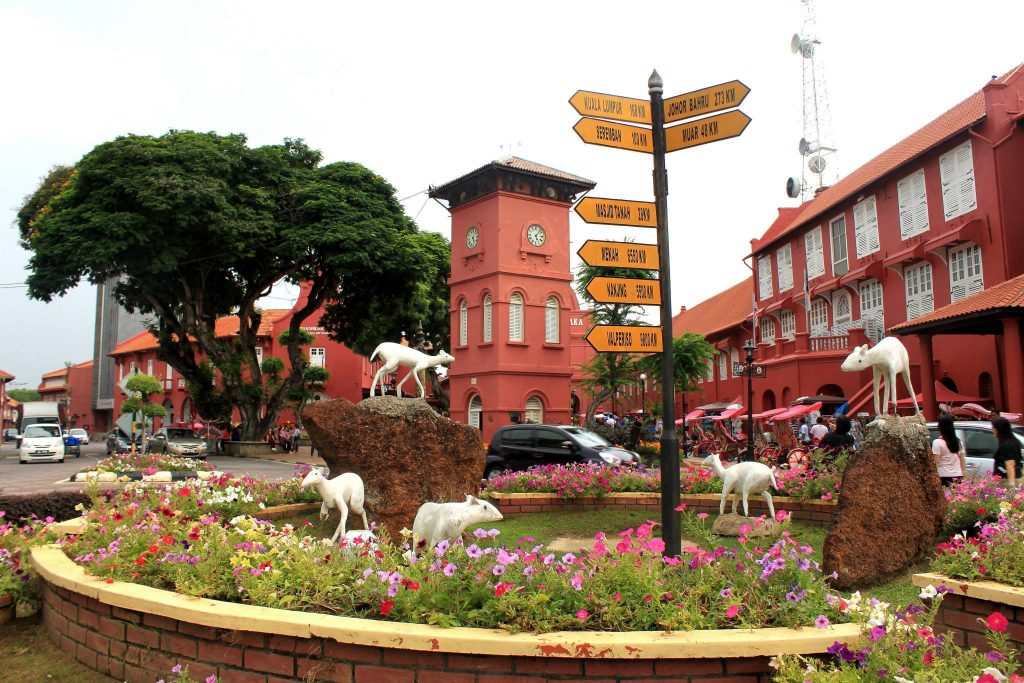 ---
Taming Sari Tower
Taming Sari Tower is the first and only gyro tower in Malaysia currently. It measures 110m in height and offers a 360-degree panoramic view of the whole of Malacca town. We only stop by to take the photo of the tower.
Gyro tower is a revolving observation tower with a vertical moving platform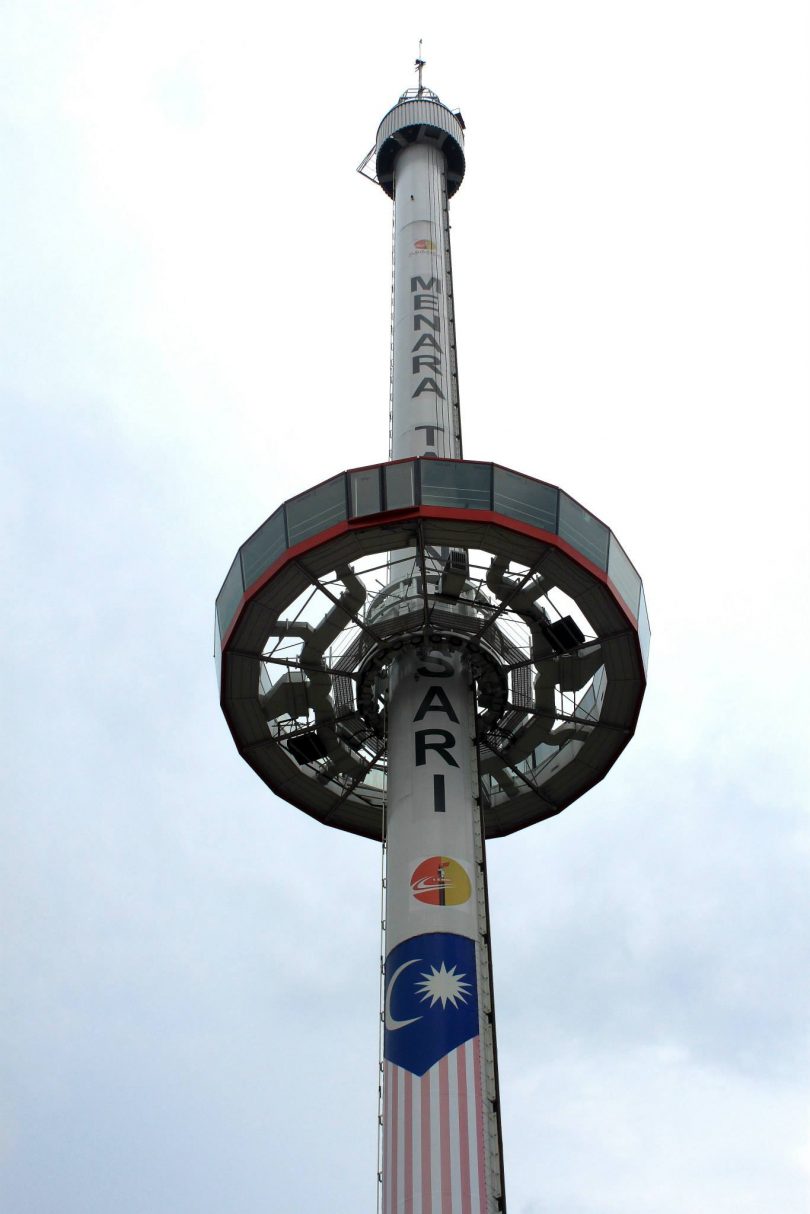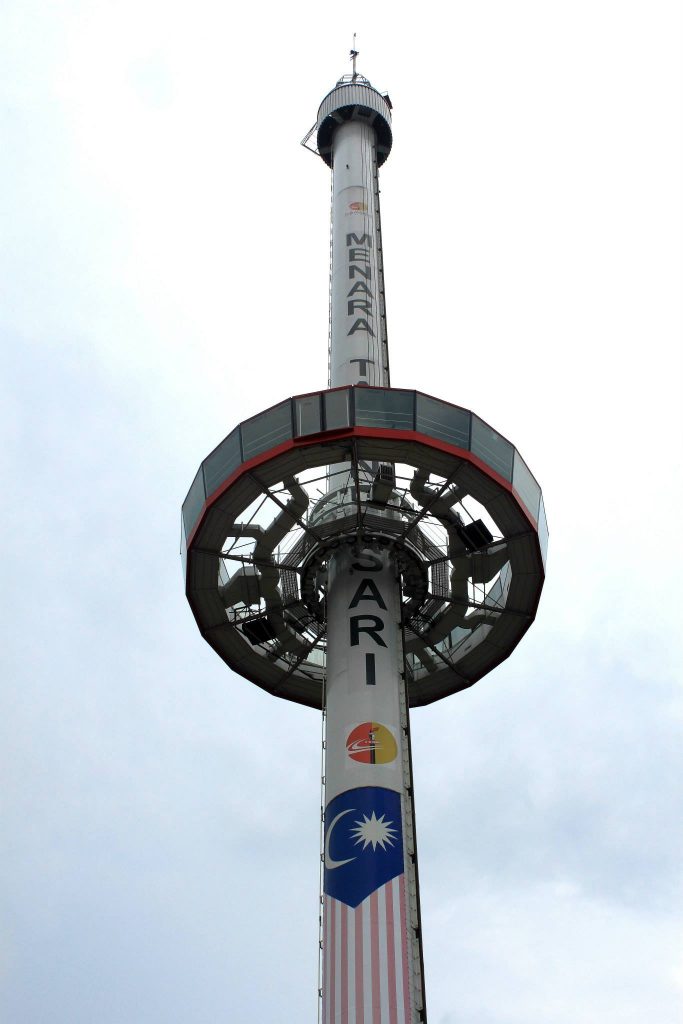 ---
Jonker Street: Shop & Eat
My favorite place in Malacca is the Jonker Street. Stepping into the heart of Melaka's Chinatown, Jonker Street, is like entering a portal to a world where history meets contemporary charm. Embark on a journey through vintage shops, art havens, and delightful boutiques. On weekends, the street comes alive with the Jonker Walk Night Market, offering a sensory explosion of local crafts, street delights, and cultural performances. Jonker Street is located in the center street of Chinatown. Here, you can find lots of fashion, craft, food outlets selling almost anything. It feels a lot like the night market in Taiwan.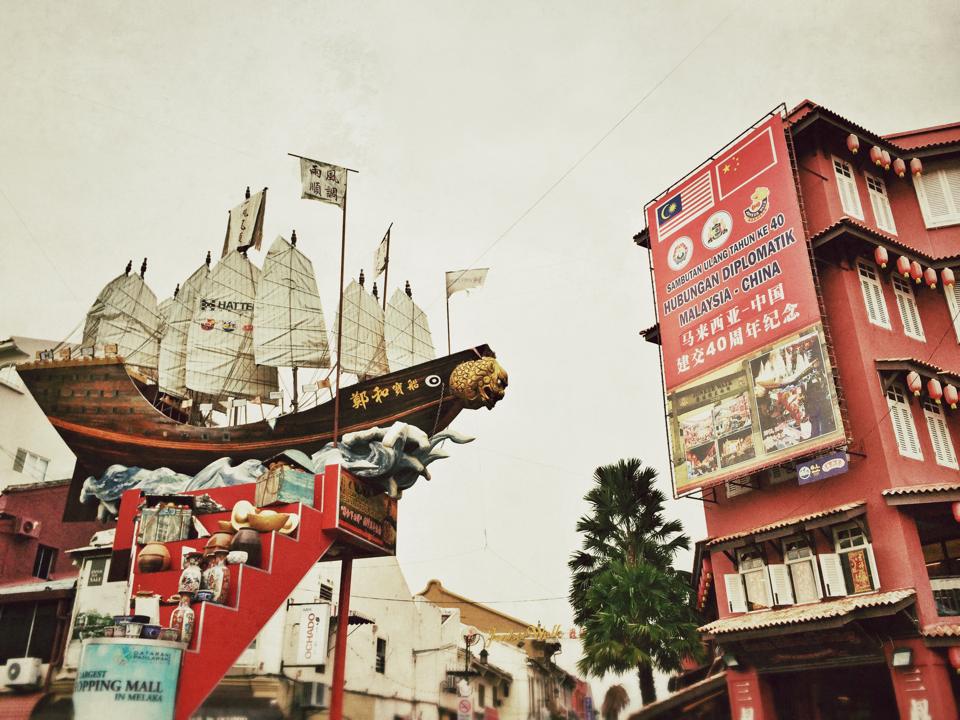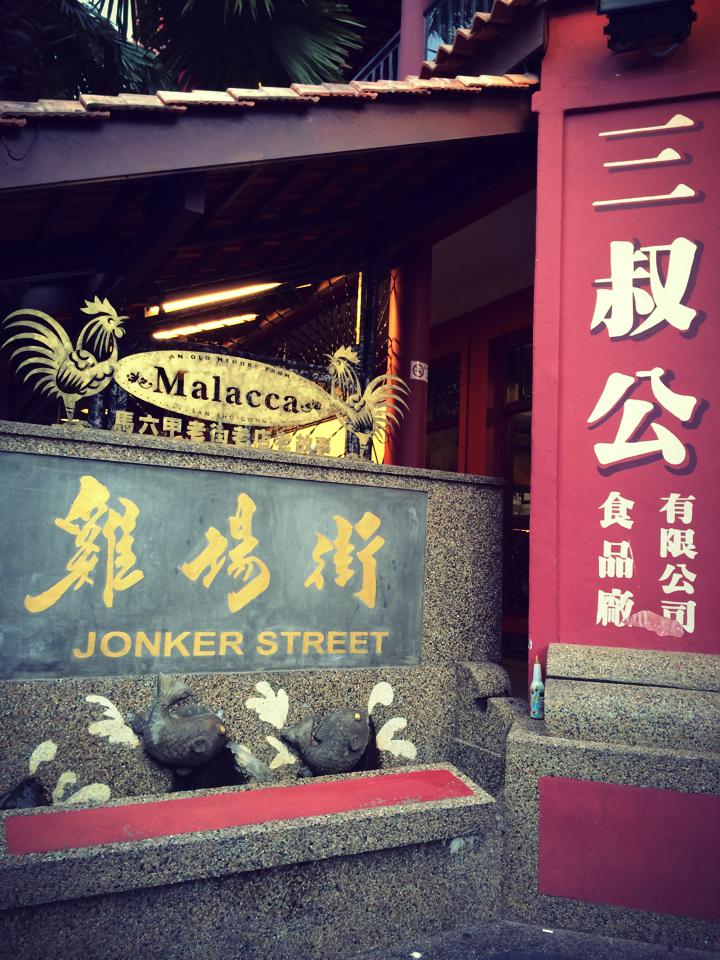 Chung Wah Chicken Rice Ball
When you are in Jonker Street, you must try the famous chicken rice ball stall called Chung Wah. Just look at the queue! Note that it is selling out so fast that they even have to turn away customers. So, be early to avoid disappointment.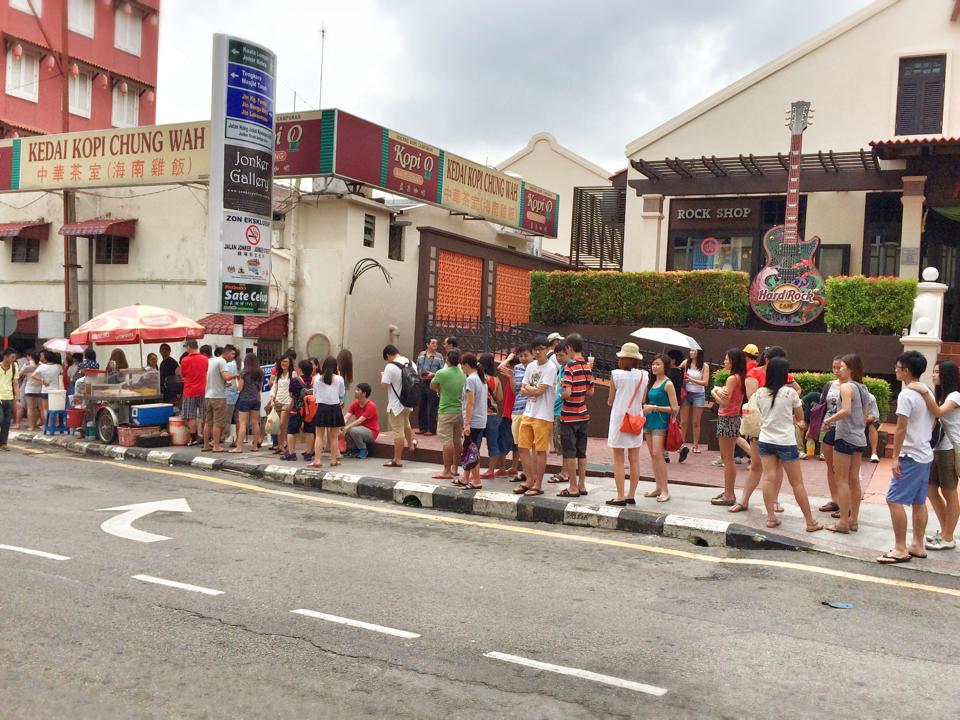 Gu Cheng Chicken Rice
We are traveling with my parents and aunts so we can't afford to queue for long hours under the hot sun. We tried this restaurant called Gu Cheng Chicken Rice instead.
Jonker88 Chendol
Next, it's dessert time in Jonker 88. Look at the queue! One lesson we learnt is that long queues == good food.
After a long wait, we finally tasted the famous chendol from Jonker 88. Super refreshing in a hot weather.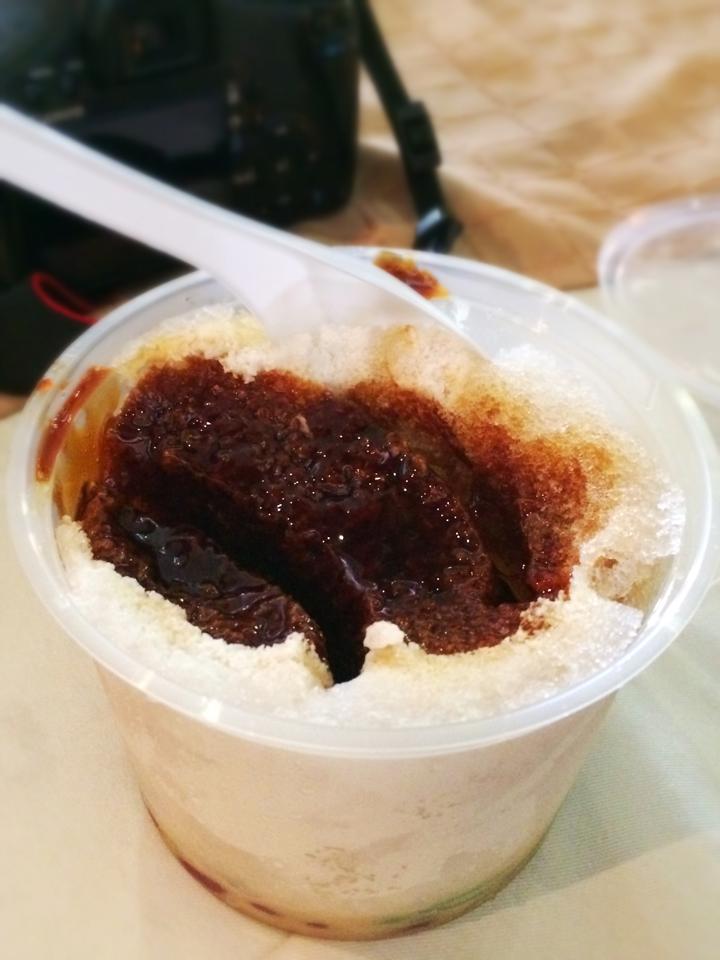 Nancy's Kitchen
In Jonker street, you can see many cafes and restaurants along the street. Cafe hoppers will love this place.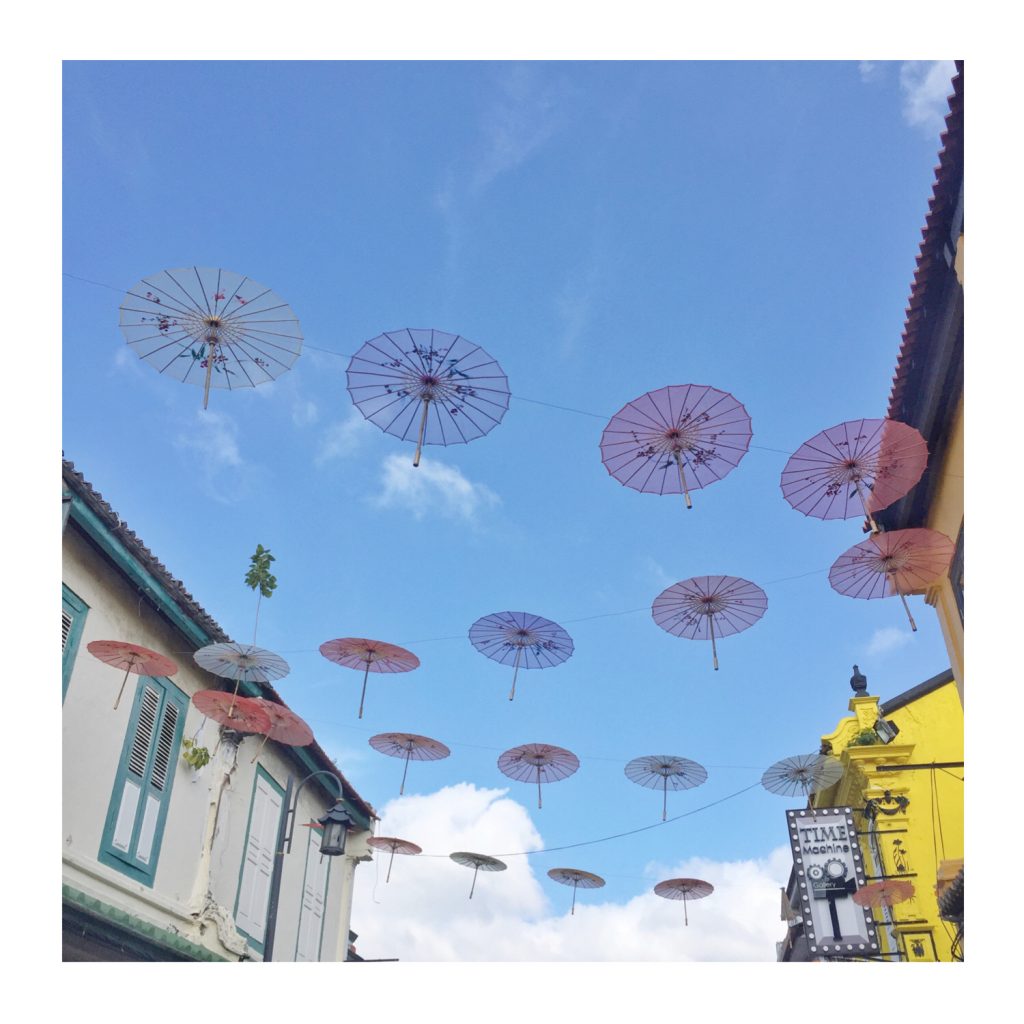 Malaysia's 13 States Coffee
If you are tired, just walk into one of this cafe for a short coffee break and have some nice waffles or cakes.
Sontong Bakar Grilled Squid
How can you resist grilled squid too? With all the photos on the signboard, this looks popular too. But the price is a bit steep.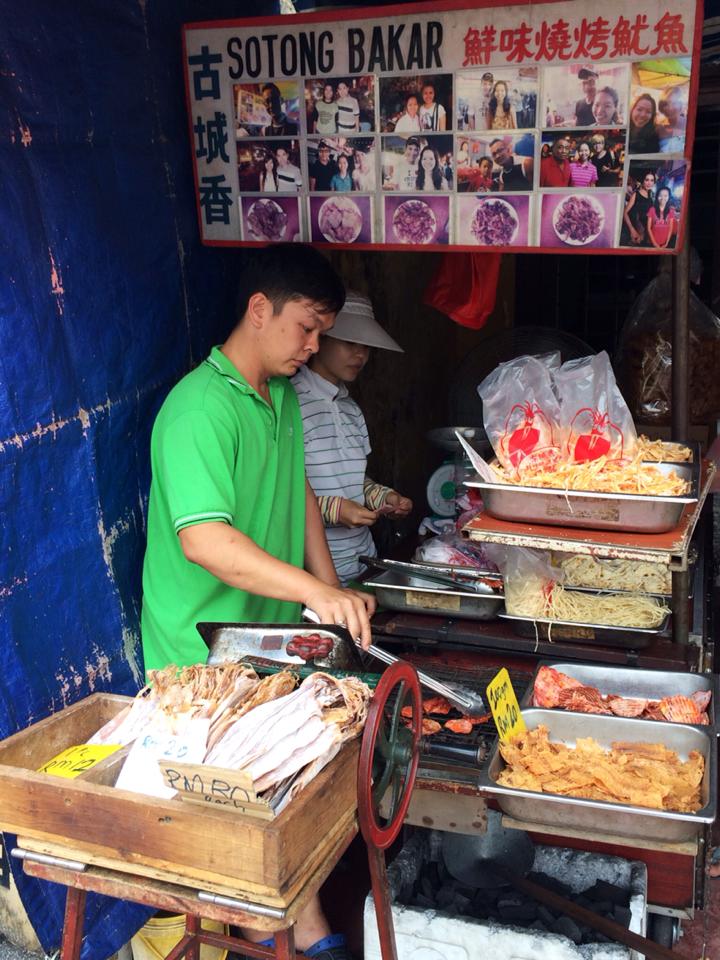 ---
Melaka River
By walking along quayside road near Melaka River, you can see this very big ship. This is the Maritime Museum of Malacca.
This ship is a replica of Flora De La Mar (A Portuguese ship which sank on 26th January 1512)
This replica measures 34 meters in height and 8 meters in width and is built by the Government of Malacca to remind people of the importance of Malacca as a trading harbor.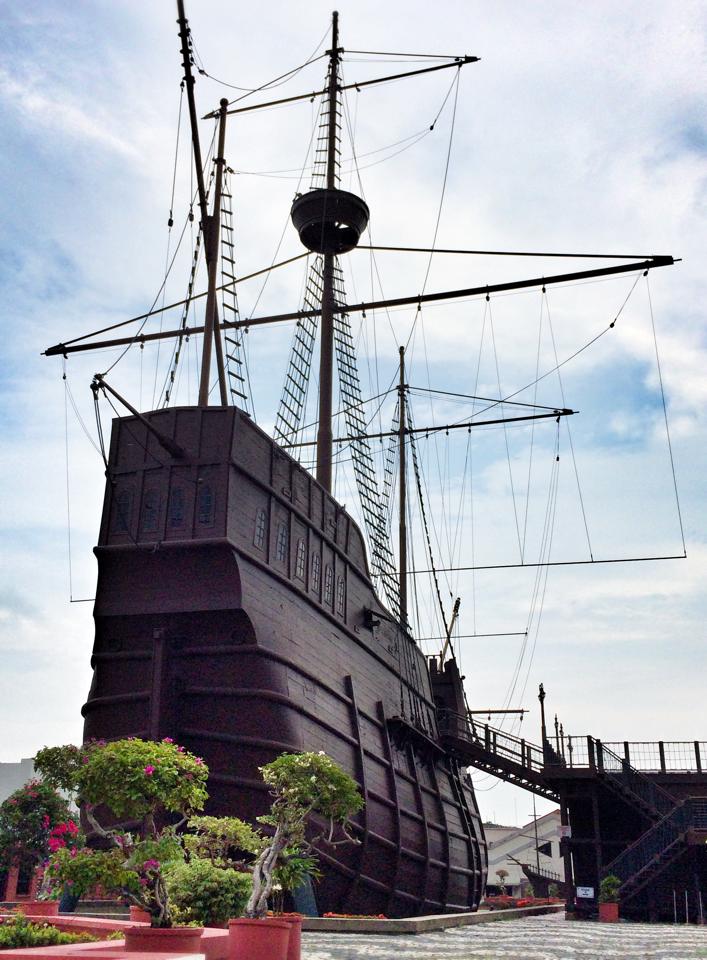 Taking a stroll along the riverbank is a great way to spend your evening in Melaka as well.
Last by not least, if you miss A & W root beer float and curly fries, you can find A&W in Dataran Pahlawan Melaka Megamall in Malacca.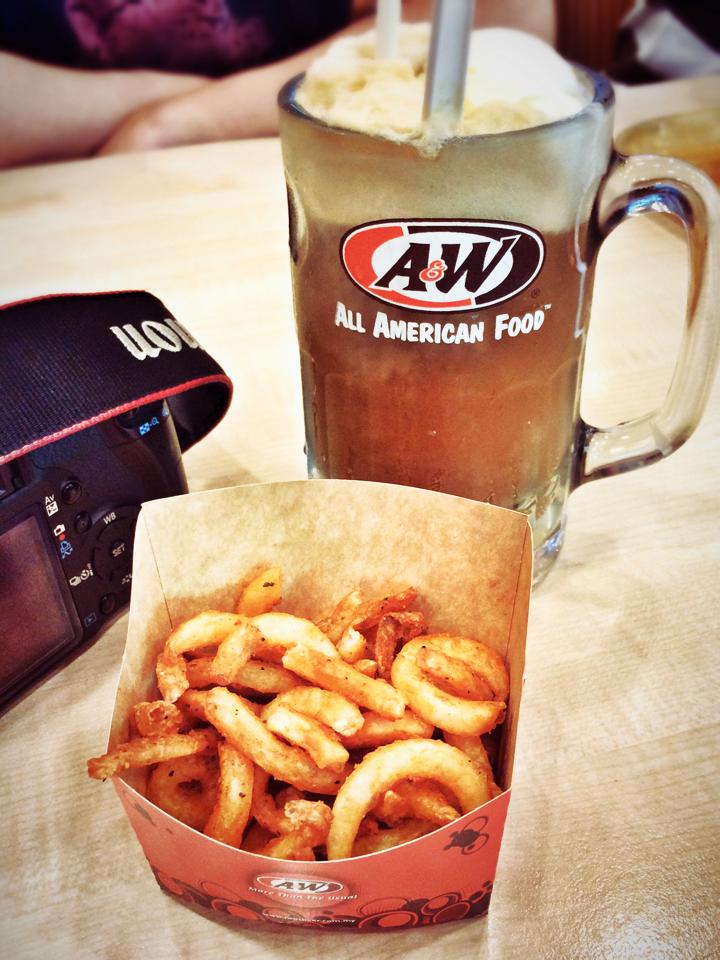 Nadeje Mille Crepe
We ended the day trip by dropping by Nadeje Mille Crepe at Mahkota Parade to buy the popular Mille Crepes.
Address: G-23,25,27, Jalan PM 4, Plaza Mahkota, 75000 Melaka
Tel No: 016-772 6697
Opening Hours: 10 a.m. – 7.30 p.m.
Nadeje Mille Crepe is quite popular among tourists and locals and is highly recommended by bloggers as well.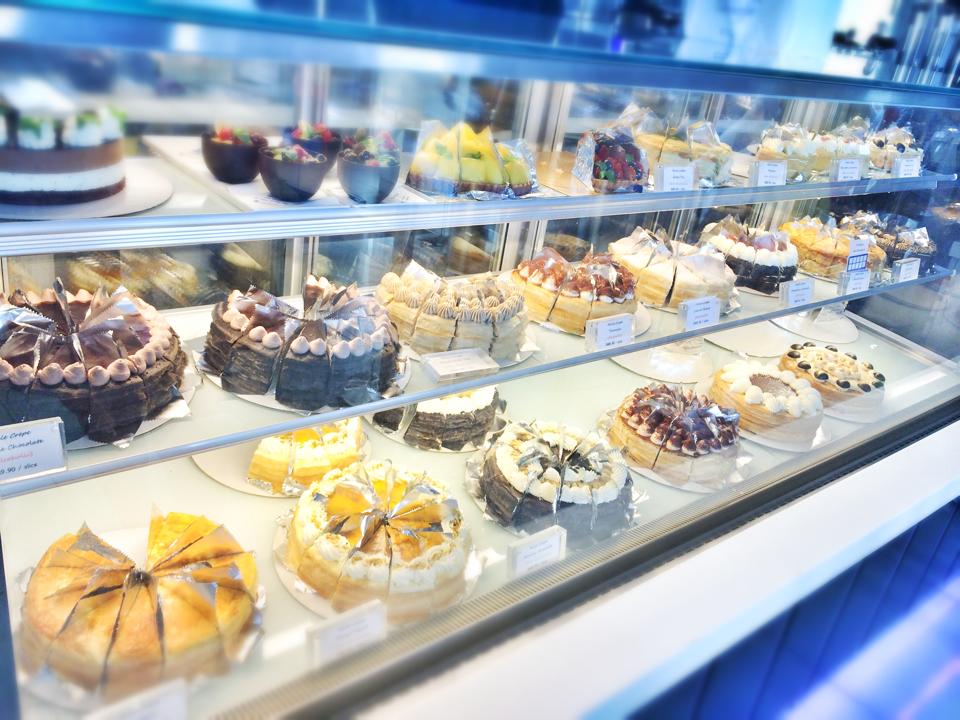 ---
FAQs on Day Trip in Melaka
What makes Melaka a popular destination for a 1-day trip?
Melaka's rich historical significance, diverse cultural heritage, and delectable cuisine make it an enticing choice for a quick getaway. Its UNESCO World Heritage Site status further enhances its appeal.
Is it possible to explore Melaka's highlights in just one day?
While a 1-day trip offers a condensed experience, it's definitely possible to visit key attractions like St. Paul's Hill, Jonker Street, A Famosa, and more within a day.
What is Nyonya cuisine, and where can I enjoy it in Melaka?
Nyonya cuisine is a blend of Chinese and Malay flavors, resulting in a unique and delicious culinary experience. You can savor authentic Nyonya dishes at restaurants like Nancy's Kitchen, known for its traditional ambiance and mouthwatering menu.
What is the best time to visit Melaka?
Melaka is pleasant to visit throughout the year, but the dry season from May to September offers more comfortable weather. Avoid weekends if you want to explore Jonker Street without the crowds.
Can I experience Melaka's cultural diversity in a day?
Absolutely. Melaka's rich cultural blend is evident in its architecture, cuisine, and various attractions. Exploring places like The Stadthuys, Christ Church, and participating in cultural shows provide insights into its multicultural tapestry.
How do I get around Melaka during my 1-day trip?
Walking and cycling are excellent options for exploring the city center. You can also use trishaws for a unique mode of transportation. Taxis and ride-sharing services are available for destinations that are a bit farther.
What is the Jonker Walk Night Market?
The Jonker Walk Night Market is a vibrant weekend market held along Jonker Street. It features stalls selling a wide range of goods, including local crafts, clothing, accessories, and an array of street food.
Are there any viewpoints for capturing Melaka's beauty?
Yes, the Shore Sky Tower offers a panoramic view of the city, especially during sunset. St. Paul's Hill and A Famosa also provide elevated viewpoints for capturing the cityscape.
What should I keep in mind when exploring Melaka's historic sites?
Respect the historical significance of the sites by not touching or damaging any artifacts. Many sites have informative placards that offer insights into their history, so take the time to read and appreciate them.
Can I extend my 1-day trip to Melaka?
Certainly. If you're captivated by Melaka's charm, consider extending your stay to fully immerse yourself in its attractions and experiences. This will allow you to explore more leisurely and discover hidden gems beyond the scope of a single day.
---
Conclusion
As the stars sprinkle the night sky, our 1 day trip through Melaka finally comes to a close. Enriched by history, inspired by culture, and satisfied by flavors, Melaka is definitely a charming city to visit.