Having topped the list of the most visited city in the world for the third year in a row, there is no doubt that Bangkok is very popular among travelers. When it comes to attractions and to do things, the city definitely houses more than any other city in the world. This is thanks to its many charming historical sites, magnificent temples, Asian food, gigantic skyscrapers, and world famous floating markets. While the city boasts of being one the best travel destinations, the heat here can be rather devastating for those people who have never experienced the tropical climate. At times like these, a dip in the pool may just help you cool off and leave you feeling relaxed. Thankfully, there are a good number of hotels located within Bangkok that feature elegant infinity pools. If you are planning to visit here and looking for a place to stay, here are the top 10 best hotels in Bangkok with an infinity pool.
Amara Bangkok Hotel
Amara Bangkok is one hotel that offers spectacular views of the entire Bangkok's skyline. It is only a walking distance from Chong Nonsi and also Sala Daeng BTS which also makes it ideal for touring the entire city. While in this hotel, you will be lucky to access free shuttle services. If you like Asian cuisine, there is a large on-site restaurant that specializes in that.
Price: From 110 USD
Rating: 4 Stars
SO Sofitel Bangkok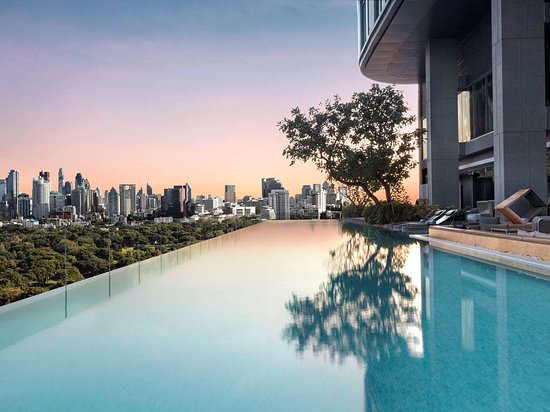 There is not one in all the hotels with infinity pool in Bangkok that represents luxury, glamour, and comfort more than SO Sofitel Bangkok. Besides having the large outdoor pool, this wonderful hotel also houses hot tubs, a fitness centre, and offers massage services.
Price: From 180 USD
Rating: 5 Stars
Chillax Resort
Just like its name suggests, you are promised to feel truly relaxed when you get to stay in Chillax hotel. In addition to having the swimming pool, it also features a restaurant, a bar, and a centre for fitness. It is also worth noting that all the rooms in the hotel feature a spa bath.
Price: From 57 USD
Rating: 4 Stars
AVANI Riverside Bangkok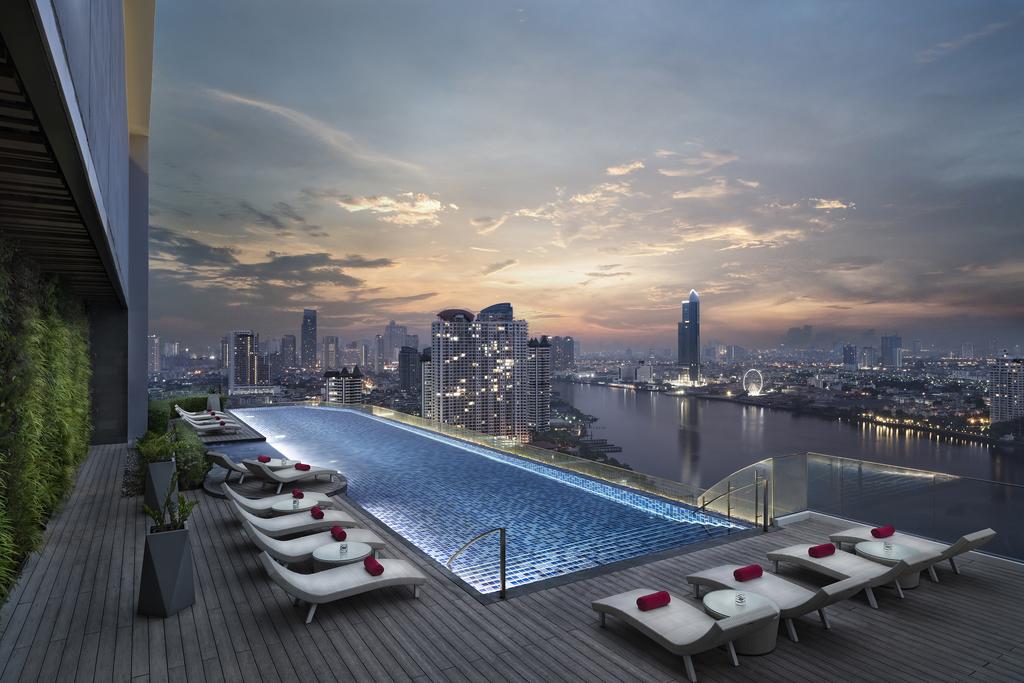 While in this hotel, guests get to have a perfect view of River Chao Phraya. The best part is that it also offers its guests with shuttle-boat services. One unique feature about the hotel is that the guests are provided with WiFi access and unlimited calls, both local and international, during the day.
Price: From 179 USD
Rating: 5 Stars
Siam@Siam Design Hotel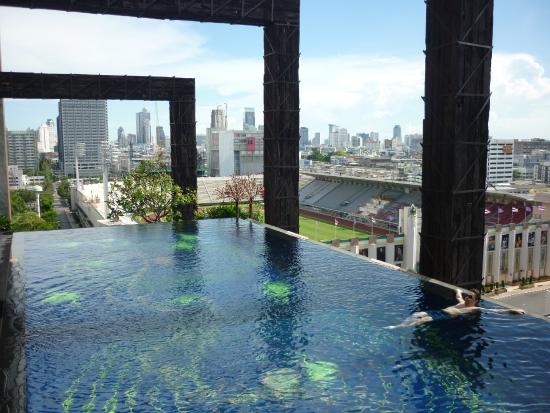 Strategically located at the center of Bangkok, this hotel lays just 5 minutes away from BTS-Sky Station. This makes it ideal for the hotel guests to access any place in the city easily. It also has a scenic rooftop bar and two restaurants which makes ideal for those travelers who love drinks.
Price: From 90 USD
Rating: 5 Stars
Arte Hotel
Centrally located between the Asok BTS-Sky Stations and the Sukhumvit MRT, this hotel will allow you to go almost anywhere and everywhere in Bangkok effortlessly. In addition, there are several shopping malls, supermarkets, bars, and many other commercial establishments that operate at just a stone throw distance.
Price: From 75 USD
Rating: 4 Stars
Grand Central Sukhumvit
Sitting on top of Terminal 21 which is among the biggest shopping centres in Bangkok, you can begin to guess the type of stay to expect in this hotel. Inside the hotel, you will have access to a restaurant, a glorious spa, and laundry services.
Price: From 119 USD
Rating: 5 Stars
Amaranda Hotel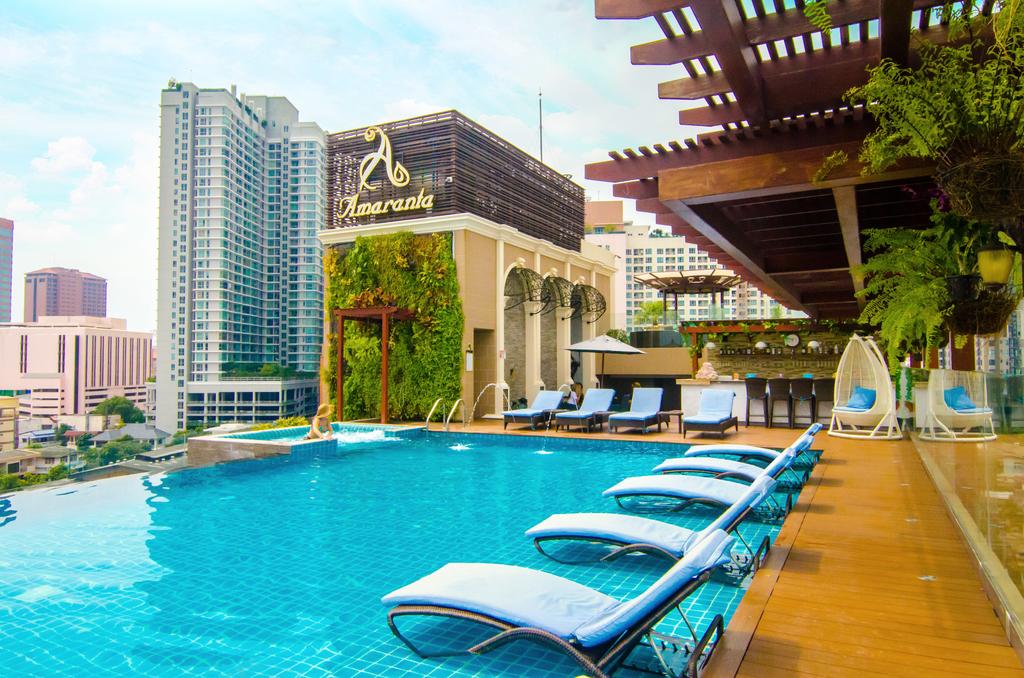 This is another magnificent hotel located just a walking distance from an MRT Subway Station. In addition to the pool, this spectacular hotel also incorporates two restaurants, a rooftop bar, and a centre for fitness. As if that's not enough, each of its rooms is equipped with a spa bath. Other notable features include free on-site parking and laundry services.
Price: from 79 USD
Rating: 4 Stars
Eastin Grand Hotel
Although it is situated rather far outside Bangkok's city centre, this hotel still boasts of being one of the few top recommended hotels in the whole of Bangkok. The hotel is connected directly to the nearby Surasak BTS-Sky train Station through a Sky bridge which makes it easy for its guests to travel around.
Price: From 126 USD
Rating: 5 Stars
Sivatel Bangkok
Sivatel hotel is found in Pathumwan district, just a short distance from the nearby Ploenchit BTS-Sky train Station. Whether you are looking for a café, restaurant, spa, fitness center, or a business center, this hotel has it all.
Price: From 154 USD
Rating: 5 Stars