We finally resumed our travel plans in 2022 after COVID! It has been 2 years since we last travelled out of Singapore, and our first destination is Chiang Mai as it is in our bucket list to experience the Loy Krathong Yi Peng Festival ourselves.
What is Loy Krathong Yi Peng Festival?
Loy Krathong Yi Peng Festival in Chiang Mai are two enchanting and culturally significant celebrations that showcase the rich traditions of Thailand. Loy Krathong, also known as the Festival of Lights, takes place on the full moon night of the twelfth lunar month, typically in November. During this festival, people gather near rivers and lakes to release small lotus-shaped baskets, called "krathongs," made from banana leaves, flowers, and candles, onto the water. This act symbolizes the floating away of negativity and troubles, while also paying respect to the water spirits.
On the other hand, Yi Peng Festival, specific to northern Thailand and prominently celebrated in Chiang Mai, involves the release of thousands of mesmerizing floating lanterns, known as "khom loi," into the night sky. As these lanterns rise and illuminate the heavens, they symbolize the letting go of worries and the invitation of new beginnings and good fortune. Both Loy Krathong Yi Peng Festival create a magical ambiance, where the blending of water and light rituals infuses the air with a sense of awe, spiritual connection, and cultural unity, attracting locals and visitors alike to partake in these extraordinary celebrations.
---
Is it Worth It to Experience Loy Krathong Yi Peng Festival in Chiang Mai?
Experiencing Loy Krathong Yi Peng Festival in Chiang Mai is an absolutely worthwhile and magical journey that leaves a lasting impression on the soul. The mesmerizing sights of thousands of lanterns gracefully ascending into the night sky and the serene beauty of floating krathongs on the water evoke a sense of awe and wonder. The rich cultural significance behind these festivals, symbolizing the release of negativity and welcoming new beginnings, adds depth to the experience.
The festive atmosphere, filled with traditional music, performances, and Thai cuisine, creates a unique and immersive cultural encounter. Witnessing this grand celebration amidst the warm hospitality of the locals fosters a sense of belonging and connection to Thai culture.
Whether you seek spiritual enlightenment, cultural enrichment, or simply a breathtaking spectacle, Loy Krathong Yi Peng Festival in Chiang Mai offer an enchanting experience that will leave you with cherished memories for a lifetime.
---
How to reserve tickets for Loy Krathong Yi Peng Festival?
Attending Loy Krathong Yi Peng Festival is one of the best unique things to do in Chiang Mai. This year, it happens on the 8th/9th November in 2022 (its different every year so please check). We reserved our tickets via AsiaHighlights (which is the official partner for this event hosted by Chiang Mai Arts and Design (CAD) ). There are three different tiers of ticket (Premium, VIP, Standard) – Initially, Nicole got us the standard tickets which are the cheapest but for some reason we got upgraded to VIP tier last minute. (I think we got lucky!)
Ticket Tier
Details
Price
Premium
Seat rows closest to stage
Business van (priority boarding)
Buffet dinner in premium zone (less crowded)
$179 USD
VIP
Seat rows which are further away from stage
Business van
Buffet dinner in VIP zone
$159 USD
Standard
Seat rows which are furthest from the stage
Red van (no air-con)
Buffet dinner in designated zones.
$122 USD
---
Free Shuttle Service to Event Venue
Free shuttle transportation to the venue is included in the ticket price. Depending on your tickets, you will be transported via either a business van (air-conditioned) or a red van (no air-conditioned). The meeting point is at Maya Shopping Center and our tip for you is to be there at least 30 minutes as you will be expecting a very LONG QUEUE. We are fortunate that we only waited for our shuttle service for around 30 mins. (We know people who waited for 1+hrs queueing and totally missed out ample time to explore the venue and enjoy the buffet). SO, REMEMBER TO BE THERE EARLY.
---
Experiencing Loy Krathong Yi Peng Festival
The journey from Maya Shopping Center to the venue takes around just 45 minutes. You will know you arrived when you see a big open space and beautiful lanterns and balloons in the sky. Before entering. you need to register in kiosk after which you will be given an lanyard and free gifts.
Our first stop is to explore the little stalls which set up near the main entrance. These stalls offers Chiang Mai snacks and drinks which is absolutely delicious, and yes.. everything is free. Next, we made our way to the designated buffet zones as we are simply just too hungry and wanted to fill up our tummy. In the buffet zones, there are tables and picnic mats set up all around the grassland. You will be able to have your food sitting or lying the grass, while enjoying the beautiful atmosphere with music.
As the crowd at the bufffet zone get more crowded, we decided to leave the the zone to explore the place and take some photos. We found a place where you can get free hand-made krathong. What you will do with this krathong is that you will light the candle on it and then release it to float in the river. In the culture, it's a way of thanking the Goddess of Water
Here is Nicole making her wish and preparing to release it to the river (with my help of course. :))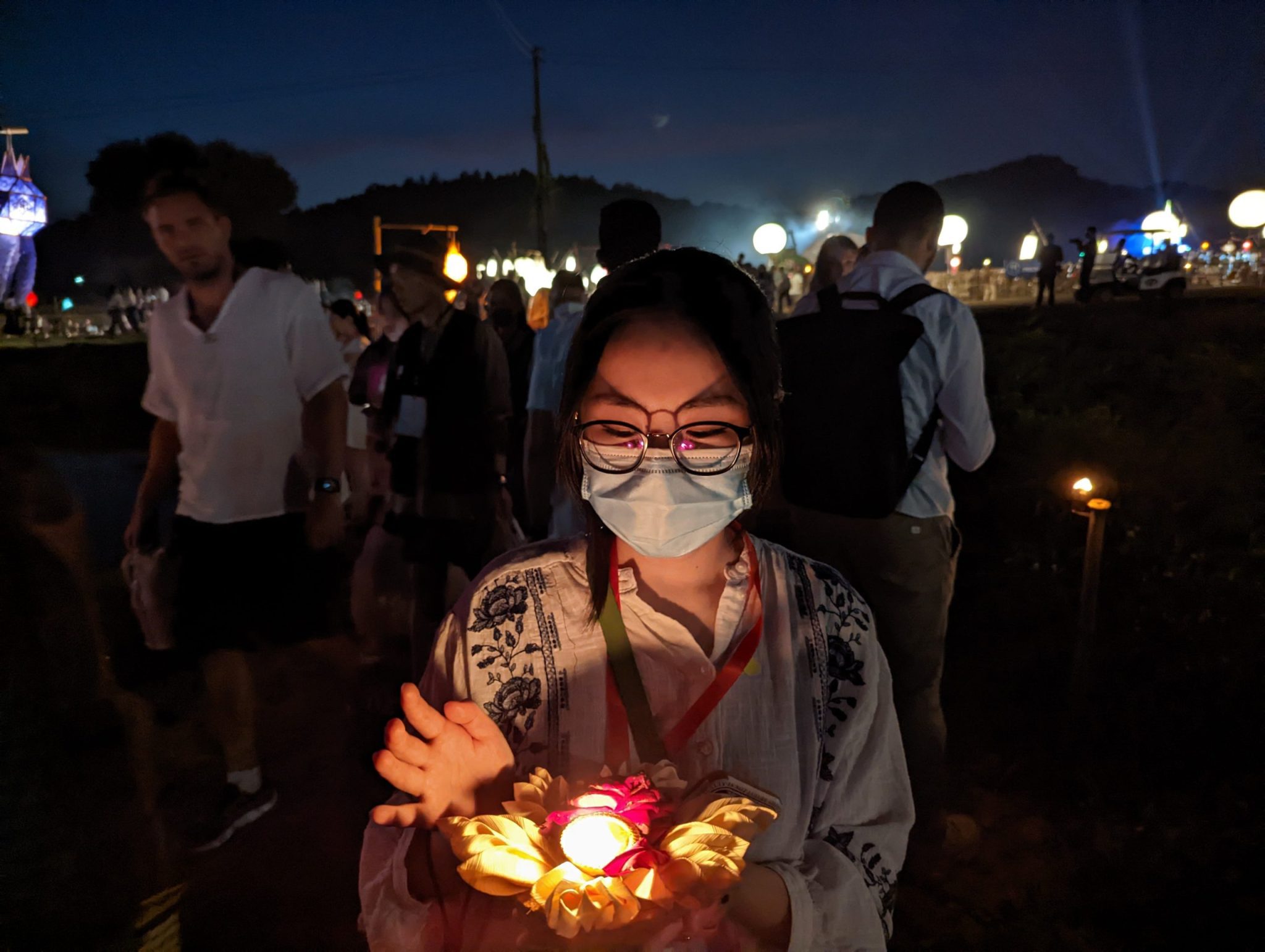 We continue to explore other places after releasing our krathong. You can find beautifully lit up lanterns and candles almost everywhere and its incredibly beautiful. See for yourselves below.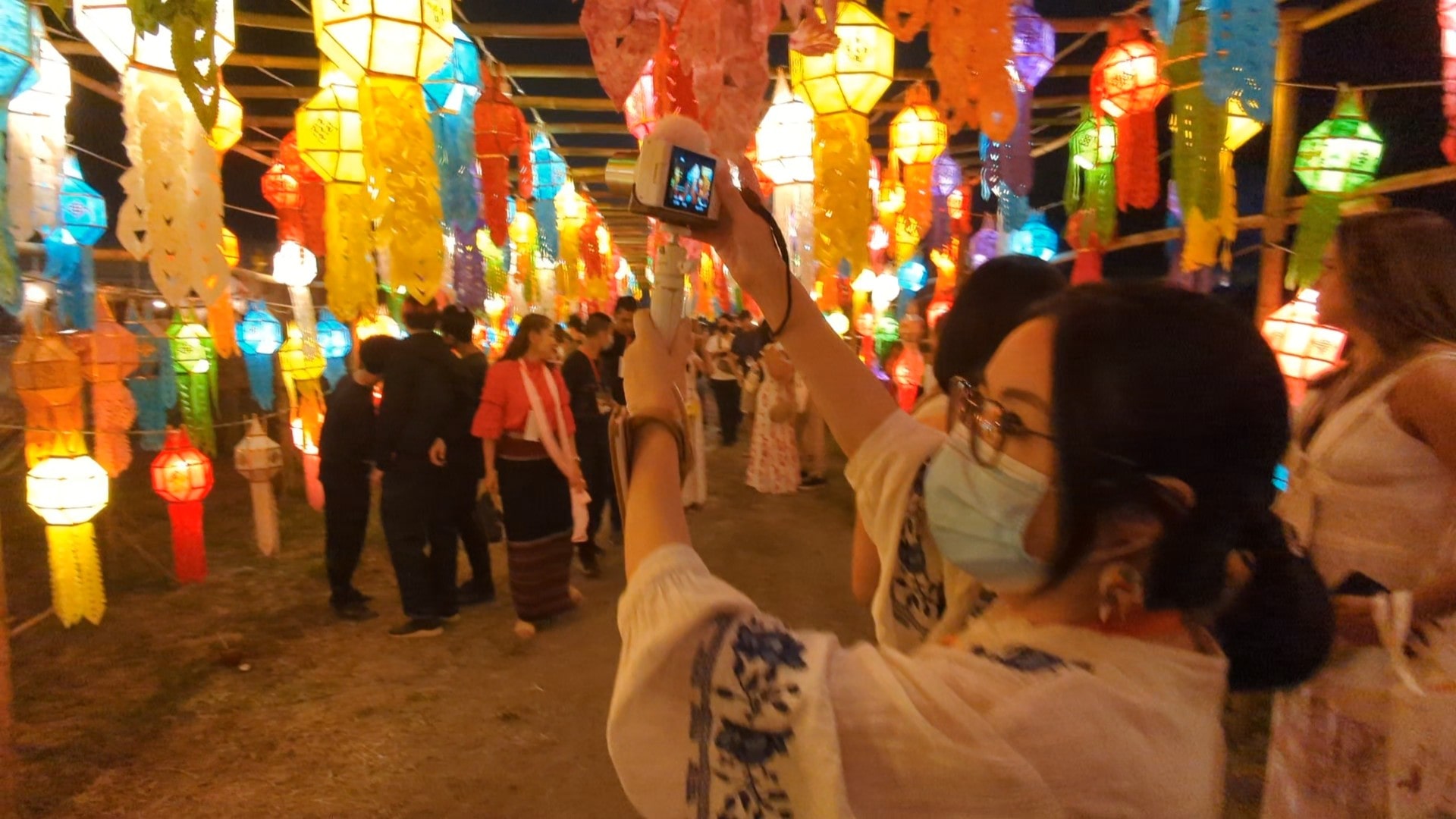 In addition to the lanterns & candles, at some time, you will also see fireworks being lit up in the sky. Happy that I managed to get some great shots with my Google pixel to capture the very moment.
Next up is finally the main event of the night. The date into the seating arena will be opened when it's time. (If I remembered right, I think it's around 8:30PM – 9:00PM). Once the gate is opened, you will be escorted to your reserved seats by the staff. The weather can be cold and chilly, so you may want to bring along a jacket in your bag just in case.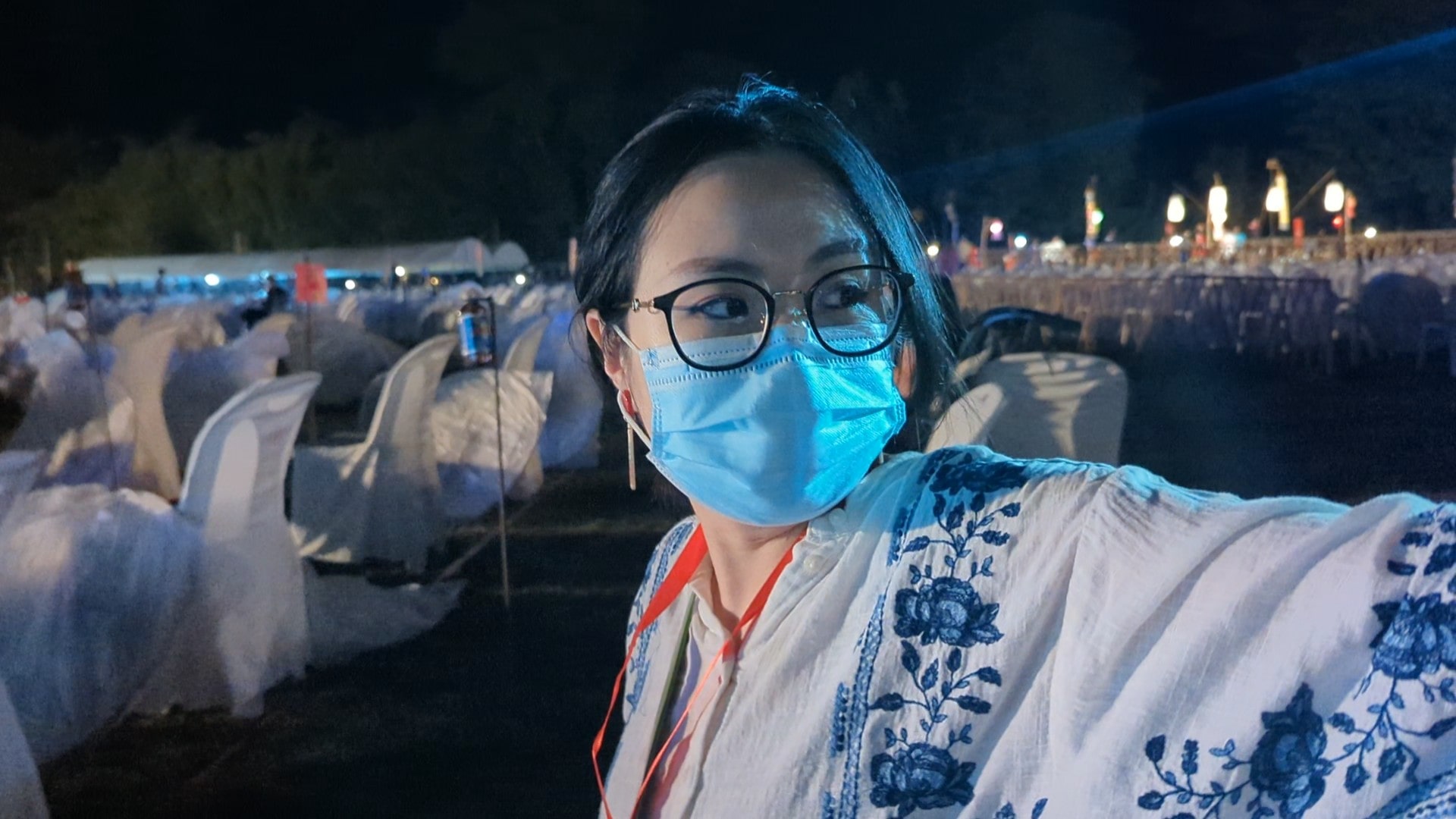 Before the actual moment to light up your sky lanterns, there will be a short 30 minutes cultural performance and the monks will be chanting.
The Sky Lantern Moment
This is the moment everyone is waiting for! Everyone will be given two sky lanterns and you will be able to light it up using the fire stick which is set up in front of every seat.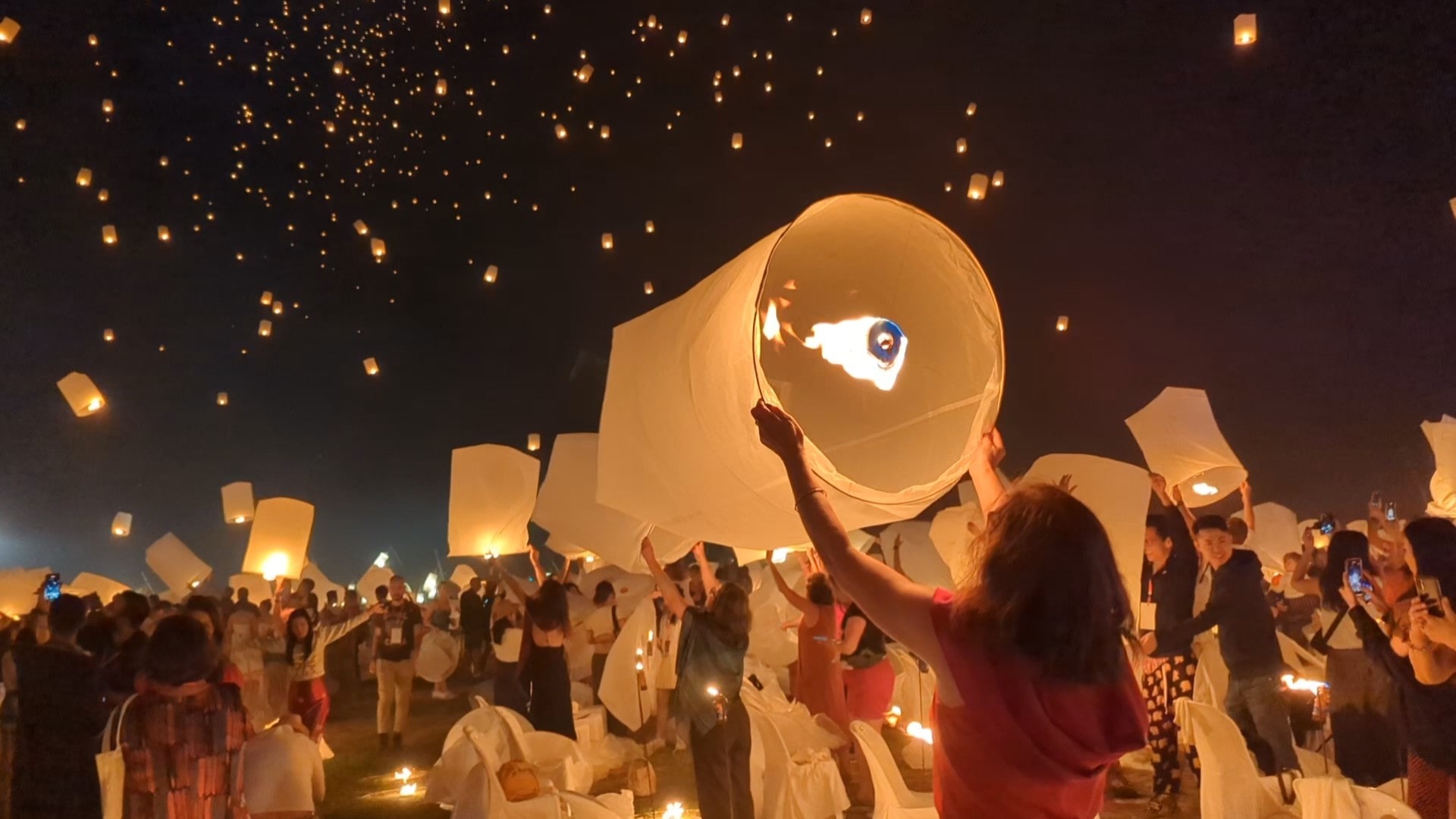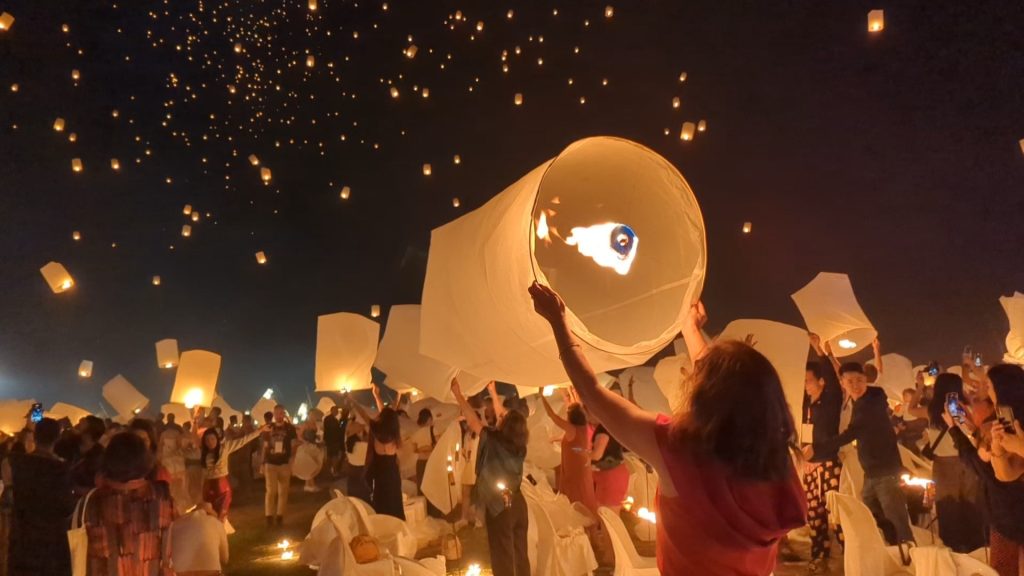 FAQs on Loy Krathong Yi Peng Festival in Chiang Mai
When is Loy Krathong Yi Peng Festival celebrated in Chiang Mai?
The festival typically takes place in November, on the full moon night of the twelfth lunar month.
Where can I experience the Loy Krathong Yi Peng Festival in Chiang Mai?
The festival is celebrated throughout the city, with major events held near rivers and lakes, such as the Ping River and Mae Jo University.
How can I participate in the festivities by making my own krathong or khom loi lantern?
Many workshops and stalls offer opportunities to create your own krathong or lanterns, or you can join local communities and temples for hands-on experiences.
What cultural practices should I be mindful of during the Loy Krathong Yi Peng Festival?
It's important to show respect during the festival, such as avoiding stepping over or blocking the path of others' krathongs and releasing lanterns in designated areas.
What activities can I enjoy during the festival to immerse myself in the spirit of the celebration?
Besides floating krathongs and releasing lanterns, you can also enjoy cultural performances, traditional music, and indulge in delicious local cuisine.
Is there an entrance fee to attend the Loy Krathong Yi Peng Festival events in Chiang Mai?
Some events may have entry fees, while others are free to attend. It's best to check the specific event details beforehand.
How can I travel to Chiang Mai from other cities in Thailand for the festival?
Chiang Mai is well-connected by air, train, and bus services, making it easily accessible from major cities in Thailand.
What are the safety guidelines for releasing krathongs and lanterns during the festival?
It's essential to follow local authorities' guidelines to ensure the safe release of krathongs and lanterns, and to avoid environmental impact and accidents.
Is there a specific dress code or attire recommended for attending the festival?
There is no specific dress code, but dressing modestly and respectfully is appreciated, especially when visiting temples.
Are there any other notable events or attractions in Chiang Mai during Loy Krathong Yi Peng Festival?
Yes, the festival often coincides with various cultural fairs, street markets, and temple ceremonies that offer unique experiences to visitors.
---
Conclusion
We are glad to be able to experience the Loy Krathong Yi Peng Festival in Chiang Mai in our lifetime. Our overall experience is excellent, and I think the event organiser had did a pretty amazing job. One item off our bucket list! You should experience it too!