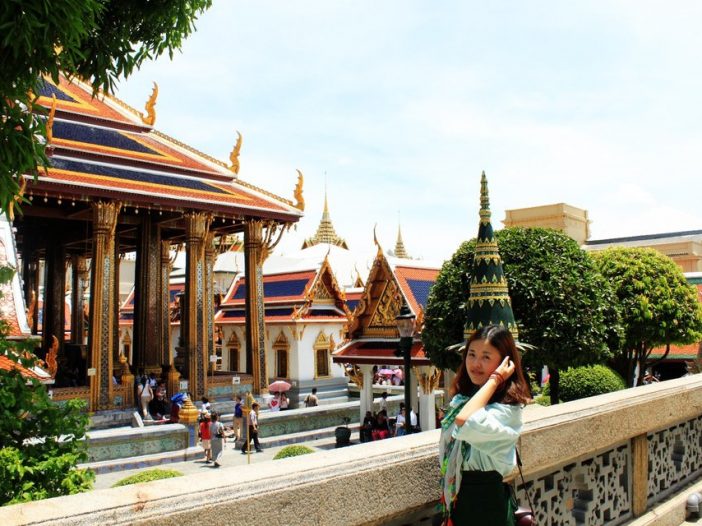 When you are in Bangkok, The Grand Palace is an attraction place that must be in your top to places to visit list! Being known as one of the Thailand's most famous and remarkable landmark, The Grand Palace get thousands of visitors daily from around the world. In this Grand Palace Bangkok guide, let us share our personal experience visiting this place and the tips you should take note before making a visit.
---
Grand Palace Bangkok Dress Code
Of course, to visit Grand Palace, visitors must follow a very strict dress code. Men must be wearing long pants and shirts /w sleeves. Tank tops is not accepted. No bare feet is allowed. Women must not wear any see-through clothes (for e.g. bare shoulders).
However, if you are not properly dressed, there is a booth where you can find some proper clothes. You will need to deposit your passport or credit cards. So, be properly dressed to save yourself the hassle.
---
Grand Palace Bangkok Map & Opening Hours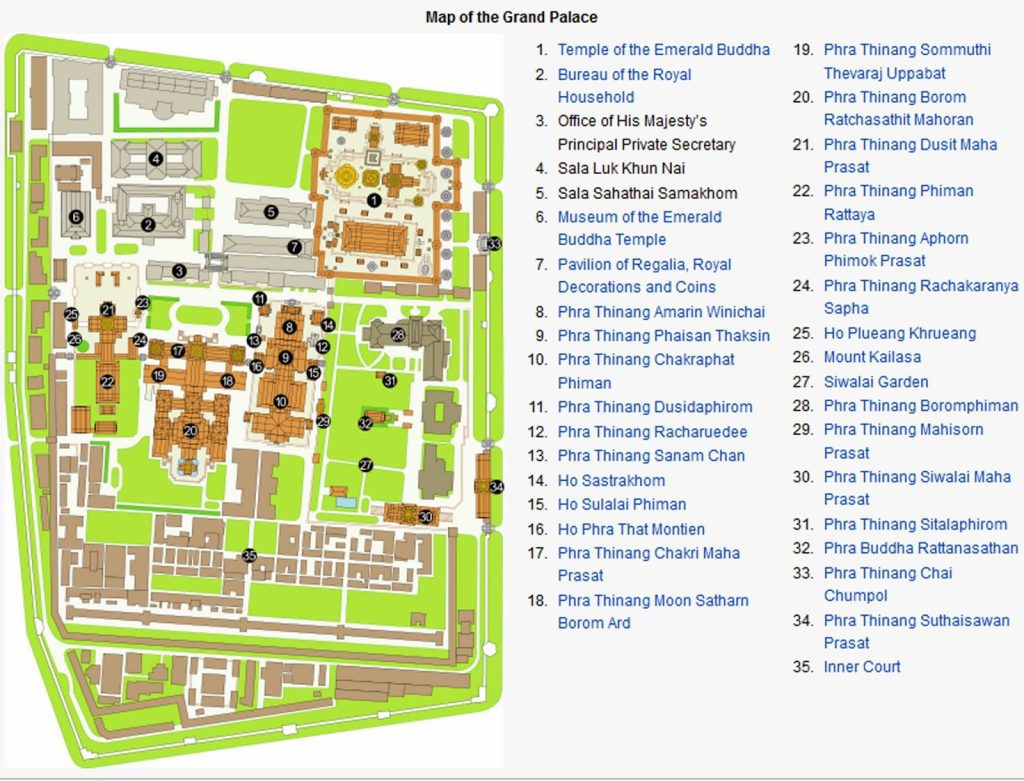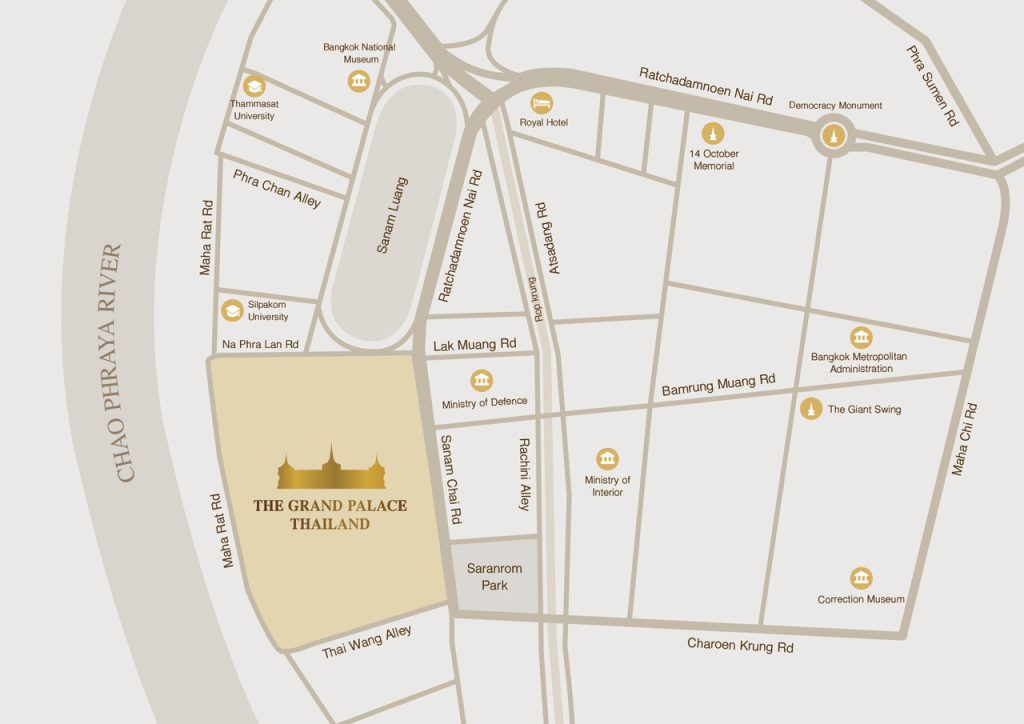 Opening hours: 8:30am to 3:30pm daily
Admission fee: Check out https://www.royalgrandpalace.th/en/buy-ticket for the latest price
---
Exploring Grand Palace
When you get near the Grand Palace walls, believe me… you will be amazed by the size and the magnificent architectural design of the sacred landmark. We were there on a Saturday and the complex is crowded with people especially the tour groups. I am always passionate about history so I am super excited when we are visiting The Grand Palace. This is the place where there are so much thai history and culture to learn about. Imagine stepping into a real-life fairy tale – that's what it felt like when I entered the Grand Palace. This place is seriously old, dating all the way back to 1782 when King Rama I built it. Walking around, I couldn't help but be blown away by how cool everything looked. The buildings, the designs – they all had this awesome storybook vibe.
The Grand Palace is surrounded by four walls with a combined area of 218,400 square metres.
As we wandered around, we realized that the Grand Palace isn't just one building – it's like a whole city within a city. There's the Outer Court, where important ceremonies used to go down. The Chakri Maha Prasat Hall in there is something you've got to see. It's this crazy mix of European and Thai styles, and it totally stands out.
Then there's the Inner Court, where the royal family used to hang out. The designs here are a mix of different cultures, which is pretty neat. You can see Thai, Chinese, and even Victorian influences all blended together.
Not just for the King and his court, Grand Palace is home to the entire administrative seat of government
There are four main courts in The Grand Palace; The Outer Court, The Middle Court, the Inner Court and the Temple of Emerald Buddha.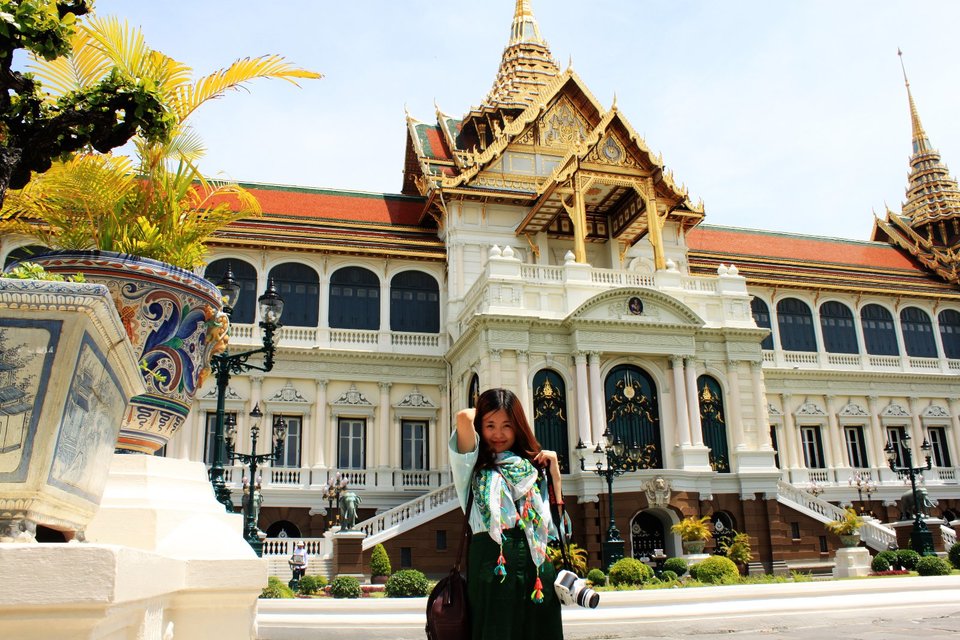 Nicole is properly dressed and covered. The weather is very hot and we were sweating so much. We also bought two ice blended drinks to quench our thirst and keep hydrated.
One thing that I love about Thailand's architectures is that they are so elegantly and well designed. Amazing right?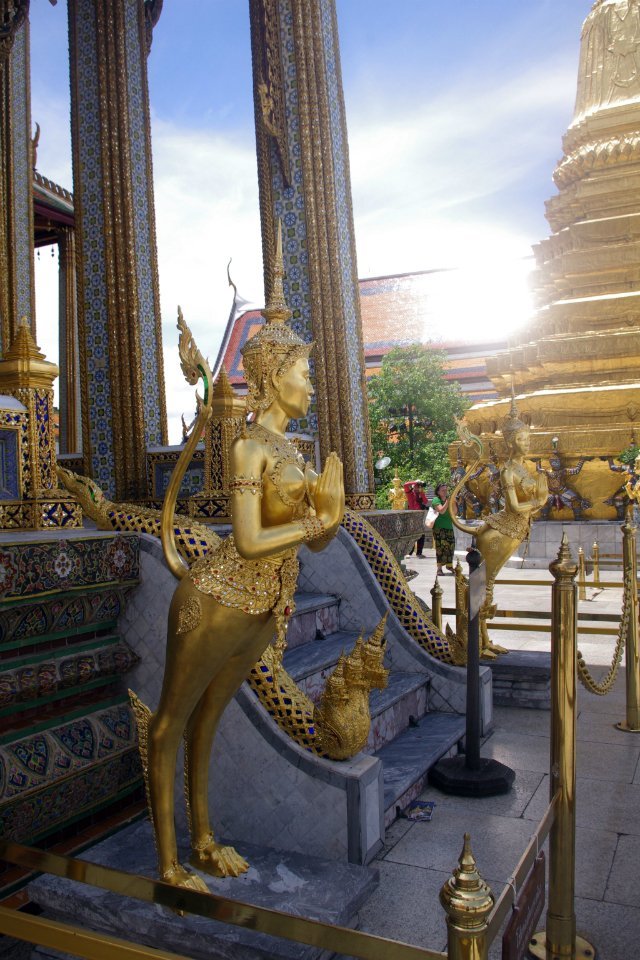 Look at this white themed building under the blue sky and white clouds.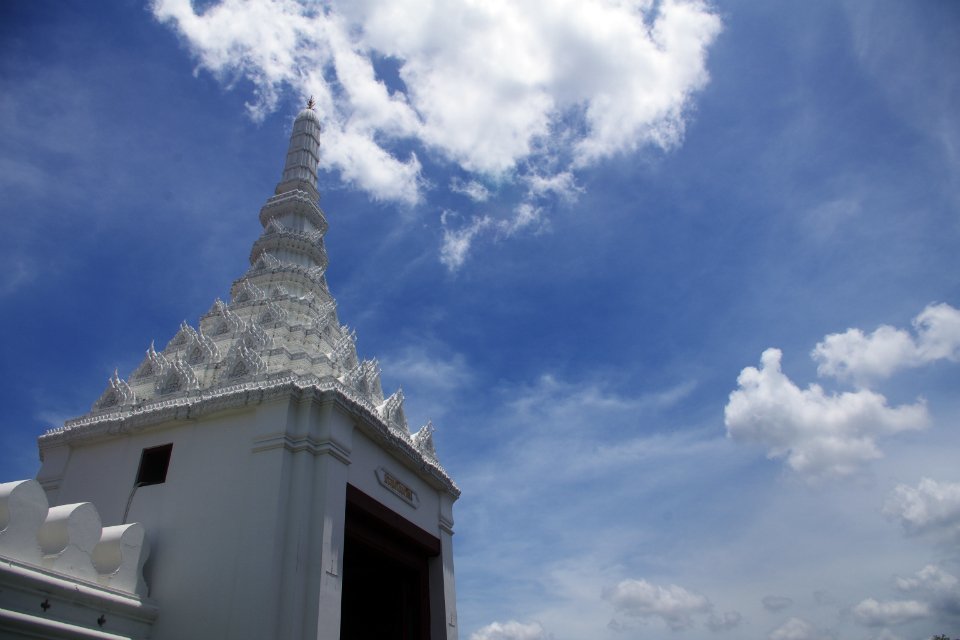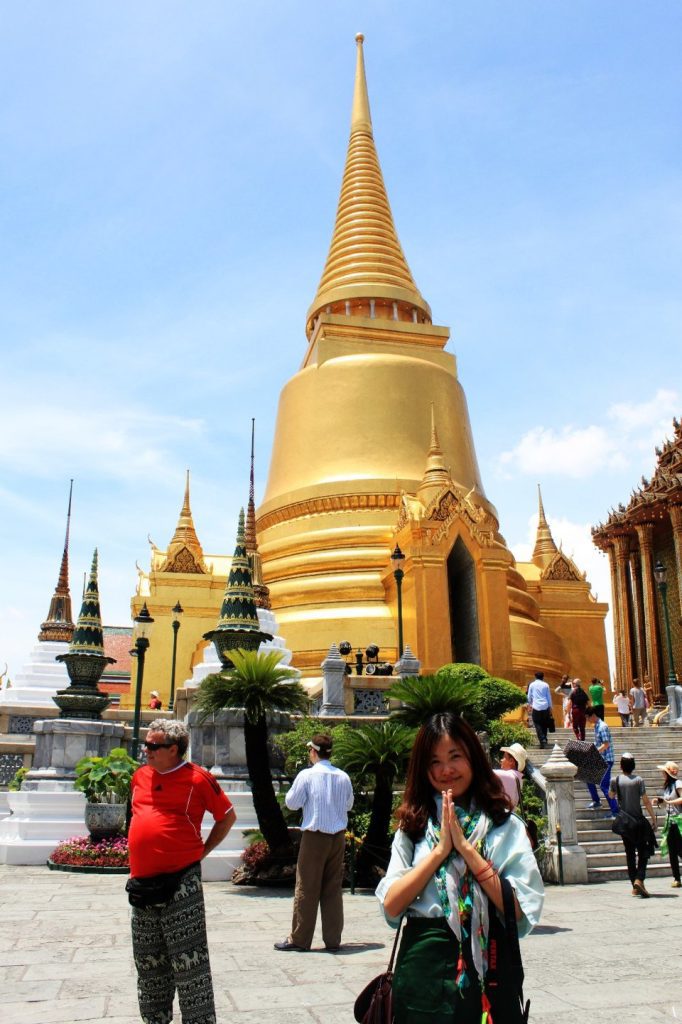 FYI, The Kings stopped living in the palace around twentieth century.
---
Tips before Visiting Grand Palace
Now, let's get down to the practical stuff. Here are some tips to keep in mind when you visit the Grand Palace:
Dress Right: Dress modestly – cover your shoulders, arms, and legs. Also, wear comfy shoes because there's a lot of walking involved. The booth where you can "rent" proper clothes is pretty packed so you may want to avoid to crowd.
Get There Early: The Grand Palace is super popular, so if you want to avoid the crowds, try to go in the morning.
Respect the Rules: Show respect by not touching the buildings and sticking to the designated areas for pictures.
Stay Hydrated: Bangkok gets really hot, so keep a water bottle with you and take breaks in the shade. Sun block is highly recommended.
Plan Ahead: There's so much to see, so make a little plan of what you want to check out.
Avoid Scams: Beware of touts outside the Grand Palace who will tell you that The Grand Palace is closed and suggested their guided tour in the tuk tuk or taxi. They will take you to several shops where they pressurised you to buy things in order for them to earn their commission. We nearly got conned.
---
FAQs on Visiting Grand Palace in Bangkok
What is the Grand Palace in Bangkok?
The Grand Palace is a historic complex in Bangkok, Thailand, known for its stunning architecture and cultural significance. It was the official residence of Thai kings for over 150 years and is now a major tourist attraction.
What are the opening hours of the Grand Palace?
The Grand Palace is usually open daily from 8:30 AM to 3:30 PM. However, these hours may vary during holidays and special occasions, so it's a good idea to check the official website or local sources before your visit.
Is there an entrance fee to visit the Grand Palace?
Yes, there is an entrance fee to visit the Grand Palace. The fee covers both the Grand Palace itself and the Temple of the Emerald Buddha. Keep in mind that the fee is subject to change, so make sure to check the current pricing before your visit.
What is the dress code for visiting the Grand Palace?
Visitors are required to dress modestly when visiting the Grand Palace. This means covering your shoulders, arms, and legs. Wearing sleeveless tops, shorts, and short skirts is not allowed. If you arrive in inappropriate attire, you may be required to rent clothing to cover up.
Can I take pictures inside the Grand Palace?
Yes, you can take pictures inside the Grand Palace complex, but there are certain areas where photography is not allowed. It's important to respect any signs or instructions regarding photography to ensure a respectful visit.
Are guided tours available at the Grand Palace?
Yes, guided tours are available at the Grand Palace. Joining a guided tour can provide you with valuable insights into the history, architecture, and cultural significance of the complex. Guides often share interesting stories and facts that enhance your experience.
How do I get to the Grand Palace using public transportation?
The Grand Palace is easily accessible via public transportation. You can take the Skytrain (BTS) or subway (MRT) to a nearby station and then take a short tuk-tuk, taxi, or boat ride to the palace. The Chao Phraya River boat is a scenic option to consider.
Is the Grand Palace the only attraction in the area?
No, there are several other attractions near the Grand Palace that you might want to explore. Wat Pho, known for its Reclining Buddha statue, is within walking distance. Additionally, you can visit the Tha Maharaj Riverside Lifestyle Mall for shopping and dining.
Can I buy souvenirs at the Grand Palace?
Yes, there are souvenir shops within the Grand Palace complex where you can purchase a variety of traditional Thai souvenirs, crafts, and gifts. These shops offer a range of items that reflect the local culture and heritage.
Are there any special events or ceremonies held at the Grand Palace?
The Grand Palace is occasionally used for special events, ceremonies, and royal occasions. These events may impact the opening hours or accessibility for visitors. It's advisable to check for any scheduled events before planning your visit to avoid disappointment.
---
How to Get to Grand Palace Bangkok
Address: Phra Borom Maha Ratchawang, Phra Nakhon, Bangkok 10200, Thailand