Sometimes I feel I am so lucky to be living in Singapore! There are so many renowned restaurants from my hometown Chongqing gradually opening their restaurant chain here in Singapore, satisfying my cravings for Chongqing cuisine. I am proud to announce that the famous Xiao Mu Deng hotpot (小木凳怀旧火锅) just opened their pilot branch in Chinatown recently, bringing authentic Chongqing hotpot to Singapore.
The restaurant is located in the busy New Bridge Road in Chinatown. Themed in red colour in the interiors, the restaurant is pretty spacious. The walls are decorated with traditional Chinese paintings, illustrating the history & origins of Chongqing hotpot.
Interestingly, the bronze pot shaped into a dragon is engraved under the table. Chopsticks are disposable and customers need to connect the wooden sticks with the stainless steel connector, which ensures good hygiene.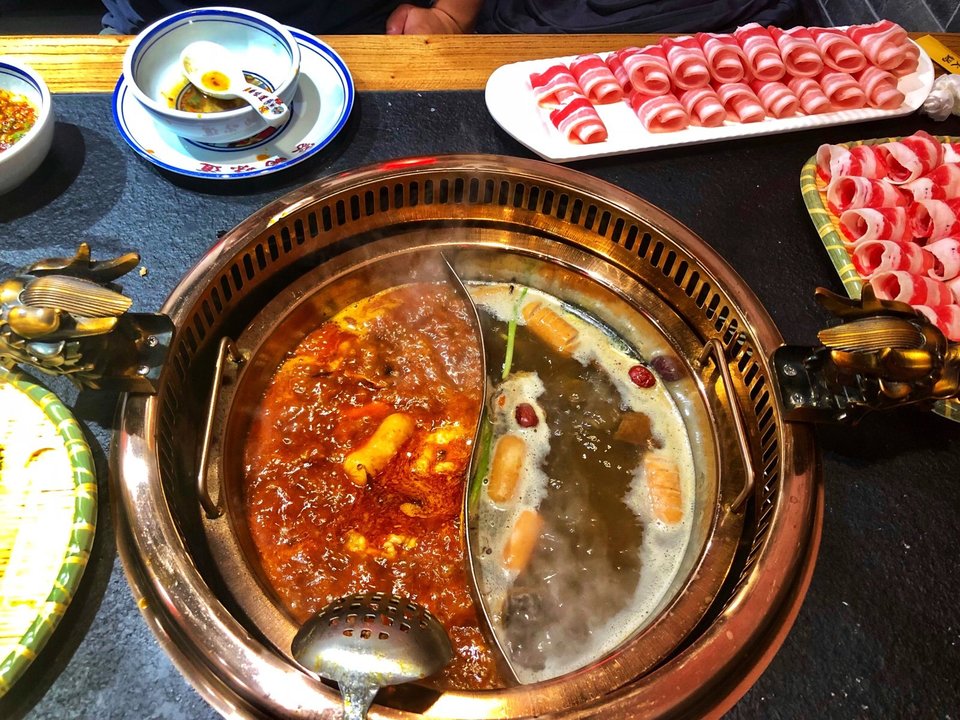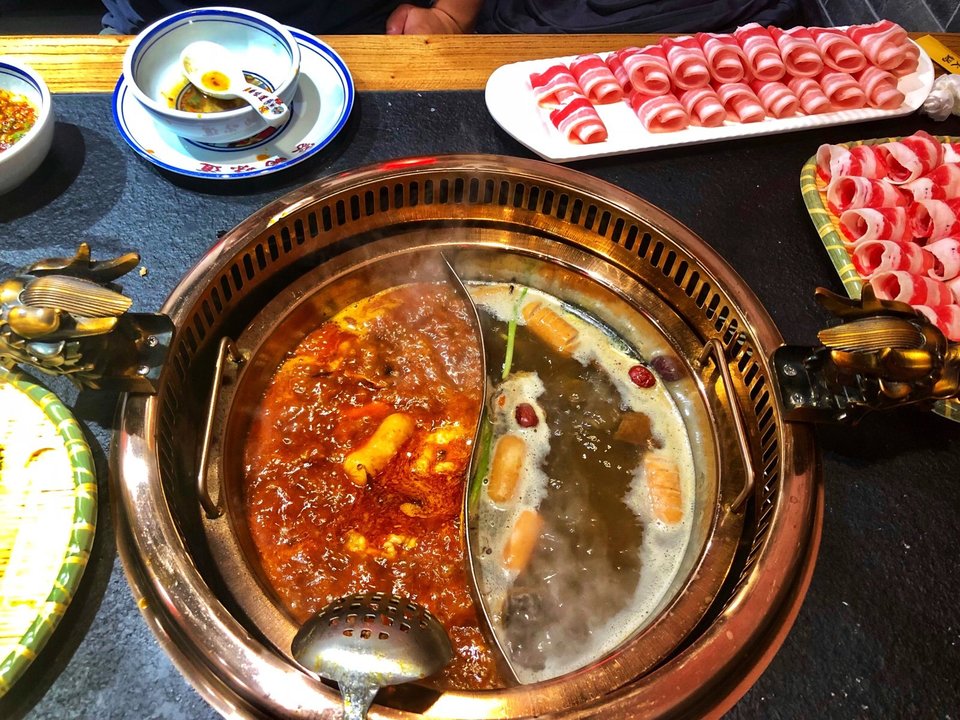 The cutlery is also very traditional and Chongqing style with the Chinese character meaning "Taste of home" painted.
Just like many hotpot restaurants, Xiao Mu Deng also provides a good variety of dipping sauces you can choose from. Besides, they have the traditional sesame oil packaged in a red can. Believe me, that is the best and native way to mix your sauce! The sesame oil not only adds a good odour to your dishes but also helps to cool down.
Besides ordering from the staff, you can pick up your dishes from their fridges. They are priced by the plate colour as stated in the below menu.
Isn't this a good variety!? I highly recommend the pork sausage with cheese! Very good!
There are also good choices for after dinner desserts, all are local chinese food.
Xiao Mu Deng Hotpot just exists only for one month (from the date this post is being published), so there are still a variety of discounts for customers. Don't miss them out!
Getting to Xiao Mu Deng Hot Pot (小木凳怀旧火锅)
Address:277&279 New Bridge Road #01-01. Singapore 088751/088752

Facebook: https://www.facebook.com/xiaomudeng
Quality of Food -

7.5/10

Customer Service -

7.5/10

Value for Money -

7/10

Atmosphere -

6.8/10
Summary
Generally speaking, Xiao Mu Deng is a good hotpot restaurant for hotpot lovers. Their food is really fresh and comes in a big variety. I also like their idea of disposable wooden chopsticks. One thing to improve is that their dishes generally comes in a very big portion which is not that friendly for two-people dining. Because of this, the price can easily spike up, which sometimes even become comparable to the price of Hai Di Lao. In my opinion, smaller portion priced at a lower cost might make it more attractive to customers. Besides, instead of soft drinks, serving healthier fruit juice or homemade drinks can be a plus point too.