Bangkok, the capital of Thailand (also known as Land of Smile), is one of the favorite tourist destinations in South East Asia. Every year, more than 30M tourists from all around the world visit Thailand to experience the Thai Style. Undisputedly, this is a perfect place for people who enjoy shopping, food, massage, cultural heritage and many more… you name it, the city got it. Personally, Bangkok is one of my all-time favorite destinations. To be true, I've already lost count of how many times I've visited Bangkok. Bangkok is a favorite destination for Singaporeans like me! For me, I love Bangkok because of its cultural heritage and its delicious food. Reading this post, I believe you may be planning an upcoming trip to or somehow interested in Bangkok. This is a common first world problem that every tourist face regularly. I could still remember the first time I visited Bangkok, I am so overwhelmed by the things I should buy back from Bangkok because there are just too many things to buy! Writing this post, I hope to help you narrow down your options, save some time on deciding what to buy in Bangkok!
Buying Guide: What to Buy In Bangkok (as of October 2023)
Thai Silk Products
Genuine Thai Silk is one of the best souvenirs that you can buy back in Bangkok. Costing around 200 – 6500 Baht (depending), this hand weaved Thai Silk will make a great a gift to any ladies, putting a smile on their face. If you are keen, Jim Thompson Company outlet is one of the most popular places to get Thai Silk. You will also be able to find Thai Silk in other places like the Chatuchak Market or Prayer Textile Gallery on Phayathai Road. Before buying any silk, please do your due diligence as you do not want to pay top dollars for fakes.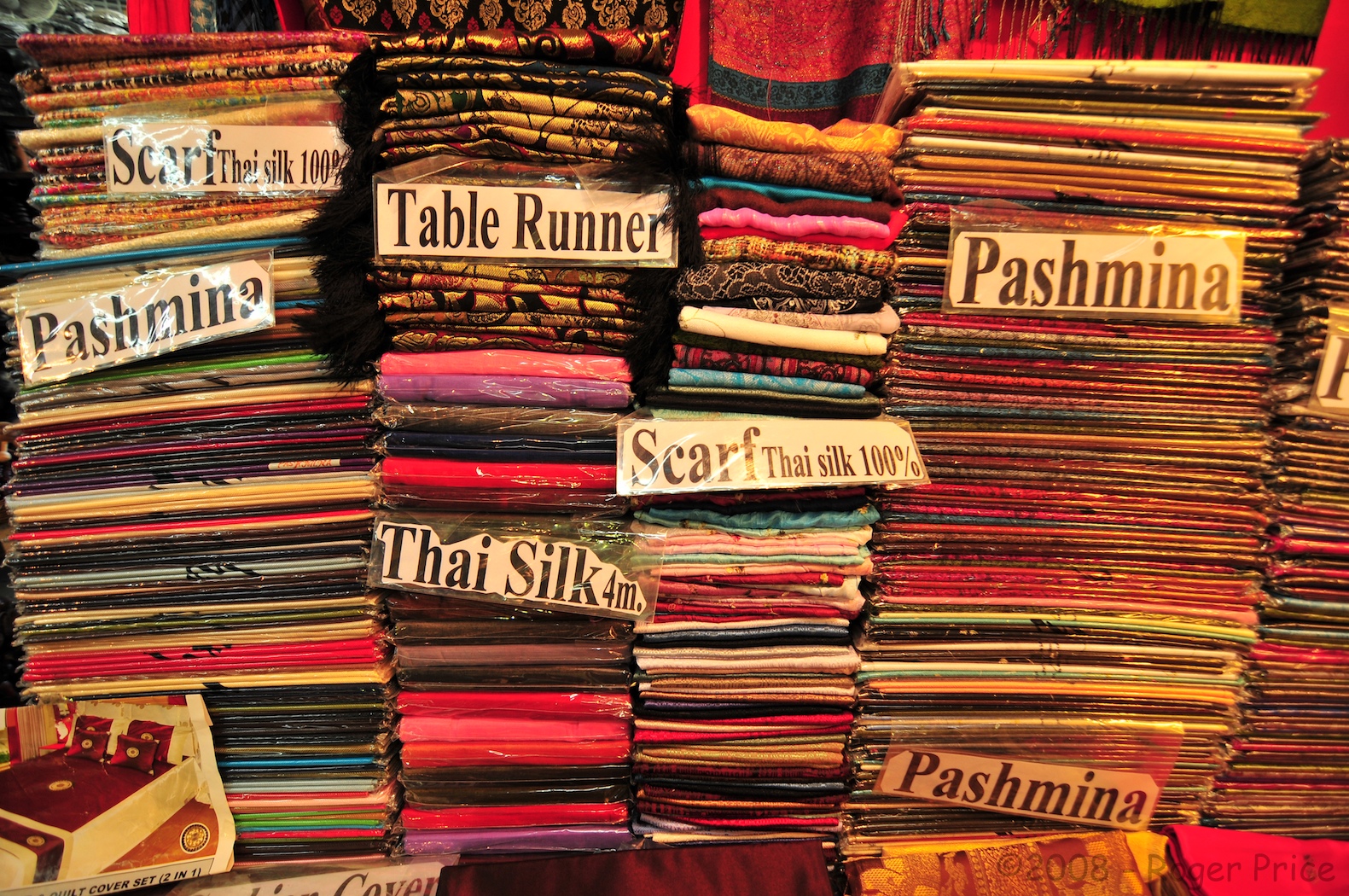 Thai Graphic Shirts/Tank Tops
Thai printed shirts or tank tops can be found almost everywhere (try the night markets) in Bangkok. Costing just a hundred bahts maximum, this is quite a worth for money gift. If you are someone who enjoys collecting printed tees or tank tops, this is a great suggestion. Tip: Remember to bargain (One thing I love about Bangkok)!
Mama Instant Noodles
I think Thailand has got one of the best instant noodles made in the world. Mama by Thai President Foods is the most popular instant noodle brand in Thailand. How can one say to experience Thailand without trying the Thai local Mama instant noodles? Do note that you may be able to find Mama in the supermarkets in your country too. E.g. In Singapore, we do import Mama instant noodles, it is popular in some of our Mookata restaurants too.
Thai Tea Mix
Iced Thai Milk Tea is always my number 1 beverage choice when I dine in any restaurants or cafe in Bangkok. I simply just love the riched tea flavor and sweetness, and just don't get enough of it. For your info, Thai Tea is made from brewed black tea, with added ingredients such as the star anise, cardamom, crushed tamarind and more. In order to bring the fragrance of the Thai Tea back, consider buying some Thai Tea Mix – Cha Tra Mue is the brand to buy. They are the #1 old tea company that produces Thai tea mixed since the 1945s.
All Things Made By Coconuts
You may not know this, but coconuts production contributed greatly and highly important to Thailand's economy. Coconuts products are of course, widely available around Bangkok. As a glutton, I can't resist myself from the coconuts flavored ice creams and of course, sipping from the fresh coconuts. In terms of products, Coconut Oils is another coconut products that ladies love because of its benefits in hair protection and moisturization. There are also other coconuts-made products like the handicrafts/lighting made using the coconut husk, coconuts fruit spread, jam, candies and more.
Thai Spa Products
Many people visit Bangkok for their massage and spa. Just a 60 mins massage session will make you feel rejuvenated and recharged like you are reborn. After a session of massage in Health Land Spa & Massage or Asian Herb Association, be sure to splurge on some of their spa products and buy some back.
Herbal Inhaler
"Poy Sian" Thai herbal inhaler or ya dom is the most popular inhaler among Thai people. They used it as a remedy for any a cold, flu, headache or motion sickness. In addition, having a small packaging size makes it really convenient to carry around. You can find it at any convenience stores like Family Mart or 7-eleven.
Tao Kae Noi Seaweed
Tao Kae Noi is a seaweed snack that amasses popularity when it was the first launch 14 years back. I like their Fried seaweed flavor especially and always keep eating non-stop. It is just too addictive! Tao Kae Noi is the company that is well-known to make it big by selling seaweed snacks. Believe it or not, there is even a movie (The Billionaire) about Tao Kai Noi's founder and how he made it big. Pretty inspiring.
Snake Brand Cooling Powder
The Snake brand's iconic prickly heat powder "classic" first come to the market in 1947. Its roots dated far back in 1892 by a company called The British Dispensary Co., Ltd which is now one of the oldest family-owned healthcare businesses in Asia. With its proven record and unique remedy recipe, Snake brand is the premier product for effective relief of prickly heat rash, trusted by millions of people.
Crocodile Leather Products
Bangkok is a nice place to buy leather products, especially crocodile ones. This may be due to Thailand thriving industry in Crocodile farms. Thai people are highly skilled and have superb craftsmanship and expertise to produce high-quality crocodile leather products. There are also people don't mind traveled all the way the Bangkok just to buy leather products. Popular crocodile leather products include Birkin-style handbags, wallets, purses, leather suits, shoes and more etc. Some of the reputable shops to buy crocodile leather products are Tony Leather and Bangkok Bootery.
All right, this wraps up a simple guide on what to buy in Bangkok and hope you liked it. Personally, these are some of the things that I will consider to buy when I visit Bangkok and note that the expressed ideas are jolly my own personal opinion.