Wat Rong Khun (also known as the White Temple more commonly) is one of the must visit places when people visit Chiang Rai. Among the 40,000+ temples in Thailand, Wat Rong Khun is no doubt the most well-known and recognisable due to its magnificent aesthetics. The temple itself is a form of art exhibit!
Nicole and I are happy that we finally got Wat Rong Khun checked off our travel bucket list. In this post, I will be writing a complete guide on our experience at Wat Rong Khun, including info like getting there, opening hours, admission ticket prices, and things you should know before visiting the temple. Read on for our experience.
History of Wat Rong Khun
The history of Wat Rong Khun, also known as the White Temple, is a fascinating tale of artistry and devotion. This contemporary Buddhist temple is located in Chiang Rai, Thailand. It was designed and constructed by the renowned Thai artist Chalermchai Kositpipat. The project began in 1997, with Chalermchai's vision to create a unique and visually striking temple as an offering to Lord Buddha and a gift to the Thai people. The temple's exterior is adorned in brilliant white, symbolizing purity, and embellished with intricate plasterwork that shimmers in the sunlight. One of the most intriguing aspects of Wat Rong Khun is its fusion of traditional Thai temple elements with modern influences, including intricate murals featuring characters from popular culture and contemporary events. The construction and expansion of the temple are ongoing, with the goal of transforming it into an art exhibition for future generations to enjoy. Today, Wat Rong Khun stands as a masterpiece that captures the essence of Thai spirituality and artistic brilliance, attracting visitors from all over the world to witness its beauty and unique symbolism.
Is it Worth Visiting Wat Rong Khun?
Visiting Wat Rong Khun, the White Temple, is an absolute must when you are in Chiang Mai, Thailand. While it is not located in Chiang Mai itself but rather in Chiang Rai, the journey is well worth it.
This unique contemporary Buddhist temple is a true masterpiece of art and architecture that you won't find anywhere else. Its brilliant white exterior, adorned with intricate carvings and reflecting in the sunlight, creates a surreal and ethereal atmosphere. Inside the main hall, you'll encounter awe-inspiring murals that fuse traditional Buddhist teachings with modern pop culture references, offering a thought-provoking and immersive experience. The temple's visionary creator, Chalermchai Kositpipat, has poured his heart and soul into this project, making it an exceptional tribute to his faith and Thai cultural heritage.
By visiting Wat Rong Khun, you'll have the opportunity to immerse yourself in a spiritual journey while marveling at the ingenuity and creativity that went into its construction. This extraordinary temple stands as a testament to the harmonious blend of tradition and contemporary expression, making it an unforgettable and enlightening stop on your Chiang Mai itinerary.
Where is Wat Rong Khun (White Temple) located ?
Wat Rong Khun (temple) is located in Northern Thailand in Chiang Rai. It is about 15KM away from Chiang Tai Town. Most tourists visiting Chiang Mai will book a one day tour to Chiang Rai which include visiting Wat Rong Khun. It's just a 2.5 hours drive away.
Address
---
Opening hours and ticket price
Opening hours: Wat Rong Khun opens daily from 8:00 am to 5:00 pm. (closed on public holidays)
Entrance Ticket: Ticket price is 100 baht per person (free for Thai nationals)
---
Important things to take note
There are several important things which may want to take note before visiting Wat Rong Khun to be respectful to the local culture.
Ensure you are dressed appropriately, especially for ladies. A quick reminder is that you need to cover your shoulders fully and also wear pants /skirt that will covers your knees.
Please do not make disrespectful gestures while taking photos. (yes, some people does..)
---
Our Experience
We reached Wat Rong Khun in the afternoon around 2PM (we are visiting from Chiang Mai). So, weather in Chiang Rai can be quite daunting for some. Even for us who are used to hot sunny weather in Singapore, the weather during our visit is on the other level. For those of you who can't stand the heat, you may want to bring water bottle in case you need to hydrate yourself frequently. There are also nearby shops around the temples if you need to buy some smoothie to freshen up. For ladies who are worried about their skin, best to apply sunblock in advance or bring along an umbrella.
At the beginning before entering into the temple site, there is a bridge that everyone will cross by. There is a meaning behind this set up, basically you crossing from "Hell" to "Heaven". So, one thing to note when crossing the bridge is that NEVER LOOK BACK / TURN BACK / WALK BACK. It will be quite inauspicious in the local culture.
In case you are wondering, this is also the reason why you will be hearing regular shout outs from the guards telling people not to turn back etc. In our visit, we do see many people in front of us, turning back for the sake of taking better selfies.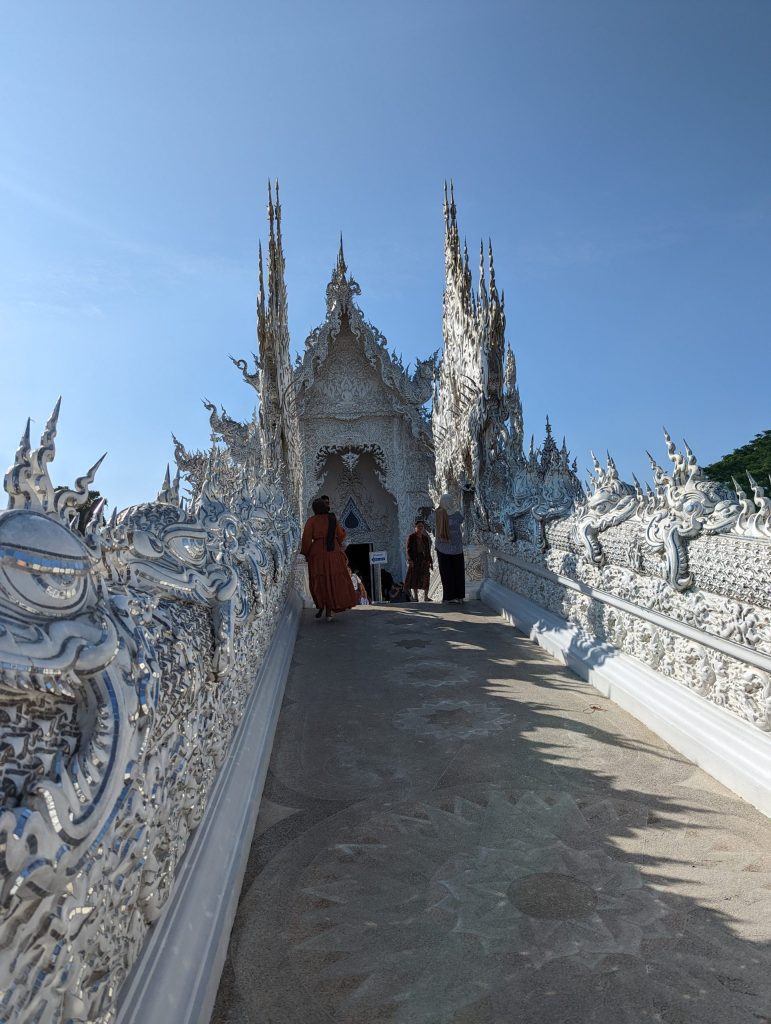 The temple can be fairly packed on some days. We are lucky that it's not super crowded on our visit. Just take a look at the gorgeous white structures which you can find all around the temple.
If you take a closely look at the photo below, those are actually humans hands used to symbolise "hell" suffering.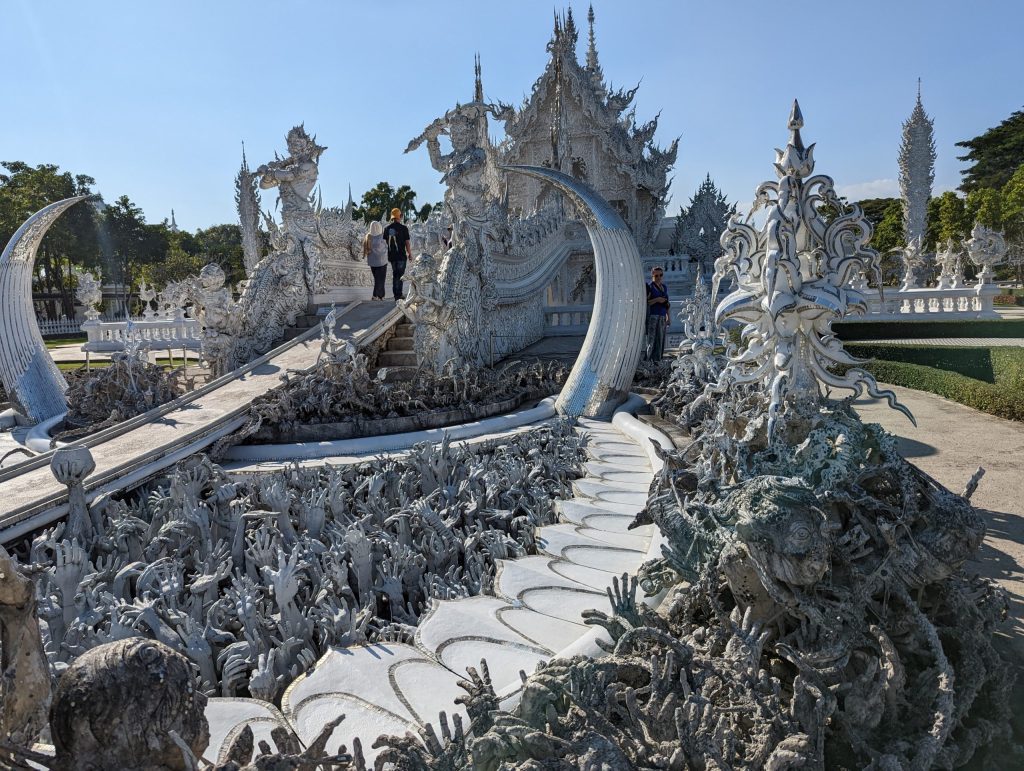 Nicole is busy with her Sony ZV1 taking video for her vlogs, while I am busy taking photos of her, as usual (she caught me trying to sneakily take a photo of her).
Before we end our visit, we decided to to get a lucky charm for Yuyi and hang it in Wat Rong Khun. These lucky charm comes in the form of a silver Bodhi tree leave and what you need to do is to write down your name & wishes and hang it in the designated area. I understand that eventually these leaves will be used in the somewhere in the temple's architecture.
Hopefully next time when Yuyi are grown up and visit Wat Rong Khun, she will be lucky enough to see this lucky charm hanged by her daddy and mummy in year 2022.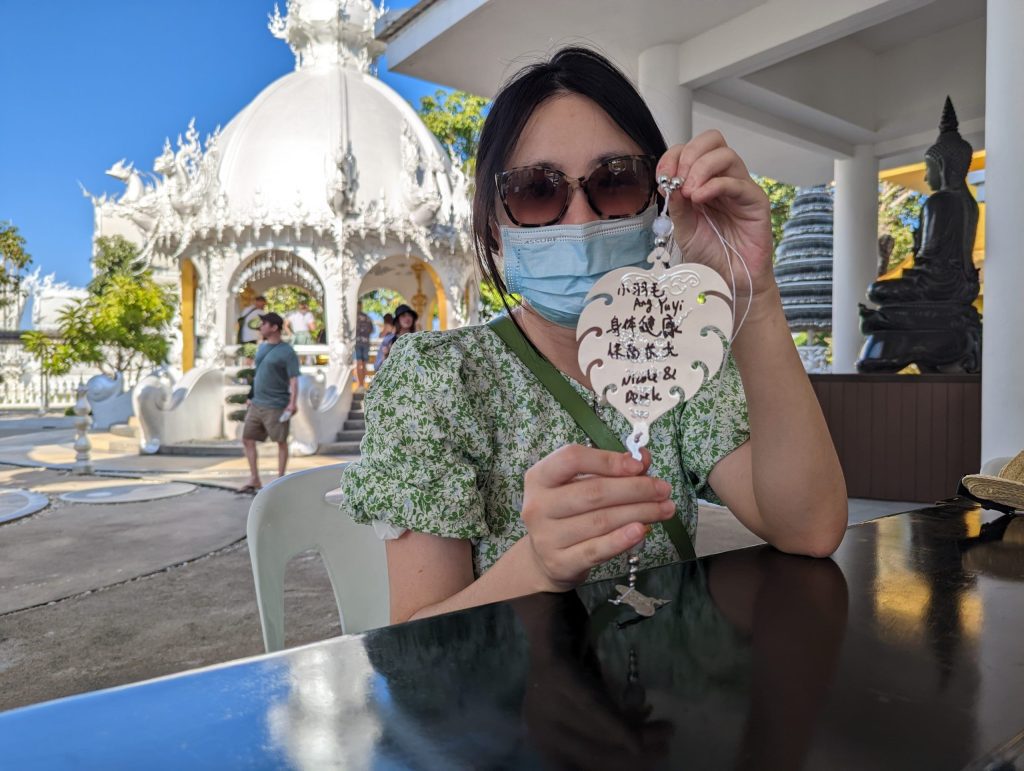 FAQs on Wat Rong Khun (White Temple)
What is Wat Rong Khun, and where is it located?
Wat Rong Khun, also known as the White Temple, is a unique and contemporary Buddhist temple located in Chiang Rai, not Chiang Mai. It is situated about 13 kilometers south of the city center.
How do I get to Wat Rong Khun from Chiang Mai?
You can reach Wat Rong Khun from Chiang Mai by bus, taxi, or private tour. The journey takes approximately 3 to 4 hours by road.
Is there an entrance fee to visit Wat Rong Khun?
Yes, there is an entrance fee for foreigners. The fee was around 100 Thai Baht. However, fees might change, so it's best to check for the current prices before your visit.
What are the opening hours of Wat Rong Khun?
The temple is open to visitors every day from 8:00 AM to 5:00 PM. Please note that these hours might be subject to change, so verify the timings before planning your trip.
Are there any dress code requirements to enter Wat Rong Khun?
Yes, there is a strict dress code at the White Temple. Visitors must dress modestly and cover their shoulders, knees, and ankles. Wearing revealing clothing or sleeveless shirts is not allowed.
Can I take photos inside Wat Rong Khun?
Photography is allowed outside the main temple building but strictly prohibited inside the main hall. Be sure to respect the rules and guidelines to preserve the temple's sacredness.
Is Wat Rong Khun a functioning temple, or is it just a tourist attraction?
Wat Rong Khun is a functioning temple where Buddhist ceremonies are still held. However, it has gained immense popularity as a tourist attraction due to its unique and stunning architecture.
What are some unique features of Wat Rong Khun?
The White Temple is known for its dazzling white color symbolizing purity, intricate carvings, and unique contemporary art murals depicting scenes from popular culture, including movies, superheroes, and even famous personalities.
Can I buy souvenirs at Wat Rong Khun?
Yes, there are several souvenir shops on the temple grounds where you can purchase a variety of religious items, artwork, and souvenirs related to the White Temple.
Are there any rules or etiquette I should follow while visiting Wat Rong Khun?
Yes, as with any religious site, visitors should behave respectfully. This includes removing your shoes before entering the main hall, refraining from touching any religious artifacts, and keeping noise levels to a minimum. Also, remember that the temple is a place of worship, so it's essential to maintain a solemn and reverent atmosphere during your visit.
Can I store my luggage in Wat Rong Khun ?
Yes, there is free luggage storage in the temple. You can approach the staff if you need any assistance.
---
Wrapping Up
Wat Rong Khun is definitely worth a visit if you are visiting Chang Rai or even Chiang Mai (2.5 hours drive away). You have to check out for yourselves why Wat Rong Khun (white temple) is said to be the most popular temple in Thailand. For most people, I think spending around 1.5 – 2 hours in Wat Rong Khun will be enough. Be sure you are dressed appropriate to respect the local culture and never look or turn back when crossing the bridge!