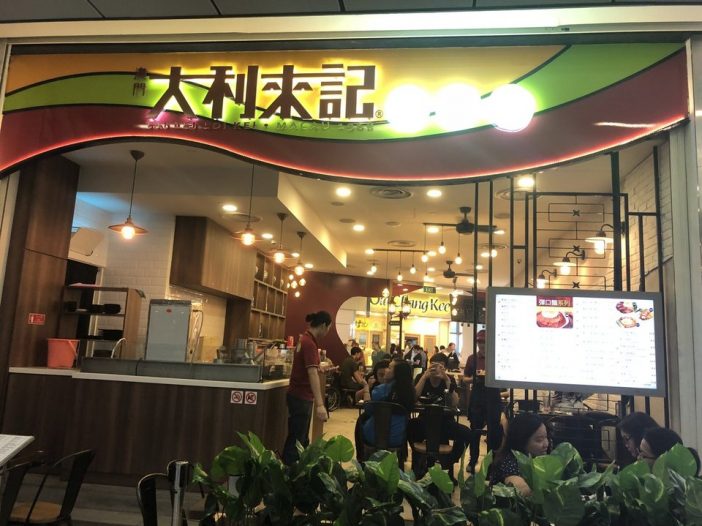 Macau is a paradise for food lovers. I have been told the unforgettable taste of egg tart and pork chop bun many times but have not got any chance to visit Macau to try it out myself yet. Luckily, the world has become much smaller than we imagined. Now, much genuine taste from Macau is readily accessible from Singapore. Tai Lei Loi Kei is undoubtedly one of them.
Tai Lei Loi Kei a local restaurant in Macau famous for their pork chop bun. Started as a traditional coffee shop selling coffee and bread, it has a long history of 50 years old. Many people come to Tai Lei Loi Kei for its highly-spoken pork chop bun and you will always see a long queue in front of their store.
There are two outlets in Singapore, one in Nex and the other in Vivo City shopping mall. We visited the one at Nex recently. When I arrived at the restaurant, for some moment I nearly thought I was literally in Macau. The interior is furnished with a street feel and many decorations are vintage like, reminding visitors of Macau old times. You can see this cute pig mascot nearly everywhere. It's really cruel to imagine that later the pig will become our meal, haha.
Of course, the must-try dish here is the famous pork chop bun! We ordered one pork chop bun and one ham bun priced at S$6.9 each. Apart from the fact that it's a bit oily on the inside, the crispy pineapple bun is really crispy and tasty.
Portuguese egg tart is another must-try when you dine in Tai Lei Loi Kei. Looking at the bright color and layered skin, I am already convinced of the savory taste. And it was just as perfect as it tasted, although it is a bit overpriced at 1.5$ each in my opinion.
We also ordered their fried spam fries. Fried spam fries might not be a local food from Macau, but it is quite popular in Singapore, especially in cafes during recent years.
You might have tried the curry fishball from Hongkong, here you can also try the version of Macau's curry fishball. To be honest, both versions are pretty similar – just fishballs in curry soup.
Tai Lei Loi Kei also serves local Singapore's Zi char food like the Fish with onion/ginger rice w/egg set and seafood hor fun etc.
Getting to Tai Lei Loi Kei
Website: http://www.taileiloi.com.mo/
Facebook: https://www.facebook.com/taileiloikeiSG/
Quality of Food -

6.8/10

Customer Service -

6.5/10

Value for Money -

6.5/10

Atmosphere -

6.5/10
Summary
As a renowned restaurant from Macau, Tai Lei Loi Kei is a good restaurant to relish the taste from Macau, especially for people like me who have not visit Macau yet. The food generally is good but if we compare to other local restaurants in Singapore, it may not has that many differentiating factors to stand out from the average.