With the Michelin Guide Singapore 2018 coming soon on the July 25th, many of you must be as excited as I am, and just could not wait to browse and try out newly listed restaurants. While we are all waiting for the 2018 guide, I visited Osia Steak and Seafood Grill Restaurant for my anniversary dinner recently. I am super excited because this got to be my first time having a fine-dining dinner.
Osia Steak and Seafood Grill Restaurant is a one-star Michelin restaurant (2017) specialized in Australian cuisine.
Located in Resort World Sentosa, Osia Steak and Seafood Grill Restaurant is easily accessible to tourists. We patronized the restaurant on a weekday night when you probably will not find many people dining in. Even that, it is definitely recommended to make a reservation in advance.
The general look and feel of the restaurant are bright, spacious and relaxing. The inside atmosphere utilized warm colors like brown and orange which make the interior feels extremely cozy. I love the open kitchen concept where one can see the chef preparing for the food professionally. Looking at the seriousness and passion of the chef prepping the food, you can be assured you will be getting something good.
We went for the Osia Ionic set menu with 5 courses. Though famous for their steak and grilled seafood, Osia also offers other premium meats and desserts dishes on their ala carte menu. As we are not fans of alcoholic drinks, we ordered ourselves two mocktails to go along with dinner.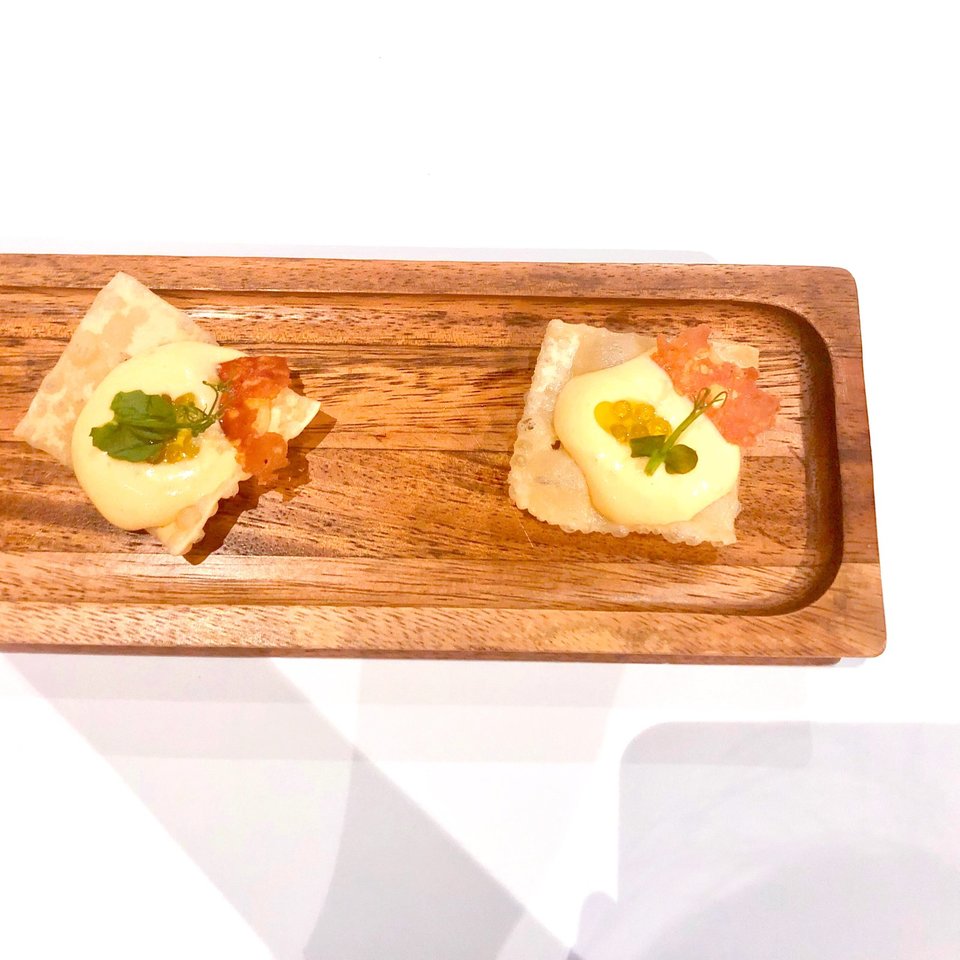 Beetroot cured salmon / smoked salmon mousse/keta roe/finger lime dill emulsion.
I love this starter dish – the salmon meat is amazingly tender and fresh, with a little sweetness.
Celeriac basil purée soup/hay smoked scallop / black truffle relish
To be honest I don't really like seafood, however, this smoked scallop locked the freshness into the tender meat while at the same time giving out a really appealing odour of truffle. Nice!
Foie gras / pineapple textures / Madagascar vanilla / coriander
I don't often eat foie gras as I feel its taste largely depends on how good the meat is and of course how the chef cooks it. The unspoken strange taste of an organ sometimes really stops me from relishing the delicacy. But this is the exception. Mixed with pineapple textures and Madagascar vanilla, I indulged myself in the divine melt-in-the-mouth feel.
Wagyu beef tenderloin / burnt celeriac /puffed brown rice/sea water foam /pulverized demi-glace
I came here for the steak, and it did live up to my expectation. It's one of the best I've tried in Singapore. It is so special to have that sea water foam that brings up a fantastic mixed feel of 'on the earth' and 'at the sea'.
Hot chocolate soup/black peppered ice cream/sesame crisp
The hot chocolate concludes this satisfying dinner perfectly. Besides, have you ever tried blacker peppered ice cream? Well at least for me, it's really a fresh experience just like what all the courses have offered.
Getting to Osia Steak and Seafood Grill
Address: 26 Sentosa Gateway, Festive Walk, #02-140 & 141, 098138

Website: http://www.osiarestaurant.com/home/
Quality of Food -

9/10

Customer Service -

9/10

Value for Money -

7.5/10

Atmosphere -

7/10
Summary
One good thing about fine-dining is that I don't feel guilty after the meal as it's just enough and yummy without 'overstretching' your tummy limits. Osia Steak and Seafood Grill Restaurant, as a one-star Michelin restaurant in Singapore, does offer diners a privileged dining experience the moment one enters the restaurant. I am impressed by the food quality and the professionalism.
Their Australian cuisines and modern culinary techniques have produced magical chemistry that definitely won't let diners down. Nevertheless, as compared to the recent one-star Michelin Hawker Chan, Osia Steak and Seafood Grill might be comparatively high-priced though, but it's quite worth it for first time fine-dining experience.