As a girl from Chongqing, I miss the taste of my hometown food often. Yes, when people mention about Chongqing food, they think of SPICY food… But, Chongqing's spicy food is different from the spicy food in India which is called also "spicy" just because of the food consist of many spices! The real spicy food in Chongqing is 'numb', strong and extremely hot.
For years, I have always been trying to find restaurants that serve authentic Sichuan food in Singapore and I recently discovered Noodle Panda, a Sichuan noodle restaurant in Bedok Point.
It's not my first visit. I tried Noodle Panda once previously and yesterday (which is 小年), I brought Derek along as I am super craving for it. Noodle Panda is located on level three of Bedok Point where the place is a bit hard to locate. Arriving at the restaurant, you can see panda decorations all around. I feel I am visiting Jia Jia and Kai Kai in Giant Panda Forest.
It was around 8 pm but the restaurant was not packed. You can sense from the empty seats that the restaurant is still not that well-known yet as it's still relatively new – just opened in mid-December, 2016.
Noodle Panda serves various types of noodles from Sichuan and Chongqing, either spicy or non-spicy. Besides, there are also some Sichuan dishes and desserts that seem similarly good. The waiting time is quite long though, we waited around 20 mins for the noodles to come.
Here is how their menu looks like.
Look at the pandas, I am guessing the boss must be a great fan of pandas.
In Noodle Panda, you can add extra $1 for a fried egg or extra noodles.
Double Spicy Beef Noodle
The double spicy beef noodle is one of the spiciest dishes in the restaurant. If you can take spicy food, I encourage you to challenge yourself!
Peas and Minced Meat Noodle
The peas and minced meat noodle and Chongqing noodle are originally from Chongqing so if you are interested in Chongqing food, do have a try. Don't worry they are not as spicy as the double spicy beef noodle.
Brown Sugar Fried Sticky Rice
I recommend having the brown sugar fried sticky rice as desserts after main dishes. It's mildly sweet and can just "soft" or "cool down" your tongue after eating the spicy noodles.
I revisited Noodle Panda (22 Oct 2017) to try out more dishes.
Spicy Chicken Noodle
I regretted ordering their Spicy Chicken Noodle. This is the spiciest noodle that I ever ate in my whole life till now. I should have taken their spice alert (number of chillis) on the menu seriously. Though the noodles tasted good, I just can't take the spiciness. Just a strand of noodle can make you beg for ice water. If you can't take spicy food, avoid this!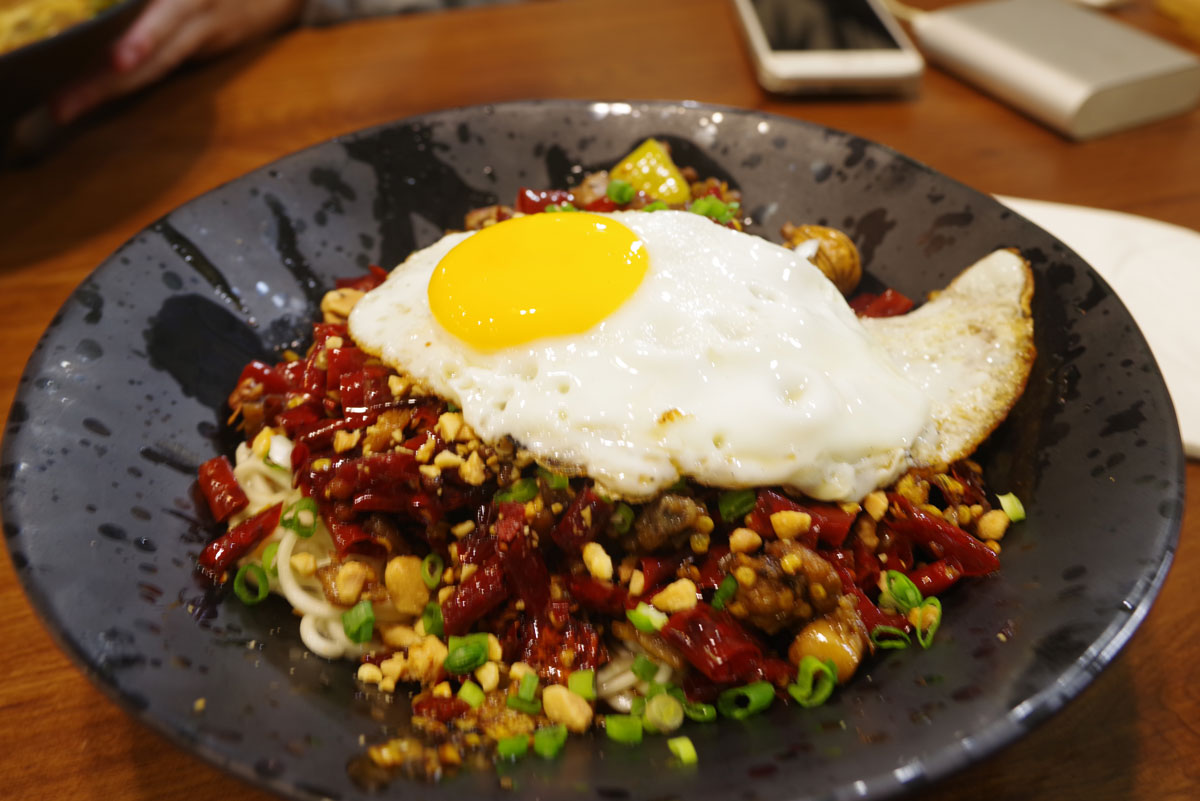 Sichuan Red Oil Wontons (Hong You Chao Shou)
Their Hong You Chao Shou tastes quite good. The sauce is well mixed and the meat in the wonton (dumpling) is fresh. The dish comes with around 6 wontons and goes well with any of their noodle dish.
Getting to Noodle Panda at Bedok Point
Address: Bedok Point 799 New Upper Changi Road #03-35, 467351

Quality of Food -

8.5/10

Customer Service -

7/10

Value for Money -

7/10

Atmosphere -

7/10
Summary
We bought a 10 dollar Groupon (now myFave) voucher which is valued at 20 dollars. In total, we spent around $38 for this meal (we should buy 2 vouchers!). To be frank, Noodle Panda's noodles are the best I have tried so far in Singapore! I think they can do better at the serving time though. Maybe if the location is better, they will become more well-known to the public. I will be re-visiting Noodle Panda when my craving for Chongqing spicy noodles comes back next time.